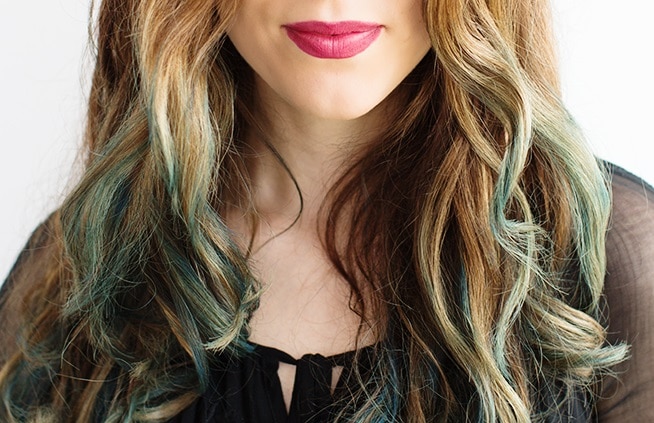 Welcome to the latest edition of Ask CF! Every two weeks, we select a reader fashion question and answer it here on the site. Do you have a specific fashion question for us? Scroll to the bottom of this post to learn how to send it our way!
Ask CF
Hello CF!
I have three questions for you!
1. I've never dared to show much skin before and was too self-conscious of my body. However, lately I've begun to wear more revealing clothes such as dresses, skirts, tank tops, even spaghetti strap tops. I'd love to try crop tops, and experiment with showing more, but I also don't want to show too much. Where's the line between confident and tacky? How do I know what is too much? I'm 24 years old and I'm learning to be confident in who I am. I want to show off a little, but stay classy. Any tips?
2. I've also begun to wear high heels. Does this just take practice? How can I wear these gorgeous things without looking awkward, stiff, and walking choppily?
3. I've got a tank top that has a back of pure lace design. Should I wear a sticky bra with it? Layer something underneath? Let the back of my bra show through and the rest be skin showing through? I've no idea what to do with this!
Thanks so much! I love the blog! It has helped me a great deal as I've broken out of my previous jeans and tshirt style. I've done a 180 on my style and this blog helped me do it. Hoping my questions get picked!
Classy and confident,
An anonymous fan
Our Response
Girl, I kid you not, this is basically my life story. I wore jeans and t-shirts exclusively for years until I graduated from high school, too shy and uncomfortable with my body to express myself through clothing. Reading CF helped me break out of my style shell too, and I'm so glad to hear that it helped you do the same!
There are a few key pointers I can give for those who are new to showing a little skin with their outfits. I've listed them below and created an outfit to go with each one! You'll find the answers to your other two questions below as well. I hope this helps, and good luck with your style adventure, you cool cat you.
1. Balance is key.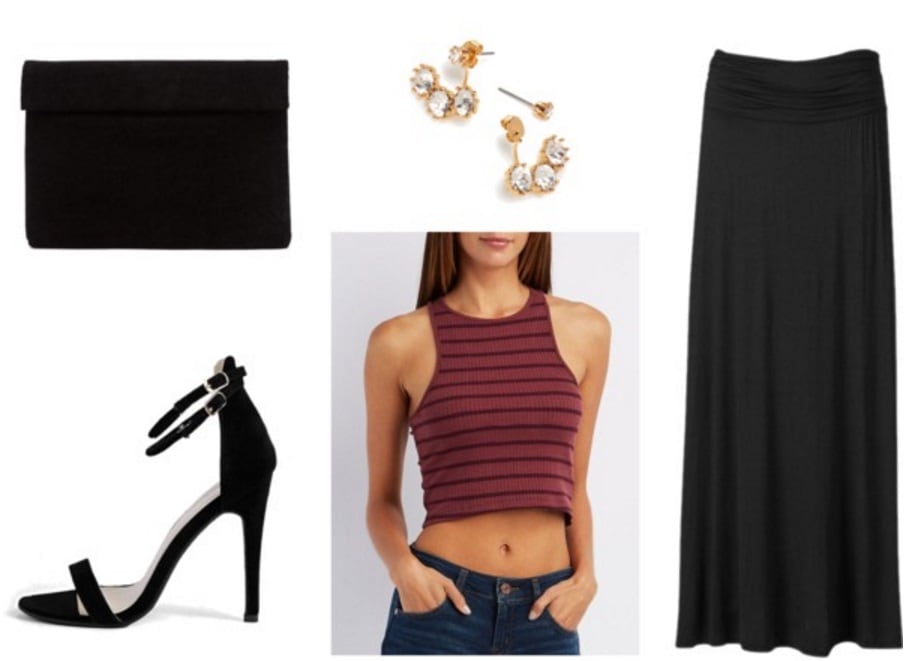 Products: Top | Skirt | Clutch | Heels | Earrings
You don't need to feel self-conscious about showing your legs off, especially if you're wearing a loose, flowy top. Same goes for the reverse: If you want to show off your shoulders or wear a low-cut top, a longer skirt or longer pair of shorts will create balance between the halves of your body.
For this outfit, start with a fun, patterned crop top. A long, flowing skirt balances the short top. To go with the sophisticated vibe of the skirt, add black ankle-strap heels and a black clutch. Simple earrings add a bit of sparkle in a subtle way.
The most important part about getting used to heels is to buy your heels in the right size!! Try on a million pairs and do not compromise for heels that don't feel just right unless you plan to buy comfort soles for them right away. Heels too big will wobble and too small will squeeze, and you'll never be able to wear them enough to break them in comfortably.
2. Cutouts are your friend.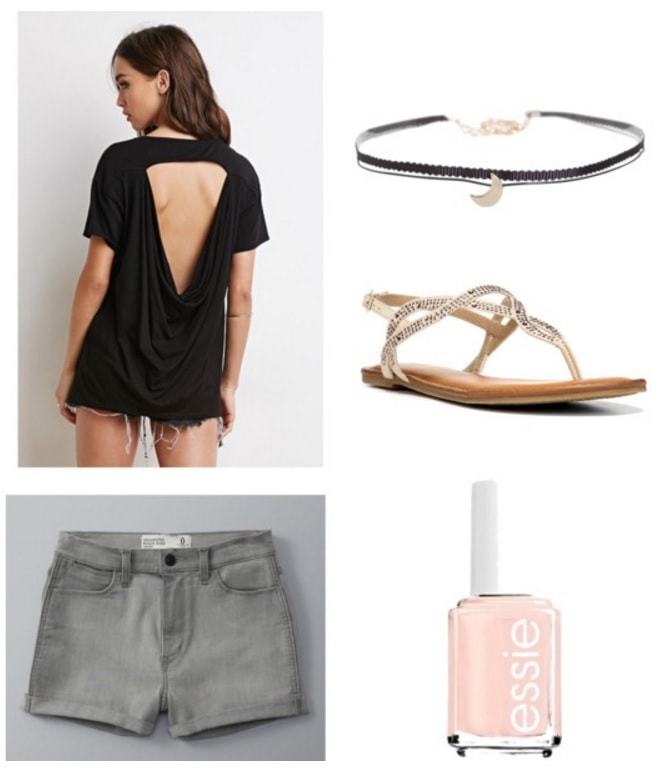 Products: Top | Shorts | Choker | Sandals | Nail Polish
Cutouts show a bit of extra skin while still giving you a good amount of coverage elsewhere. This shirt, for example, has a fun triangular cutout in the back. It's large and flowing, but the cutout gives it a bit of extra edge. Pair it with steely-grey shorts and a baby pink nail. An edgy moon choker will go perfectly with this outfit, and strappy sandals finish it off with a summery vibe.
With tops that have open or lace backs, like the tank top you mentioned, your best bet is to either A. Wear a sticky bra and avoid visibility altogether, or B. Buy a fun bra that's mean to be seen! There are some bras with really neat back designs meant to be shown off, and those kind of tops are the perfect opportunity to do so.
3. Draw attention to one facial feature at a time.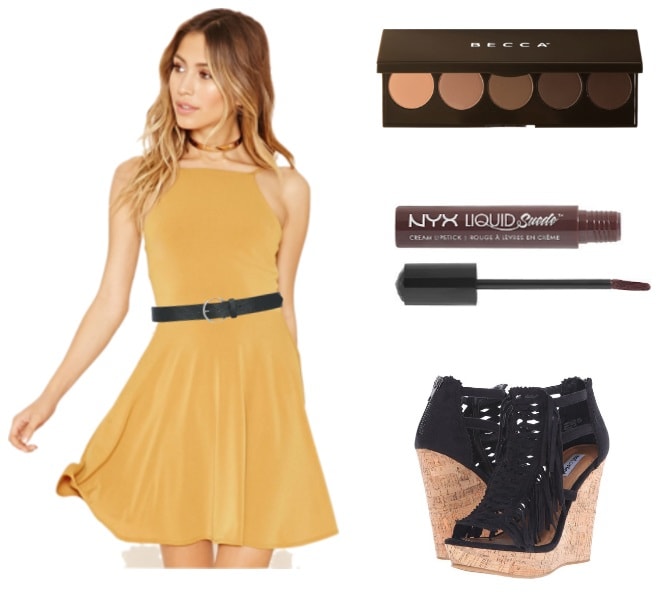 Products: Dress | Belt | Eyeshadow | Lip cream | Wedges
Just as you need to maintain balance in the clothing you wear, you need to balance your makeup as well. If you wear makeup, you can look overdone if every feature is emphasized. So, if you want to do a killer cat-eye in your favorite fun shades, a neutral lip is your best pairing. Conversely, your favorite red lip will go best with an eyeshadow that's closer to your natural skin tone.
For this look, pick a neutral eyeshadow palette for your skin tone and instead play up your lips with a vampy deep brick shade. An on-trend mustard dress will go well with the earth-toned makeup. Define your waist with a simple black belt and dark wedges to match.
Do you have a pressing fashion question? Ask away!
Is there a piece in your closet that you never know how to style? Do you have an important event coming up? Is there a certain trend that is completely lost on you?
If you have a question you want to see answered in this column, just send it on over via email to askcf @ collegefashion.net and one day you might see your question answered right here on the site!
Please note: We get A LOT of email and unfortunately we will not be able to respond to every single question. However, we will read through each question and then decide which ones will be most helpful to the most readers. Thank you for your understanding.
What do you think?
Have you ever done a style turnaround? What's your favorite facial feature to emphasize? How do you show skin without showing too much? Let us know in the comments below!