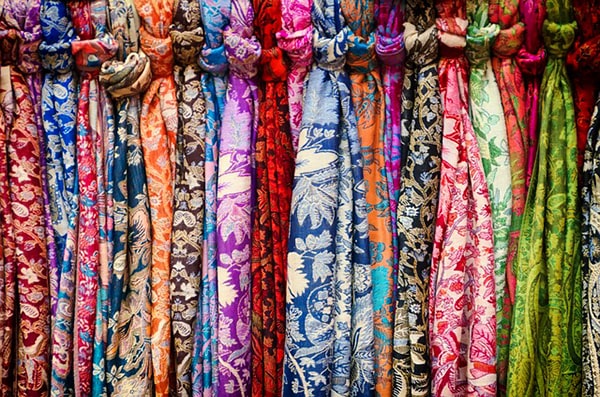 Welcome to the latest edition of Ask CF! Every two weeks, we select a reader fashion question and answer it here on the site. Do you have a specific fashion question for us? Scroll to the bottom of this post to learn how to send it our way!
Ask CF Question:
Dear CF,

I absolutely adore scarves. I'm not a fan of wearing excessive jewelry or accessories, and scarves are a convenient way to add a bit more color and style to an otherwise boring outfit. I usually wear my scarves around fall and winter, however, I recently moved into a very tropical country, and scarves aren't common here. It's like a perpetual summer, and I don't know how to wear my scarves without looking awkward. I desperately don't want to give up my scarves, though.

Please help me find a way to wear my scarves in this warmer weather. Thank you so much!

– Alie
Our Response
It's finally here. Girls from east to west and north to south have been waiting for this all winter long. The months of warmer weather are officially upon us, and it's time to celebrate! So, break out those short sleeve tees and flirty skirts. Long gone are the days of puffy winter coats, ear warmers, and gloves that inhibit the use of our phones.
However, there is one winter accessory that transcends the transition into spring: scarves. They are perfect for adding that extra bit of warmth and style on a sunny yet breezy spring day.
If you're not used to wearing scarves in warmer weather, the switch can be a little tricky. Here are three things to keep in mind when it comes to rocking this look:
Pay attention to weight. You don't want to be wearing a wool scarf in the middle of summer! When buying a scarf to wear in warmer weather, make sure you pay attention to the weight of the fabric. Choose something breezy and lightweight so you don't overheat.
Look for color! Since it's officially spring, you can stash away those muted hues and opt for something a little brighter. The easiest way to incorporate a summer scarf into your wardrobe is by picking one that stands out from your other winter accessories.
Try it tied. Shake things up a bit. Instead of just letting the ends of your scarf hang loose, you can try a cute tied alternative. Wrap your scarf around your neck like you normally would, then tie the ends together for a unique and fresh look.
I've created three outfits to give you a little inspiration on how to wear scarves in warmer weather. Scroll down to check out the looks!
Outfit #1: Class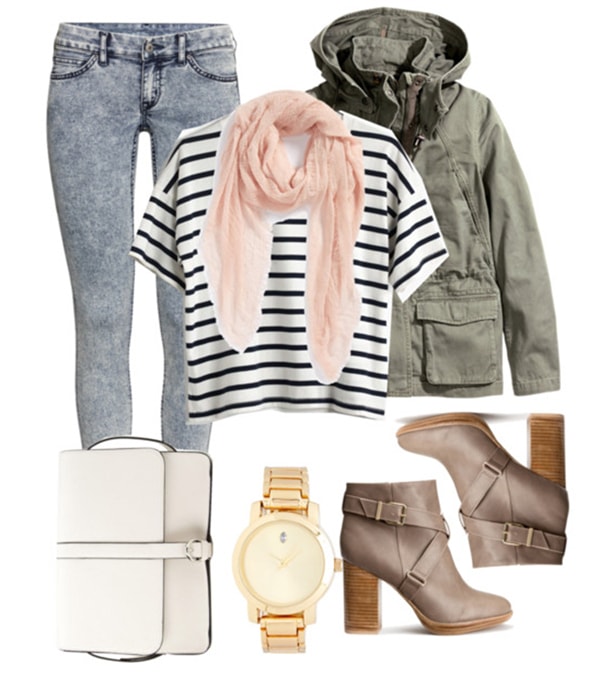 Product Information: Jeans, Top, Scarf, Jacket, Bag, Watch, Booties
Honestly, you can't go wrong with wearing a scarf to class. Invest in a good, versatile scarf, and you can throw it on almost any outfit to finish a look. This peachy, open-weave accessory has stylish and functional benefits. The lightweight fabric will keep you warm while walking to class, and you can always take it off once you get there if it's a bit too stuffy inside.
Outfit #2: Date Night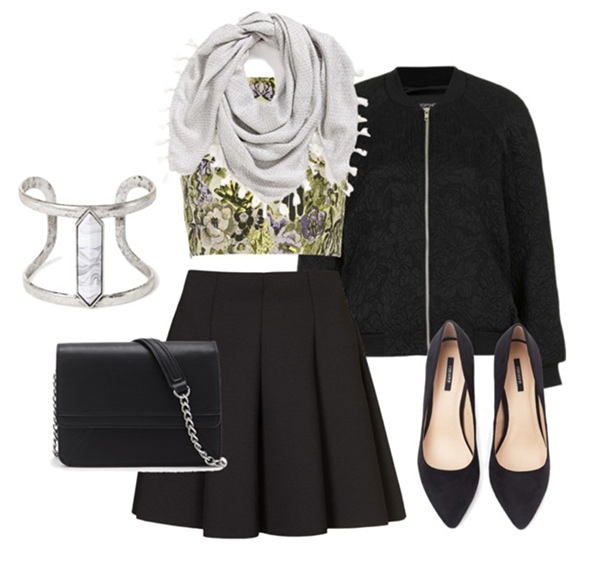 Product Information: Top, Skirt, Jacket, Scarf, Pumps, Bag, Bracelet
Wearing a scarf for date night is perfectly cute and flirty. Adding a scarf to this outfit balances the amount of exposed skin, which is especially useful when it's still chilly outside. It can also help to break up the monotony of the color scheme. At college, I take every date as an opportunity to break out my heels. It's probably one of the only times when you won't be walking everywhere!
Outfit #3: Going Out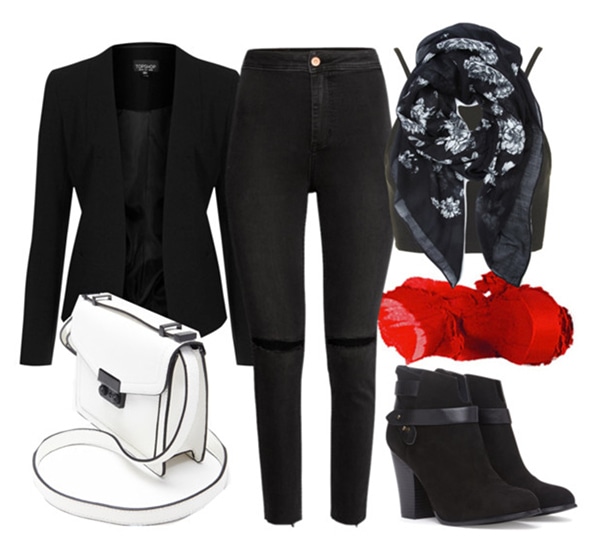 Product Information: Top, Blazer, Jeans, Bag, Scarf, Booties
Because it can still be cool during the spring (at least for those of us who attend school up north), a scarf is a fab accessory to wear on a night out. Make sure you choose something on the less expensive side, just in case you accidentally leave it somewhere! This chic ensemble is perfect for a night out on the town with your girls.
Do you have a pressing fashion question? Ask away!
Is there a piece in your closet that you never know how to style? Do you have an important event coming up? Is there a certain trend that is completely lost on you?
If you have a question you want to see answered in this column, just send it on over via email to askcf @ collegefashion.net and one day you might see your question answered right here on the site!
Please note: We get A LOT of email and unfortunately we will not be able to respond to every single question. However, we will read through each question and then decide which ones will be most helpful to the most readers. Thank you for your understanding.
What do you think?
What do you think about wearing scarves during spring and summer? Are they a year-round accessory or should they be saved for the cooler months? Would you wear any of these looks? Let us know in the comments!