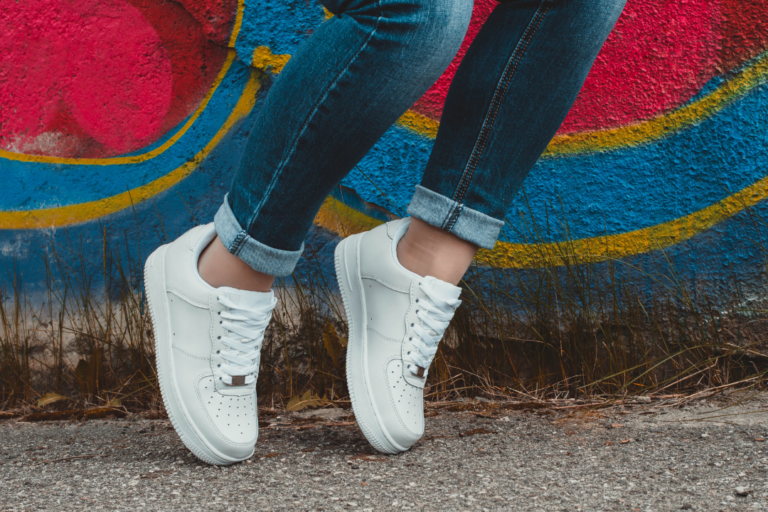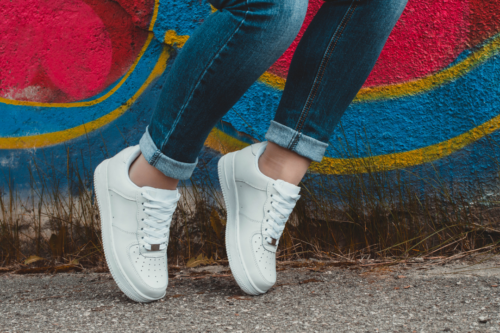 Welcome to the latest edition of Ask CF! Every couple of weeks, we select a reader fashion question and answer it here on the site. Do you have a specific fashion question for us? Scroll to the bottom of this post to learn how to send it our way!
Ask CF Question
Hi CF,

I'm very much a tomboy and love wearing jeans and a t-shirt. But a lot of my friends say I can't wear that going into college. Any ideas for outfits that will stay true to my style, but be suitable for college?

Thanks!

College Tomboy
Our Response
Dear College Tomboy,
Fashion is all about expressing your individual personality; that's why it's called personal style. Just because you are going to college doesn't mean you should dress any differently than how you already like to dress. (Of course, if your college has a strict dress code, that's an exception. But even then you can always add in your own touch of personal style!)
It's understandable that others may think jeans and a t-shirt aren't appropriate for college. But with a few additions to these basics, you can transform a basic jeans and t-shirt uniform into a unique and pulled-together look.
Instead of changing your "tomboy" style into something else, embrace it! Male fashion bloggers such as Andreas, Pelayo, and Adam, have been huge inspirations to myself and many well-known women in fashion. Personally, I've found my style inspired by men's fashion recently. Instead of accessorizing a girly mini-skirt with a pretty necklace and sandals, I have found myself reaching for a baseball cap and sneakers instead. And, of course, the jeans-and-tee route has been on constant rotation.
For inspiration to transform your tomboy style into a statement-making personal style of your own, I've created a few "tomboy," jeans & tee looks below that are appropriate for class. Hope this helps. And enjoy college!
Sincerely,
Jessica
Outfit # 1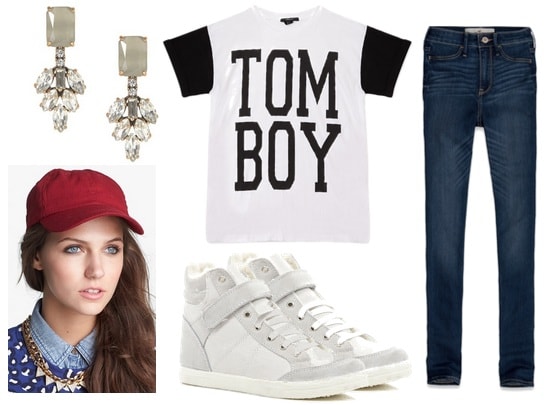 Product Information:Earrings, T-shirt, Jeans, Sneakers, Baseball Cap
Maybe this t-shirt is a little cliché, but there's no better way to embrace your tomboy style than to express it outright! For the jeans, I chose a high-waist dark denim jegging. Lately I have been loving a high-waisted jean; it's a welcome change from the low-rise style that has been popular for a few years.
Like I mentioned above, some fun accessories are all you need to add to a jeans-and-tee routine to keep it looking fresh, unique, and stylish. An oxblood baseball cap perfectly captures a tomboy aesthetic. High-top sneakers are a comfy on-the-go shoe choice, while sparkly chandelier earrings bring in a feminine element to the look.
Related reading: The Ultimate Guide to Tomboy Outfits for Girls
Outfit # 2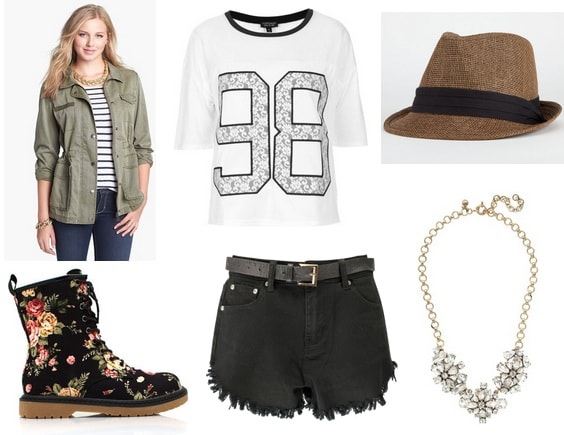 Product Information: Jacket, T-shirt, Hat, Necklace, Shorts,Boots
For this second outfit, I chose to pair some black distressed shorts with a graphic tee. While this boyfriend t-shirt is oversized and casual, the lace print of the numbers add that girlish touch. Additional feminine elements like a jeweled necklace and floral combat boots continue this trend. Finish with a lightweight military jacket and fedora.
Outfit # 3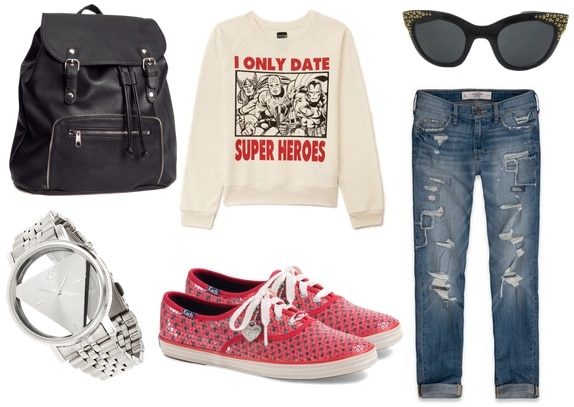 Product Information: Backpack, Sweatshirt, Sunglasses, Jeans, Shoes, Watch
No tomboy jeans-and-tee style guide would be complete without a pair of boyfriend jeans. I like the distressed look of these, but there are many other options sans-tears if you prefer. Next, throw on a sweater — I love this graphic superhero one, but a simple knit or color-block sweater could work equally well. Finish the look with accessories like sequin Keds, cat-eye sunnies, a functional black backpack, and a geometric watch.
Do you have a fashion question? Send it our way!
Is there something in your closet that you can't seem to figure out how to wear? Do you have an event coming up and need an outfit idea? Do you have a specific fashion conundrum you need help with?
If you have a question you want to see answered in this column, just send it on over via email to askcf @ collegefashion.net and one day you might see your question answered right here on the site!
Please note: We get A LOT of email and unfortunately cannot respond to every single question. However, we will read through every question and then decide which ones will be most helpful to the most readers. Thank you for your understanding.
What do you think?
Do you consider yourself a tomboy? How do you dress up a jeans and tee look to make it appropriate for class? Do you like these outfits? Which is your favorite? What advice would you give? Please let us know what you think by leaving a comment below!