No matter her style, almost every college girl owns one tried-and-true outfit combo: a pair of skinny jeans and a basic black tank top. But as much as we'd all love to wear this staple outfit again and again, people might begin to notice and wonder if we ever do laundry. However, if you can master the art of accessorizing, you may be able to fool the public as you rock these basics over and over.
Today we've put together three different jeans-and-black-tank looks that can take you from one situation to the next. Study how each accessory changes the outfit and get ready to stretch your wardrobe even further!
Look #1: Trendy Pops of Color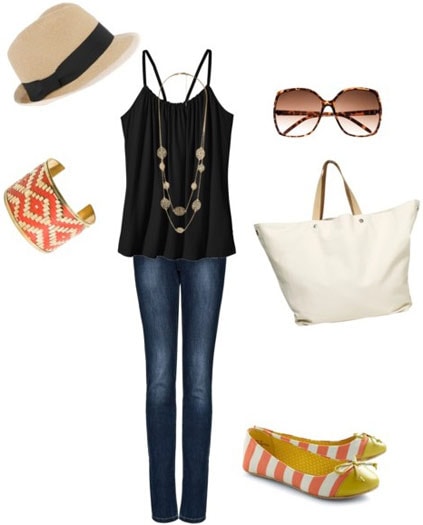 Product Information: Top, Jeans, Fedora, Necklace, Bracelet, Sunglasses, Tote, Flats
Bring your jeans and tank into the summer season with a few pops of color. The striped flats and decorated bangle will keep the look from being too wintery, illustrating how changing a few accessories can completely update a look. The white tote against the dark clothes will create an eye-catching contrast and the fedora and sunglasses will make sure that this outfit works for a sunny summer day.
Look #2: Going Out Pastel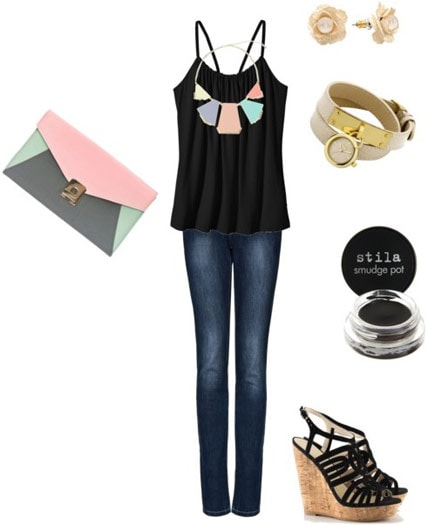 Product Information: Necklace, Clutch, Earrings, Watch, Makeup, Wedges
A black tank top and dark wash jeans are my go-to pieces for a night out. Comfortable and stylish, these staples are perfect for a nice dinner or an evening out with the girls.
Take your favorite jeans and top out on the town while trying this season's pastel trend. A colorblocked clutch and necklace will make an elegant statement while simple studs and a watch will pull the look together. Throw on your sexiest wedges and get ready for fun!
Finally, it is important to acknowledge that makeup – which totally counts as an accessory – has the ability to completely transform a look. Imagine this look with simple neutral makeup…then picture it with a fierce smoky eye. Can you see the difference? When putting together an outfit, make sure that you consider your face, too!
Look #3: Work Appropriate Denim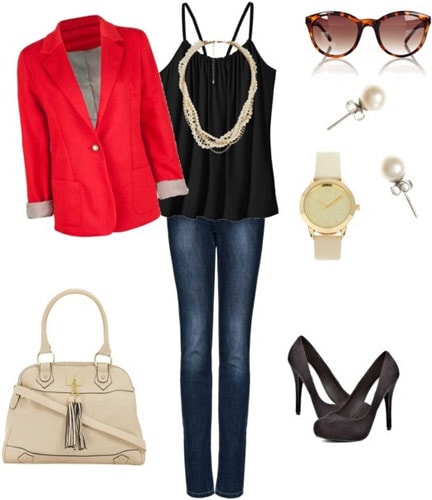 Product Information: Blazer, Tote, Necklace, Sunglasses, Earrings, Watch, Heels
As we begin all of our fabulous summer internships and start building up a work-friendly wardrobe, it is important to remember that we can use our favorite pieces in a work setting, too. (Just make sure that your office is jeans-friendly first!)
I know a blazer isn't technically an accessory, however it's definitely needed here as most offices won't be cool with spaghetti straps. The red blazer adds a "notice me!" pop of color, while the classic watch and pearls will keep you from looking unprofessional. Basic black pumps and a carryall tote will up the office factor of this outfit and make your coworkers say "Wow!"
Your turn!
Now, as always, it's time to hear what you have to say. What do you think of the outfits above? Where would you wear them? Do you have any other suggestions for accessorizing your jeans and tanks? What are your staples? Make sure to leave your thoughts in a comment!