This post may contain affiliate links, which means we may receive a commission if you purchase through our links. Please
read our full disclosure here
.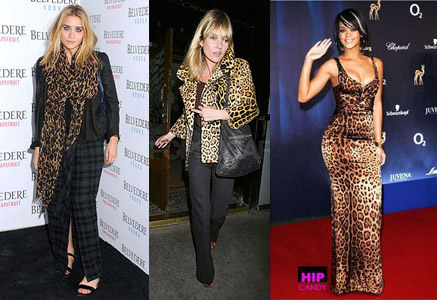 The leopard print trend on Ashley Olsen, Kate Moss, and Rihanna
Leopard print, though popular, is not an easy print to wear. If worn wrong, it can take on a tacky, trying-to-hard quality. But, if worn right, this hot fall print can be cute, girly and sexy without being too over-the-top or trashy.
To show you how to pull off leopard print, I have created looks in three different categories below- a splash of leopard, a little more, and all out.
The outfits with just a "splash" of leopard print are for those with a more minimalist style, or who want to try the trend gently; I've created both a day-time outfit and an evening outfit in this category. The "a little more" outfits are for those feeling braver about leopard- the print is a large element of the outfit. In this category, there is also a day and an evening outfit. The final outfit is "all out"- for those who are ready to make leopard print the focus of their outfit. There is only one look in this category as all-over-leopard can be a little overpowering for daytime.
Ready to see the looks? Read on!
A Splash of Leopard Print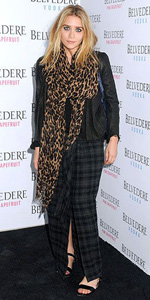 A hint of leopard print, as seen on Ashley Olsen above, will give your outfit some oomph and bring it completely up-to-date for fall. It's also the perfect way to wear this trend if you're wary of the print.
If you're a little nervous about wearing leopard, invest in accessories- leopard bags, scarves, shoes and jewelry are huge right now and can be found for cheap. Keep the rest of your outfit quite simple so the leopard print accent really stands out.
Daytime Outfit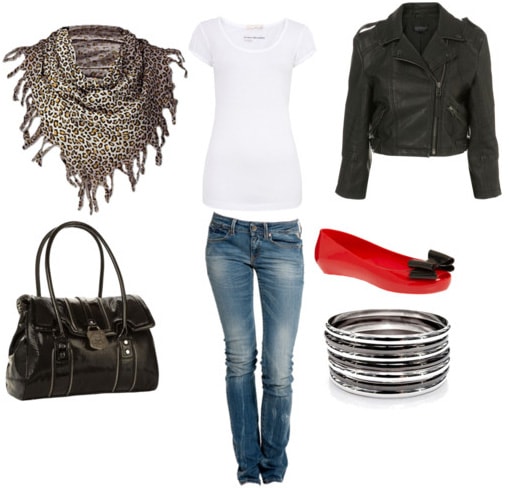 scarf/ bag/ tshirt/ jeans/ leather jacket/ shoes/ bangles
This is a really simple daytime outfit that's perfect for a day of class or shopping. I love the combination of leopard and leather, so I paired this leopard scarf with a great leather moto jacket. A leopard scarf is a perfect winter investment- it'll keep you both warm and stylish as the weather cools down. I kept the rest of the accessories simple to let the scarf stand out.
Evening Outfit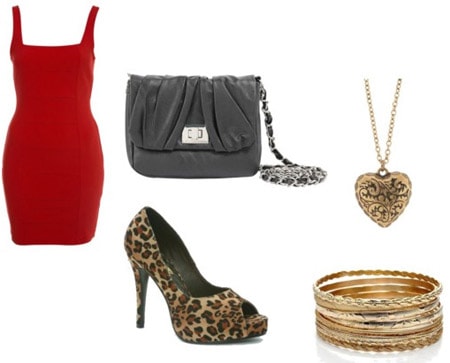 dress/ shoes/ bag/ necklace/ bangles
Red is definitely one of the standout colors of the season– it's loud, it's proud and it's sexy. It also works amazingly well with leopard print! I love this sexy red body-con dress when paired with these adorable leopard peep-toe pumps. When wearing leopard print shoes, stick to block color in the rest of your outfit and keep accessories simple and neutral.
A Little More Leopard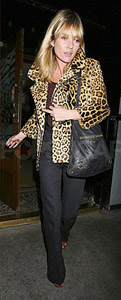 These outfits are for the slightly more adventurous – those who want to make a statement without going over-the-top.
As seen on Kate Moss above, a leopard print coat can be a fabulous winter piece that goes with everything. I also love leopard print tights – they're perfect for brightening up a little black dress or adding pop to a simple outfit. Leopard tops and skirts are easy to pick up- pair them with neutrals or block colors to stand out without going overboard.
Daytime Outfit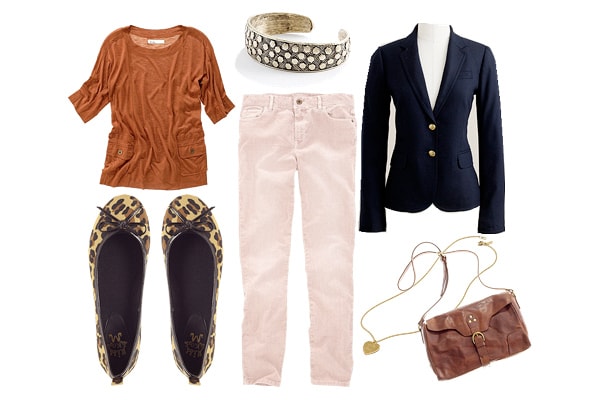 dress/ tights/ shoes/ bag/ earrings/ necklace/ headband
For this outfit, I picked a really simple black t-shirt dress and kept everything really simple so the tights wouldn't compete for focus. These fab tights are a brown leopard pattern, but you can also buy gray or colorful leopard tights. The simple gold jewelry I chose is cute without being too bold, and this bag is big enough to hold everything you need for class. I know not everyone is a headband fan, but I thought this one was really sweet and perfectly tied in the leopard from the tights.
Evening Outfit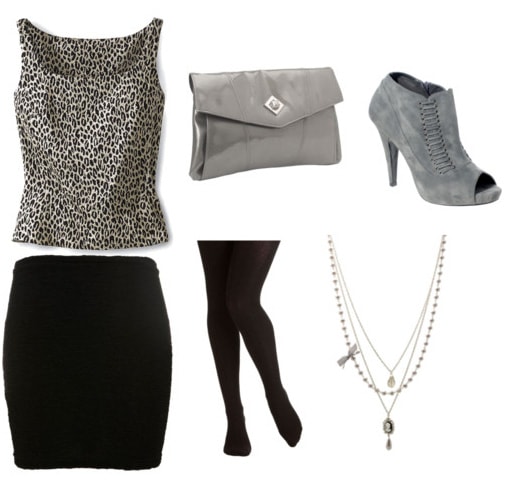 top/ skirt/ tights/ boots/ bag/ necklace
This is a really cute but classy evening outfit with just enough leopard print. The tights are optional while the weather is still nice, but will keep your legs warm when it gets a little colder! Next, we all know the amazing qualities of the perfect little black bandage skirt, and shoe-boots are huge for winter with gray being a nice change from black. This look would be perfect for a party or a hot date.
All-Out Leopard Print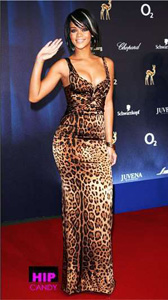 Leopard print dresses are not as scary as they look. You just need one serious accessory- CONFIDENCE!! Wear a leopard print dress and walk like you own the place. As seen on Rihanna above, leopard print dresses are super sexy, so, when wearing one yourself, go out there and show them what you can do!
Evening Outfit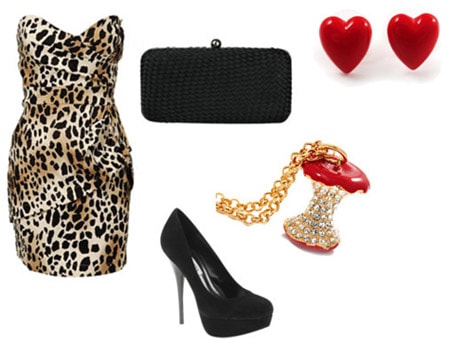 dress/ shoes/ bag/ earrings/ necklace
This look is perfect for a party or night out- just remember to keep everything simple so the dress looks sexy and not tacky. There are lots of leopard print dresses around right now so make sure to shop to find your perfect one – I thought this strapless one was fun but still chic. And when it gets cold? Throw a leather jacket on top of your leopard dress for even more style points.
As with the first two outfits, I added a splash of red to work with the leopard, but feel free to keep everything neutral if that's more your taste- blacks and golds work equally well with leopard print.
Your Thoughts?
What do you think of leopard print? Cute or trashy? Will you be trying it out this season? Which category, or categories are you going to try? Let me know what you think in the comments!