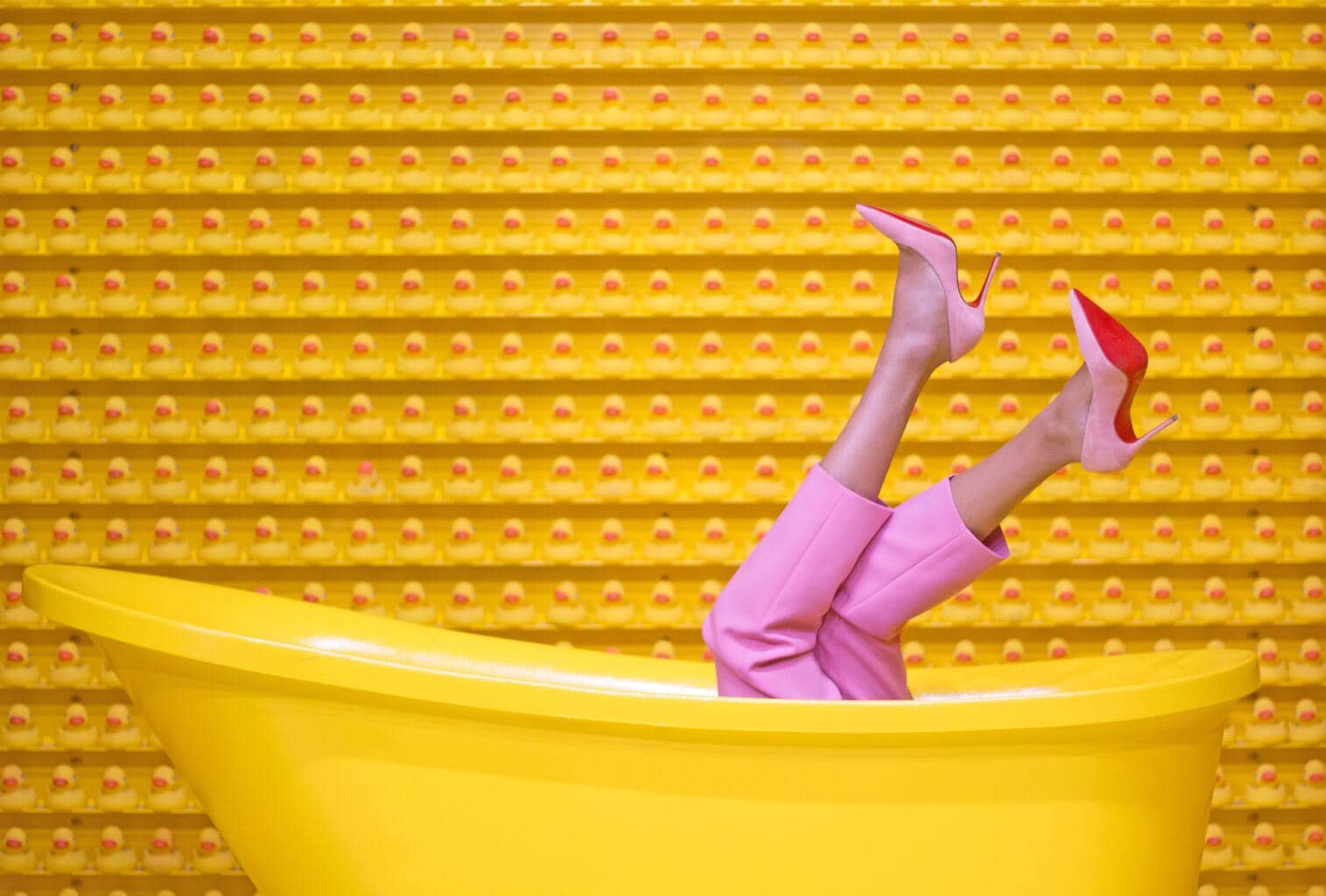 This is the final article in the Girl's Guide to High Heels series.
The last two articles focused on walking in high heels, and the process of buying high heels. In case you missed them, see How To Walk In High Heels and How To Buy High Heels.
For this article, I want to focus on where to buy those fabulous heels – there are so many stores, so how do you choose?
There are two main places you can buy high heels – walking in to a shoe store or department store and purchasing them there, or the ever convenient and popular online shopping. I've broken down the pro's and con's of each, plus a list of my favorite online and offline stores to find the best high heels.
Should you buy heels online or offline?
Offline shopping is probably the most popular way to buy shoes. When you buy high heels in a store, you have the opportunity to try them on, examine the shoes up close, and talk to the salesperson to find your perfect size. You can also walk around in the shoes before you buy, compare pairs up close and personal, and even get your feet measured if you aren't sure what size you are! It takes more time than shopping online, but shopping in a store means you'll know immediately if you've found the right shoes or not.
Shopping online, however, may also be a good option for you if you live far away from a store that sells nice shoes, or if you don't have a lot of time to go shopping. It's certainly more convenient to have your shoes delivered to your door rather than going to a store and trying them on. Similarly, online shops may have a bigger selection than offline, and if you're looking for a specific brand or pair of shoes, online is the best bet.
That said, if you shop online, you might not like your new high heels when they arrive, and the fit might not be right. Also, you could end up the victim of a "no returns" policy, and stuck with a pair of heels you don't like so much.
Offline shopping has its drawbacks too – if you don't have any good stores in your area, you might need to take extra time to drive to a good shoe store, and if you don't find anything there, you're back where you started. Similarly, there may not be as good a selection in-store as there would be online.
At the end of the day, it comes down to your personal situation and preferences. If you're a savvy shopper and choose the right stores, you can make either method work for you!
The best offline stores to buy high heels
In my opinion, you can't do much better than shopping in a shoe store or department store for your first nice pair of high heels. They have great selections, and you can try everything on before you buy!
Here are some of my favorite offline stores for high heel shopping:
Saks Fifth Avenue – The ultimate place to shop for (or just salivate over) all the incredible designer heels you could ever hope to own. If you are ever in New York City, you need to visit their Fifth Avenue store – the 8th floor is an enormous shoe showroom with over 10,000 pairs of heels. Even better, there are tons of great salespeople on hand to help you find the perfect pair of designer shoes.
DSW – On the other end of the price spectrum, DSW stands for Designer Shoe Warehouse, and it's the best place to find great quality high heels at low, low prices. If you have one in your local mall, this should be your go-to place first. Try lots of stuff on and see what you like. The only downside is there aren't salespeople to help you out with sizing, so if you need that, look elsewhere.
Payless – If you're going for deep discounts and quality isn't your number one priority, you won't find better deals than those at discount shoe retailer Payless. With designer collaborations like Alice + Olivia for Payless and Abaete for Payless, you can find designer pieces for low, low prices.
A local shoe boutique – I am a big fan of shopping at local stores if you can, so if there are any great leather stores or small shoe stores that sell heels, give one of them a visit! You'll get personalized service and advice, plus you'll be helping support a local business.
Vintage stores – I do recommend vintage stores for high heel purchases, but you need to shop carefully if you're going this route. Remember my tips from the last article on finding quality high heels – test the soles, examine every inch of the shoes, and if anything looks off about them, don't buy. Remember that people usually donate their shoes for a reason – it might be that they're falling apart and would be difficult to have repaired.
The best online stores to buy high heels
When choosing an online store to buy a nice pair of heels, it's important to look at three things: price, quality, and their return policy. Buying shoes online, especially when they're an investment, can be risky. If you don't like the shoes and can't send them back or have to pay a serious penalty to do so, it will be a waste of your money. Shop carefully!
Here are some online shoe stores I recommend both for their selection and their great return policies.
Zappos.com – The shoe store that specializes in customer service. When you shop at Zappos, you not only know exactly what you're getting, but if there's any problem, returns are free. Even better, you can return your shoes for 365 days after the date of purchase – how awesome is that? Another great thing about Zappos – they have lots of customer representatives that know about shoes, and will always be willing to help you out if there's a problem. It's really the perfect online shoe store.
Shoes.com – Lots of discounts and good value for your money. While they may not have the customer service reputation of Zappos, shoes.com is also a great resource for thousands of amazing high heels. And they also offer free returns for up to 365 days from the date you bought them!
Piperlime – One of the newest and most popular online shoe stores, Piperlime is affiliated with GAP, Old Navy, and Banana Republic, companies with good reputations for reliability and quality. They offer free returns for 60 days after purchase, but be careful! Shoes that were on sale are not eligible for return.
Something to remember when you're shopping online for high heels: comparison shop!
If you find a pair of shoes that you love on one website, check around to make sure those shoes actually look like they do in the picture & that you can't get them for cheaper elsewhere. And examine the return policies on every store you're considering – return costs can eat up your money!
Also, know your size! If you aren't sure what shoe size you are, or are trying a new brand that you've never worn before, realize that you might have to send them back and get another size because they may run smaller or larger than normal. There is so much variation between shoe brands that you need to be prepared!
Where not to shop for high heels
There are many stores that I do recommend, but I thought I'd add a few that you should stay away from when you're shopping for high heels.
eBay – This is one case in which I don't think you should check eBay for a good deal. While prices may be low, it's just too risky when you're making a big purchase like an investment pair of heels. You don't always know what you're getting on this site, and you usually can't return anything you buy. Not worth it!
Discount Stores – You might walk in to a cheap and trendy clothing store in the mall and see heels for $10 – what a deal, right? Not so fast. While the shoes there may be inexpensive, they are also probably bad quality and might break within a few wears. Saving a few bucks is nice, but it's not worth spraining an ankle while your shoe breaks while you're wearing it. Quality counts here!
Your thoughts?
Since you now know where to shop for the best high heels, I want to know what you think. Where are your favorite places to buy heels? Would you rather shop online or do you have to try shoes on before you buy?
Let me know what you think by leaving a comment!