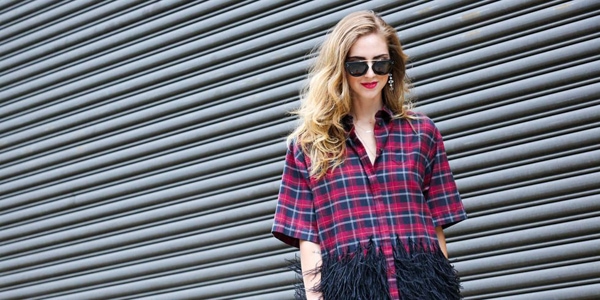 Rules are meant to be broken, and fashion is no exception. Because, let's be honest, playing by the rules all the time can get boring. There are dozens of so-called fashion "rules" that people swear by, but personally I don't subscribe to most of them. When styled with finesse, these so-called fashion "faux pas" can create absolutely stunning looks.
Our very own Editor-in-Chief, Zephyr, wrote an article about this very subject way back in 2008, but I thought it might be a good idea to revisit some of these style myths to explore how they've evolved.
This spring, I dare you to get the most out of your closet by breaking the following five fashion "rules."
1. Black and Brown/Navy Blue Don't Match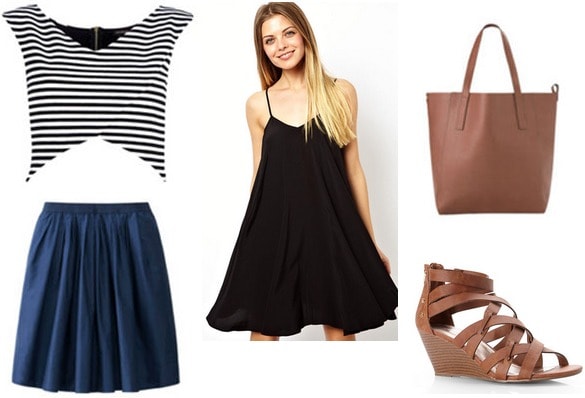 Striped Crop Top | Navy Skirt | Black Slip Dress | Brown Sandals | Brown Tote
This is probably one of the oldest rules in the proverbial fashion bible. It's also probably one of the easiest rules to break. Repeat after me: neutrals match ANYTHING… including other neutrals. Black and navy blue always look amazing together, even if it's just layering black tights under a navy skirt or dress.
The same goes for black and brown, although I think the shade of brown is slightly more important. Opt for a dark tan, like the sandals and tote above. A lighter camel color also works, but extremely dark browns tend to look muddy with black. However, as I said, rules are meant to be broken, so these are merely guidelines that could and should be altered accordingly!
2. Don't Mix Prints
Floral Blazer | Black Skinnies | Striped Tee | Polka Dot Top | Blue Skirt | Leopard Flats
I think the reason so many people think you shouldn't mix prints is because it's intimidating. While properly mixing prints is certainly more challenging, there are some foolproof combinations that will always work: stripes and floral (although really, stripes go with just about ANY pattern), and polka dots and leopard print are some of my favorite combinations.
The key to mixing prints is balance. Pay attention to the size of the prints; a small print on a shirt looks good with a large print on a skirt. The opposite combination also works: a large printed top works with small printed pants. As long as you don't mix patterns that are the same size (unless they're small accessories), the possibilities are unlimited.
3. Sequins and Metallics Should Only Be Worn At Night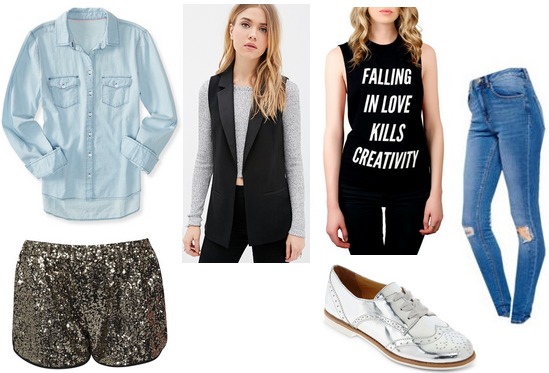 Chambray Shirt | Sequin Shorts | Black Vest | Muscle Tee | Silver Oxfords | Ripped Skinnies
While sequins and metallic pieces may not have been considered suitable daywear in the past, they've become a staple in the modern girl's closet. We all normally break out sequins for the holiday season, but why should we have to wait so long to style our beloved sparkles?
My trick for wearing sequins and metallics during the day is to balance it out with more casual items, as well as materials like denim. Oversized silhouettes (like the vest above) will keep the outfit from looking overdone or overdressed.
4. Gold and Silver Jewelry Clash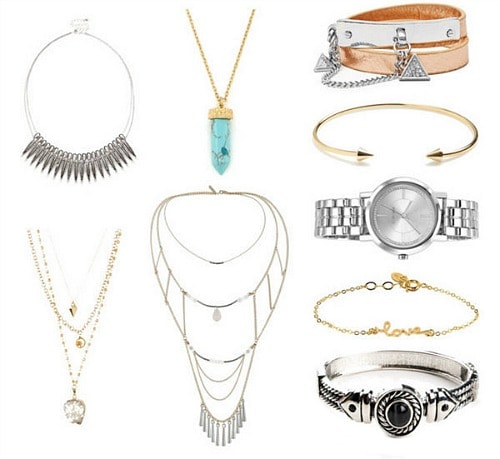 Silver Statement Necklace | Layered Gold Necklace | Turquoise Gem Necklace | Layered Silver Necklace | Rose Gold Cuff | Gold Bangle | Silver Watch | Love Bracelet | Black Silver Bangle
Layering jewelry is a huge trend right now, which makes this outdated fashion rule all the more important to ignore. Wearing silver and gold – when paired correctly and not haphazardly – can look incredibly chic. The most important thing to remember is contrast.
When layering necklaces, stack a silver or gold statement necklace with several more delicate necklaces on chains. If you are layering bracelets, do the same thing – a chunky watch pairs nicely with a thin bangle. Rings are also great for layering, and you have ten whole fingers to experiment with!
5. Petite Girls Can't Wear Maxi or Midi Lengths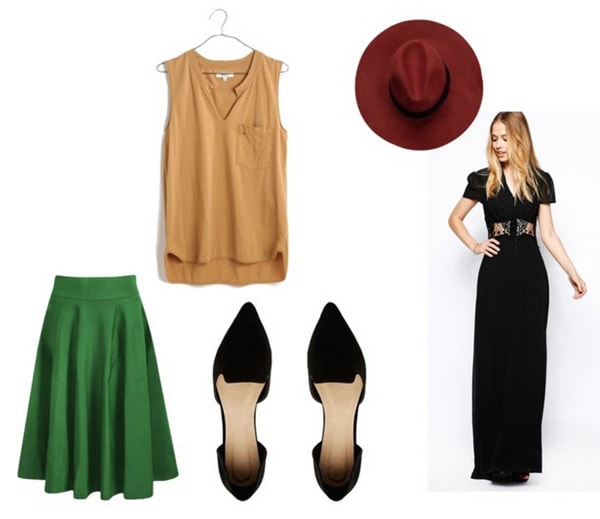 Mustard Tank | Green Midi Skirt | Black Flats | Garnet Hat | Black Maxi Dress
As a petite girl, for the longest time I steered clear of any longer silhouettes for fear that they would drown me in fabric. It wasn't until a few years ago that I took a chance and started wearing maxi and midi lengths. Since then, I've never looked back.
While it may be slightly more difficult to find flattering midi/maxi silhouettes, it is definitely possible. Look for items that skim the length of your body and emphasize your waist. Solid colors are usually your best bet, since they create an illusion of height. And if all else fails, slip on a pair of sky high wedges to pretend you're tall for the day.
Your Thoughts?
What fashion "rules" do you follow? What fashion rules do you love to break? Sound off in the comments – I can't wait to hear what you all have to say!