This post may contain affiliate links, which means we may receive a commission if you purchase through our links. Please
read our full disclosure here
.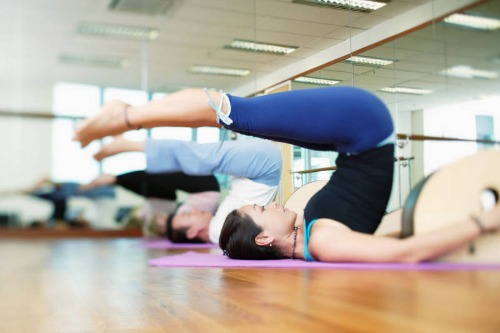 Ah, summer: a time where your life can be on whatever schedule you please, and you can finally take the time to do something for YOU. One of my personal goals this summer is to get in better shape! I consider myself an athletic person, but there are definitely areas where I could improve. So this summer I've signed up for yoga and cardio kickboxing classes, while also incorporating hiking, running track, and weight lifting into my exercise regimen. Whew that's a variety of stuff, no?
Inspired by my own new exercise routine, I have come up with a list of essentials for anyone who is planning on exercising regularly this summer. Of course, these items are not only useful, but in the spirit of fashion they are also adorable and can really make a statement at the gym!
1. A Cute Duffel or Tote Bag
I bring a tote bag to the gym because I just don't have the need for a duffel bag: I usually wear my gym clothes and use my tote for my iPod, a water bottle, my keys, my wallet, a hand towel, etc. However, if you are one of those people who prefers to change at the gym and/or swim/shower after your workout, you might want to consider a duffel bag instead. Of course, exploring the locker size at your gym is essential, too, before you buy!
Product Information (clockwise from top): Gym Holdall- ASOS, Roxy Striped Tote- available through Zappos, Orange Workout Bag- Old Navy, Silver Workout Bag- Nike
2. Quick-Dry Clothing
I love breaking a sweat at the gym; however, I could definitely do without the sweaty, sticky, gross feeling that comes with it. Solution? Quick dry fabrics! My favorite is Nike Dri-Fit; however, other brands like Under Armour have quick dry clothing, too! If you are really into natural fibers, beware because most quick-dry clothing is made from synthetic materials. If any of you know of any "green" quick-dry brands, leave a comment with the info!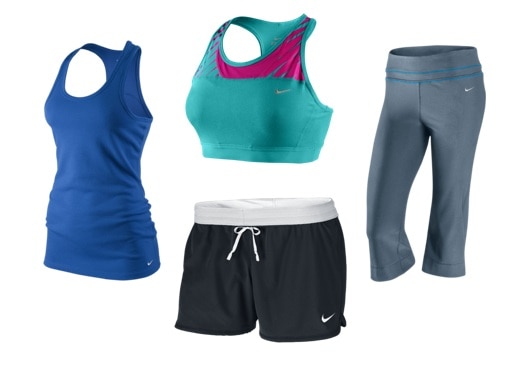 Product Information (clockwise from top):Turquoise Sports Bra, Stretch Capris, Shorts, Blue Tank – all Nike Dri-Fit
3. High-Quality Exercise Shoes
This is probably the most important item on this list. Good shoes are essential; you NEED to be well supported during your workout! There are even stores now where you can go in and run on a treadmill and the sales associates will help you determine where you need support the most. With the variety of brands, colors, and styles out there, sneaker shopping is fun and a good pair is totally worth the money! Here are some cute pairs I found online: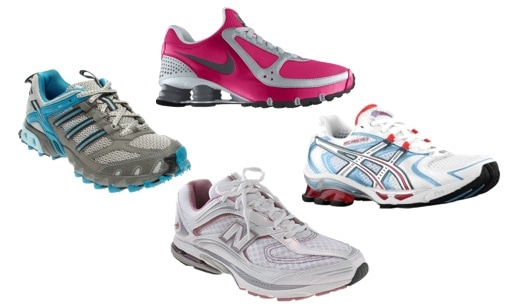 Product Information (clockwise from top): Shox Running Shoes- Nike, Gel Sole Exercise Shoes- ASICS, Walking Shoes- New Balance, Trail Shoes- Adidas
4. A Yoga or Exercise Mat
Even if you aren't a yoga fiend, it's really nice to have your own mat because gyms tend to "wash" their exercise mats by simply wiping them down with antibacterial wipes. Ew. Save yourself from the ick-factor and invest in a cute mat that you can bring to the gym and do all of you ab exercises, stretching or yoga on! It's also a good reminder to stretch after your workout, so you don't find yourself uber sore the next morning.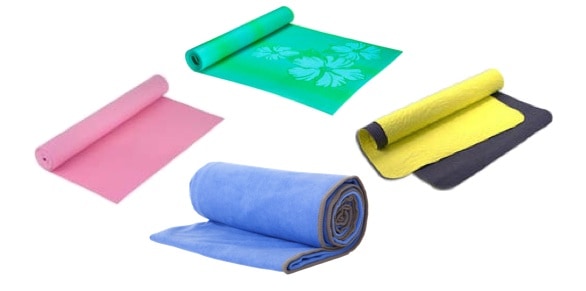 Product Information (clockwise from top): Green Mat- Wal*Mart, Yellow Mat- Nike, Blue Cushion Mat- Manduka, Pink Mat- Home Fitness Equipment
5. A BPA-Fee or Stainless Steel Water Bottle
Having your own water bottle is great! You can always refill it at the gym (assuming they have a water cooler) or you can bring your own protein shake and keep it nice and cool! Plus, using a washable water bottle is much more environmentally friendly than using and tossing the plastic kinds. Go green and get hydrated!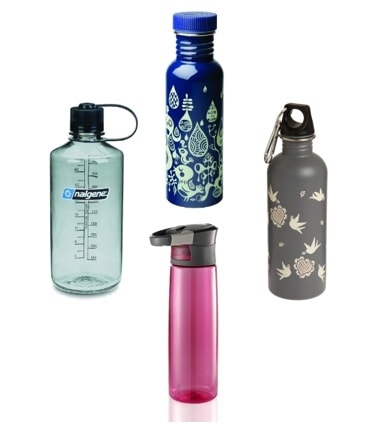 Product Information (clockwise from top): Blue Water Bottle- Amazon, Peace and Love Water Bottle- Modcloth, Pink Water Bottle- Go Contigo, Clear Bottle- Nalgene
What do you think?
Do you exercise regularly? What's your summer workout routine? What essentials do you recommend? Let me know with a comment!