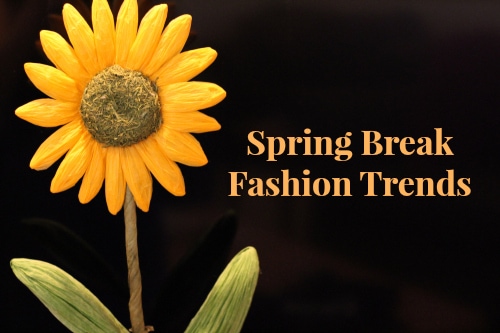 Spring break is about to arrive, or if your school is like mine, spring break is already happening. This article is about sunshine, daisies, and trends I've seen out and around during this time. Let's see the looks:
1. Bohemian Mermaid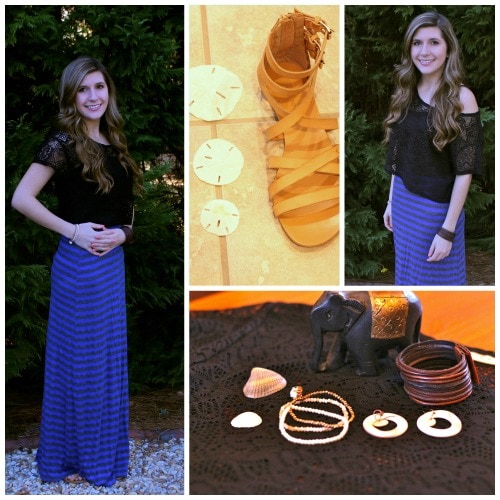 Maxi skirts are not only incredibly comfortable, but an easy way to add some boho flair to your outfit. (Thank you to CF reader Joanne for requesting a look featuring a maxi skirt!)
On top I have on a lacy crochet crop top over a camisole, some strappy sandals, and fun jewelry. Maxi skirts can shorten your silhouette if you're not careful, but can also be very elongating when paired with a cropped shirt. If you don't have a crop top, try wearing your maxi higher up on the waist to create the same elongating effect.
2. In a Daze With Daisies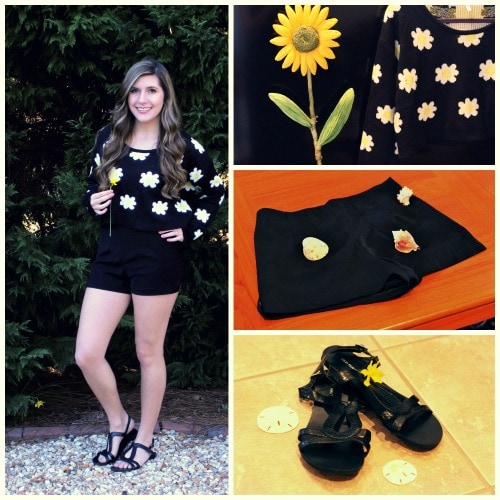 I love daisy and sunflower prints, which is awesome because they're springing up all over. If, like me, you're still a bit undecided about cropped tops, and don't foresee yourself wearing them 24-7, I would recommend buying a less expensive option, which is what I did. This is a cropped sweater from Forever 21.
Since I am not a genie or a belly dancer (shocker, I know), I paired this look with high-waisted black shorts to cover up my tummy. I channel my inner Shakira many days, in many ways, whenever and wherever I want, but not today. Today, my hips might lie.
3. Spring Brights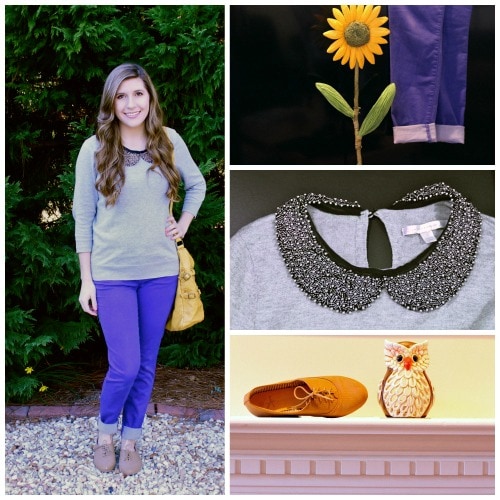 If you're one of the many who are not going to a beach for spring break, colored pants can easily lift up your mood and your outfit. Staying away from black, I wore a gray Peter Pan collared sweater from Lauren Conrad's collection at Kohl's. I wore this sweater casually, but it can be transformed into a whole different style when paired with business attire.
Some say there is a difference between indigo and purple. Either one are pretty trendy this spring, and are great seasonal transition color before falling into the abyss of pastels and florals. On my feet are tan oxford shoes.
Not that's there anything wrong with the abyss of pastels and florals. I've spent many a day there, riding my unicorn, eating cotton candy and watching Wreck-It Ralph. It's a good thing I didn't see that movie in theaters, because I howled with laughter at the "Release the devil dogs!" part. Any movie with donut police, or any outfit with color, is a win in my book.
Bonus! Spring Break Nail Polish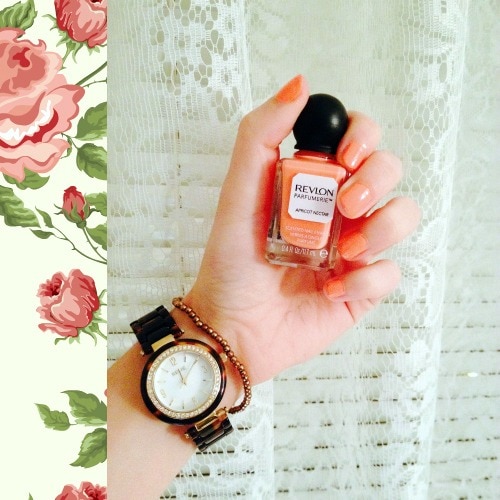 For your spring break manicure, may I present the Revlon Parfumerie nail polish in "Apricot Nectar."The sweet, fruity aroma of apricots wafts around whenever you wave your hands by your face. It's not an overpowering smell – it's less like a giant bully apricot punching your nose, and more like baby apricots sleeping on your fingertips. The apricot hue is perfect, too.
This is definitely a novelty nail polish. If you're looking for one with serious staying power, I suggest Essie or Revlon's Colorstay line. For example, Essie's "Tart Deco", undeniably the best nail polish ever, is almost exact in color to this one (minus the apricot smell).
Your turn!
I hope all of you have a fabulous spring break! What trend are you loving this spring? Are you a fan of daisy patterns and crop tops? Let me know what you want to see next in the comments below.