This post may contain affiliate links, which means we may receive a commission if you purchase through our links. Please
read our full disclosure here
.
Summer movies and teen magazines have always told us that summer romance is a staple of the season. And with good reason! The combination of excellent weather, extra free time, and cuties home from campus practically guarantees that love (or like, or whatever) is in the air.
With the addition of these new social engagements on your calendar, however, comes the need to put together some new outfits! Check out our summer date lookbook below for outfit breakdowns and a little inspiration.
The Date: Live Music
From big-name pop stars like Britney and Ke$ha to weekend-long festivals and indie outdoor concerts, it's almost inevitable that music will make an appearance in your summer schedule.
Though the particular artist you see may influence your look, (think avant-garde for a Lady GaGa concert or cowboy boots and dresses for Taylor Swift) it's fairly easy to put together an outfit that's both concert and date-friendly.
Outfit Idea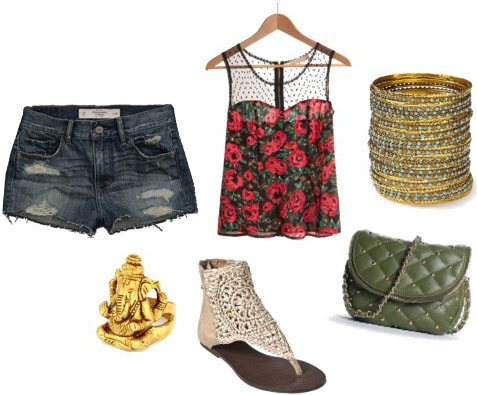 Product Information: Shorts, Ring, Tank, Sandals, Bangles, Bag.
Shorts – Not only are denim shorts comfortable and flattering, but they allow you to sit, stand, and move pretty much in whatever way you want – essential if you're dancing at a concert. Bonus: they're perfect for summer weather, and will keep you cool in any venue!
Flat Shoes or Sandals – Flat sandals provide maximum comfort when standing for long hours and keep your feet cool in the heat. However, avoid flip flops — in a crowded venue, one person can step on the back of your heels and destroy your kicks. No bueno! Want to protect your toes in the standing room only section? Go for Converse, Toms, or similar styles for extra defense. Whatever style you choose, make sure they're comfortable!
Cross-body Bag – A solid bag will keep your essentials close while maximizing dance-ability!
Statement Accessory – A chunky ring or stack of bangles will add interest to your outfit and give you something to talk about!
Want more specific advice for dressing for outdoor concerts? Check out our guide to dressing for music festivals!
The Date: Club/Lounge/Bar Scene
Seasonal patios and rooftop bars make great spots for a summer night out. Take advantage of gorgeous weather, fruity drink specials, and excellent people watching in the "hippest" area codes in your city.
Dates like these are the perfect excuse to go all out and add a little glamour to your look! As evidenced by The Man Repeller, however, some of our potential dates may not appreciate super-trendy clothing as much as we do! For those particular dates where you choose to indulge your guy with man-approved apparel, (because let's be honest… most of us fashionistas dress for other fashionistas and ourselves, not boys!) you can't go wrong by following this formula.
Outfit Idea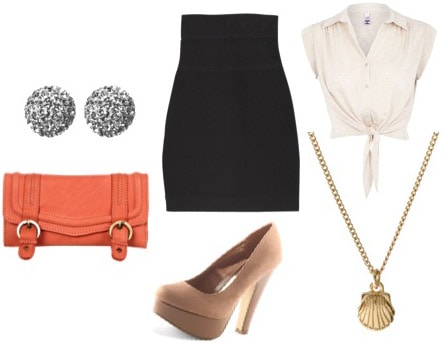 Product Information: Earrings, Clutch, Skirt, Pumps, Blouse, Necklace.
Bandage Skirt – Form-fitting and body conscious, we've written on the benefits of bandage skirts in the college closet multiple times! A bandage skirt is truly a must-have, and will get you through any date with ease. Flirty, sassy, and figure-enhancing, it's the perfect piece to don for a big night out.
Nude Heels – Another wardrobe staple, nude heels are unobtrusive and do great things for your legs. And as always, any great pump will help to equalize a potential height difference between you and a tall date should you so desire.
Simple Jewelry – Avoid distraction – your date wants to stare at you, not your accessories! Ditch your usual stack of bangles and double-finger rings in favor of delicate stud earrings and a dainty charm necklace and you'll have your date hooked.
The Date: Movie Night
No matter the season, a movie night in or out is a low-key, go-to date. While it may seem as if this particular night out doesn't require a special outfit, planning an effortless, casual look can present challenges of its own! After all, you want to look cute, but not too put together, chic without being overdone, and casual without looking unkempt.
Dressing for a movie date is all about finding a balance of cute and comfortable — something every college girl can appreciate!
Outfit Idea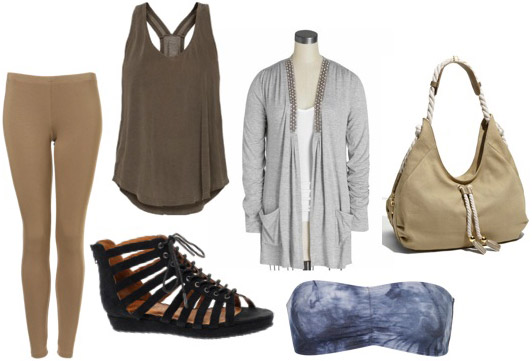 Product Information: Leggings, Tank, Sandals, Cardigan, Bandeau, Hobo.
Leggings/Jeggings/Skinny Jeans – Cozy, cute, and ever-trendy, these bottoms are soft and flattering. Not a fan? Opt for your favorite pair of skinnies to add structure.
Loose, Trendy Tank – A long, baggy tank paired with a lacy bandeau has become a cornerstone in the summer wardrobe of many a college girl! And with good reason — the combo is super comfy and the trendy silhouette looks great with short or fitted bottoms.
Cardigan – Layer up! Not only does a great cardi tie up any loose ends in your outfit, but movie theaters can be notoriously chilly; toting a cardigan in your bag as a back-up source of warmth is always a good bet!
Oversized bag – …All the better to smuggle in your Sour Patch Kids with, right?!
Your thoughts?
What have you been up to this summer? Do you have any summer dates planned yet? What have you been wearing?! Leave a comment below and let us know!