This post may contain affiliate links, which means we may receive a commission if you purchase through our links. Please
read our full disclosure here
.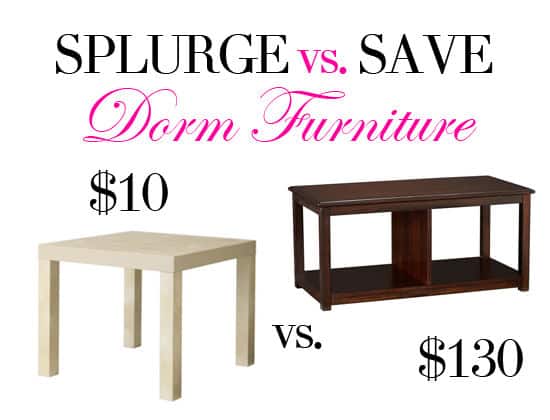 Product Information: IKEA, Pottery Barn
Here at CF, we aim to help readers look and feel fabulous, all while staying on a budget. That same goal extends to our interior design as well, and it's often a challenge to pick out larger dorm room pieces when we've only got so much money to spend.
From my experience with dorm environments, I've seen mostly low-budget furniture from discount stores, which is fine of course. However, there are definitely advantages to investing in a sturdy, classic piece, especially something like a versatile coffee table or super comfortable futon. Yes, your furniture will get dirty and have food/drinks/everything under the sun spilled on them, but at the same time, wouldn't you rather save money in the long run and buy one coffee table that you can bring with you to your Big Girl Apartment?
We recently discussed whether we should splurge or save on dorm bedding, and now we're doing the same for dorm furniture. Whether you're looking at coffee tables or accent chairs, there's a large range of options for any budget, and there are pros and cons for each. Let's look at a few options for each category.
Furniture 101 – Tips for Furnishing Your Dorm
Before you head out to buy furniture, whether you're looking for new or used pieces, keep these tips in mind:
Think about how much use you'll get out of the furniture. While a gorgeous white futon may make your room feel like a minimalist haven, one slip of your hand and your pepperoni slice will be smeared across the fabric.
Look for sturdy construction and strong fastenings, especially when purchasing used furniture. Make sure to check underneath and all around the sides to ensure that your furniture won't fall apart as soon as you buy it!
Remember, there are always ways to spruce up an otherwise bland piece… just keep your DIY skills in mind. Some pieces just can't be saved, while others will look brand new if you throw even a simple bedsheet on top.
Check for garage sales, discount store blowouts, and other events to cut down on costs. Also, make sure to ask your friends (especially ones who recently graduated) to see if they'll sell you their old college things!
Splurge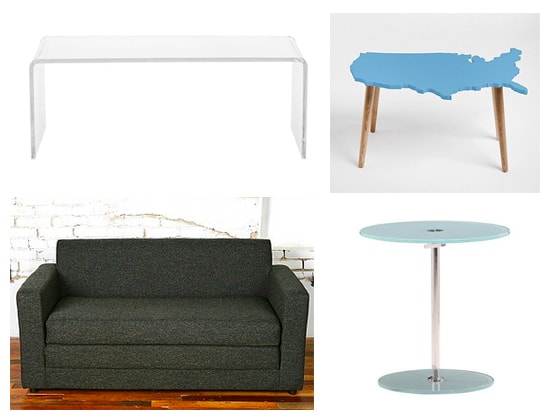 Product Information: Clear Table, USA Table, Glass Side Table, Convertible Couch
Already planning for your future apartment or in your final couple years of school? Invest in a classic and well-built piece of furniture that will last you through well into adulthood. Plus, bringing a piece from college to the rest of your life will always bring back great memories!
Why splurge?
Better to have a sturdy coffee table rather than one that could collapse when there's too much weight on it, especially if there's anything delicate (like your sculpture for Ceramics class that you spent all semester on!)
Often, more expensive pieces boast increased functionality, as with the convertible pull-out couch above. While a cheaper futon can convert as well, the pieces often don't fit together smoothly, resulting in screeches of metal whenever you try to fold it down. In addition, cheaper futons can seriously lack in comfort for your guests.
Save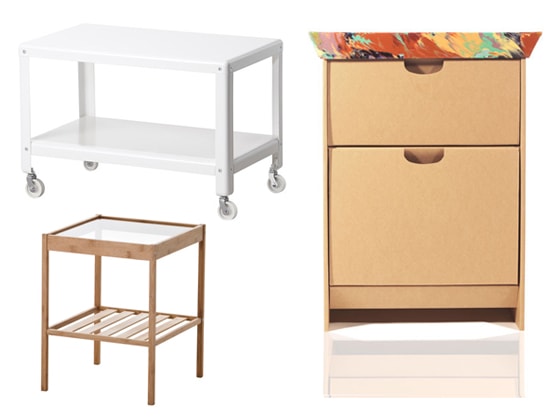 Product Information: Rolling Coffee Table, Drawers (sold out but similar here), Bamboo Nightstand
Of course, college is full of spur-of-the-moment decisions, and sometimes your furniture takes a beating as a result. Going inexpensive is always an option, and it doesn't have to mean you lose out on style!
Why save?
You can always look at thrift shops, garage sales, and friends' storage to see if there's anything you can take home and refurbish. Plus, the thrill of the hunt can make a piece the focus of your room!
You might live far away from home and have a hard time getting large and expensive furniture back home. If that's the case, look for cheaper pieces – that way, you can sell them back or toss them out once you've gotten a good four years' use out of them.
What do you think?
Do you splurge or save on your furniture? What tips do you have for students furnishing their dorm rooms or apartments? Have a great story about a favorite piece in your room? Let us know with a comment!