It's easy to fall in love with a designer's latest products. Affording those products is the hard part. Searching for budget-friendly options can be daunting, exhausting, and can even take the fun out of shopping. CF wants you to look and feel your best, no matter your budget, so we've done all the hard work for you. Check out the looks below and decide if you want to Save, Spend, or Splurge.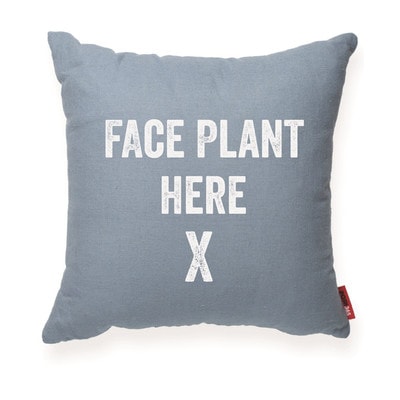 August is in full swing, and that means that within the month, we will all be back to the grindstone. Easy summer dresses and 20 oz. lattes will be part of the daily routine. We already know that. What we may be unsure of is how we want to decorate the space we'll call home for the next nine months.
This doesn't mean hit the ground running toward Bed Bath & Beyond. CF just told you why you may actually want to wait to shop for dorm and apartment decor. Think of this article as your personal reference to create a shopping list based on your budget.
If you feel stuck with your options (i.e. the same chevron rug and semi-transparent stacked storage in every department store), it's important to realize that you don't have to succumb to the same, overdone decor. It's easy to have a cute and personalized space, and CF is going to show you how to do it!
Save: Geek Chic Comfort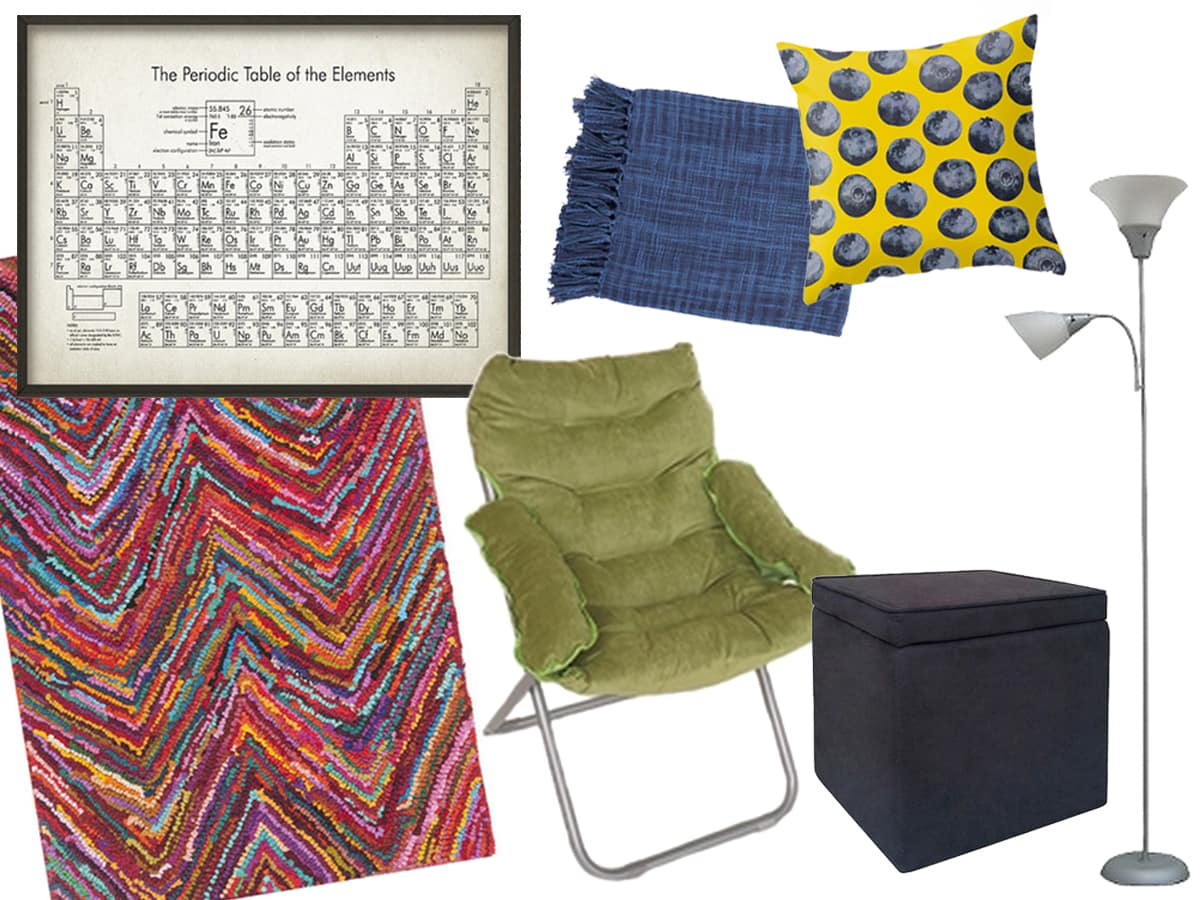 Save: Storage Cube, Chevron Rug, Periodic Table Poster, Plush Chair, Floor Lamp, Blueberry Pillow, Throw Blanket
Just like a good outfit, a successfully decorated room will have one or two statement pieces. Find some wall art, or create some yourself! Art isn't your thing? Personalize the room with a funky pillow (that's also customizable) or rug.
Spend: "I'm Majoring in Graphic Design"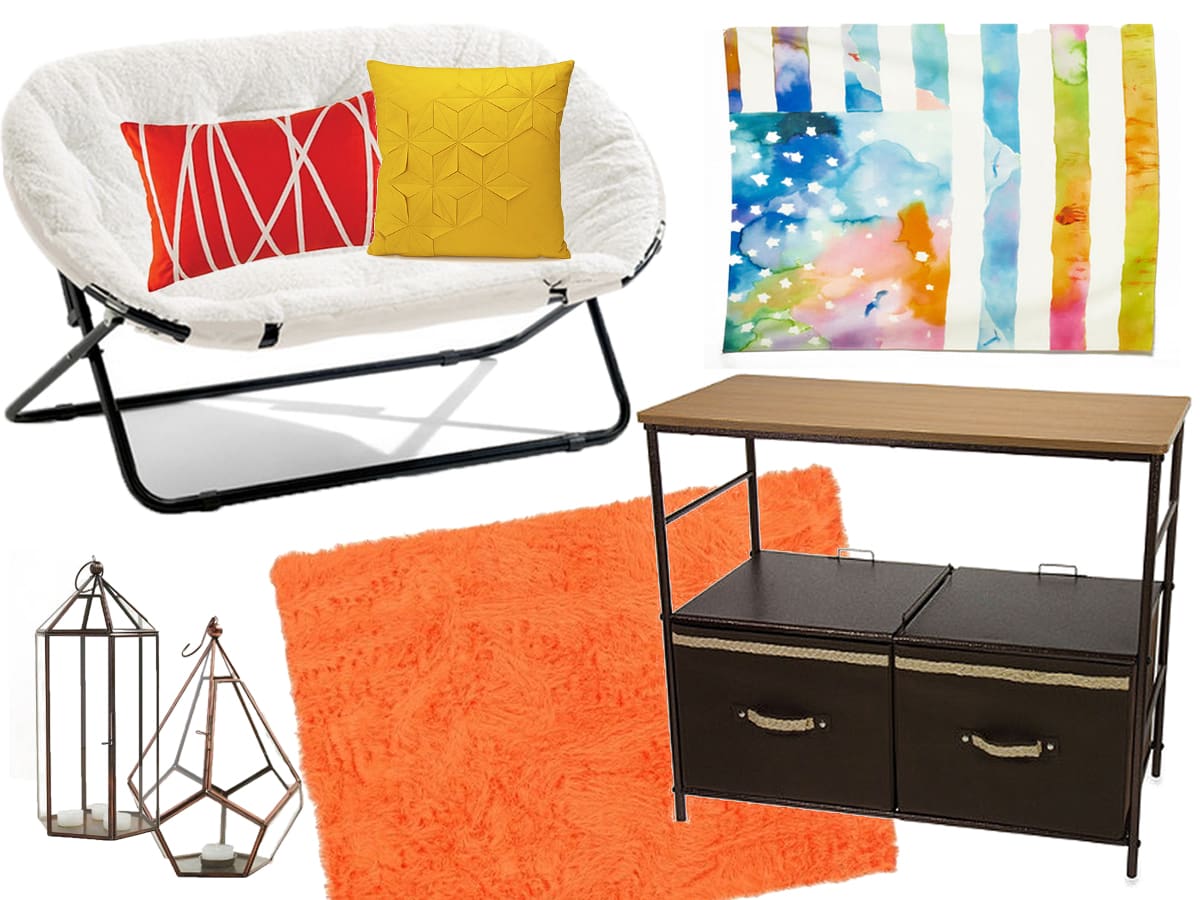 Spend: Two-Shelf Storage, Faux Sheepskin Rug, Tapestry, Lanterns, Love Seat, Red Pillow, Yellow Pillow
Who needs a color scheme when you can have all the colors? These graphic pieces are edgy and unique– even unique enough to get guests talking! Hang lanterns with self-battery candles for ambiance, or put plants in the lantern cages for a unique twist. Play with textures and lines for an interesting aesthetic.
Splurge: Modern Vintage Culture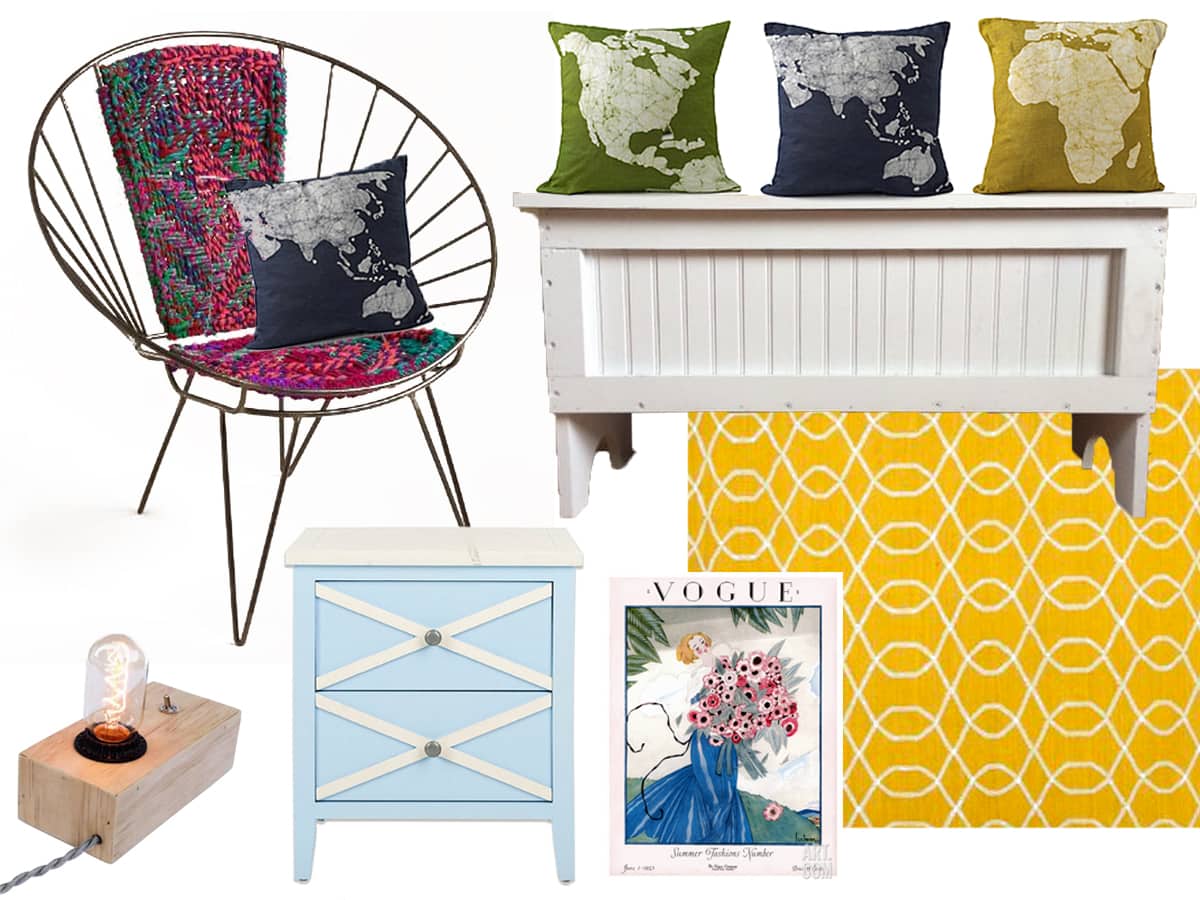 Splurge: Storage Bench, Wool Rug, Vintage VOGUE Print, Side Table, Lounge Chair, Lamp, Set of 3 Pillows
Make your apartment your own little cottage getaway with vintage-inspired pieces, like family furniture or classic wall art. (How cute is that desk lamp?!) Keep it modern with a graphic rug, or the bedding you choose.
What do you think?
Would you splurge on any of these items? How are you planning to decorate your room this semester? Do you have any interesting ideas for decorating? Remember to post comments, questions, and requests below. We love hearing from you!