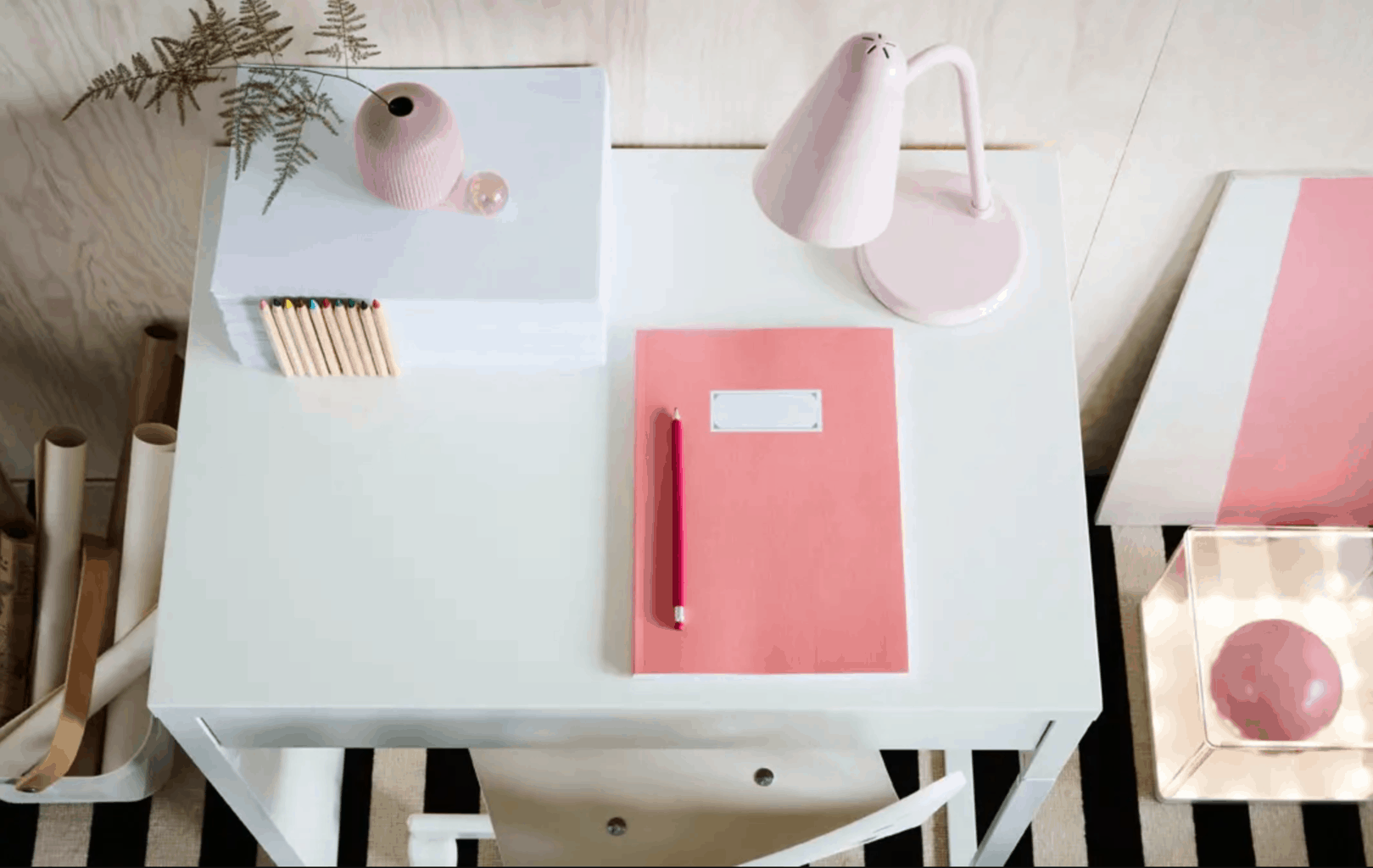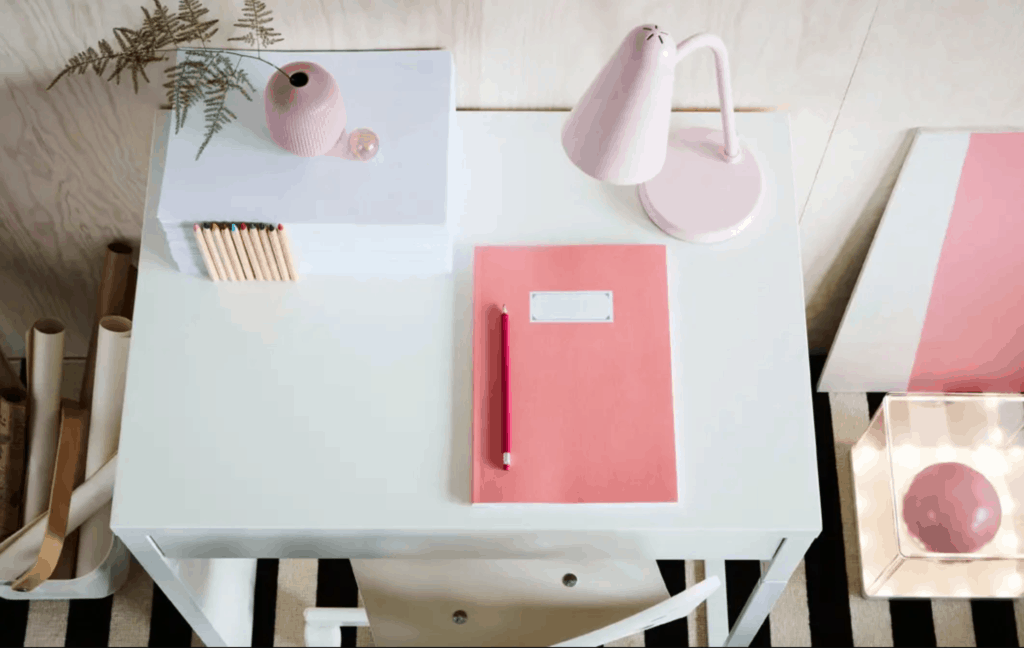 Setting out to decorate a dorm or apartment can be a daunting task. Starting with a basic color scheme will make the whole process so much easier and helps to visually organize the space. We've already covered how to decorate your dorm around a color scheme, but sometimes, choosing a dorm color scheme is more difficult.
Want to discover the best dorm room color scheme for your personality? Take our quiz below and eliminate the need to hunt through endless color palettes. Results are below – no peeking!
Dorm Room Color Scheme Personality Quiz
Quiz Results
Now that you have your result, here are four sample dorm color schemes based off of the quiz answers. Take a look to see if you agree with your result!
Tropical Green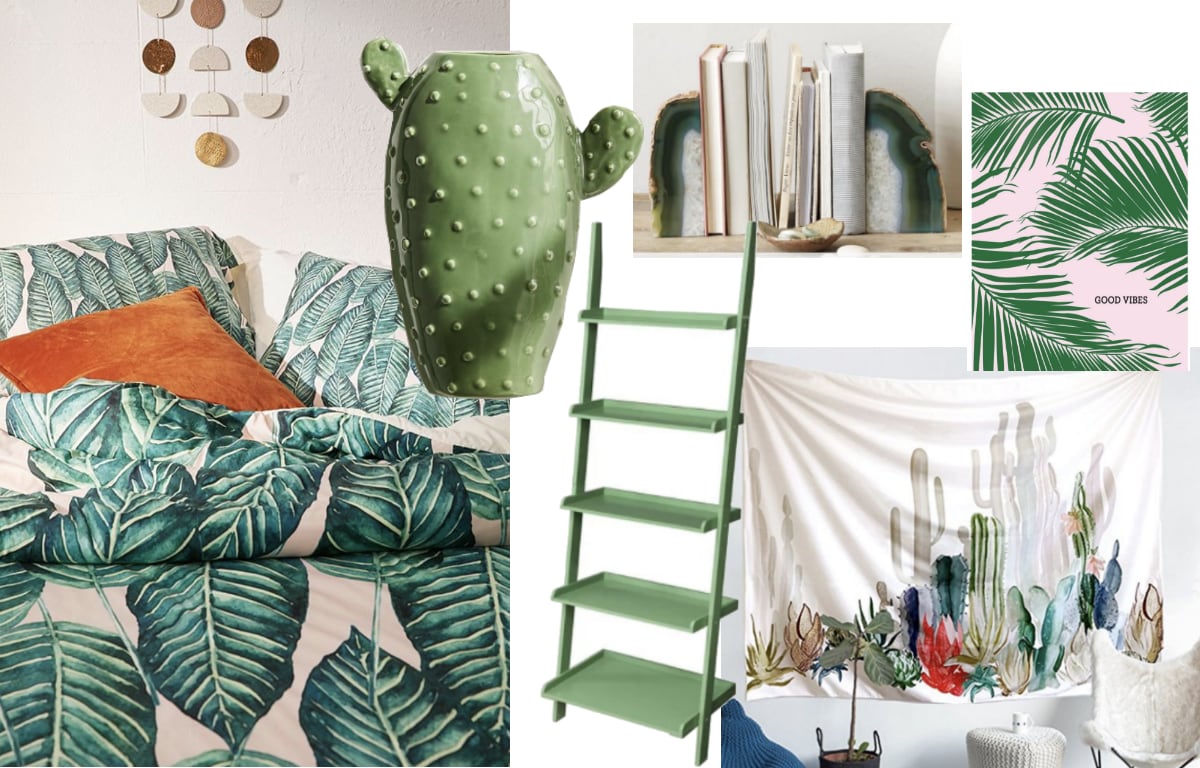 Products: Bedding – Urban Outfitters, Planter – Urban Outfitters, Bookshelf – Target, Bookends – West Elm, Tapestry – Amazon, Print – Dormify
A tropical green color scheme will keep your dorm room cool and the envy of your entire floor. During the craziness of the semester, having a relaxing escape will help keep you calm. Fresh accents – like this palm leaf print and cactus planter – fit in with bold, tropical themed bedding. A skinny green ladder bookcase is a simple, yet fantastic accent piece for your personal oasis.
Mauve & Grey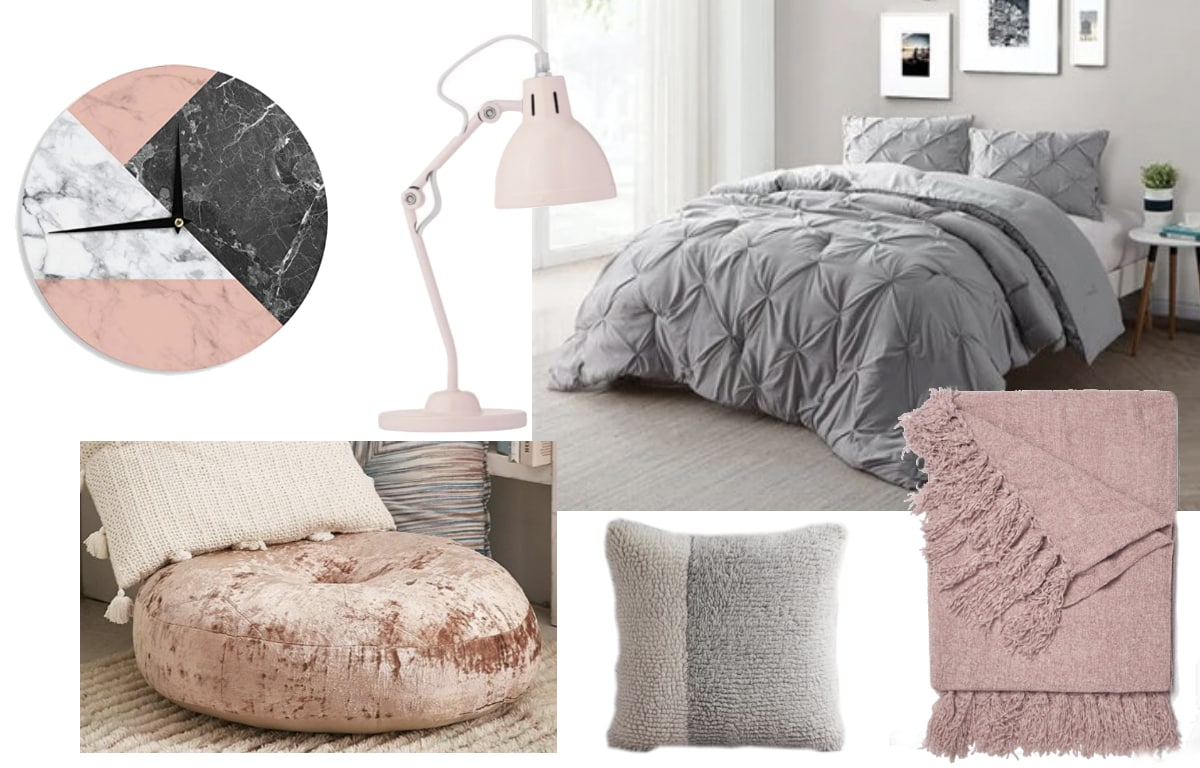 Products: Clock – Amazon, Lamp – PB Teen, Floor Pillow – Urban Outfitters, Bedding – Hayneedle, Pillow – West Elm, Blanket – Dormify
This calming color scheme, based on neutral grey and mauve, is naturally soothing. Everything about this luxurious pintuck bedding is nap-worthy! When you keep a color scheme simple and muted, it leaves room to play around with textures, like this velvet floor pillow, fluffy accent pillow, and soft chenille throw. Plus, we couldn't resist this pastel task lamp – it's too cute!
Classic Black & White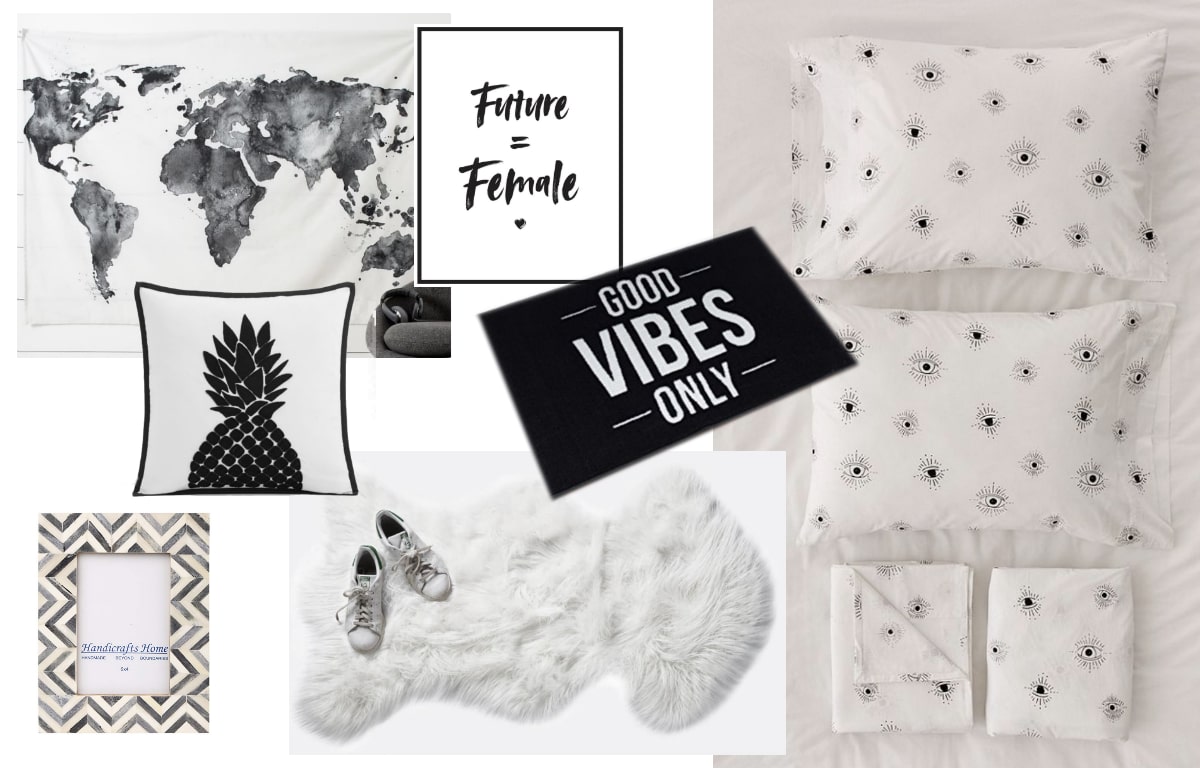 Products: Tapestry – PB Teen, Pillow – PB Teen, Frame – Amazon, Print – Dormify, Welcome Mat – Amazon, Rug – Dormify, Sheets – Urban Outfitters
A chic black and white vibe is always a safe bet. But just because you're sticking to an achromatic theme doesn't mean your dorm has to be boring! A faux fur rug and bold welcome mat will make a statement. This B&W watercolor world map tapestry would add some charm to your room too! Plus, who could go wrong with some adorable eyeball sheets?
Retro Yellow & Pink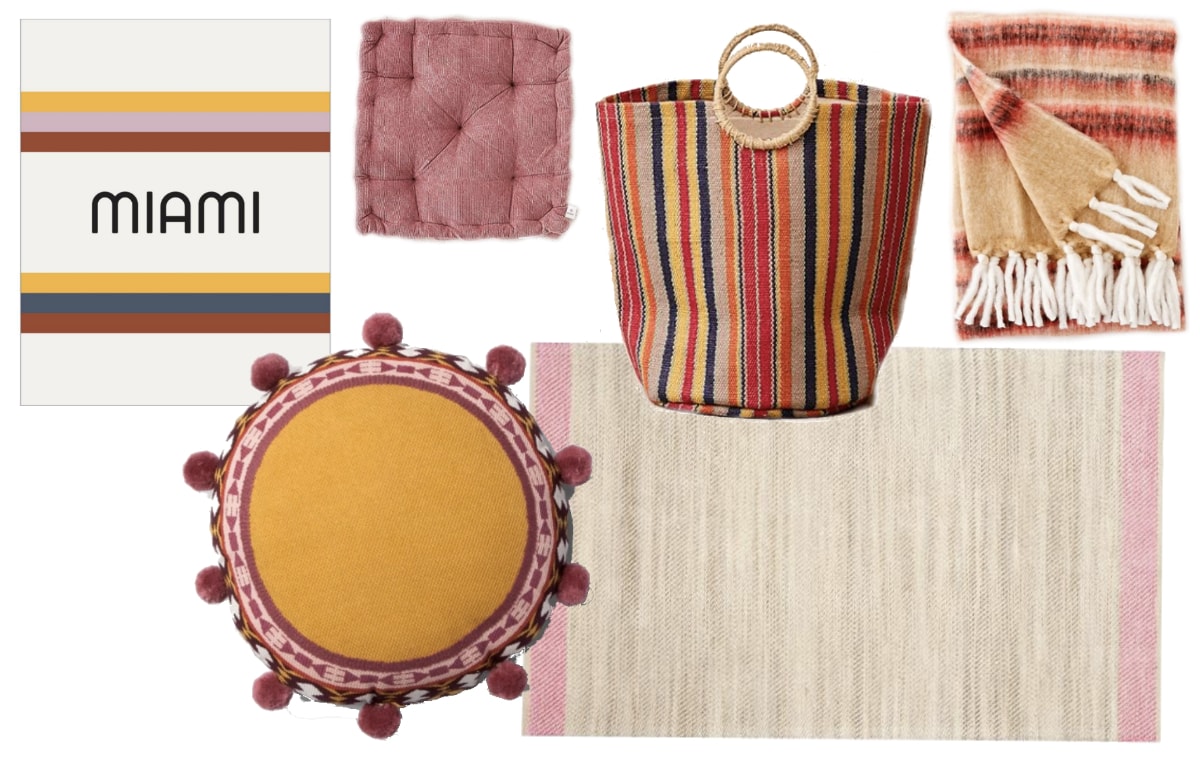 Products: Print – Dormify, Floor Pillow – Urban Outfitters, Throw Pillow – Target, Rug – PB Teen, Laundry Basket – Urban Outfitters, Blanket – Urban Outfitters
If you prefer your dorm colors to be eclectic, a retro yellow and pink scheme is the way to go. We are currently obsessing over mustard yellow with touches of muted, deep pink. This Miami print is a must-have, especially when paired with a funky pom-pom throw pillow. A natural jute rug will keep your style simple while tying your room together. Add a cute laundry hamper and a brushed wool throw blanket, and you're all set!
What were your results?
Did these sample color schemes fit your personality? What colors do you use in your dorm room or apartment? Do you have any tips for students trying to choose color schemes for their rooms? Let us know with a comment!
Editor's note: This post was originally published in 2011; it was completely updated and revamped in 2018 with new photos and information.