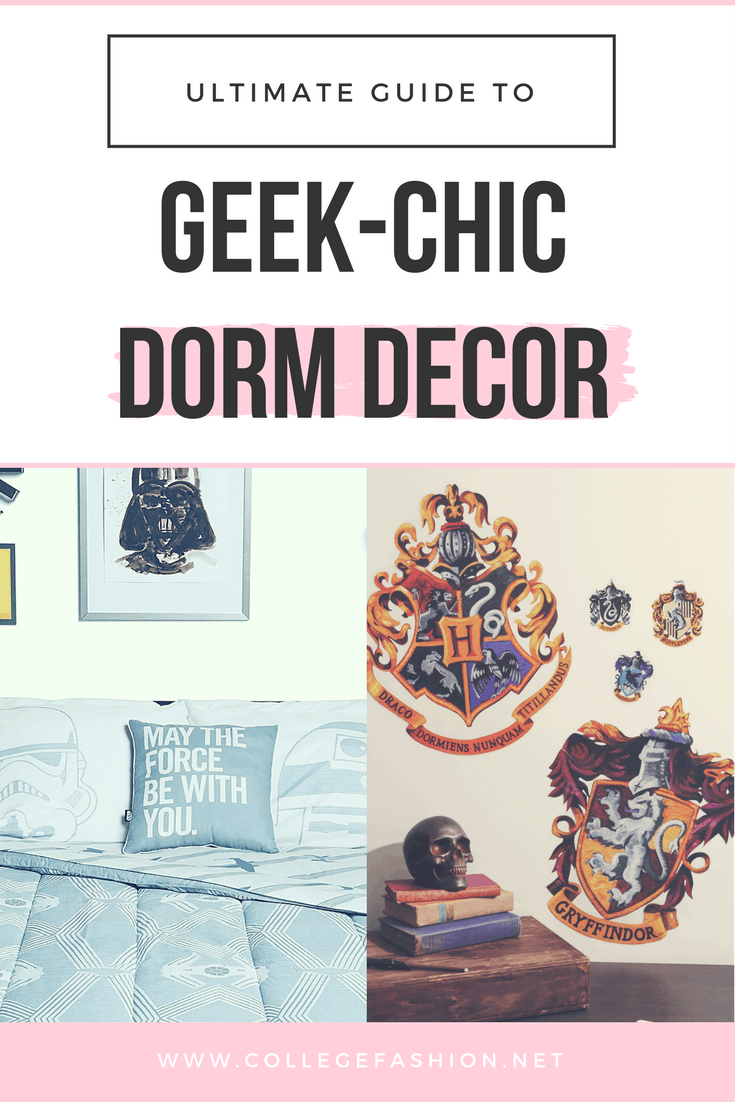 Welcome (almost) back to school, everybody! College for most of the country starts on Monday, which means that now is probably right around the time that you're moving into your brand new dorm or apartment.
I've gone through three apartments during my time in college, so I know just how obnoxious moving is – and how depressing it is when you step into the version of the perfectly-furnished room you toured three months ago and see how much it looks like a prison cell when it's undecorated.
We've covered a lot of ways to decorate your dorm in order to limit the prison cell-ness, but it came to our attention that we seem to have missed one of the best aesthetics ever: geek chic dorm decor!
Here at CF we're all about showing off your fandom through your clothes (have you seen our Geek Chic section?), but why not expand that to your room?
Fandom furnishings serve the duel purpose of a) making your room more visually pleasant and b) surrounding an unfamiliar new home with things that make you happy and comfortable.
There is a virtually unlimited number of geeky fandoms out there, so there is a virtually unlimited number of ways that you can decorate your room. To narrow it down, I'm showcasing some of my favorite home decor products from some of the most universally popular fandoms out there. Let's get decorating!
Harry Potter / Game of Thrones Decor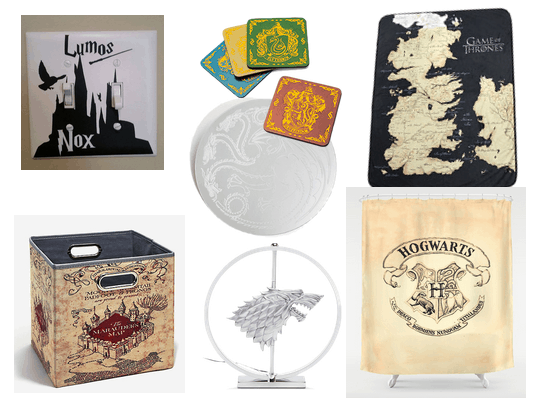 Products: Light Switch Cover – Etsy, Storage Bin – BoxLunch Gifts, Coasters – ThinkGeek, Mirror – BoxLunch Gifts, LED Desk Lamp – ThinkGeek, Throw Blanket – ThinkGeek, Shower Curtain – Society6
If you're worried about meeting new roommates, nothing makes a better conversation starter than discussing which House you're in (whether Hogwarts or Westeros family).
The good news with Harry Potter is that it's an instant way to make friends with your new roommates (seriously, who doesn't like Harry Potter?). Isn't this light switch cover to die for? And this shower curtain is the perfect way to show school spirit for the school you wish you were going to instead.
Another fandom that's up there in popularity is Game of Thrones, which you can show off your love for with items like this dragon mirror or this Stark House LED lamp.
Star Wars / DC Comics Decor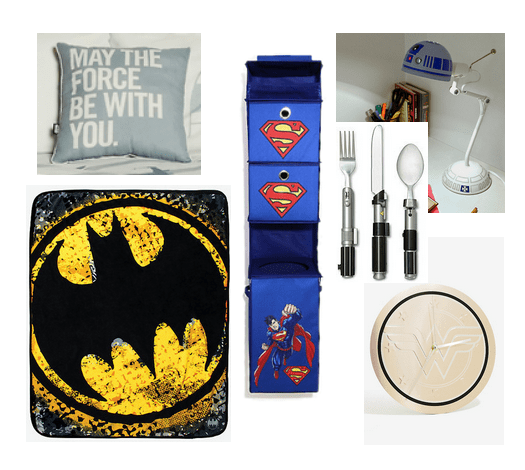 Products: Pillow – BoxLunch Gifts, Throw Blanket – BoxLunch Gifts, Hanging Closet Organizer – BoxLunch Gifts, Silverware – ThinkGeek, Desk Lamp – BoxLunch Gifts, Clock – BoxLunch Gifts
Up next is the unbeatable fandom duo of Star Wars and DC Comics.
I've always been more of a Marvel girl myself, but I can't deny how epic this Wonder Woman clock would look on the wall. (The movie made me feel like I could do anything, so maybe the clock will do the same.) And how much better is this Superman closet organizer than the boring white ones they sell everywhere?
If sci-fi is more up your alley, show off your Star Wars spirit with an awesome R2-D2 desk lamp or statement-making throw pillow.
Disney Decor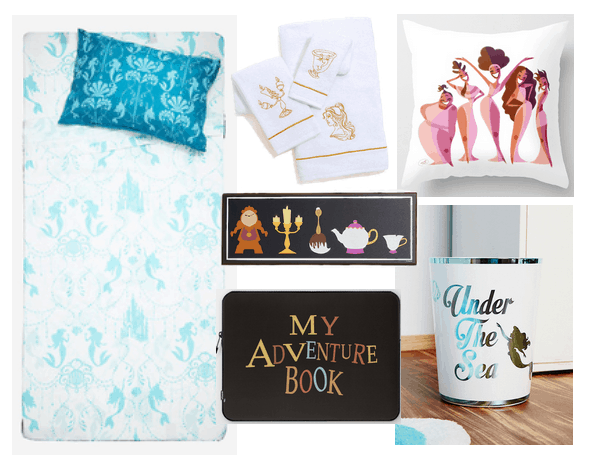 Products: Sheet Set – BoxLunch Gifts, Towel Set – BoxLunch Gifts, Wall Art – BoxLunch Gifts, Laptop Case – Society6, Throw Pillow – Society6, Trash Can – BoxLunch Gifts
Disney gets its own category because there are too many things and hello, it's DISNEY.
Disney has been having a moment with brands like Hot Topic for years, and I am living for it. You want to be an adult with Ariel sheets or an Ariel trash can? You go for it. Want Beauty and the Beast-inspired towels so your visitors will know that they can "be your guest"? Boxlunch Gifts has you covered.
This doesn't include the unlimited supply of fan art you can cover your walls and pillows with.
It's a good time to be a Disney fan, and now you can show your love for these wonderful movies in your dorm in whatever level of intensity you care for!
Your Fandom not covered? Never fear!
If you don't see anything up there that matches your favorite fandom, no worries. For corporately produced decorations and furnishings, make sure to check Hot Topic, BoxLunch Gifts, ThinkGeek, and even places like Target and Kohls.
For more personalized, usually handmade or hand-drawn pieces that will offer a more unique touch to your room, shop in places like Etsy or Society6 (which sells art prints on everything from clocks to shower curtains), or even stock up on wall art at a local comic convention!
Happy decorating!
What do you think?
Does moving into a new dorm stress you out as much as it does for me? Will you be decorating your new place with any of the great items I've listed above? Which fandom is your favorite? Let me know in the comments!