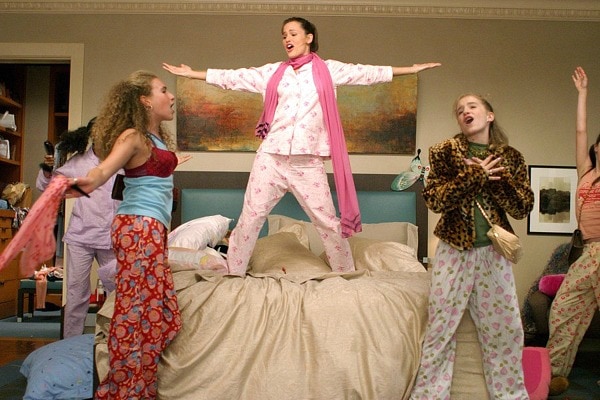 I'm never embarrassed to admit that 13 Going on 30 is one of my favorite movies. After all, who doesn't love a feel-good flick that proves love is timeless? Jenna is a complete product of the '80s, which is obvious when you take a look at her infamous "Thriller" outfit. Her colorful flair can also be seen in how she decorates her space, even in adulthood.
The set designer did a great job weaving Jenna's spunky personality into the places she visits, and the movie serves as stylish inspiration for dorm decoration. Here are a few decor ideas based on 13 Going on 30:
Related reading: I Copied the Best Rom-Com Outfits of All Time & Here's What Happened
Jenna's Collages

The first time I watched 13 Going on 30, I thought it was adorable that Jenna had all these pictures and magazine tear-outs taped to her mirror. It's fun and adds a scrapbook-y feeling to any room.
In her office (right), it looks like Jenna hasn't changed and still posts her favorite pages and pictures. This is such an easy way to add some personality to a college apartment – treat it as a mood board and pick images that you find inspiring.
It's also a bit hard to see, but in 13-year-old Jenna's room (left), she has butterfly cutouts on the edge of her board. I thought these were super-cute and have always wanted to try something similar, but with elephants. Check out your local scrapbook store for die-cuts, or simply print out a template and cut out your own.
Jenna's Patterned Pillows and Rug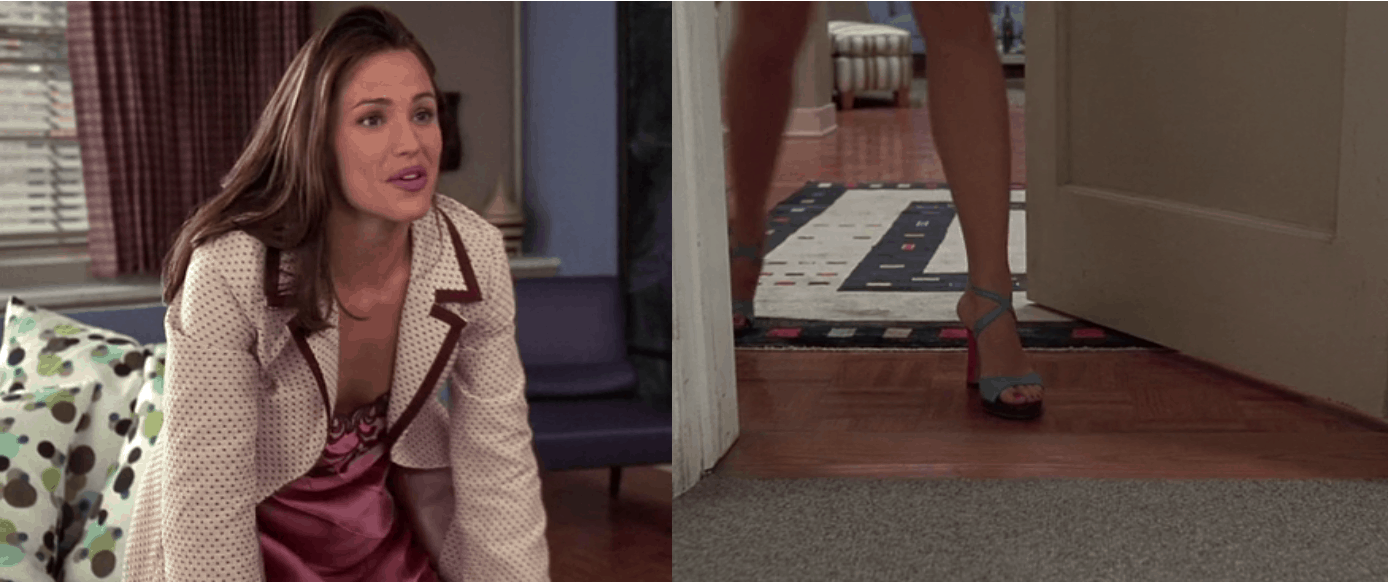 I love this decor so much, because I think it really reflects Jenna. Everything she owns is bright and peppy, much like the festive polka dots pictured above. If you have a signature color or favorite print (mine is stripes), try to coordinate and spruce up your space with pillows or a fun rug.
Last year, my roommate brought a fluffy, hot pink rug and I brought in a blue one so that we could display our personal tastes. This is a fab way to coordinate your shared living space without it looking too matchy-matchy.
Jenna's Storage Hacks

While I don't know a single college girl with a closet as big as Jenna's (or one who owns that many shoes!), I do know that adult Jenna came up with fantastic ways to keep all of her stuff in order.
In the picture on the left, Jenna placed her shoes neatly back on her rack, which is the best way to store them. A great place to fit a mini shoe rack is under your bed, under a long desk, or against the wall of a closet.
The middle photo depicts Jenna's neatly stacked books. I tend to just throw mine on the floor at the end of a stressful day and gather them up later, but I think if I had a bookshelf I would probably use it. A quick way to get this look is to use hanging shelves that can be nailed down, or even a shorter bookcase if you aren't allowed to make holes in your walls.
The last picture is a bit weird out of context, but I like how Jenna used compartments to separate her underwear drawer. I actually bought these drawer separators from IKEA and use them to distribute my socks by height, as well as my other undergarments. It doesn't sound like a big deal, but it's really saved me a lot of time because now I don't have to dig through my drawers every morning.
The Rinks' Plants

Whether you choose real or fake ones, I love the look of tastefully placed plants. They brighten up a room and can tone down the effects of artificial light. Jenna must have gotten her decorating sense from her mom, because both homes feature just a hint of greenery.
Even if you don't have a green thumb, consider putting a few larger plants near your door or windowsill to make your space more inviting.
Thoughts about 13 Going on 30's set design?
Obviously, it's one of my favorite movies so I'm biased, but I think each home or office setting feels livable and cozy. Jenna's apartment isn't anything super-unique, but has always made me want to incorporate some more color into my room.
Did you feel the same way while watching? Any additional rooms from 13 Going on 30 or another movie that you would use as inspiration? Let me know your thoughts by leaving a comment below.