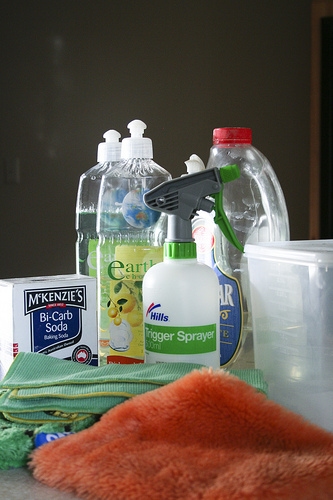 Well, it's 2012 already, and fall semester absolutely flew by! The Spring 2012 semester is definitely a lot closer to this side of the holidays, and with it comes the anxiety that goes along with a return to campus.
Of course, when I need a fresh outlook on life, the first thing I do is spruce up my bedroom! There's no better way to revitalize and prepare yourself for whatever life throws at you, and it's thankfully a relatively easy process for the low-budget college fashionista. Just waking up in a slightly (or dramatically) revamped room can completely change your attitude and get you out of bed with a smile.
In this article, we'll talk about some inexpensive, simple, and creative ways to spruce up your room for spring semester, with tips that every college girl will find useful. Let's get started!
1. Reorganize Your Closet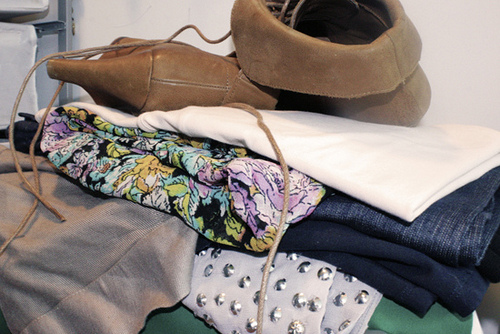 What better place to start revamping your room than your closet? By the end of fall semester, my tiny closet was nowhere near as organized as it was at the beginning of the year… and I'm sure many of you can relate!
Once you get back to campus, there's plenty of time before the homework load starts getting heavy, so why not take an hour or two, shamelessly blast some Taylor Swift, and sing along while you spring clean your closet? It'll streamline your getting-ready process in the morning and will freshen up your mood every time you look for that perfect outfit. Here are some tips for re-organizing your closet for the spring:
Clean out everything — reach waayy back there for whatever might have fallen off the hanger! Once everything is out (and I mean everything!) and strewn in a huge pile on your bed, use a wet wipe or dust cloth to lightly clean off your shelves, the floor, the back wall, etc. Dust can settle everywhere, and you certainly don't want it on your clothes.
Re-color the sides and back of your closet interior with a bright hue, like yellow! Just opening the door will give you a wake-up jolt, and it's a great way to add some fun to your day. Use colored paper with tape or sticky-tac to adhere, or paint it if you're daring!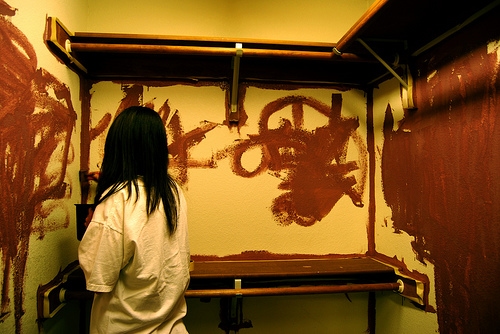 Find a new clothing organization pattern. My clothes are currently organized by color, but I might try grouping them by type — button-down shirts together, dresses together, blazers together, etc. It would definitely be a fresh start, and it might even work better. Other closet organization patterns include by fabric, by sleeve length, or by outfit.
Learn which clothes deserve to be in your closet. According to the 20/80 rule, we wear 20% of our clothing 80% of the time, while the other 80% includes impulse purchases, that almost-but-not-quite-your-size blouse that was on sale, and trendy pieces that aren't in style anymore. Here's a good way to figure out which clothes are which: Start by hanging all of the clothes with the hooks facing towards you, and, as you wear, wash, and re-hang them, make sure you hang them with the hook facing away (the way they normally would be). After a few months, re-evaluate: The clothes with wrong-facing hangers belong in a bottom drawer or somewhere less accessible.
Scent your closet (and clothes!) with a sachet of a sweet-smelling plant, like lavender. The smell will be subtle enough not to overwhelm your perfume, but will add a hint of freshness to your outfits. Alternatively, use perfume samples from magazines taped in hidden corners to add a nice smell every time you open your closet.
2. Rearrange Your Furniture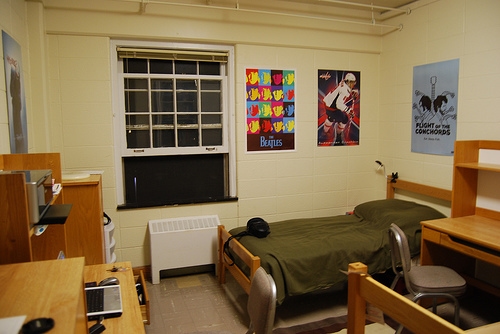 Why not try moving your bed to a different location in your room? Waking up in a new spot makes me feel like I'm in a whole new room, and it's completely free! Granted, this may be a struggle, considering the dimensions of your bedroom or dorm, but it's definitely feasible — enlist the help of your strongest girlfriend or a cute guy if you like!
Try placing your bed near or facing the window. The sun warming you awake every morning is better than an alarm clock any day.
Enlist the help of the CF guide to dorm room layouts to sketch out a new floor plan.
Consider your study and sleep needs, and re-organize the furniture based on that. Put your first semester knowledge to good use!
3. Update the Wall Decor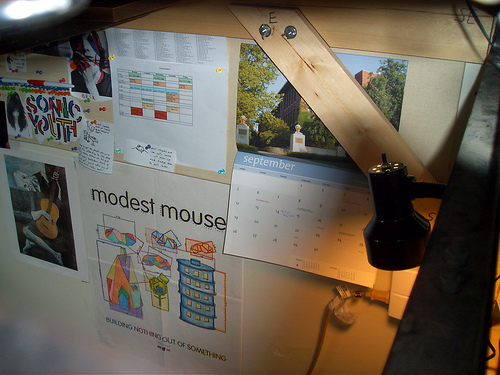 Blank walls are the quintessential empty canvas, but the same decorations after a whole semester can seem a little boring. You don't need to go out and buy new posters, though! Even just re-arranging some photos or getting some prints of new ones will give your room a whole new feel. Try these tips for a simple wall decor revamp:
Add a calendar to your wall. You can try this chalkboard wall decal calendar (that I'm absolutely in love with) or simply use colorful Post-its for a budget-friendly and chic monthly view. Alternatively, find a funny, gorgeous, or elegant 2012 calendar at your local mall kiosk (my friend got me one with shirtless Hawaiian men, haha) and hang it over your desk.
Update the photos you have on display! Add some of new friends you've met, or dig through those endless baby albums for some childhood photographs to proudly show off. Prints are always cheap, and there are countless deals and sales at places like Snapfish and Shutterfly.
Add another mirror or other reflective materials to make your room seem larger and to increase the amount of light. Try small mirrors in patterns on the wall, or put mirrors across from the window(s) to reflect sunlight.
What do you think?
How do you spruce up your room or dorm for a new semester? What did you think of these tips? Do you have any advice for CF readers trying to add a new twist to their room on a budget? Let us know with a comment!