This post may contain affiliate links, which means we may receive a commission if you purchase through our links. Please
read our full disclosure here
.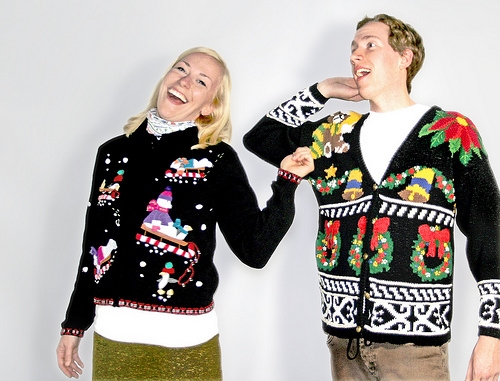 At some point in your college career, you'll find yourself invited to a Tacky Christmas Party. I love any sort of themed party, but these are particularly fun because there's no pressure to look super sexy or super trendy — in fact, the sillier you look, the better!
This being said, none of us like leaving the house looking like a frump queen. The great thing about wearing cheesy knit sweaters, reindeer antlers, and other tacky holiday gear is that it's easy to achieve a look that's actually cute in a wholesome, fresh-faced sort of way. There are two main ways to dress up for these sort of parties — by wearing a loud sweater, or by dressing up a regular party outfit with kitschy accessories.
Ready to celebrate the holidays in style? I'll break it down for you below!
Tacky Christmas Sweaters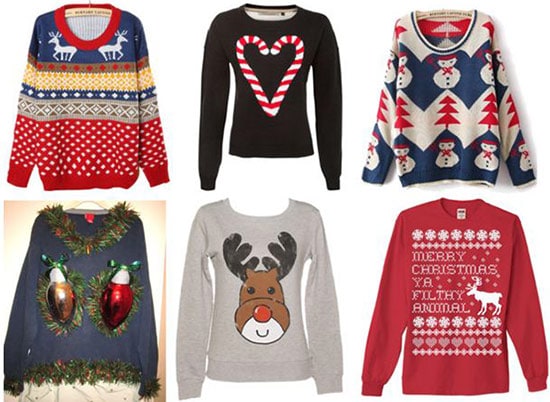 Clockwise from the top left: 1, 2, 3, 4, 5, 6
It's not a bad idea to buy yourself a Christmas sweater for "tacky sweater" parties – they're huge on most college campuses right now! I picked one up six years ago, and I still bust it out every single winter! While department stores like JC Penney, Sears, and Dillards will definitely have a big selection, I've found that they're pretty pricey. Check out Walmart, your local Salvation Army, or online vendors for more affordable choices!
Also, don't limit yourself to just sweaters — I've seen sweater vests, embroidered pants, and pajama-like button-down shirts that will work perfectly for parties like this!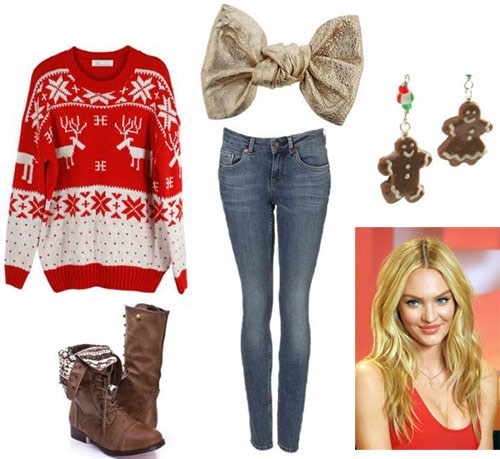 Sweater, Jeans, Bow, Shoes, Earrings | Hair courtesy of ELLE
The secret to looking adorable, not dopey, in a tacky holiday sweater is to embrace the "throwback" vibe of the outfit and go all out. Balance out a baggy top with tight skinny jeans or, if your sweater is long enough, leggings. Add a pair of cozy combat boots, too!
To look super cute, put on a few child-like accessories — like a big, frilly hair bow and themed earrings. As long as you fix your hair and throw on some make-up, you'll look sweet and stylish instead of granny-esque.
Christmas Accessories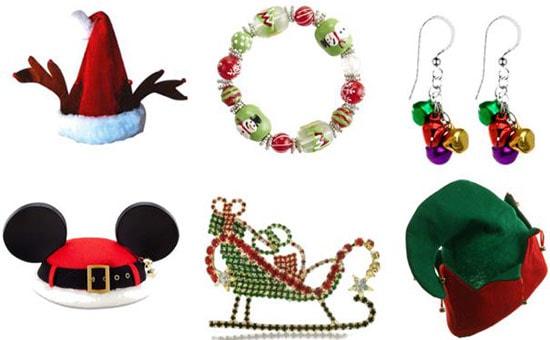 Clockwise from the top left: 1, 2, 3, 4, 5, 6
Maybe you don't have extra cash to spend on a new outfit. Or maybe you're party-hopping and need a fast way to pull a "costume change" and look party-appropriate for two different events. Either way, decorating a regular outfit with Christmas accessories is an awesome and versatile way to go!
Cheesy Christmas accessories can be found at any party supply store, as well as places like Walmart and Target. Department stores will have a great selection as well, but like we mentioned earlier, they'll probably be on the pricey side. Also, check out online meccas like Etsy or eBay for really unique pieces!
Santa and elf hats are no-brainers, but try to think outside the box and come up with a few other fun ideas. A giant tulle bow would look adorable, as would jingle bell earrings, or bright red lipstick and shimmery makeup. The possibilities are endless!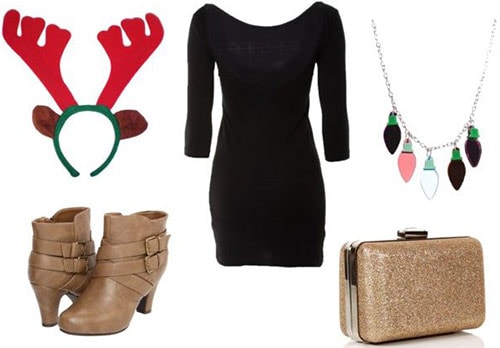 Reindeer Ears, Dress, Shoes, Necklace, Clutch
This outfit can go from holiday festive to night club-ready in seconds!
To get this look, start with a basic dress — I love this boat-neck black number. Add a foxy pair of ankle boots and a glittery clutch. Before you head in to a Christmas party, throw on these cute reindeer antlers and a Christmas light necklace. When it's time to hit the club, just take them off any leave them in your car. A win-win for both occasions!
What do you think?
Do you own a tacky holiday sweater? Where did you buy it at? What tricks to you employ to look cute in costume? What other activities do you look forward to during the holiday season? What's on your wish list this holiday season? Leave a comment and tell us what you think!