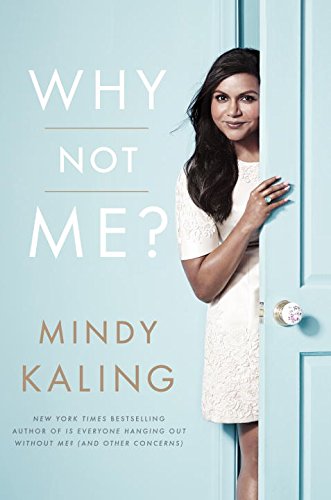 I'm not a huge fan of celebrity memoirs. The notion that someone would write a book about themselves with the idea that people are just dying to know the details of their lives makes me weep for the state of literature today.
However, I like Mindy Kaling and her show, The Mindy Project. It's nice to see someone who is not a tall blonde white girl, run around New York in amazing clothes. We reviewed her first book here on College Fashion and I was excited that she was releasing another one.
In Why Not Me?, Kaling gives us an inside look at her life in Hollywood. From her successful career as a comedy writer to her dating life, she gives readers the truth about the ups and downs of success. She also discusses topics like body image and feeling alone, things you and I can easily relate to. Read on to see some of my favorite parts!
"But it's all worth it, because the next day I am a scrumptious, golden-brown delight, like a McDonald's hash brown." – Mindy Kaling on the perks of spray tans.
Here's What I Loved…
There were some pretty interesting stories that I wished were longer and took up more space in the book. The one I loved the most had to do with a certain gentleman and the White House.
Kaling begins the book with an anecdote about bringing skittles to class when she was younger, as a way of getting people to like her. It did not go over too well, but she brings up a great point about the ordeal:
"Sure, she might seem a little crazy, and, yes, maybe everything she says sounds like conversation starters she found on a website, but at least she's trying. Let's give her a shot!" – Mindy Kaling
I really like that. I, too, as a college student wish I could grab everyone's attention from the dude twerking or the girl with the highlights and be like "Hey! I'm trying to make conversation! Can I get a chance, too?"
I like the way Kaling writes. You feel like she's sitting on your bed right across from you and telling you these stories about life and love. She's kind of like the cool, older sister I never had.
"Playful arguments would become fits of uncontrollable laughter, and, like magic, that experience would be crystallized into a private joke, and the private joke would get boiled down to a simple phrase, which became a souvenir of the entire experience. For years to come, the phrase alone could uncork hours of renewed laughter. And as everyone knows, the best kind of laughter is laughter born of a shared memory." – Mindy Kaling, reflecting on her college days, one of my favorite passages!
Here's what could have been improved…
I wish some chapters had been longer and others cut out completely. I want more tales of love and adventure(s to McDonalds)!
The last chapter of the book is called "Why Not Me?", evidently used to explain why she named the book that. The chapter wraps up everything in a neat box, but I was still left wanting more. I wish she explained about what exactly the phrase "Why not me?" means to her.
Last thoughts?
It's a fun, short read that is great for in between classes, when you need a break from germ cells. Open message to Mindy Kaling: Please contact me so we can be best friends and talk about boys and snacks all night.
Have you read any of Kaling's books? Loved them? Hated them? Tell us in the comments!