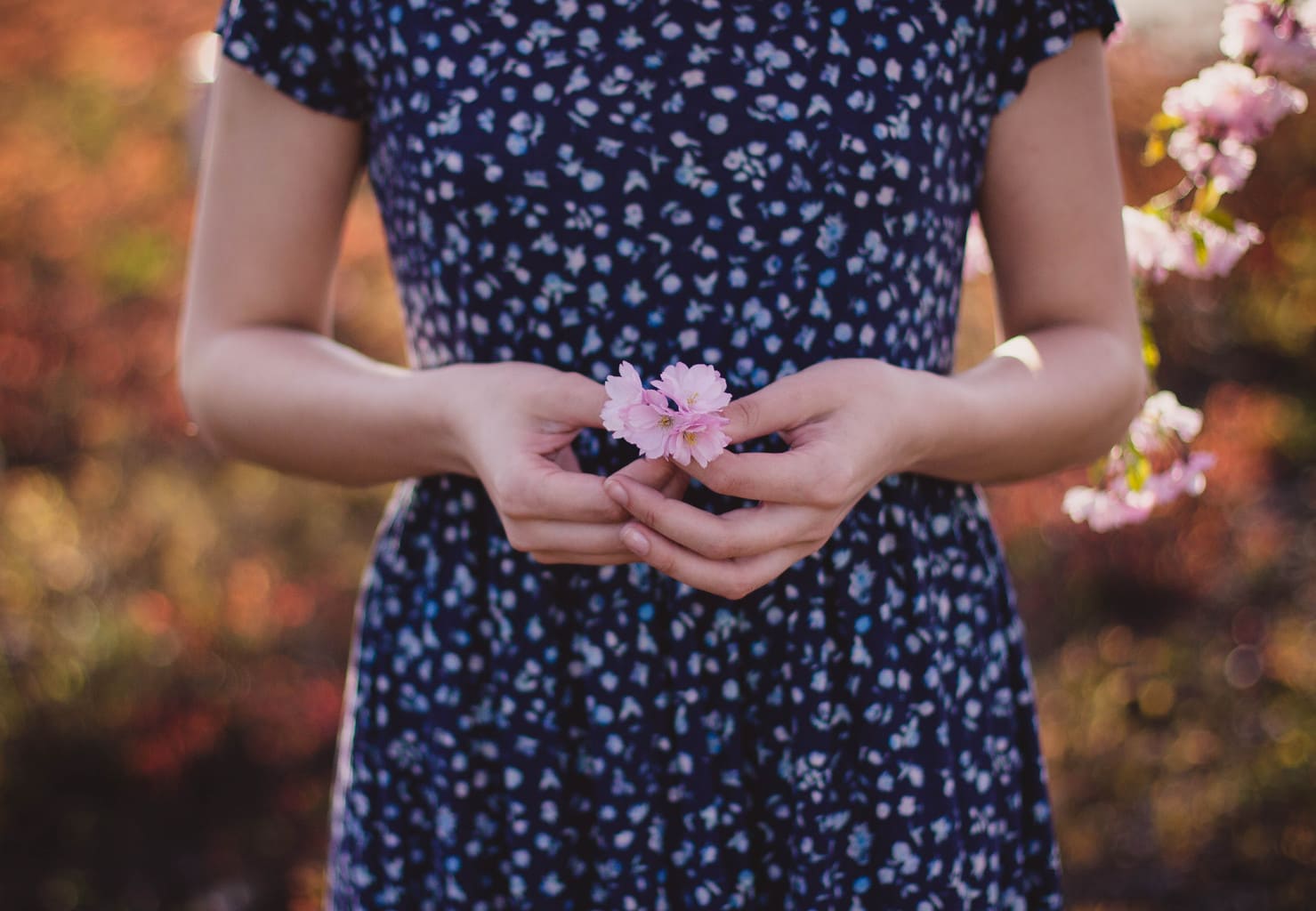 In case you're new here, the What I Wore series is about my personal experiences as a college freshman through fashion. Follow me— and my outfits— on this crazy, new ride as I register for classes, rush, and try to figure out college in general!
I'm so excited to be posting my third What I Wore installment. I can't believe I'm already in my fourth week of my freshman year. Where has the time gone? The days have been flying by as I've attempted to push myself out of my comfort zone and adjust to college life.
Speaking of leaving comfort zones, I recently went through formal sorority recruitment. Though I am shy and introverted, I've always wanted to join a sorority. For me, signing up for recruitment in the fall seemed like a no-brainer.
I hope readers know: in the What I Wore Series, I try to keep everything real and share my genuine experience. So I'm not going to lie and tell y'all that recruitment was a breeze. For some girls, maybe it is. But it wasn't for me.
The Highs & Lows of Sorority Recruitment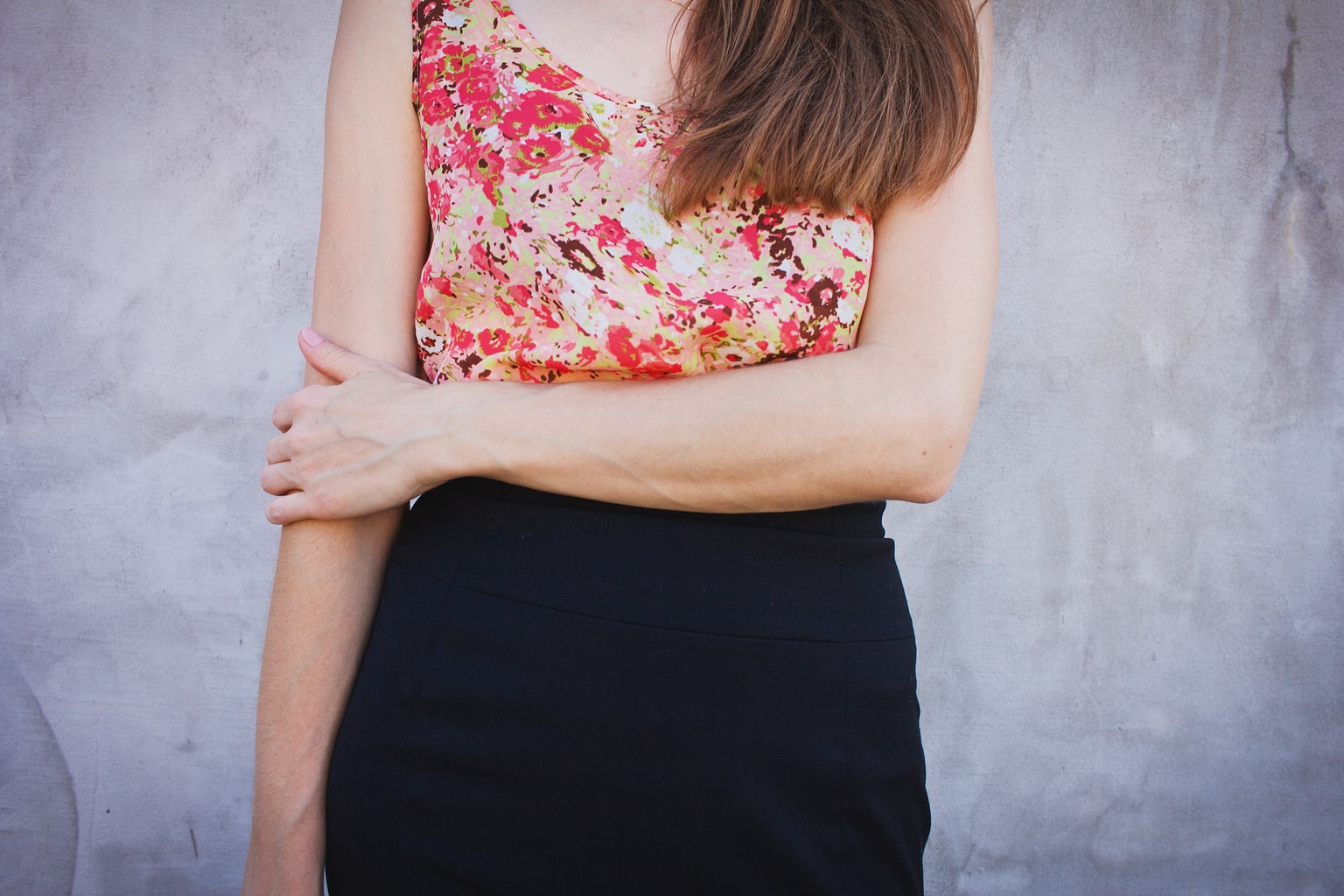 I attend a small private liberal arts college, so the Greek system isn't as prominent here as it is at other schools. However, the process was still very stressful. It was sad at times and happy at others. Frankly, I found it difficult to cope with this at times. And my recruitment only spanned four days!
However, the highs were very high. Bonding with other girls in the sorority was extremely rewarding-and it made me excited to (hopefully) come back the next day. I adored the singing and clapping, and had a wonderful time learning about the chapter's philanthropy.
I am happy to say I think I've found my home. Every girl kept telling me "trust the process," "trust the process," which I found difficult to believe. The process at the time didn't seem so perfect. However, now that I've gone through recruitment, I can honestly say everything happens for a reason. Some girls dropped because they didn't feel it was right for them, which was totally OK. Some girls stayed in, despite fighting doubt. I can honestly say, no matter what: it will work out for the best in the end.
Whether you end up rushing and deciding sorority life isn't for you, or if you find your perfect match, I want you to remember one thing. You are a unique individual; perfectly imperfect. You are you. Don't let the pressures of rush make you forget that. (Sorry for sounding so hopelessly cliché – I just really mean it!)
But now for the exciting part: what I wore for sorority recruitment!
Day 1: Sisterhood Day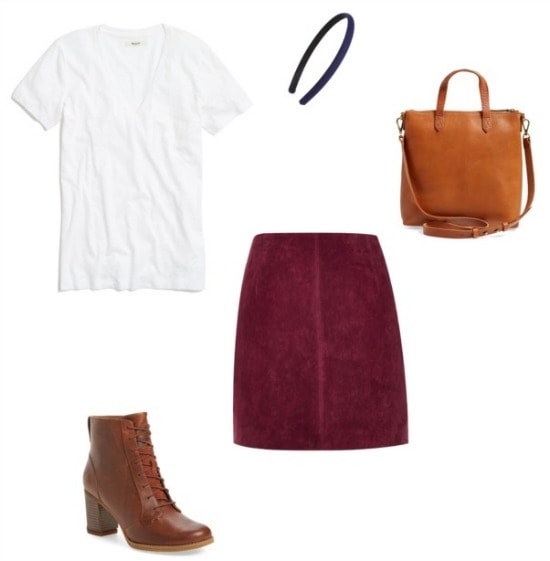 Products: Shirt, Skirt, Headband, Shoes, Bag
So some of you may be able to tell: this outfit is a little different from traditional sorority rush outfits. Since my recruitment was in the fall, I was very inspired by autumn style and wanted to play it up with a suede skirt and brown boots.
The rush committee provided us with T-shirts, so we had to work around a basic white tee. Most girls wore jeans, but I thought a skirt was more fun and a better fit for my personality. Rush is a time to showcase who you are, so don't be afraid to rock your own sense of style!
I paired my look with a headband because I've started to re-watch Gossip Girl and have been so inspired by the preppy stylings of Blair Waldorf. (Let's be honest – she would be the queen of sorority recruitment!)
I felt super comfortable and confident in this outfit, which is key when you need to focus your time and energy on the task at hand!
Day 2: Philanthropy Day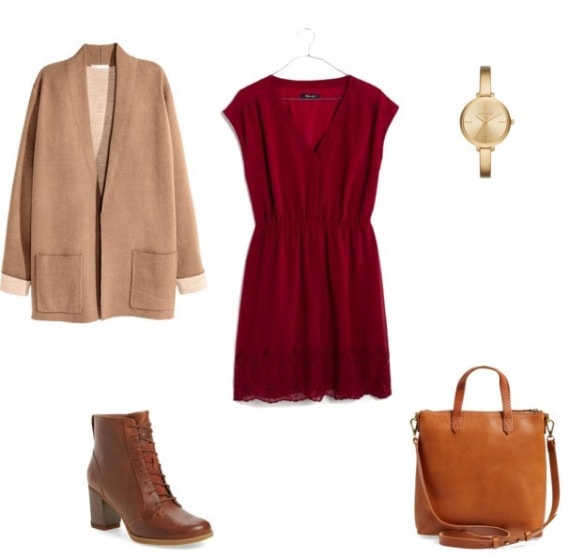 Products: Cardigan, Dress, Watch, Shoes, Bag
Day two was my favorite. Being able to hear about every chapter's philanthropy was truly heartwarming, and I loved getting to talk about the causes close to my heart. Plus: we went on house tours (so fun!!).
I wore another fall-inspired look that fit the more serious aspect of the day. This wine-colored dress from Madewell is seriously incredible (if you guys can't already tell, I am kind of obsessed with Madewell) and I got a major student discount on it.
I paired the dress with a structured cardigan and my trusty boots, and absolutely adored the combination. I got so many compliments this night; this outfit will definitely be my new go-to!
Day 3: Preference Night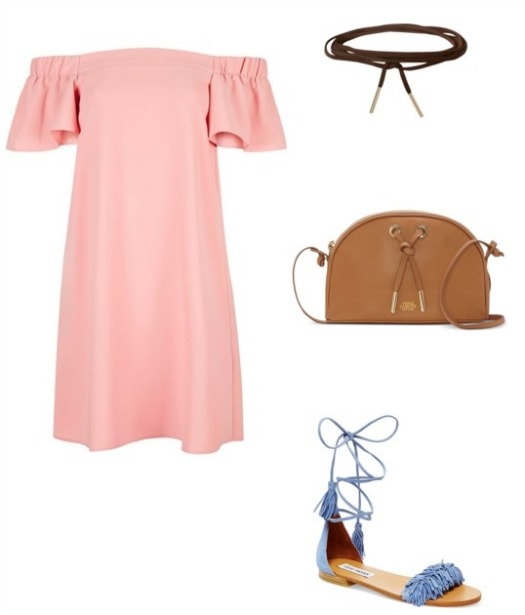 Products: Dress, Choker, Bag, Shoes
When I woke up on the day of preference, I was greeted by a beaming sun and birds chirping. The cold snap was over, so I wore a summer-inspired outfit.
This Topshop dress is at once trendy and conservative – which I love. I wore my new suede choker (a trend I am obsessed with), a small leather bag to carry my essentials, and these adorable lace-up flats. Although this night was a little more serious, I had so much fun. The ceremonies each house conducted were beautiful.
Final Thoughts
Rushing was a bit of a foreign concept when I first began. The process was wild, stressful, and wonderful – all at once. However, I found my home at the end (yay!).
To assist girls who are planning on rushing, I've compiled a list of sorority rush tips I garnered through the process.
1. Wear comfortable clothes that make you feel confident
2. Bring a pair of flats to walk from house to house
3. Bring a jacket – you'll be cold!
4. Be patient (this one is important).
5. Don't let stress consume you (like it did me). Enjoy the moment, and know you'll likely never do anything like this again.
6. If sorority life isn't for you – that is totally OK! YOU must feel comfortable in order to be happy. Go with your gut and do what's right for you.
7. Relating to point 6: Sometimes, it is okay to feel uncomfortable. Rush is supposed to put you outside of your comfort zone at times. It is to be expected.
8. If you are worried about wearing heels, wear flats. You do you.
9. Be patient (so important I had to say it twice).
And finally…
10. BE YOU. As I said before, you are a wonderful, intelligent, unique human being. Don't try to be anyone else; its exhausting. The right sorority will want you for who you are, so embrace that person and be confident in yourself.
For more on sorority rush, be sure to see our articles on tips for rushing a sorority and a college girl's experience with rush.
Let Me Know in the Comments…
How was your rush process? Are you in a sorority? Do you have any tips or tricks for PNM's (potential new members)?