This post may contain affiliate links, which means we may receive a commission if you purchase through our links. Please
read our full disclosure here
.
Exciting news: the other night I had my first holiday dream. That's right – a dream filled with snowflakes, Christmas cookies, Thanksgiving dinner, holiday music, family, and candy canes. With Thanksgiving only one week away, it's hard to think about anything else! I've been so excited to fly home for the break to see my family and friends (and to eat way too much turkey). It's my favorite time of year.
I've kept my family's usual traditions in mind as I pack my bags. I know what I'm most excited for – a day spent with family on the farm, a reunion with friends at the local coffee shop, shopping on Black Friday (of course!), and cozying up with a hot chocolate at night.
Below I've detailed my essential outfits for Thanksgiving break. Pretty soon (6 days!) I'll be cramming my clothes into my duffel and jumping on a plane. Minnesota, here I come! I can't wait!
Travel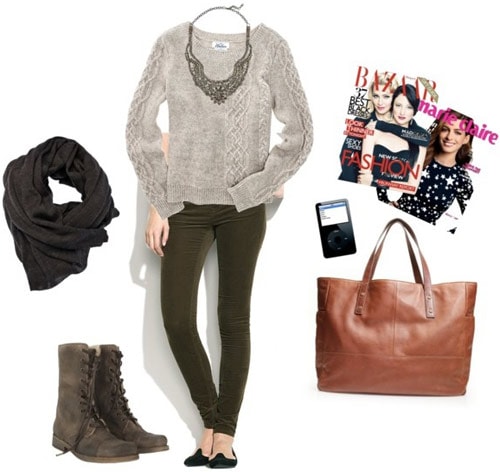 Sweater / Cords / Necklace / Scarf / Boots / Bag
I always stress about what to wear on an airplane. I worry about being comfortable and stylish and airport-friendly. However, this year it'll be smooth sailing (er, flying?) as I head home for Thanksgiving break.
Chances are I won't be going straight home after landing. Other destinations include running to the grocery store for Thanksgiving dinner supplies, lunching at my favorite restaurant, and visiting my favorite teachers from school. Therefore, I need to dress for both the airport and the rest of my day.
I'll stay comfortable and warm on the plane with skinny cords and a sweater, stylish with my combat boots and a necklace, and travel-friendly with a large tote bag. When I fly, I always pack a warm scarf as well. Before getting on the plane, I'll spritz it with a little of my favorite scent. Airplanes smell musty; having a fresh fragrance is a must.
Thanksgiving Dinner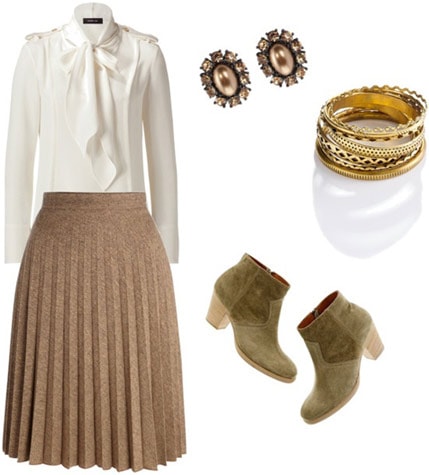 Blouse / Skirt / Earrings / Bangles / Boots
Ah, yes. The day itself – Thanksgiving. For me, Thanksgiving means getting up early to watch the Macy's Thanksgiving Day parade, cooking with my family, talking about the football game, and, of course, eating. It's one of the few days a year that my entire extended family gets together and we all wear our best clothes to give thanks for the wonderful things in life.
This year I'll be incorporating one of our current fave trends – the midi skirt – into my outfit. Top it off with a classy blouse, some understated jewelry, and a pair of stylish boots and I'll be holiday- and family-friendly.
Coffee with Friends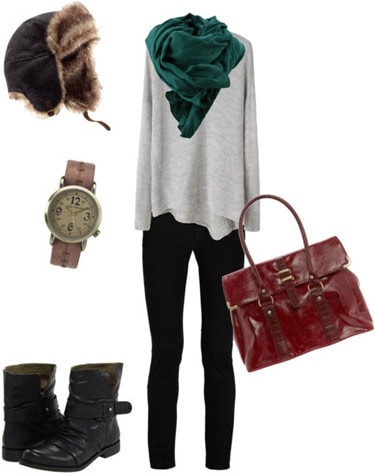 Hat / Watch / Boots / Scarf / Sweater / Leggings / Bag
Throughout middle and high school, my best friends and I had a slight obsession with the TV show Friends. Without a Central Perk in our hometown, we settled for our local coffee shop. Every week we camped out there chatting, joking, and creating memories. When we all return home for the holiday, a date at that coffee shop is a nostalgia-induced must.
Staying warm and cozy is a fashion must in Minnesota, so a warm scarf and fuzzy hat will help combat unpredictable weather. Boots will keep feet dry and stylish and a large bag will carry all of those extra layers. I would also wear this outfit shopping, going out to a movie, or any other low-key holiday activities.
Cozy Nights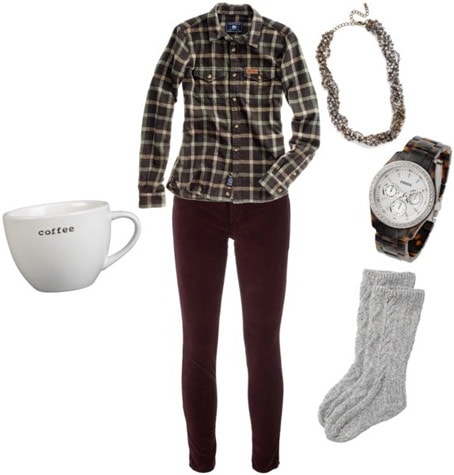 Mug / Shirt / Leggings / Necklace / Watch / Socks
"Cozy" is the best way to describe my ideal fall evening. My family doesn't have a fireplace; instead, we light dozens of candles and turn on the holiday music. Sitting and sipping hot chocolate with my entire family is one thing I always look forward to most. This is my ideal evening-in outfit.
I'm in love with flannel – maybe it's the Minnesota in me, but a plaid shirt is my go-to sweatshirt alternative. Pairing the shirt with stretchy leggings and warm socks, I'll be ready to curl up for the night. A simple necklace and a classic watch will add style to this cozy outfit.
More Freshman Year Tips, Experiences, and Advice
This article is part of our Freshman Experience series. For more, see: 8 Week Countdown, College Orientation, Tips & Tricks for Meeting the Roommate, Dorm Room Shopping Tips, First Semester Goals, College Packing List, Getting Involved on Campus, 4 Ways to Ease Midterm Stress, College Misconceptions & Ask a Freshman, Freshman Year Questions – Answered, Tackling Holiday Shopping in College, First Semester Goals Revisited, and Final Thoughts.
Your turn!
I think I've made it clear that I cannot wait for Thanksgiving to come! I have my traditions ready to go and my outfits are all planned out. Now, as always, I want to hear from you!
College girls, what are you looking forward to most about going home? How are you staying stylish for the holiday? If you can't make it home this year, what are your plans to celebrate Thanksgiving? Tell us about your holiday! Make sure to leave your thoughts in a comment.