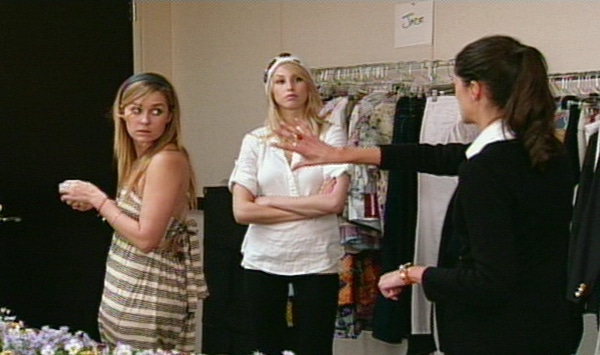 With the proliferation of the glamorization of the fashion industry in movies such as The Devil Wears Prada and in shows such as The Hills, little girls no longer dream of becoming pop stars and prima ballerinas — nowadays, they want to be Anna Wintour. Or Miley Cyrus (but we won't get into that). Some of these little girls never outgrow their dreams of working in the fashion industry, but may not know where to start.
The summer before my senior year of high school, I was a fashion intern for Seventeen magazine, and I am currently a fashion intern for Town & Country magazine. I've also worked with local fashion designers and public relations agencies throughout high school, so I found my niche in fashion publishing and entrepreneurship early on. Oftentimes, I get asked, "What are you studying in college if you want to work in fashion?" Many of my classmates here at Columbia also ask me, "Why aren't you studying at fashion school instead of writing term papers about Homer here?"
Well, before I get into that, I've compiled a short and concise to the top schools you should attend if you want to work in fashion — that is, if you want to study hard but you don't want a liberal arts-oriented curriculum:
16 Top Fashion-Related Schools in the World
Academy of Art University (San Francisco, California)
As the only school to have a show at New York Fashion Week every season, the Academy of Art has plenty to brag about. It is the largest private art university in the country and offers classes such as the history of beauty, fashion journalism, sportswear design, and sustainable design. Additionally, San Francisco is a hard place to beat in terms of unique and inspirational style.
Bunka Fashion College (Tokyo, Japan)
As Japan's top fashion school (and everyone knows that the Japanese have mad style), Bunka offers four different programs of study: Fashion Creation, Fashion Technology, Fashion Marketing and Distribution, and Fashion Accessories and Textiles. While proficiency in the Japanese language is a requirement for admission, taking some Japanese in high school might just be worth it if you want to study here, as some of the illustrious alumni include Yohji Yamamoto and Kenzo Takada. Technology and innovation is extremely important here, so if you're interested in new methods of design and creation, Bunka is the place for you.
California College of the Arts (San Francisco, California)

Located in the stylish San Francisco bay area, fashion enthusiasts can study Fashion Design, Illustration, Photography, Textiles, and Jewelry/Metal Arts here. In 2007, Business Week named it as one of the world's best design schools for its innovation set against the backdrop of Silicon Valley and commitment to the practical arts. It's also committed to eco-friendly and sustainable fashion. If you want the innovation of Bunka without learning Japanese, come to CCA.
Central Saint Martins College of Art and Design (London, England)
One of Britain's top design and art schools, Central Saint Martins offers both undergraduate and graduate programs in photography, fashion criticism/communication/curation, textile design, fashion design, jewelry design, and pattern cutting. It is located relatively close to Savile Row, a famous shopping street which boasts of former customers such as Winston Churchill. Alumni include Stella McCartney and Zac Posen.
The École Nationale Supérieure des Beaux-Arts (Paris, France)

Yes, you'll have to learn how to speak French — but isn't it worth it to study in Paris at the school that Hubert de Givenchy graduated from? This five-year program allows students to explore their work creatively through technical training and professional internships and seminars. Students end up earning something similar to a master's degree in these five years. The best part? It only costs about $440 a year to attend — French universities are publicly funded, after all.
Fashion Institute of Technology (New York, New York)
Being in New York City has its advantages — and Fashion Institute of Technology definitely knows that. It was created to be the "MIT for the fashion industries," so students are taught the most practical skills before they embark on creative outbursts. Alumni include Calvin Klein and Michael Kors, and the Museum at FIT (which I've visited on multiple occasions) contains fantastic historical pieces from likes of Halston and Paul Poiret. Programs of study include fashion design, fashion merchandising, cosmetic and fragrance marketing, fabric styling, accessories design, menswear, production management, illustration, and advertising.
London College of Fashion (London, England)
With visiting lecturers such as Alexander Shulman, editor-in-chief of British Vogue, the London College of Fashion is a prime school for those who want to study subjects such as beauty therapy, fashion journalism, fashion public relations, cosmetic science, costume design, fashion management, fashion marketing, image styling, and footwear. Even if you're not interested in designing, you can definitely find your niche here — as almost every career in the fashion industry is offered as an extensive and well-developed program of study.
Maryland Institute College of Art (Baltimore, Maryland)
In addition to offering liberal arts courses, MICA boasts of fifteen bachelor's degree programs. The master's program was ranked fourth by U.S. News and World Report, and luckily undergraduate students have the opportunity to work alongside these graduate students. While the school does not offer a fashion design major, it does offer an Experimental Fashion studio concentration, which allows even Art History majors to engage in innovative apparel creation — including a fashion show.
New York University (New York, New York)
For aspiring fashion journalists and editors, New York University, located in the heart of the city, offers print/online journalism as a program of study. While studying journalism here, students must also choose a second major in the liberal arts in order to round out their education. Additionally, because students live so close to so many design houses, magazines, and public relations agencies, internships are always available — you just need to take the initiative to look around.
Northwestern University (Illinois, Evanston)

Arguably the best undergraduate journalism school in the country, graduates from the Medill School at Northwestern have gone on to win Pulitzer Prizes and National Magazine Awards. During their junior year, the students are sent out on residencies to newspapers, magazines, and television stations across the country in order to gain work experience, contacts, and and work samples. Additionally, the business school, the Kellogg school, has a Fashion, Design, and Style program.
Otis College of Art and Design (Los Angeles, California)
While Hollywood may be known for trashy fashion and fake tans, Otis remains as one of the best kept secrets on the West Coast. Located in the garment district of sunny Los Angeles, students are widely recruited by California-based companies such as Roxy and Hurley. In the first year, all students, regardless of program of student, master the basics of drawing, painting, construction, and composition — in addition to standard liberal arts courses.
Parsons The New School for Design (New York, New York)
Okay, maybe you recognize Parsons from Project Runway, but its fame far transcends any reality television show. As the first design program in the United States, Parsons has produced designers such as Marc Jacobs, Alexander Wang (who dropped out), Tom Ford, Donna Karan, and Isaac Mizrahi — all important icons in the American fashion industry. Programs of study include fashion design, fashion styling, and fashion marketing — all located in Greenwich Village, which means easy access to shopping too. In Fall 2010, the school is launching a master's program in Fashion Studies.
Pratt Institute (New York, New York)
While Manhattan boasts of some top fashion schools, Brooklyn is not without one of its own — Pratt. Fashion design students here can learn a variety of things, include costume design. Additionally, the career fair each year attracts many top companies, hoping to recruit creative minds from the school.

Rhode Island School of Design (Providence, Rhode Island)
In 2009, RISD was ranked first for master's in fine arts programs by U.S. News and World Report — and no surprise there, Nicole Miller is a graduate of the school. An interesting and unique offering at this school is the ability to study and attain a dual degree from Brown University, a top Ivy League school nearby. At RISD, students interested in fashion can study textiles, apparel design, photography, jewelry making/metalsmithing, or illustrating.
Savannah College of Art and Design (Savannah, Georgia)
Hey, southerners have style too! Every year, the SCAD Style event brings fashion celebrities such as Marc Jacobs to the school in order to lecture and teach — including widely-publicized fashion show in May. In the School of Fashion, students can study accessory design, fashion, fashion marketing and management, or luxury and fashion management. With a campus in Hong Kong, students can also study abroad and gain a global perspective of the industry — which is much needed in this day and age.
Syracuse University (Syracuse, New York)
Betsey Johnson graduated from Syracuse's College of Visual and Performing Arts — but additionally, the S.I. Newhouse School of Public Communications offers majors in magazine journalism and advertising. Yes, the S.I. Newhouse — he owns Condé Nast Publications, if you didn't know that. If you know you want to work in magazines, the program at Syracuse is well-respected and will give you an edge above your peers.
Alternative Options
But what if I don't want to major in anything fashion related — but I still want to work in fashion?
Well, you're just like me! I'm a prospective Art History major with a double concentration (Columbia's version of a minor) in Economics and Anthropology, but that doesn't mean I want to be an art historian, economist, or anthropologist. I chose to attend Columbia University instead of a school like Fashion Institute of Technology because I honestly enjoy academia (ah yes, the nerd inside of me speaks out) and exploring topics outside of fashion. I wanted to broaden my perspective of the world while pursuing my professional interests. Since I'm in New York City, I can work at fashion magazines and take a full course load — and Columbia supports that (which is why we don't have classes on Friday).
The truth is, there is no single path to success. You don't need to major in journalism to be an editor (Jane Keltner, Fashion News Director of Teen Vogue, attended Barnard College to study English and art history there) and you don't need to major in fashion design to be a fashion designer (the Mulleavy sisters behind Rodarte attended University of California — Berkeley!).
Your college degree can proudly hang on your wall in gilded gold frames, but only you can make something of your career.
What do you think?
Do you attend fashion school? Do you want to work in the fashion industry? What other schools do you recommend?