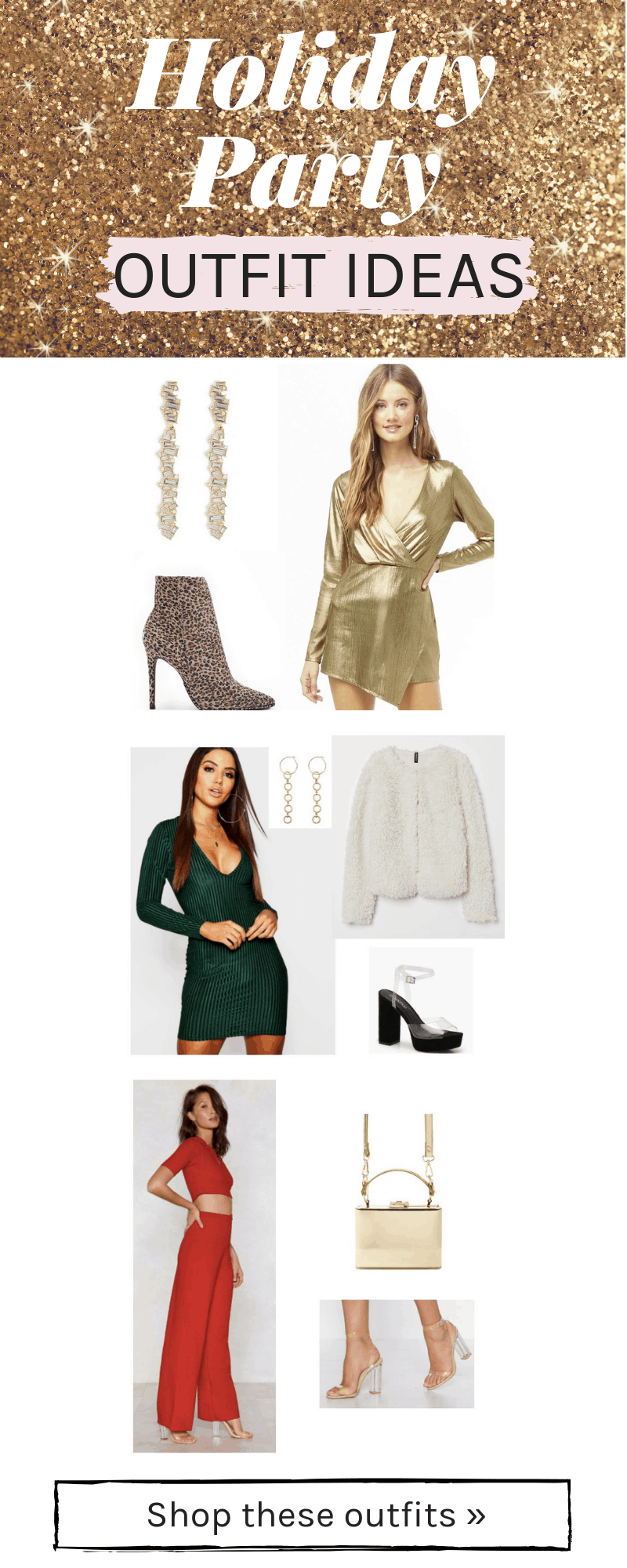 It's finally the month of holiday parties: December! Whether you're hosting a close friend dinner party (with Secret Santa and White Elephant of course), turning heads at a fancy Christmas event, or are attending the hundreds of festive frat parties that happen this time of year, chances are that you need several festive party outfits, ASAP.
As always, we're here to help you out with your outfit idea needs! Below are five unique holiday party outfits that embrace current trends so that you can look your best and enjoy the winter season! As a bonus, they're all affordable (because we know your budget is stretched this time of year).
1. Tree Topper Outfit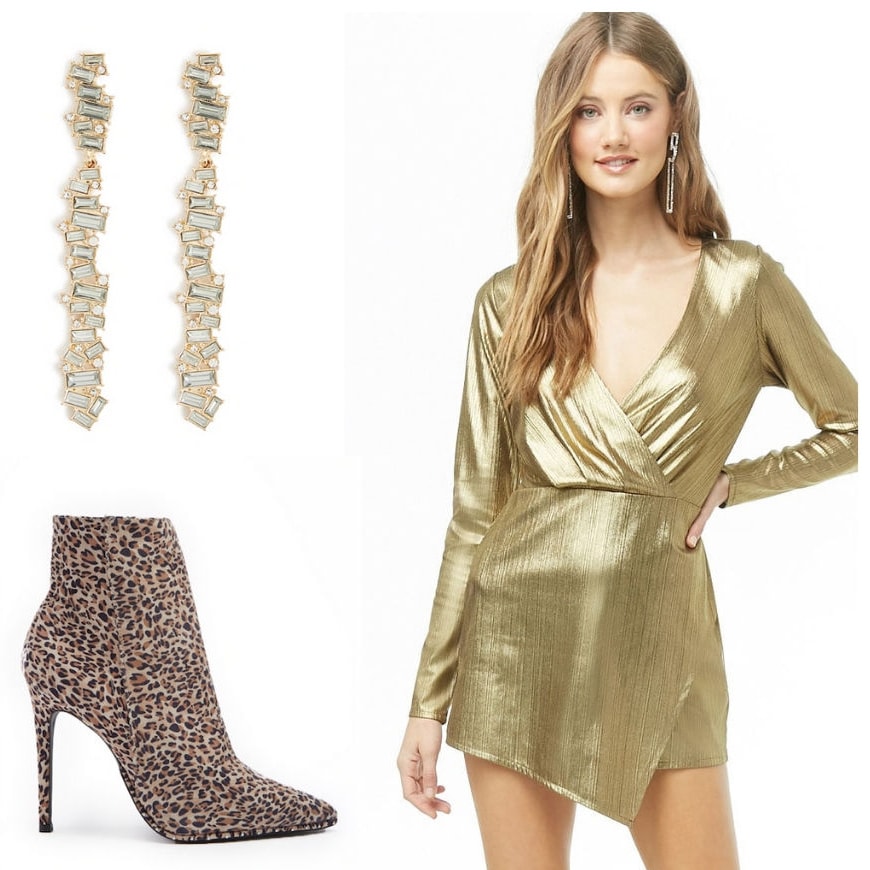 Products: Romper – Forever 21, Shoes – Forever 21, Earrings – Forever 21
What part of the Christmas tree stands out the most? The star, of course! This outfit is inspired by the tree topper gold star. Choose a solid gold dress (this is actually a romper with the look of a dress!) to go with statement shoes. We chose a neutral colored leopard print boot to complement the dress without taking away from its shine. To finish off the holiday look, choose a simple pair of textural earrings.
2. Candy Cane Outfit
Products: Shirt – Lulu's, Skirt – Lulu's, Boots – Revolve, Purse – Nasty Gal
Inspired by yummy holiday candies, this outfit pairs a structured white, long sleeve top with a white mini-skirt to give off winter vibes. Add a red snakeskin bootie to act as the statement piece of the outfit. Finally, choose a glittery gold purse to finish off the Christmas look. This outfit is perfect for the holidays because it doesn't scream "Christmas" but still has holiday elements mixed with trendy pieces.
3. Silver Bells Outfit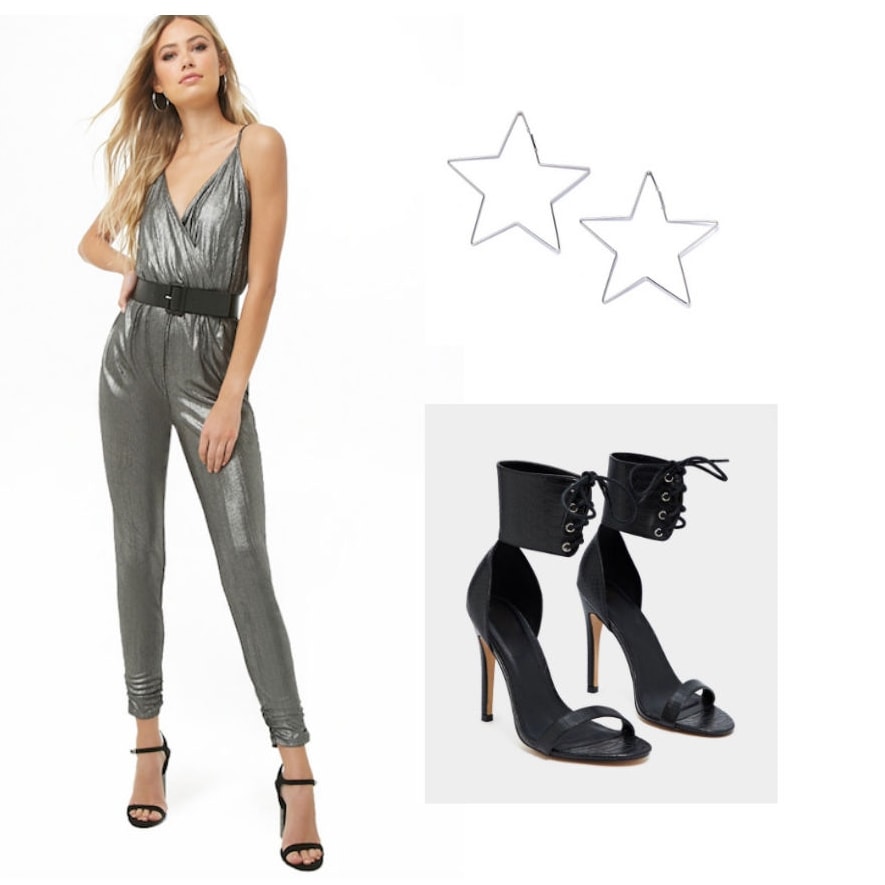 Products: Jumpsuit – Forever 21, Heels – Nasty Gal, Earrings – Nasty Gal
Remember the classic holiday song, Silver Bells? Inspired by this song, this holiday party outfit is based around a solid silver jumpsuit that is figure-flattering and festive. Next, basic black heels act as a neutral piece. If you don't have black heels, a nude or even a pop of color would look amazing for your shoes! Finally, add some edgy personality to your outfit with star-shaped earrings.
4. Classic Christmas Outfit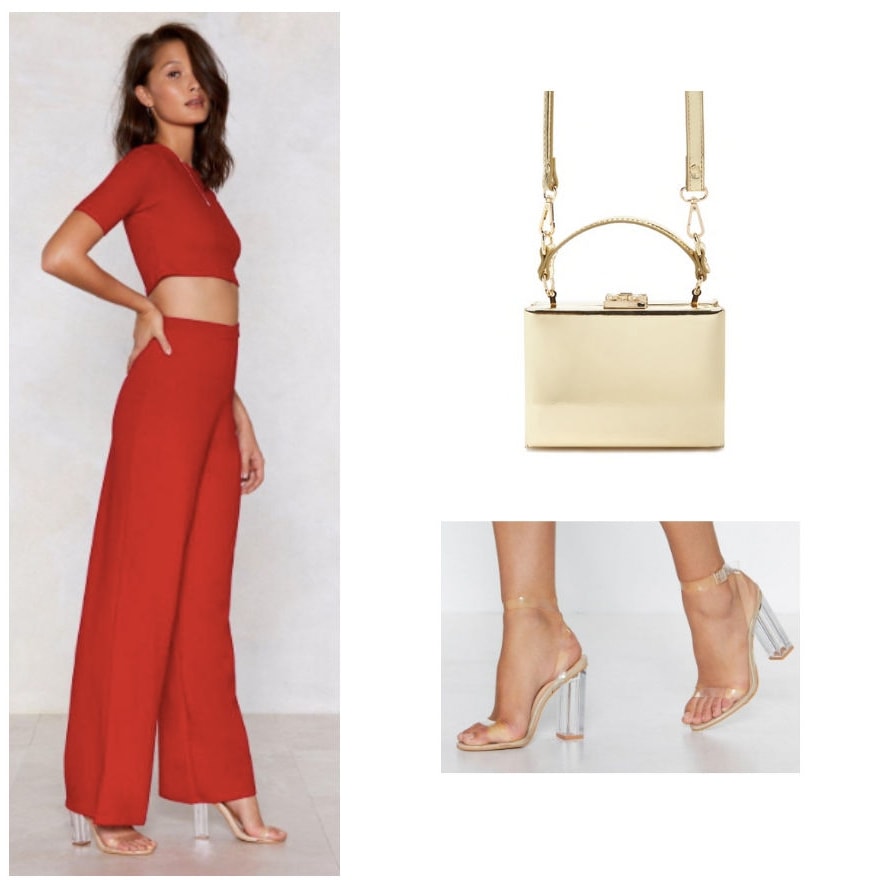 Products: Two-Piece – Nasty Gal, Heels – Nasty Gal, Handbag – Forever 21
Perfect for a fancy or casual party, this outfit can be dressed up or down with heels or flats. We chose a trendy clear heel to keep all the attention on the bold red two-piece. Keeping the festive red color, the two-piece will add Christmas personality to the look and can remain a staple piece for all seasons to come. (You can obviously wear the pants and top separately, too, so it's a versatile choice!) Finish off the outfit with a basic gold purse. Also, if the weather is cold outside, wear a faux fur coat or neutral colored coat over top to stay warm!
5. Faux Fur Christmas Outfit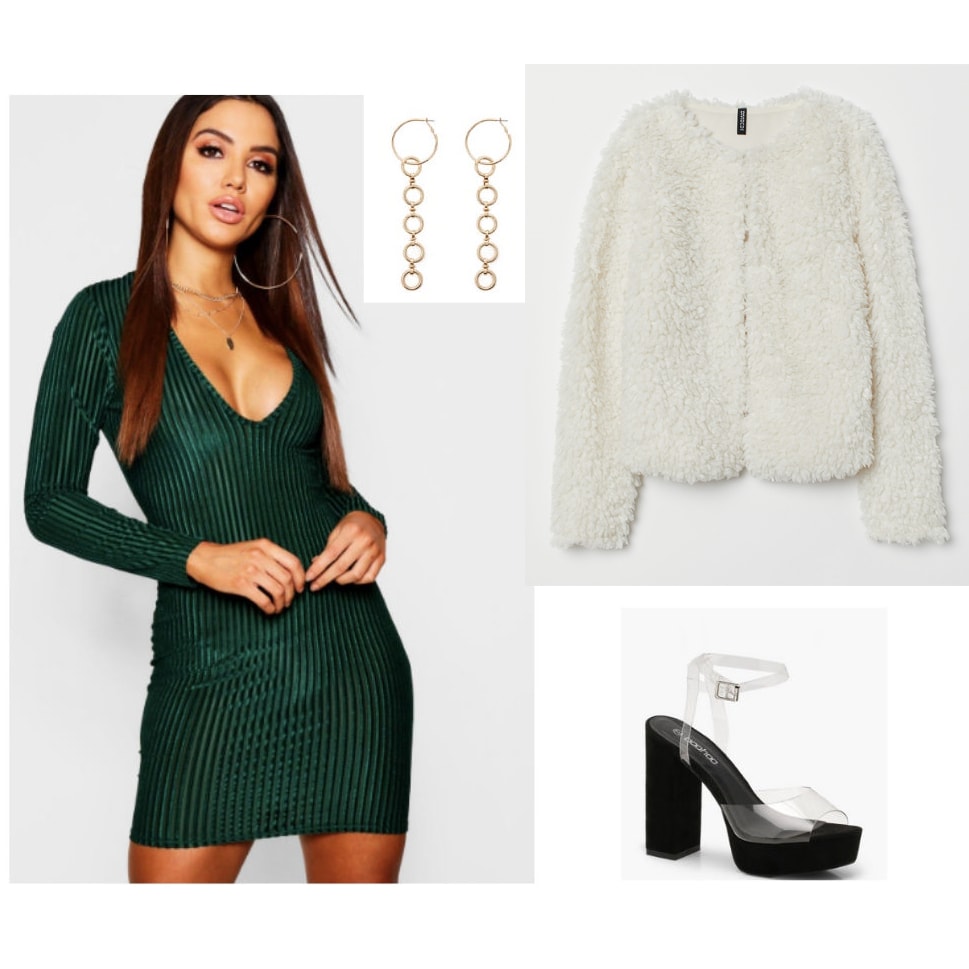 Products: Dress – Boohoo, Jacket – H&M, Heels – Boohoo, Earrings – Forever 21
Real fur is OUT and faux fur is IN this holiday season, so embrace it with your party outfits! In the above outfit, we paired a tight, green dress with a white faux fur coat to contrast a bold color with a neutral. To keep the simplicity of the outfit, style a basic shoe with colors in black, white or nude to keep attention focused on the bold dress. To complete the look, choose elegant jewelry in either a gold or silver.
What are you wearing to holiday parties this year?
Regardless of the types of parties you are attending this year, make sure your outfit is cold-proof, festive, and can be worn for multiple occasions. Use these looks as a jumping-off point to create your own fun ensembles! Have fun celebrating! Comment below you favorite holiday party outfits.