Whew. The sight of all this huffing and panting must mean that the semester is eventually coming to an end and it's a cause for celebration. I don't know about you, but the past few months have been quite a marathon for me and it's about time we finish that last sprint to the finish.
Being in an intense environment of continuous concentration can make us feel negative. And it's different for everyone: Stress and negativity can result from picking up extra shifts at work, managing group projects, being active in student organizations, or all of the above. However, soon we can sit back and let out a sigh of relief.
Whether you're already on your way to starting Winter Break or simply preparing for those weeks of relaxation, it's time to move those gray clouds away and replace them with blue skies that are about to shine.
Let's not be "cotton headed ninny muggins" and share some positive vibes instead. Here are three tricks on spreading positivity, as told by Elf.
About the Movie
Directed by Jon Favreau, Elf (2003) is a comedy about Buddy the Elf (Will Ferrell) and his journey to find his biological father and his struggles in spreading Christmas cheer to a cynical world.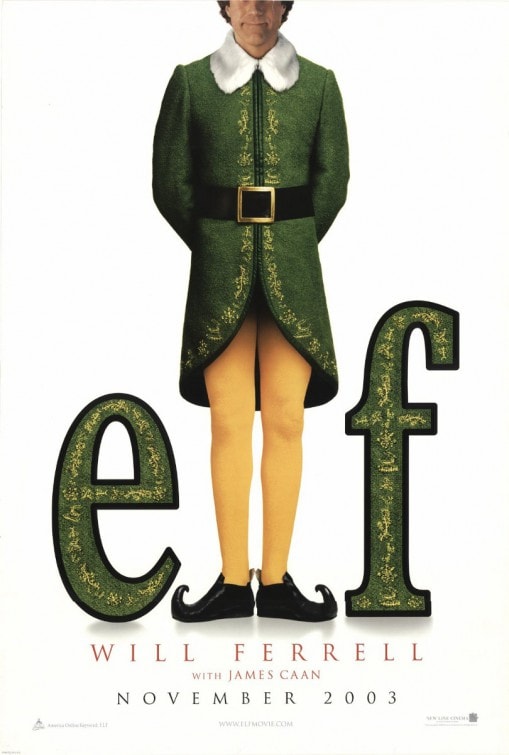 The night before Christmas, a curious baby boy crawls into Santa Claus's bag and unknowingly travels back to the North Pole. Upon arrival, the elves notice his "Little Buddy Diapers," and as result, name him "Buddy." After getting adopted by Papa Elf, Buddy grows up believing he is an elf, but due to differences in size, he is unable to work as efficiently as the other elves.
Buddy later overhears that he is human and discovers that he was given up for adoption by Walter Hobbs and Susan Wells. While his birth mother passed away, Buddy learns that his biological father (James Caan), who currently works for a children's book publisher in New York City, is unaware of his existence. To his dismay, Santa reveals that Buddy's father is on the naughty list because of his greed and selfishness.
From sarcastic security guards and pesky revolving doors to people pretending be Santa, Buddy encounters some troubles when trying to adjust to life away from the North Pole. However, through his efforts and new friendships, he continues to spread positivity and holiday cheer to friends, family, and everyone around him.
Want to watch the film before reading further? Stream it on Amazon here.
1. Share a smile with everyone around you.
Regardless of the situation, Buddy maintains an optimistic attitude and bright persona. After Buddy is mistaken for an employee, the current manager guides him around the store and trains him in his new role. When asked about his facial expressions, Buddy promptly replies, "I just like to smile. Smiling's my favorite."
Elf (2003) Smiling's My Favorite (HD)
Whether it's been a rough few weeks or a pleasantly smooth ride, we never truly know what our peers are going through. A smile, although may seem like a tiny gesture, can ultimately make others feel more connected and improve their mood.
Several studies have even shown that the simple act of smiling can positively change our health and wellbeing. According to Very Well,
"Smiling releases endorphins, natural pain killers, and serotonin. Together these three neurotransmitters make us feel good from head to toe."
So what are you waiting for? Smile at someone today.
2. Get excited about everything.
Although the holidays are approaching, there is still a dreary atmosphere that surrounds the busy streets of New York City. Buddy, upon finding his biological father, discovers that he also has a stepmother and a half-brother. Instead of becoming upset with this new information, he tries to enjoy every moment with his family.
His enthusiasm follows his every step. While exploring the city, Buddy encounters a neon-light sign that reads "World's Best Coffee," and happily runs in the shop to congratulate everyone. In another instance, he greets his brother by exclaiming that he saw a dog that day.
I often get so caught up in crossing off items on my to-do list that I forget to remember why I wanted to do them in the first place. By treating certain activities as a chore instead of something I truly enjoy, I end up missing out on the fun and living in that moment.
It's all about the little things – home-cooked meals, warm scented candles, encouraging text messages, or even clean laundry – that can lift our moods and motivate us to be more positive. It's not about finding excitement with every single mundane thing, but rather, it's about being present in the moment and appreciating all we are and have yet to become.
3. Continue those compliments.
In the film, Buddy makes sure to note the good things about everyone he encounters. From complimenting Jovie's (Zooey Deschanel) melodic voice and Francisco's cool name to telling Deb that her pretty face should be on a Christmas card, his small efforts put a smile on others' faces.
Elf (2003). Buddy goes to dads office
According to Psychology Today, compliments amplify positive thinking. Not only do they deliver positive effects to others, but those effects bounce back to us and leave us feeling more at ease.
Whether you compliment a family member, close friend, or even a stranger, the simple act can go a long way. Besides, if you happen to having a rough day, directing the positivity to another person can take the focus off of yourself and divert your attention elsewhere. The kind words will continue to spread and soon the compliments may come back.
After all, what goes around surely comes back around.
Thoughts?
Psst: If you're looking for some quick encouraging words, check out Inc.'s list of 100 Best Motivational Quotes to Inspire Anyone.
What are some ways you stay positive? Do you have other tips you'd like to share? What movie are you watching next? Start the conversation – comment below!