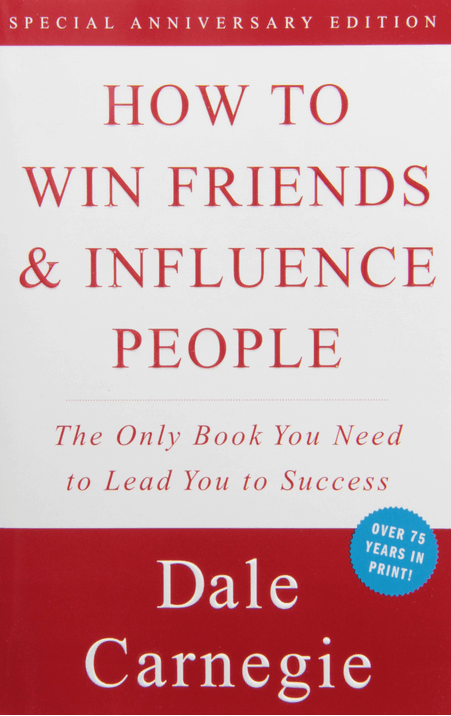 "Picture in your mind the able, earnest, useful person you desire to be, and the thought you hold is hourly transforming you into that particular individual… Thought is supreme." – Dale Carnegie
Dale Carnegie's self-help book, How to Win Friends and Influence People, was originally published in 1936, and has been helping people influence others ever since. The back cover alone is filled with tremendous praise, most notably with The Times calling it "The most successful self-help book of all time."
From his book, I learned a lot about how people approach others and deal with situations (mostly negative ones). What's great about Carnegie's book is that he not only tells you what the problem is, but also how to fix it. He tells you the best ways to deal with people while still fulfilling your own needs. He lets readers know specifically what they are doing wrong and how they can improve their communication skills in order to have more fulfilling relationships.
Here's what I loved…
Carnegie touched on a lot of practical things we can do to better interact with people. The tips themselves weren't revolutionary, but what I found so interesting was that they were things we should all do more often. That's where the genius is, because most of his tips, like smiling, listening, and being interested in other people, were all easy things we don't do enough.
Also, the book is very detailed and thought-out. Carnegie tells readers right from the beginning that if you really want to improve your people skills, you need to grab that highlighter and prepare to reread chapters. I appreciated that, as the book is no ordinary self-help book. Mastering his tips could very well be a new beginning for you.
Here's what could have been improved…
In each chapter, there were a lot of examples from history (think U.S. presidents) and ordinary people, all detailing how the tips have been used, both successfully and unsuccessfully.
For example, at one point Carnegie talks about how criticizing others does not work, and proceeds to discuss various examples that showcase that. At times, it did paint a clearer picture, but mostly it felt like overkill, as most chapters were filled with more examples than content.
Final Thoughts:
I highly recommend checking out Carnegie's book in order to get a broader picture (and more tips!) on how you can influence the people in your life and better interact with them. You have so much to offer and with Carnegie's tips, they will be sure to notice.
What do you think?
Have you read Carnegie's famous self-help book? Got any people tips of your own? Share them with us in the comments!