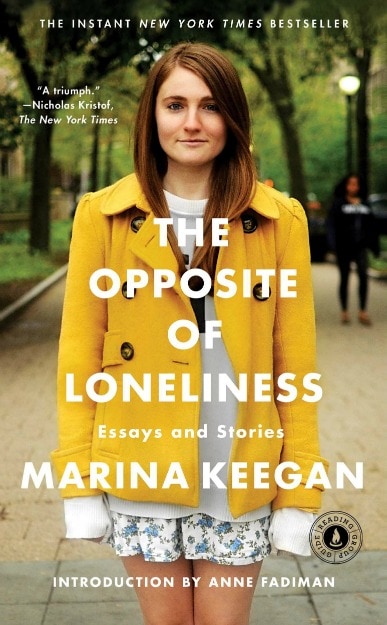 For some of you, summer is just beginning, but for others, you've just graduated. That means the real world is upon you. Jobs, responsibilities, new environments, and changes in relationships abound. On one hand, you may feel older than you've ever felt and ready for all the opportunities that are coming your way. On the other hand, you are still so young and probably uncertain about a lot of things going on around you. Will you find success? Will you be happy? The future looms closer on the horizon than it ever has; even if you haven't graduated yet, you could still be feeling this way.
For recent graduates or those of us still trying to make it through college life before being thrust into the real world, I recommend reading The Opposite of Loneliness: Essays and Stories by Marina Keegan. Marina had a promising career as a writer ahead of her when she graduated Yale in 2012; tragically, her life was cut short in a car accident just five days later. The stories and essays collected in this book bring a message of positivity and encouragement to our generation, the ones who are on the cusp of something and not sure exactly what to do with all that new freedom and responsibility.
You'll love this book because…
This book may have garnered attention due to the tragic circumstances under which is was published, but that's not the reason to read this book. This book offers a look at the fears specific to our generation, including one essay describing Keegan's fear of graduating. Even the phrase "the opposite of loneliness" seems unique to our generation, which has become so engrossed in social media and the need to keep in touch.
It emphasizes the importance of youth. Being a young twenty-something is such a gift that many of us take for granted. Keegan points out that at twenty-two, "We're so young. We're so young." And it's true. It's a reminder not to be so hard on ourselves for everything. We have time to build our futures and worry about the "adult" issues in the world, but this book reminds us to enjoy our youth, because anything can happen at any time.
Marina Keegan was truly a talented writer. Her essays are conversational in tone, but they contain an air of truly deep intelligence nonetheless. Her style is simple to read, but has all the signs of a deep thinker, a remarkable mind and a brilliant writer.
The book includes both short stories and essays, so if you're a fan of fiction or nonfiction, this book will please you. Keegan's short stories are as diverse and unique as her essays are poignantly observational.
While this book is all the more remarkable because of its authors devastatingly early death, more than anything it's a reminder to truly live. I recommend this book because Keegan was a really exceptional writer, and it's tragic that the world will never receive any more work from her.
But that gives us all the more incentive to appreciate what she has given us in her brief time on Earth, and to remember that though we are young, life is short, and we should give what we have of our talents and life while we still have the time to do so.
Thoughts?
Have you read The Opposite of Loneliness? What did you think of it? If you haven't read it, are you planning on it? I'd love to hear your thoughts!