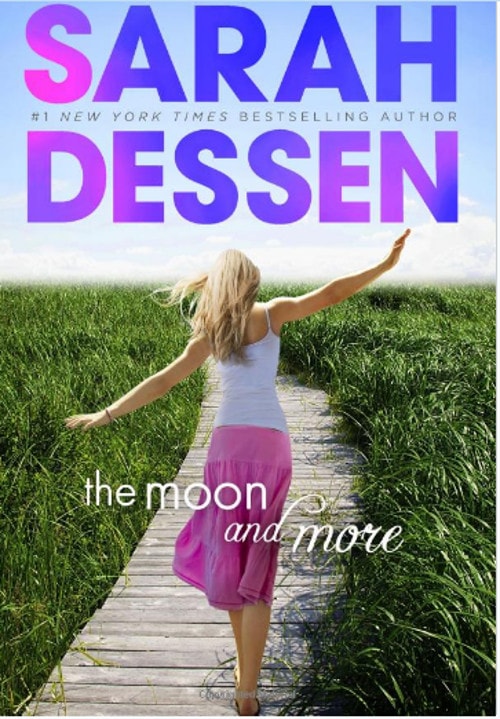 Book Cover via Amazon
I must have been living under a rock to have missed the fact that Sarah Dessen released a new novel just weeks ago. Much like Jonas Brothers concerts, Delia's, and vanilla bean Frappuccinos, Sarah Dessen novels belong to those idyllic summers of middle school years, before worrying about college courses, internships, and final exams became the norm. Calories didn't exist and my world only extended as far as my bike would carry me; it was a simpler time.
I devoured Dessen novel after Dessen novel during this period of my life, so when I found out her new novel, Saint Anything, was released this April, a wave of nostalgia washed over me the way waves crash on the beach in the town of Colby.
I haven't been able to get my hands on a copy of Saint Anything yet, but I'm sure that will be my beach book of the summer. However, I was able to get a copy of The Moon and More, Dessen's second most recent novel. It is a guilty pleasure beach read, just like the rest of Dessen's novels, and I loved every page of it.
You'll love this book because…
If you know Sarah Dessen, you know most of her books center around the fictional beach town of Colby, North Carolina. It's an idyllic vacation spot where most of Dessen's protagonists spend a summer that will change their lives forever. The Moon and More flips the switch by including a protagonist who is a native of Colby, not a vacationer. A permanent resident adds a new perspective to the beach town and must decide whether to stay in her hometown or venture toward new horizons.
Sarah Dessen is the queen of summer-fling romance novels. Whether you're single, heartbroken, or pining hopelessly after someone, nothing will make you believe in love like reading The Moon and More. Give me a beach town and a cute guy and I'd consider that a perfect summer; if not, give me a Sarah Dessen book and I'll consider it the next best thing.
Dessen's books are like gummy bears – deliciously sweet and impossible to eat slowly. This book is meant to be devoured, page after page, chapter after chapter until you reach the final delectable conclusion. It's the perfect book to reach for following your post-finals stress. Unwind on the beach (or inside enjoying the A/C) with this novel to forget all about your macroeconomics or linguistics woes.
Throughout high school, I found myself reaching for Dessen novels again and again, no matter how many times I'd read them, and this book is no exception. I know whenever I'm strapped for cash in the future but want a good guilty-pleasure novel to enjoy, I'll reach for The Moon and More. Her stories never get old! Read it now, keep it, and read it later when you need a pick-me-up.
Like most Dessen novels, The Moon and More is really a feel-good book. Simple, classic romance wrapped up in an easy-to-read but still impossible-to-put-down package. I dare you not to feel happy after finishing this book.
While they may not be the height of literary scholarship, I've never found a Sarah Dessen book I haven't liked. Most of her novels follow the same simple formula – girl meets boy during the summer – but this formula really works and makes for a fantastic beach read.
If you're looking for something mindless but enjoyable and simple but lovable, I recommend picking up The Moon and More today.
Thoughts?
Have you read The Moon and More, or do you plan on reading it? What do you think? Have you read Saint Anything yet? (No spoilers, please!) What do you think about Sarah Dessen novels in general? I'd love to hear your thoughts!