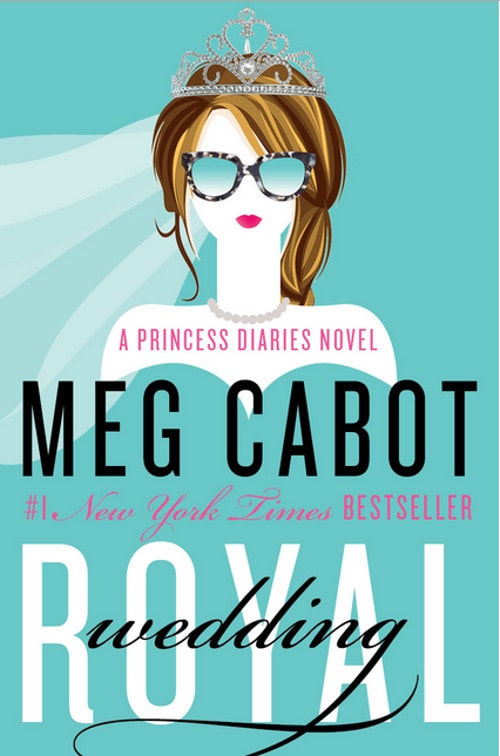 Book Cover via Amazon
My inner preteen heart is going crazy right now, you guys. I never thought I'd see the day when I literally jumped up and squealed in the middle of a bookstore, but that day has (embarrassingly) come to pass. Not since I heard about the existence of Harper Lee's Go Set a Watchman have I been this excited about an author's new book release. But here I am, utterly buzzing with joy at my most recent read: Royal Wedding, by Meg Cabot.
In case the name isn't ringing any bells for you, let me clarify: Meg Cabot is the author of The Princess Diaries book series, the inspiration for the Disney movies everybody loves so much. But if you've only seen the films, you are seriously missing out. The book version of Mia Thermopolis is more awkward, neurotic, and lovable than even Anne Hathaway's portrayal of her. The books are laugh-out-loud hilarious!
My awkward, early-teenage years were made more bearable by reading this series, so I was absolutely thrilled to discover Royal Wedding, the newest (and final) book in The Princess Diaries series. I knew I had to share it with you readers here at CF!
You'll love this book (and the whole Princess Diaries series!) because…
As amazing as the movies are, they are certainly created for Disney's often younger audience. In the book, high schooler Mia Thermopolis is much more candid. She doesn't hold anything back! Royal Wedding's 25-year-old princess is no different; if anything, she's even more self-assured and outspoken now.
The characters you know and love from the movie are larger-than-life in the book series: Mia's artist mother is ethereal and scatterbrained; her best friend Lilly is more intelligent and ambitious than ever; and her grandmother is no Julie Andrews – she's actually quite frightening in the books! In Royal Wedding, she takes over planning Mia's wedding with spectacularly disastrous results, as one might expect.
Speaking of familiar characters, if anyone else was utterly devastated by the lack of Michael Moscovitz in the second Princess Diaries movie, fear not! Everyone's favorite M&M-loving musician features much more heavily in the book series, particularly in Royal Wedding (not to give anything away, of course!)
The books can afford to be much more in-depth than the movies are; the first ten novels of the series really detail Mia's entire high school experience, from the breakups and failed math tests to running a small European nation. Having read the entire series while in middle school or high school, it's nice now to turn to Royal Wedding and see how a post-college graduate Mia is surviving in the real world. Hey, if she can do it, why can't we?
If you have a Pinterest board specifically designed for wedding planning (who doesn't, am I right?), then this book is for you. If you've ever dreamed of your own royal wedding, then you certainly won't be disappointed by Mia's arrangements.
If, like me, you spent parts of your youth obsessing over Michael Moscovitz and poring over these books, then you need to stop whatever you're doing and go buy Royal Wedding right now.
And even if you've never read the books before, why not start now? They're hilarious, they're easy beach reads, they're heartfelt, and with the promise of a third Princess Diaries movie on the horizon, we could all use a little more Princess Mia in our lives.
What are your thoughts?
Are you a diehard fan of the Princess Diaries book series, or do you only know Princess Mia from the movies? Are you completely psyched about Royal Wedding, like I was? Do you plan on reading it? If you've read it, what are your thoughts? I'd love to hear from you, so feel free to leave a comment!