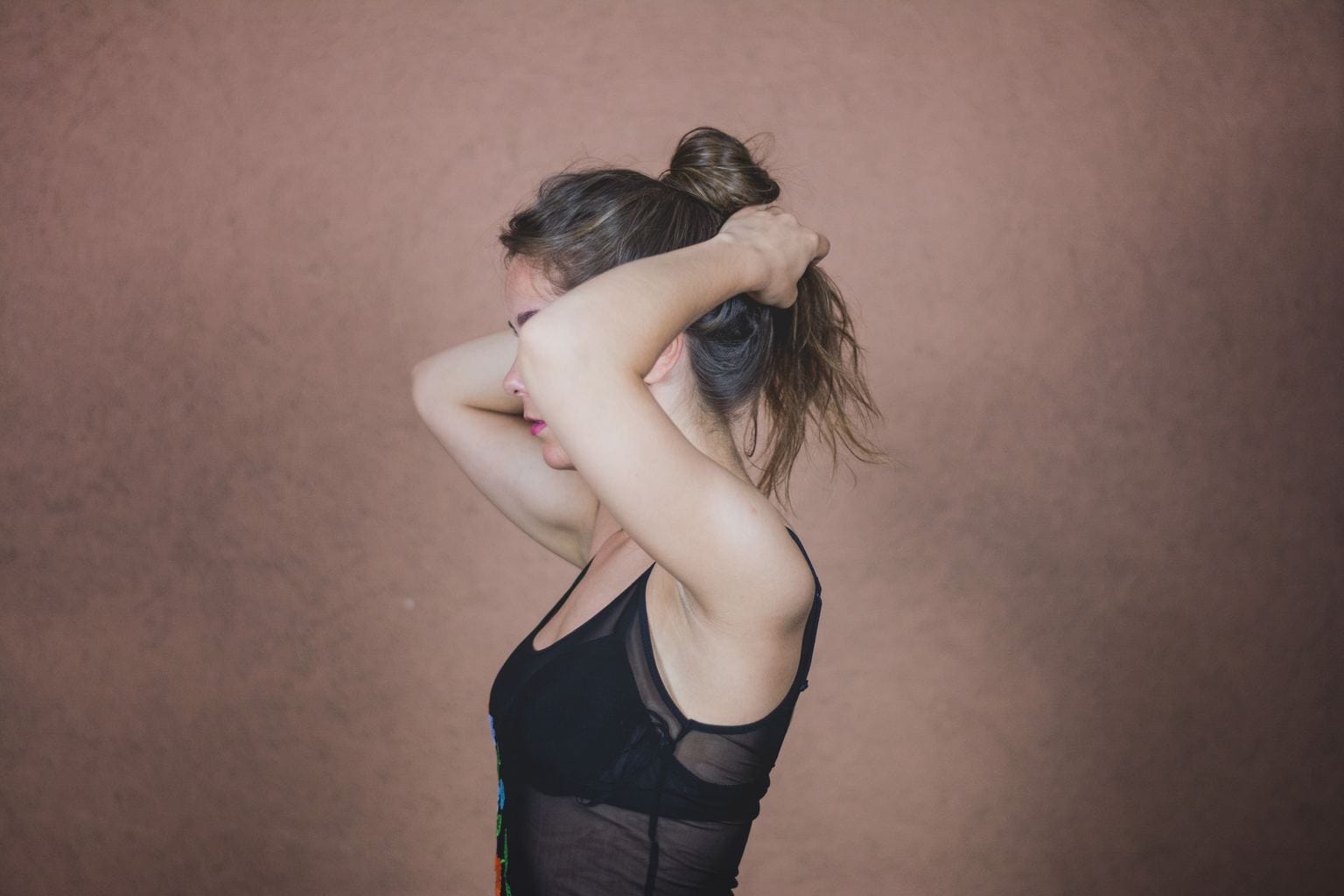 In college, staying healthy is just as important as studying and acing those tests. Many of you reading this post probably already exercise and are just looking for something to make that a little easier. And if you don't work out much and need a kick of motivation, then you have also come to the right place.
Being a college athlete, I am big on fitness. I'm always trying new workouts and downloading any and every health/fitness app I can find. So, after trying basically all of them, here are the best health, fitness, and wellness apps that I have found (ranked in no particular order).
Happy exercising!
Related reading: The 19 Best Apps Every College Student Needs to Download
1. Nike+ Training Club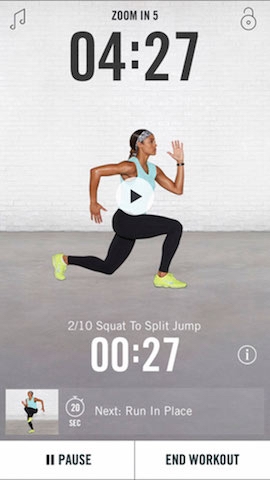 The Nike+Training Club (iOs and Android) offers personalized training sessions without having to pay the cost of a trainer. The trainers leading the videos are either professional athletes themselves, or reputable Nike trainers. Doesn't get much better than that, right?
Well, it actually does. When starting up the application, you have one of two options. Option one is to search for workouts based on either strength, endurance, or mobility. You can then filter these workouts by time, body part, level, intensity, and the amount of equipment you have available.
The second option is to create your own plan. There are four different plans to choose from: start up, lean fit, bodyweight, and gym strong. When you choose a plan, you will answer some questions and the application will create a workout schedule for you.
No matter which option you choose, this app is amazing for jumpstarting a fitness program. I highly recommend you give it a try!
Pros:
Free.
Syncs with iTunes.
More than 100 workouts.
Workouts for all levels.
Includes warm up and cool down exercises for maximum recovery.
Available for iOS and Android.
Cons:
Workouts require open room.
You often have to manually pause the workout to see how it is done.
Moves in workouts repeat quite often.
2. Blogilates with Cassey Ho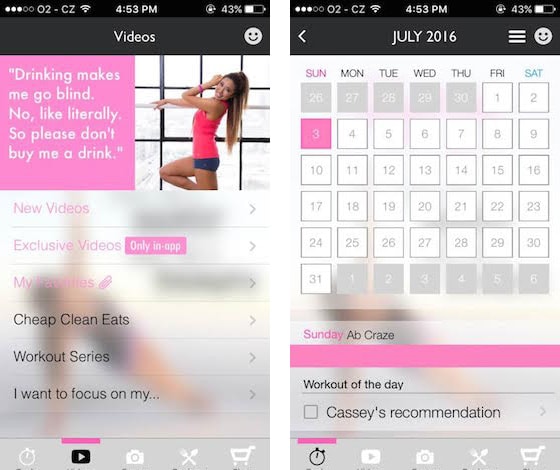 Cassey Ho, a cheerful and energetic Youtube star, is the host of the popular "Blogilates" and "Pop Pilates" YouTube videos.
Pilates is quite popular already, but Cassey's spin on the discipline makes pilates more unique and enjoyable. Just take a look at one of her workout videos; her personality will jump off the screen at you in the first thirty seconds. With Cassey, workouts are actually fun.
Her Blogilates app (iOS and Android) has so much to offer beyond her YouTube videos. Her monthly workout calendars target a specific part of the body each day of the week. Each day totals up to about one hour of exercise. If you don't want to make that commitment, you can just do a workout video (each runs around 10 minutes). Her app also offers clean recipes, before and after photos, an online shop of her personal workout clothing line, and a forum where you can talk to other Blogilates users.
Don't let Cassey's glitz and cheer fool you: You're in for one tough workout!
Pros:
Cassey talks throughout the workout to distract you from the burnnnn!
She stresses a healthy, positive, and attainable body image – love!
For 97% of the videos, all you need is a yoga mat.
Throughout the videos, she will suggest a beginner or a more advanced version of the move.
Available for iOS and Android.
Cons:
The app is a subscription model, costing .99 cents per month (not free, but still cheap).
Not very much cardio unless you do one of her interval training videos.
The workout calendar isn't tailored to each individual.
3. Charity Miles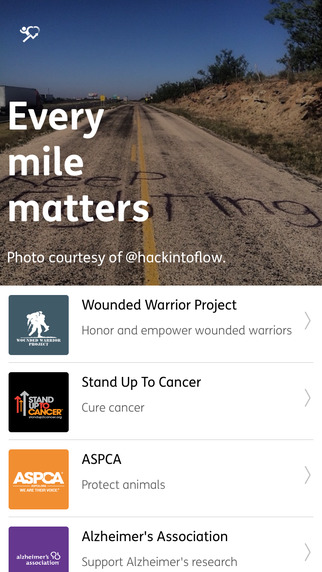 Okay, okay. I know what you're all thinking. No, not another running app! I promise you, this one is different.
Like the name of the app suggests, Charity Miles (iOS and Android) gives back to charities when you run. Moreover, the more you run, the more the app gives back. When going into the app, you will see the screen above. First, you select the charity that you would like to "run" for (descriptions of charities are provided), and then you simply run! For every mile ran or walked, up to .25 cents is donated, while bikers earn up to .10 cents a mile. Get to donating!
Pros:
There are 28 charities to choose from so finding a cause that you care about isn't difficult.
Available for iOS and Android.
Cons:
Requires a U.S zip code, so people outside of U.S cannot use it.
Distance is not as accurate when compared to other running apps, so oftentimes one earns a bit less than the amount actually run.
4. Daily Yoga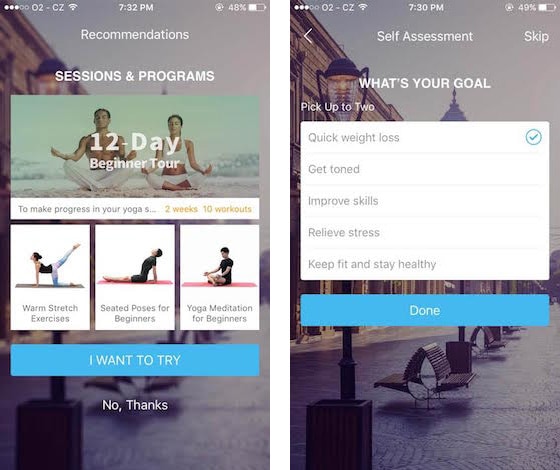 Get in touch with your body and zen out with the Daily Yoga app (iOS and Android).
This app is basically a yoga teacher in your pocket. Just boot up the app, choose some goals (pictured on the right) and the app will offer you the choice to either start a program that fits your goals, or you can simply pick from the vast selection of yoga videos!
You can search videos by duration or based on what your focus is that day (like "health", for example). This awesome app also includes music to set the mood, a pose library, and the app community which allows you to connect with other yogis. Namaste.
Pros:
Voted "Best Yoga App" by Healthline.
Over 100 yoga exercises.
Live voice instructions.
New videos added every month.
Available for iOS and Android.
Cons:
The app is a subscription model, costing $5.99 a month. It's definitely pricier than many other workout apps.
5. MyFitness Pal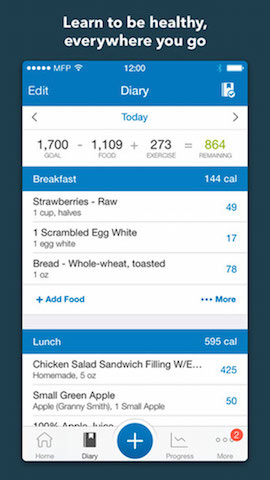 If you want to change or track your diet, MyFitnessPal (iOS and Android) is for you!
This app has many uses: You can use it to lose, gain, or maintain weight by tracking calories. (The app loosely recommends how many calories you should eat based on your height, weight, and goals, but it's better to use a TDEE calculator for a more accurate number.) Or, if you don't want to use it for weight, but want to track your micro and macro nutrients, then this is perfect as well.
As you log your food, you can scroll down and it will show you your nutrition for that day (broken down into many different categories). The data is fascinating and may just inspire you to make healthier choices to get those nutrients up!
Pros:
Free.
Includes barcode scanners to easily track packaged foods.
Keeps track of your progress.
Has a web-based interface so you can access your data from the computer.
Personalized if you choose to share your information.
Available for iOS and Android.
Cons:
Strength training is difficult to log in comparison to cardio.
Takes some time to log all the food, especially if you input your own recipes.
What do you think?
Have you used any of these apps? Which one did you enjoy the most? What is your favorite fitness app? Let me know in the comments below!