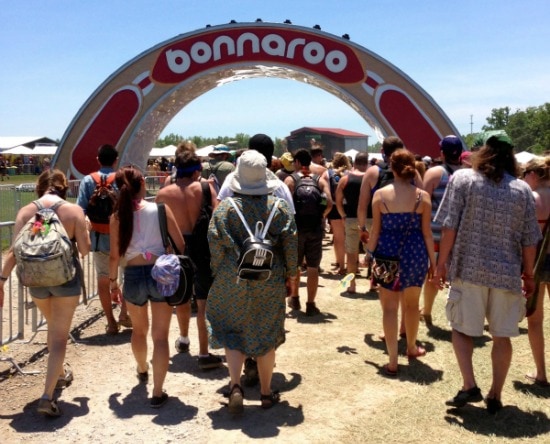 Original Photo
What a trip. I can't believe it's already over. This weekend was the Bonnaroo Music Festival in Manchester, TN and I had the pleasure of being able to volunteer at such an amazing place.
With performers like Tom Petty and Paul McCartney, spending a week at "The Farm" was hands down one of the best experiences of my life. I got to see a number of bands that have revolutionized music, as well as see new bands that I love now! I also met some great people. With this only being my first year, I definitely made mistakes, but I also learned so much to take with me next year.
Last time, I told you what to pack for Bonnaroo, and now I'm going to recap four important things I learned volunteering at Bonnaroo:
1. You have to have a good attitude.
If you're volunteering at Bonnaroo, know this: It's going to be hot. You're going to be sweaty. People will be ignoring your personal space. But don't let it ruin your experience. Just remember thateveryone else is in your same situation.
As I quickly discovered, the jokes about heat and sweat were plentiful, and everyone was up for helping you out, whether it was holding the water faucet for you, or spritzing you with one of those wonderfulwater spray bottles. (Did I mention those were amazing?) The heat can bring out the worst in all of us, but reminding yourself that you are having a one-of-a-kind experience – and you're not alone – can really refocus your frustrations.
2. Strive to make friends.
It's so intimidating being close to people camping and not knowing anyone. A simple "good morning" can really change the way you spend the rest of your trip. Even a "hello" to the person standing in line with you can open up a new chance to make friends.
I definitely lucked out: My campsite neighbors were so kind and always willing to share anything. They were my go-to people when I had some down time during bands, and they helped me expand my horizons. They took me to different bands that I wouldn't have gone to in the first place, and I fell in love with the acts. Fresh music recommendations – and, even better, new friends – can be rare to find, and I was so grateful!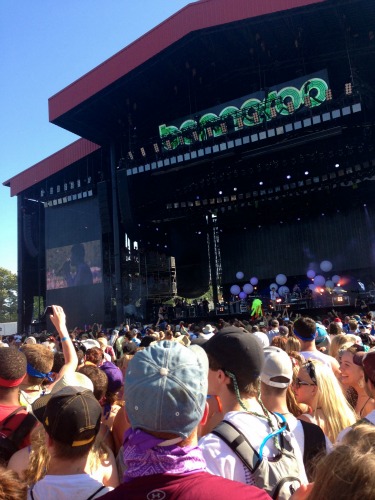 Original Photo
3. Be prepared.
When you are living in a field without anything but what you packed, you will immediately realize what you should have brought with you. The fact that I didn't have a place for shade was sometimes just down right miserable. It got so hot in my tent that I would have to sit in my car behind the sun reflector, until my neighbors got back so we could hang out under their awning (another perk of awesome neighbors!).
I thought I was prepared, and I still forgot something, so my best tip is to try to be as prepared as you can. You don't want to come to Bonnaroo and figure out you forgot water, or sunscreen, something so essential to how your trip turns out. Yes, we all make mistakes. Mine resulted in a little bit of a sun burn, but I have definitely learned some tips for next time!
4. Enjoy Yourself!
Sometimes with the rush of everything going on around you, it's hard to see the bigger picture. You have to realize that this experience is trulylife-changing for some people, and it can be for you. A collection of so many different bands can expand your musical horizons, and the headliners, of course, are sure to please. I'm a huge Beatles fan, and being able to actually sing along with Paul McCartney was something I'll never forget.
You can have those moments! It could be in the crowd with hundreds of people jamming out with you, or by the campfire with a couple of friends and some snacks. If you give yourself over to the experience, it's bound to change you. You just have to remember to enjoy everything that comes with Bonnaroo, the good and the bad!
Final Thoughts:
Bonnaroo was so amazing, and this year will definitely not be my last. I am so happy I was able to see those bands and meet those people, because they will never be lost in my memory. Thankfully, I have learned a little bit to have an even better time next year. I hope to see you guys there!
What do you think?
Did you go to Bonnaroo? What were some of your favorite performances? Have you attended or are you attending a music festival this summer? Any tips or ideas on what to bring? How do you make friends at festivals? Let us know by leaving a comment!