ASpring is rolling into West Virginia University's campus and showing up with warmer and sunnier days. Students, like Tiana, are shedding their winter layers. Tiana has traded in her heavy coats for ensembles that not only embrace her individuality but cater to her needs in a season of constantly changing weather.
You'll want to take notes on Tiana's strategic yet simple aesthetic and how you can even incorporate elements from her style into your own daily outfits.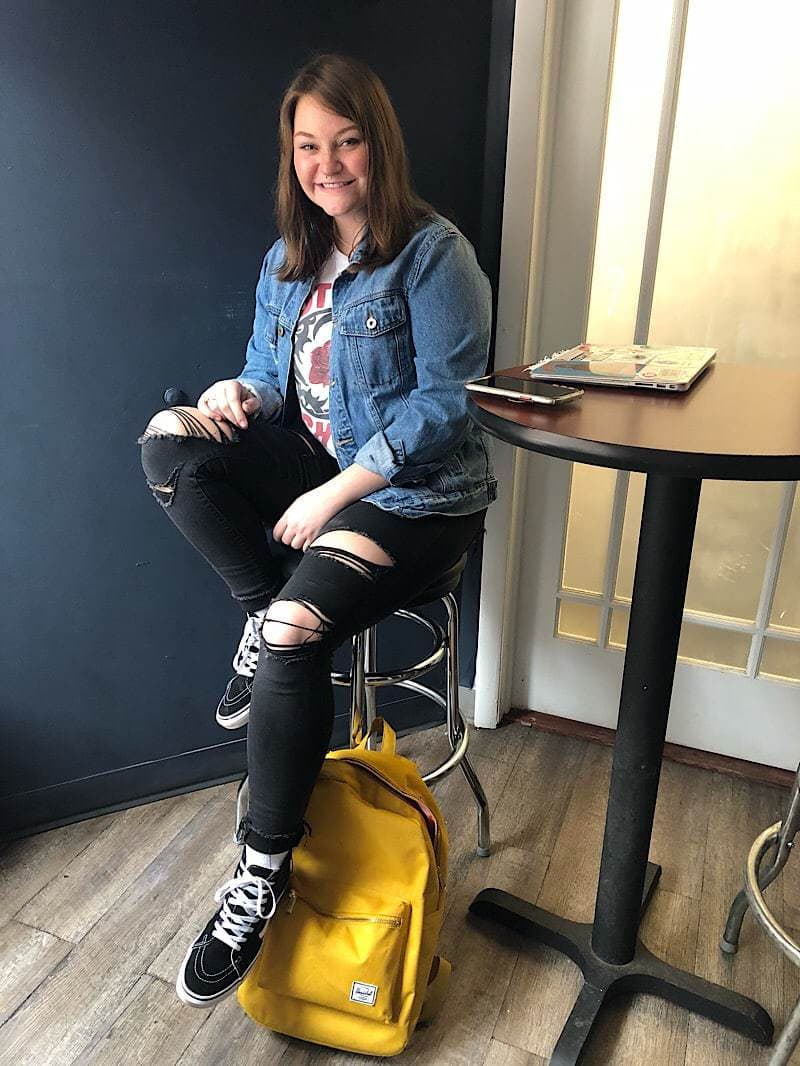 Tiana 101
Name: Tiana
School: West Virginia University
Year: Sophomore
Major: English
Hometown: Cross Lanes, WV
Let's Talk Fashion
Who or what inspires your style? " I follow a lot of fashion accounts on Instagram, but @fashionflux is my favorite… shameless plug for her! Pinterest is also a really good way to expand the fashion you get to see, so I love searching on there for inspiration as well."
Where do you like to shop? "I like to mainly shop online. Laura's Boutique has the best jeans and they last so long! They are also half the price of most American Eagle jeans. I also love thrifting and I have found so many funky pieces from thrift stores here in Morgantown. I love shopping in the men's section of stores as well; their stuff is just as cute and so comfortable."
How would describe your sense of style? "I would describe my sense of style as cute and casual meets alternative. I enjoy dark pieces of clothing, Vans, and graphic tees."
Why did you choose this particular outfit? "This is my go-to outfit! I really enjoy how these simple and comfortable pieces can come together to create such a cute look. It's perfect for chilly days where a winter coat isn't necessary."
Do you have any favorite trends? "My favorite trend of all time will always be the french tuck. I do it almost every single day with any type of outfit. My other favorite styles are Doc Martens, mom jeans, and turtlenecks."
What fashion advice would you give to other students looking to improve their style? "My fashion advice is simple: wear whatever makes you feel good. Someone told me once, 'If it fits, it's the style.' It's stuck with me ever since. Don't be afraid to venture out and wear something you wouldn't usually wear. Who knows, maybe you'll find your next staple piece in a bomb outfit!"
Do you have any favorite fashion designers? "My favorite fashion designer has been Alexa Chung for years. I can't describe one singular thing that makes me like her so much. I really appreciate her individuality. Her clothing is so unique."
Do you have any unique hobbies or interests? "I work for U92 FM, WVU's radio station, and I love to read and work on my art. I love hanging out with my friends and listening to music and podcasts as well."

Elements of Tiana's Outfit
1. Graphic Tee + Ripped Denim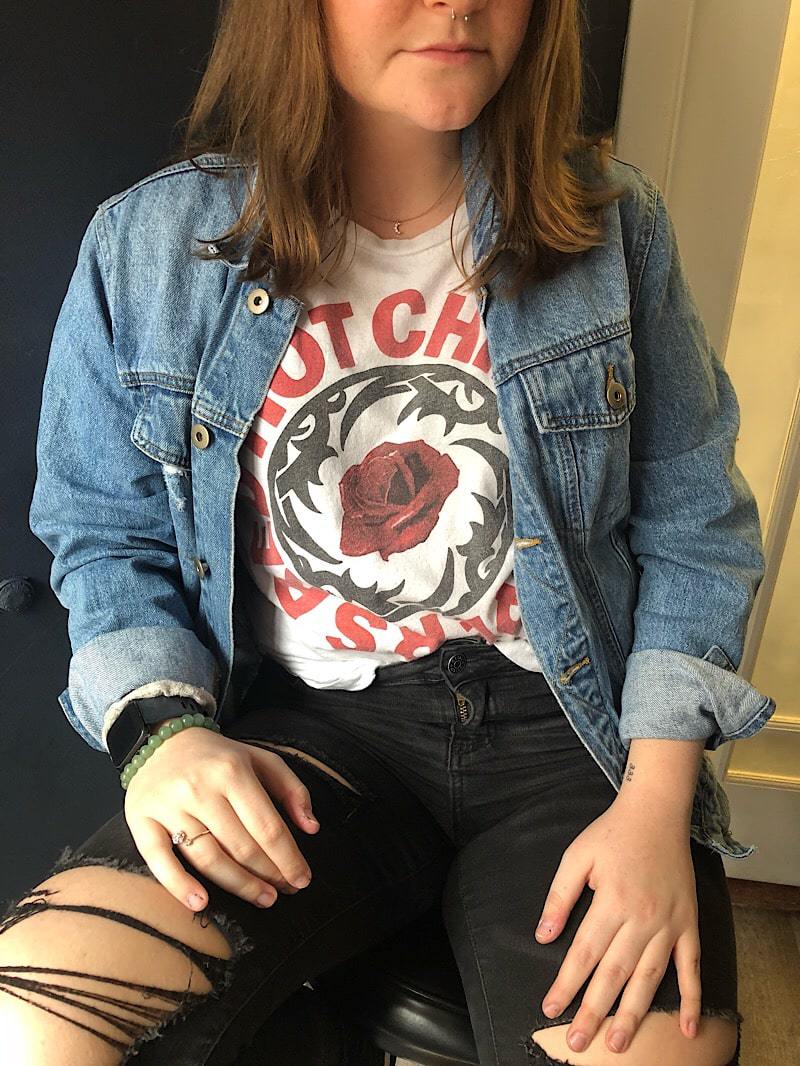 Tiana's Red Hot Chili Peppers graphic tee is an edgy staple of hers which looks great with dark denim ripped jeans. A men's denim jacket adds extra personality.
Tiana shared that this is one of her go-to looks. It's comfortable, yet also looks very on-trend. Additionally, Tiana's layers are ideal for fluctuating springtime temperatures.
2. Skater Sneakers + Bright Backpack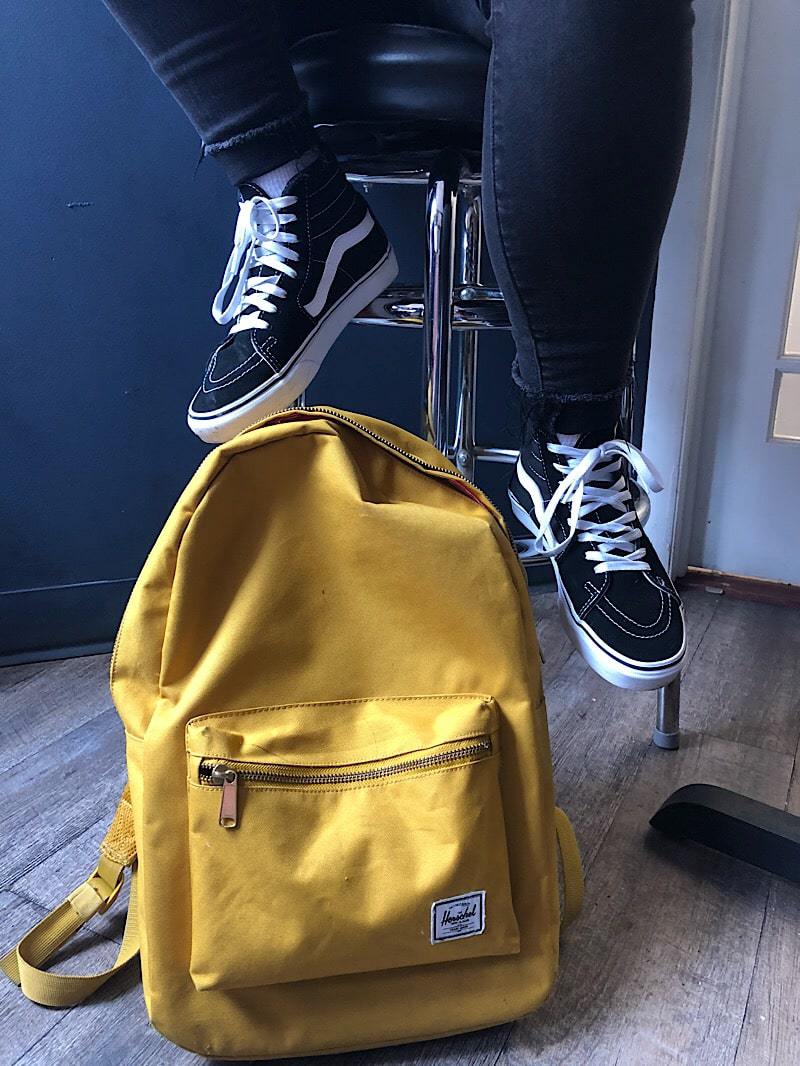 Turns out, I have been living under a rock. Vans Sk8-Hi sneakers are the world's best kept secret. Check out how great they look on Tiana with her dark jeans!
The star of the show here is Tiana's bright yellow backpack; a funky take on a college student staple. I cannot get enough of this carryall style in a bright, fresh color.
Now we want to know what you think!
Do you love Tiana's street style look? Would you wear her funky graphic tee or skater shoes? Let us know below in the comments!