With Thanksgiving out of the way, finals are officially upon us. While it is easy to let our outfits suffer for the sake of our studies, putting on a polished outfit can help you put your best foot forward during crunch time. Rachel's outfit is a perfect example of combining basic closet staples with an eye-catching (no pun intended) outfit that will have you striding fearlessly into exams.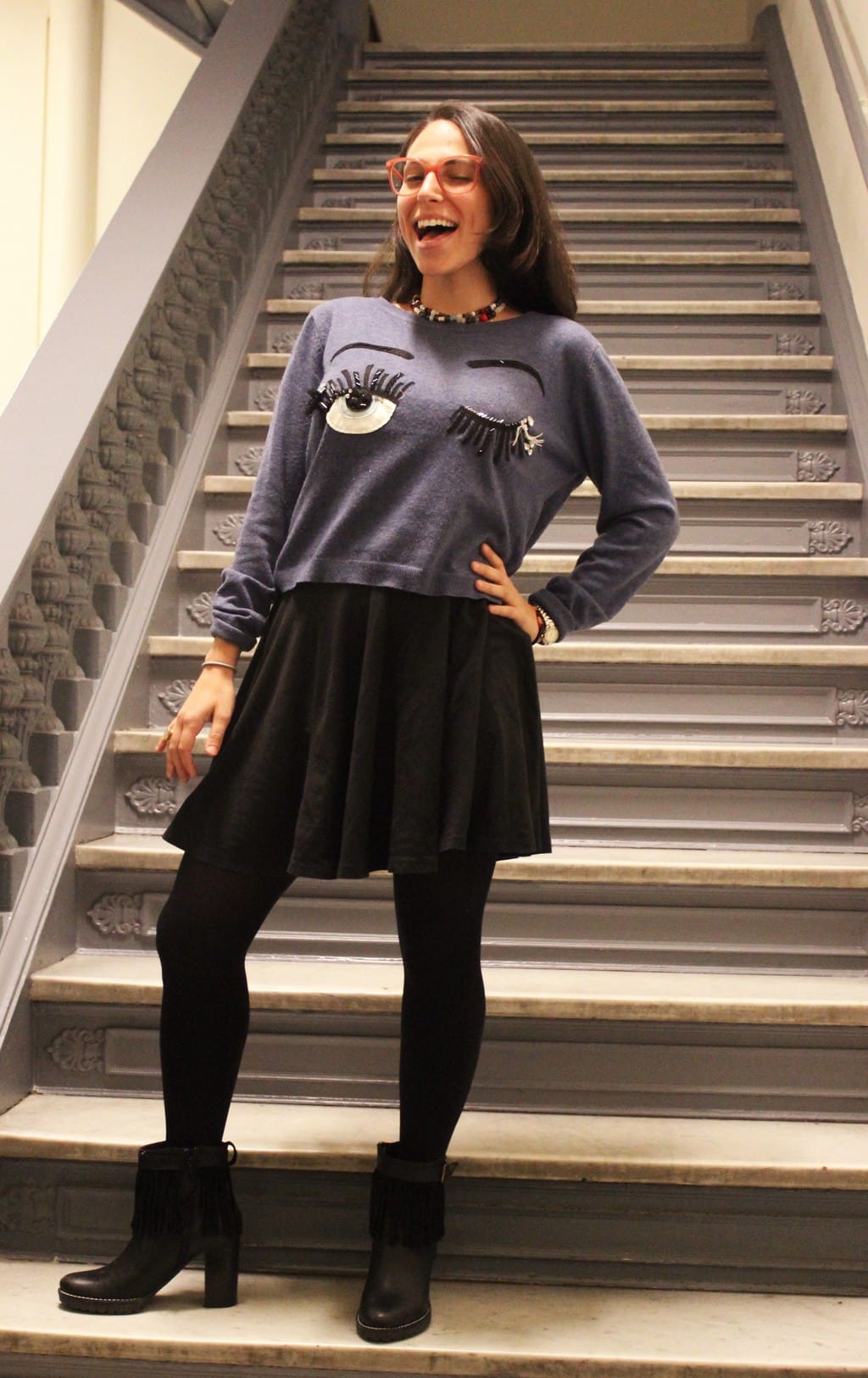 Rachel 101
Name: Rachel
School: Barnard College
Year: Junior
Major: Political Science and Film Studies
Hometown: Valley Stream, Long Island, NY
Let's Talk Fashion
Where did you get each of the pieces you're wearing today? "I bought these boots in Argentina while I was volunteering in Buenos Aires two summers ago with the JDC (Joint Distribution Committee). On one of our off days, I met a woman on the street who pointed me to her favorite locally-owned shop. I saw these boots and fell in love with them. I love traveling more than anything, and bringing home a piece of clothing or jewelry from a trip is one of the ways I preserve memories from them. I love thinking about where I was and who I was with when I found a certain item. My ring I bought in a market in Haifa, Israel, while visiting a camp friend of mine. My glasses necklace was a gift from a family friend who is an ophthalmologist. I love glasses and collect those, too! The shell necklace I bought a few weeks ago while at the Grand Bazaar on the UWS! And the colorful necklace I actually made myself. This sweater is one of my favorite pieces. It's so much fun and always makes me happy. I bought it out on Long Island while shopping with a friend, Rebecca. We bought matching ones!"
Who or what inspires your style? "As I mentioned, traveling definitely inspires my style. Whether I come home with a new piece or item of clothing, or just with photos and inspiration, making my style internationally-inspired is one of the best things. It also means I don't really have a consistent style. Some days, I'm in a grayscale jumpsuit and booties, and other days I'm in a colorful, flowery dress wearing headbands and hoop earrings. It changes by the day and reflects how I'm feeling. My closet is a disaster but I love it! I don't really go out shopping, it's all very spontaneous for me. I love finding that one special piece in a store window and going in to try it on! The best pieces catch your eye when you least expect it."
Where do you like to shop? "Markets, locally owned stores, thrift shops, and my friends' closets!"
How would you describe your sense of style? "Colorful, spunky, and funky meets professional."
Why did you choose this particular outfit? "It's just what I had on today! I had an exam this morning and wanted to put on a sweater that would make me smile and [be] happy. Plus these high heeled boots make me feel confident and powerful. [There's] no better way to walk into an exam room."
What fashion advice would you give to other students looking to improve their style? "I don't really think I'm in a position to give advice to others on improving their style. Just be courageous and never say you can't pull something off… you can!"
What are your favorite trends right now? "No idea! I don't really pay attention to trends, but I am in love with everything Gal Gadot has been wearing on the Justice League tour."
Do you have any favorite fashion designers? "Not especially. But I have some friends of mine who are definitely inspiring fashionistas. @sarahfromnewyork is one everyone should check out!"
What do you do for fun – do you have any unique hobbies or interests? "I'm a filmmaker and actress. I'm just finishing up my first feature documentary that I was a producer on, The Barn (TheBarnDocumentary on Facebook), and I'm currently developing a few other projects, including a narrative feature and a docu-series. I recently got off the new Maggie Gyllenhaal film, The Kindergarten Teacher, and am working on the production side of The Wolf Hour. I also work in distribution currently at Bleecker Street, which I love. At Barnard College, I sing in an a cappella group, and do a lot of theater. You can follow more about my films @rachelraykay on Instagram!"
If you could raid anyone's closet, who would it be, and why? "I actually love everything Maggie Gyllenhaal wore on set when we worked together. Lots of jumpsuits and powerful pieces. She's not afraid of patterns! I love it!"
Elements of Rachel's Outfit
1. One-of-a-Kind Graphic Sweater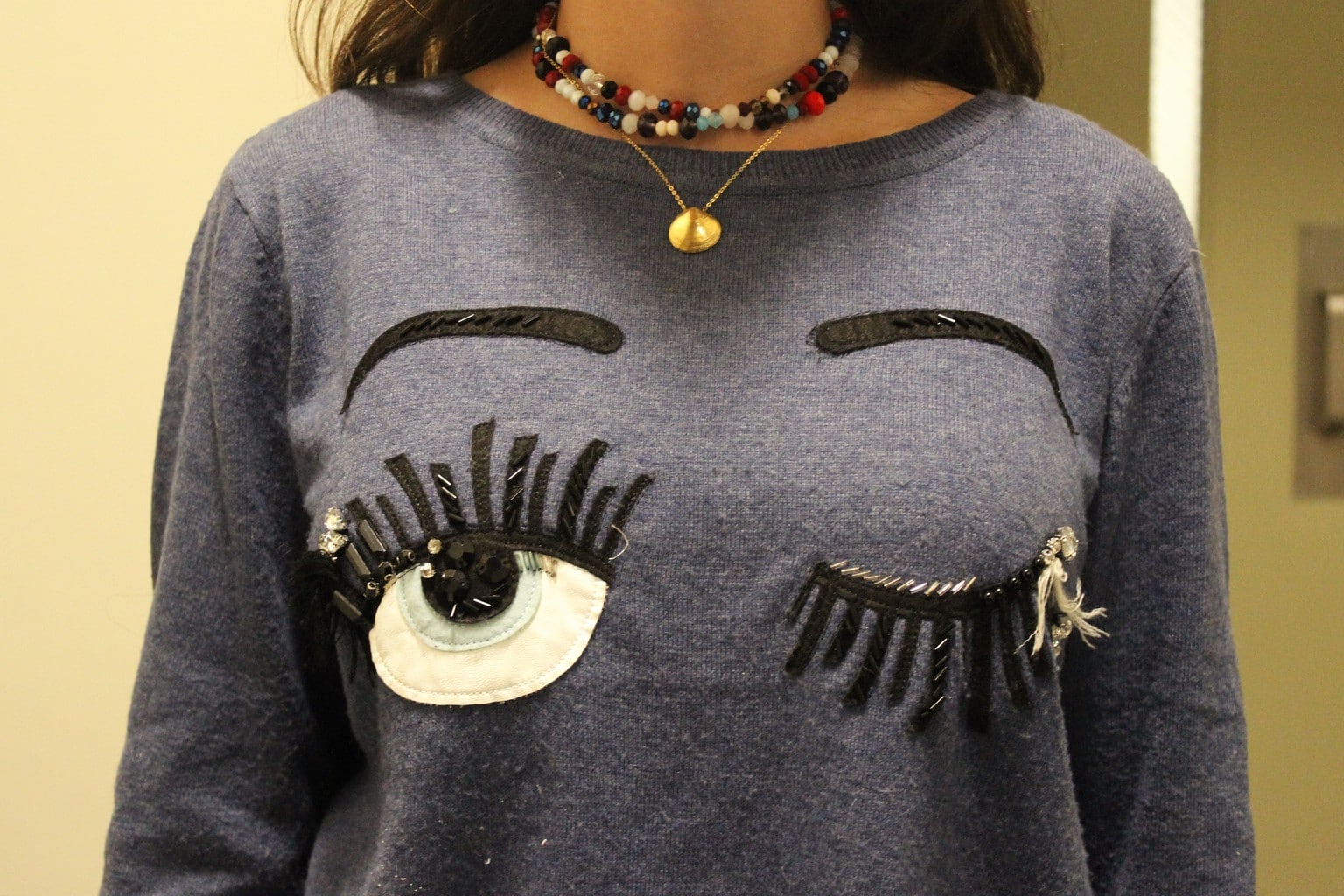 Rachel's sweater is incredible. Graphic sweaters are such an easy way to add an extra punch to an otherwise simple outfit. Rachel bought this sweater while home in Long Island.
2. Layered Necklaces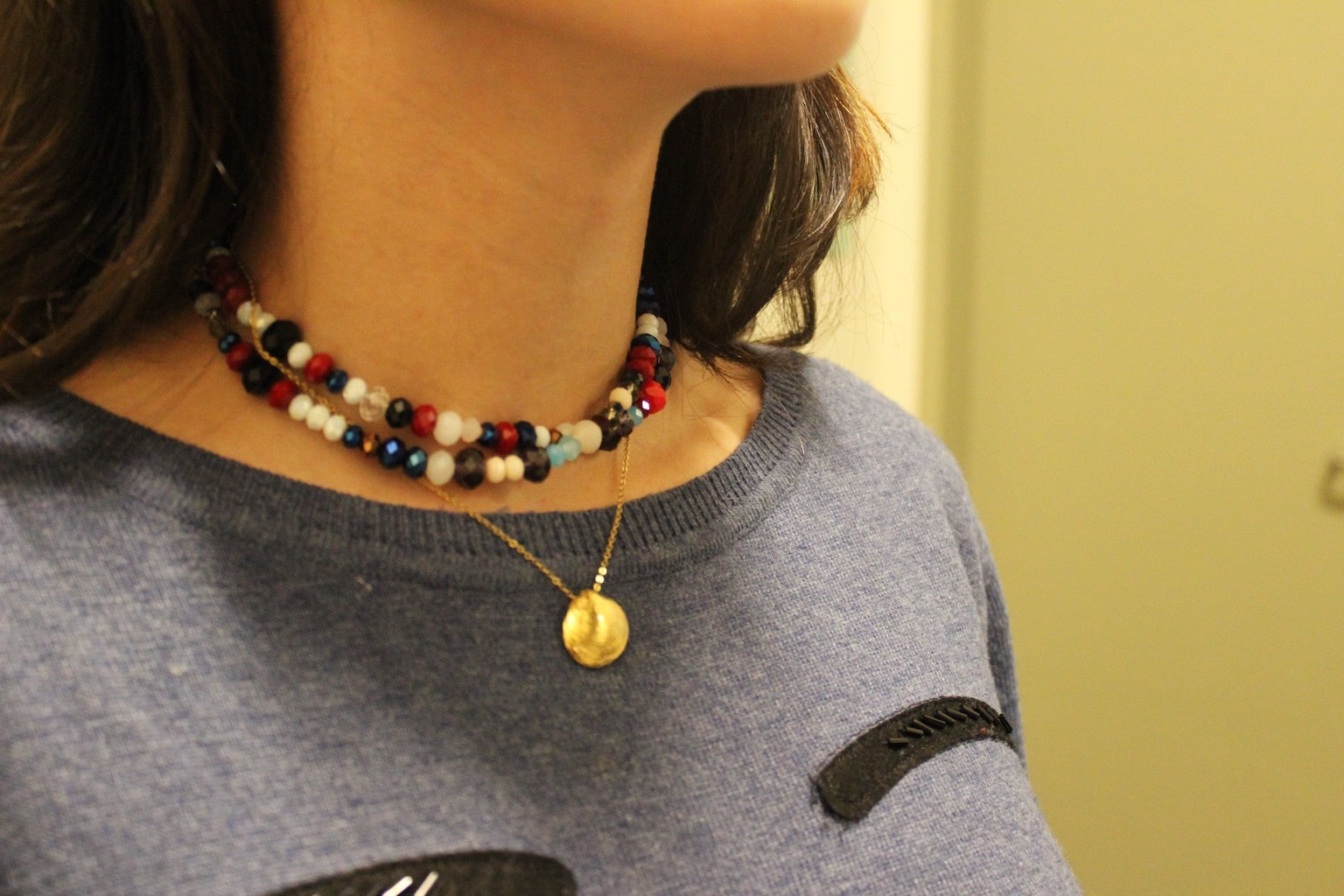 I love how elegant Rachel's shell necklace is and I was blown away when she told me that she made this colorful beaded necklace herself! Homemade jewelry is such a great way to save money if you have the time and the talent, and handmade pieces also make perfect gifts for the upcoming holidays.
3. Coordinated Accessories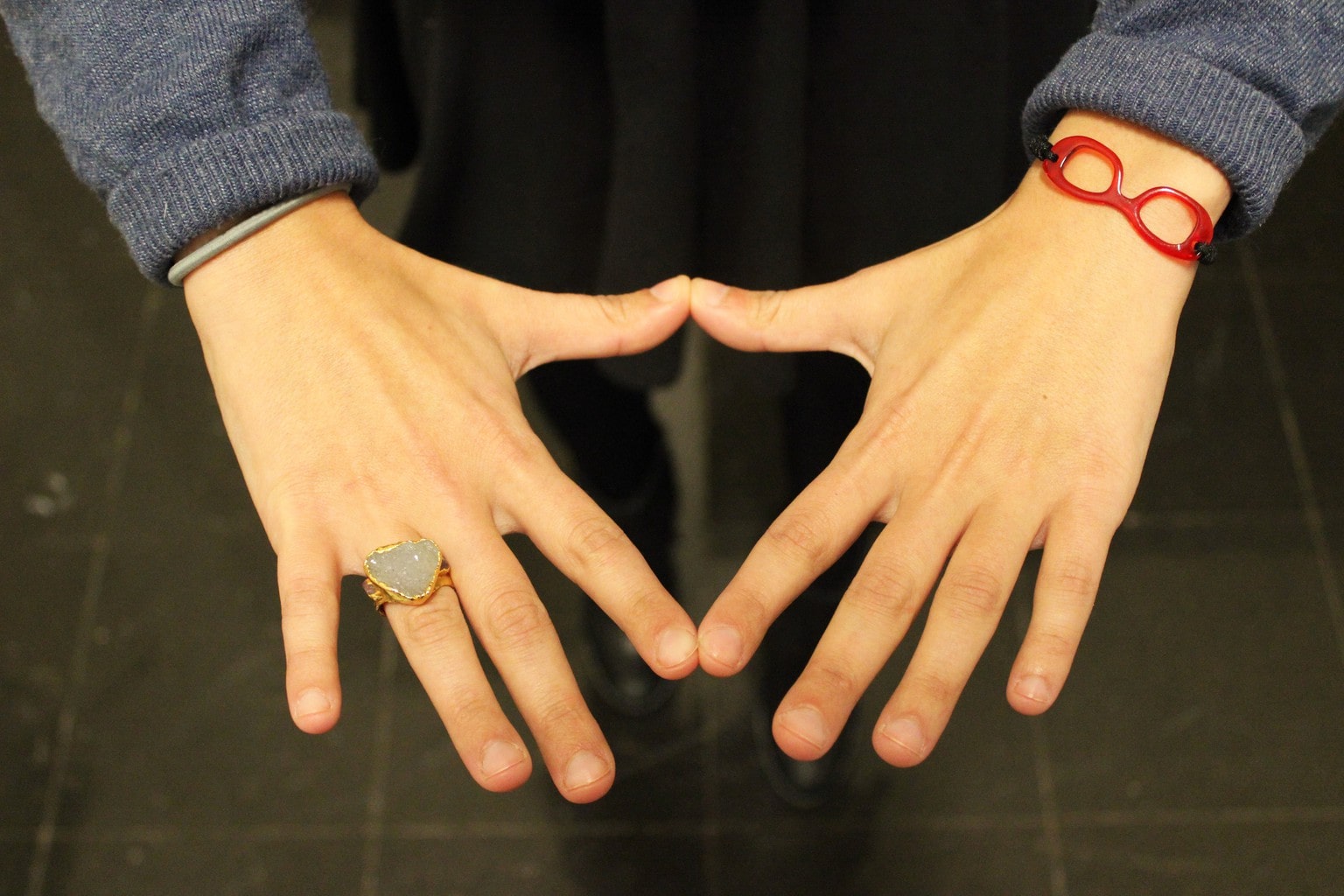 My favorite aspect of Rachel's glasses bracelet is how perfectly it matches her real glasses. Additionally, the geode-inspired ring, bought in a market in Haifa, Israel, is wonderfully eye-catching and the seafoam hue looks great in its gold setting.
4. Heeled Fringe Ankle Booties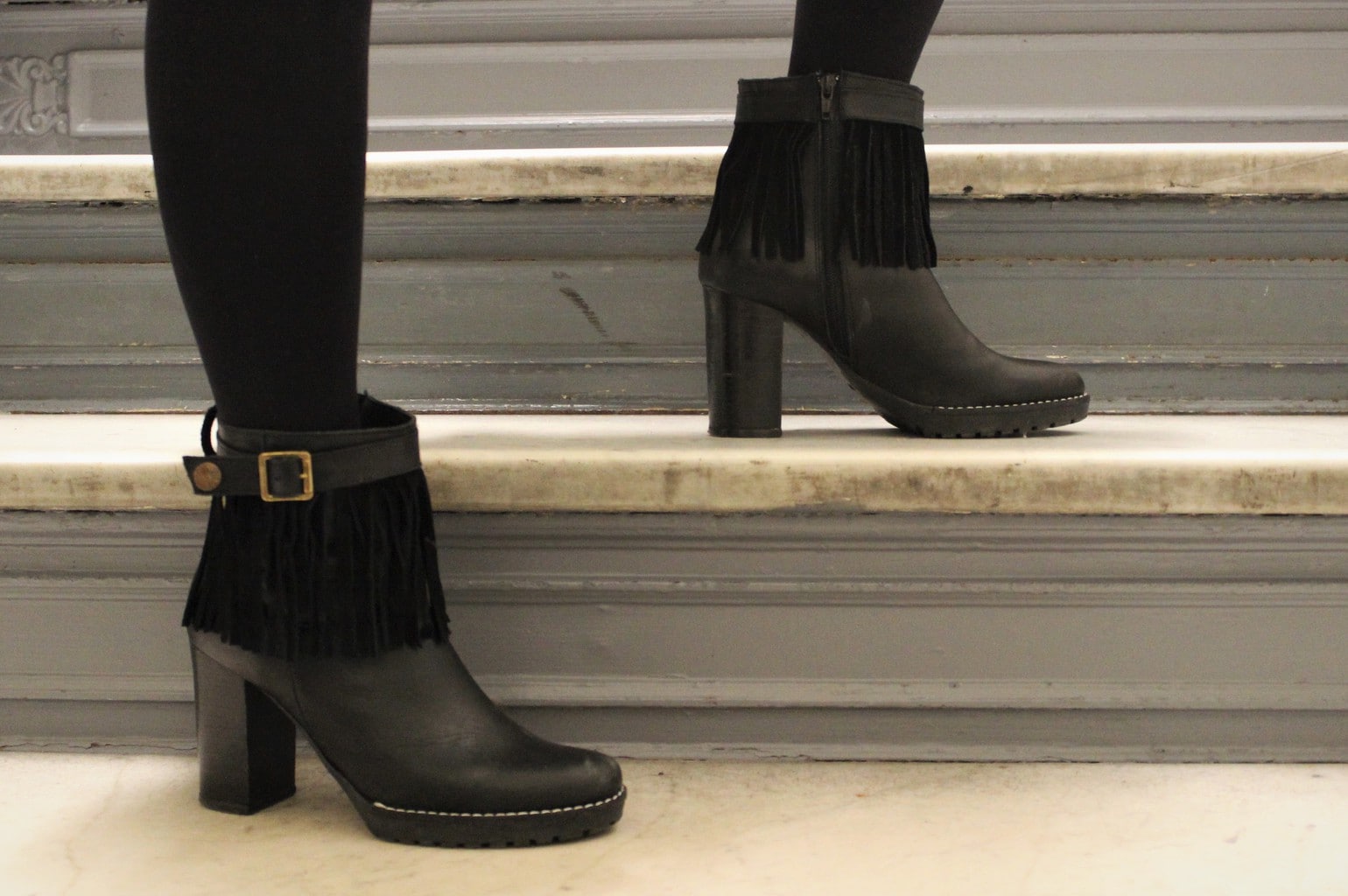 These boots are to-die-for and I completely relate to Rachel's feelings on how heeled booties can make you feel so much more confident on a high-stress day. They are my go-to shoe as well! The fact that she got them while travelling make them even more special.
What do you think?
Do you love to shop during your travels? Is your closet a more cohesive style or do you, like Rachel, just gravitate towards pieces that bring you joy? Let us know in the comments below!