I stumbled upon Gabriella, a West Virginia University student and rising blogger, sporting a chic ensemble during the morning hustle. Looking like a shot straight out of Instagram, her style is perfect for a busy day on campus.
Gabriella's outfit can easily serve as inspiration for fall. While simple in structure, it also has been creatively pieced together for an eye-catching look that is entirely her own.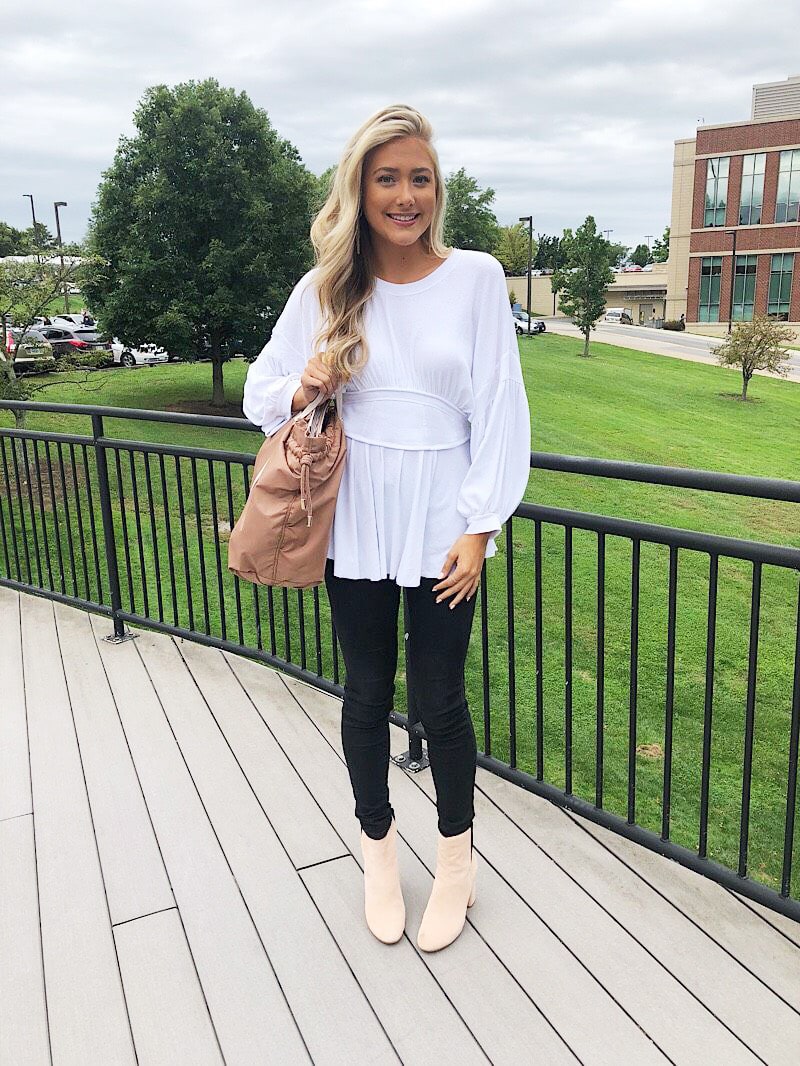 Gabriella 101
Name: Gabriella
School: West Virginia University
Major: Fashion Merchandising
Year: Sophomore
Hometown: Bridgeport, WV
Let's Talk Fashion
Who or what inspires your style? "Ever since I was [young], fashion has played a huge role in my life. While other kids were interested in sports and other hobbies, I was obsessing over owning the exact same outfit Hannah Montana wore in her last episode. Fashion has also always been something my mom has loved. She has inspired me since day one so I tend to [take] trips to her closet every chance I can!"
Where do you like to shop? "I typically shop at Nordstrom Rack, Forever 21, Urban Outfitters, and Zara. Nordstrom Rack is my go-to for great jeans and other good quality clothes. Stores like Missguided, PrettyLittleThing, Zara, and H&M are perfect for trendy but affordable clothes. So I am always checking out their newly added section[s]. Lately, I have been obsessing over Tobi. The stuff is always on sale and the quality is actually really good."
How would you describe your sense of style? "I would describe my sense of style as trendy, feminine, and classic. Trends are always so much fun to play with. However I am [usually wearing] something that can be worn a million times or a staple piece. I have a hard time staying away from neutrals such as nudes, black, and blush. Oh and if it comes in pink there is a 100% chance I will be purchasing."
Why did you choose this particular outfit? "I chose this particular outfit today because the shirt I am wearing is my favorite top in my closet at the moment. I am a big fan of white and I am obsessed with the top's silhouette. The earrings I am wearing are my #1 gold dangles [and] I typically pair [them] with looks I want to dress up. My favorite part of the outfit is the shoes. These blush booties are my latest fall purchase and I was so happy to have an excuse to wear them."
Do you have any favorite trends? "My favorite trends right now have to be animal print, clear purses, oversized outerwear (honestly oversized anything is always a yes), fun sleeves, layered gold necklaces, and – oh! – I can't forget dad sneakers. My friends make fun of me but I am so there for the dad sneaker trend. I just purchased a pair of Filas last month and I wear them at least once a week."
Do you have any favorite fashion designers? "It is so hard to choose one fashion designer, but Marc Jacobs, Stella McCartney, Alexander McQueen, Coco Chanel, Christian Dior, and Calvin Klein are some that I adore. I love Marc Jacobs, Chanel, and Dior for bags and jewelry. When it comes to my workout clothes Stella McCartney and Calvin Klein are amazing."
What do you do for fun? Do you have any unique hobbies or interests? "When it comes to my spare time and what I do for fun I still revolve everything around fashion. I actually have a fashion blog that keeps me very busy. It is so much fun and I really enjoy taking photos and piecing together outfits for it. I also love to write, so it is not a hassle to come up with content. When I am not working on my blog, I am reading other fashion blogs and sites or online shopping. Another thing I am passionate about is health. My best friend and I have taken on the hobby of going to the gym together everyday. Staying active is something I really enjoy."
If you could raid anyone's closet, who would it be? "If I could raid a celebrity's closet I think it would have to be Kendall Jenner's. This is mostly because her modeling career has led her to own exclusively just about every high-end designer clothing [item] out there. Her style is so clean and modern. It is hard to diss any of her outfit choices. However if I could raid a blogger's closet I would choose Jo & Kemp or Alice Olivia."
Elements of Gabriella's Outfit
1. White Top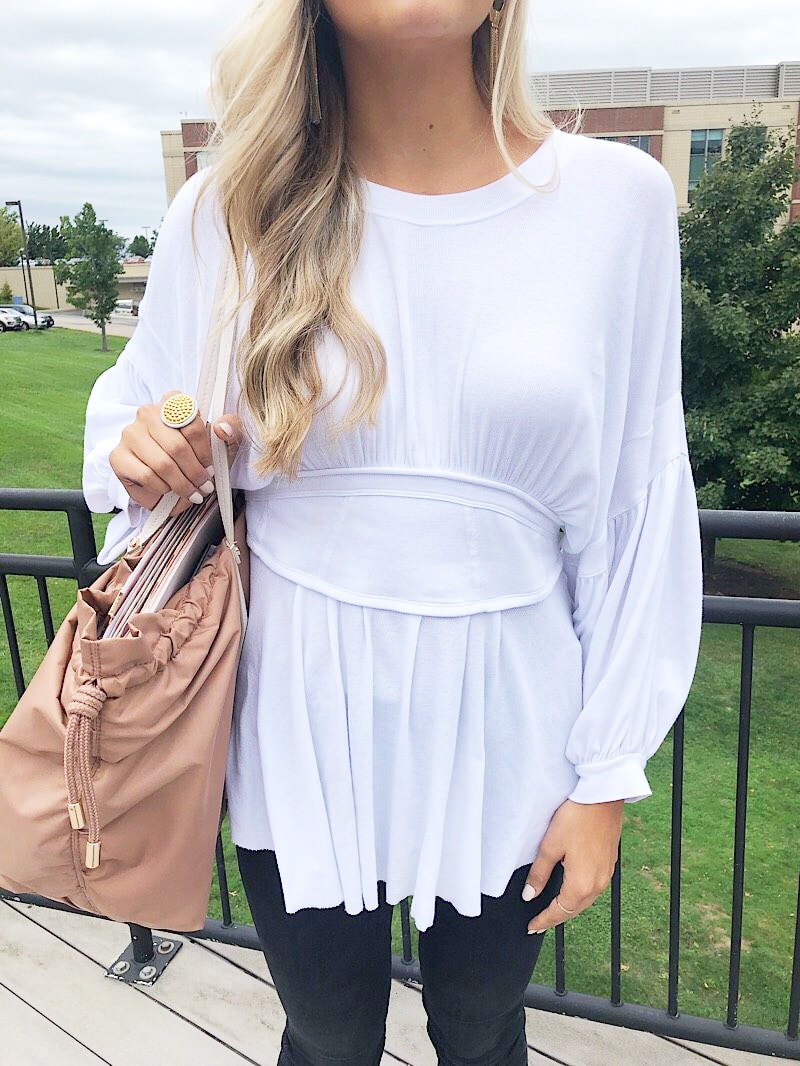 I am loving the bohemian silhouette of Gabriella's long-sleeved tunic top. This garment is the perfect way to dress up basic pieces. It has a lot of simple, yet noticeable details that really seem to grab the attention of bystanders and her fellow classmates. Plus, this top has to be super comfortable — you can tell just by looking at it!
2. Heeled Booties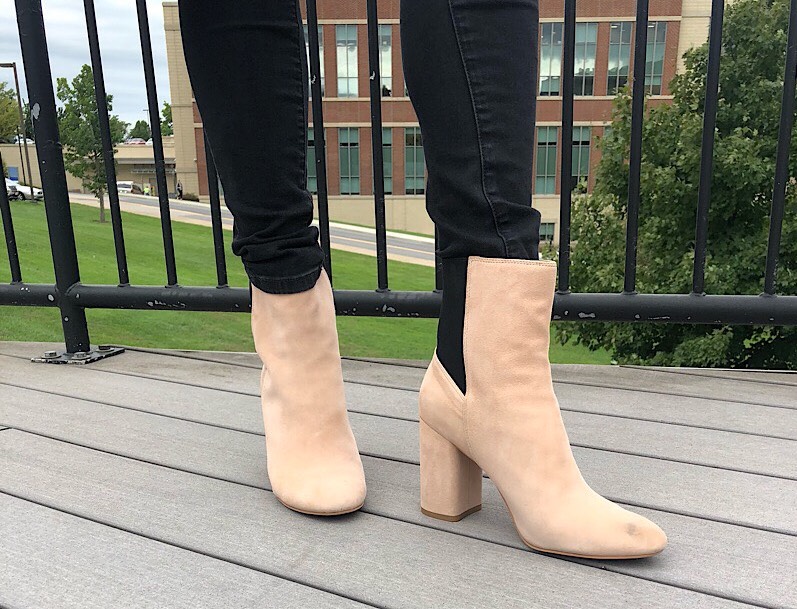 Don't overlook these adorable fall blush booties that make Gabriella's outfit. Normally fall footwear is saturated with dark browns and blacks but I am here for the blush toned booties. Take notes from Gabriella; don't be afraid to brighten your fall outfit with blush! Your ensemble could turn out iconic.
3. Big, Big Bag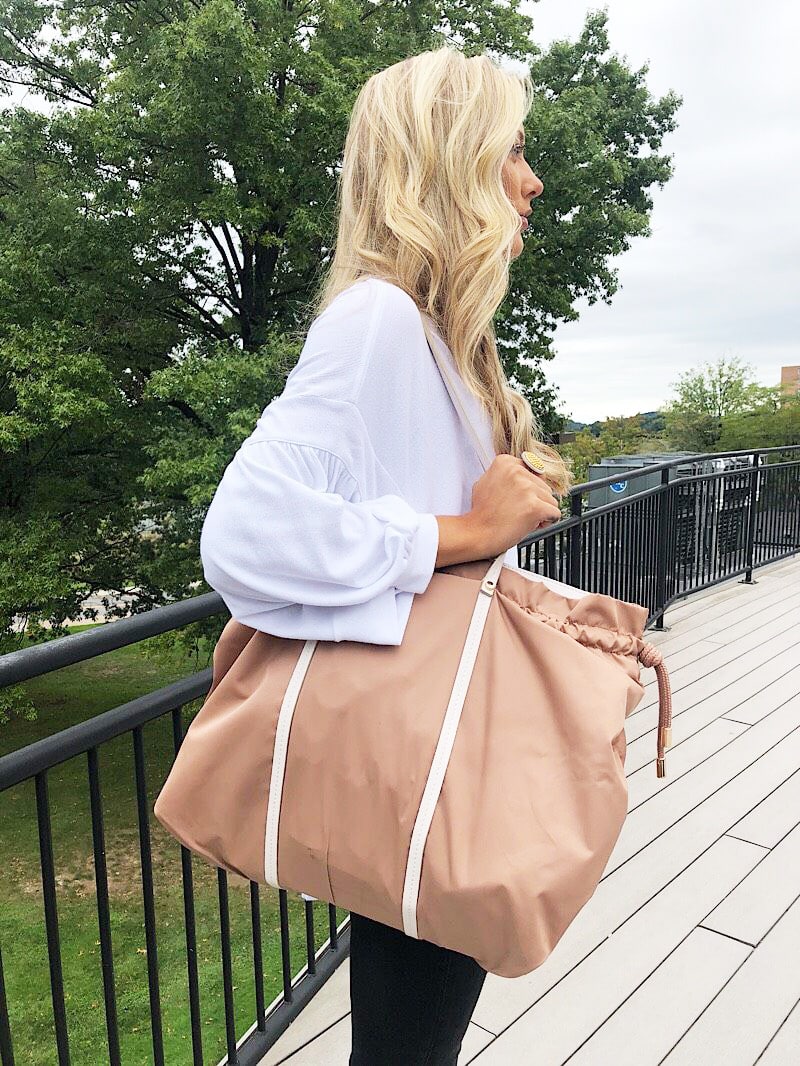 Gabriella's large tote from H&M is the perfect go-to bag for college students who need more than just a backpack. It is functional as a purse but also holds all of her assignments and laptop. This color screams fall weather, a combination of toffee and muted taupe. Speaking of details, I love the drawstring addition to the top of the bag!
Now we want to know what you think!
Do you love this fall weather look? Are you as obsessed with Gabriella's tunic top as we are? Comment below and let us know!