When I first met Cameron, he was wearing his plain work uniform. The second time I met Cameron, I didn't recognize him because his style was a thousand miles away from the dull blue polo shirt we both wear for our summer job. I've always been intrigued by his attention to detail and nostalgic
fashion choices, which allow him to blend in seamlessly with the stunning buildings of my college,
Magdalen, which was founded in 1458.
Recently, his flamboyant ties and unique facial expressions
have caught the attention of a wider audience with his appearance on the BBC's popular University
Challenge quiz show.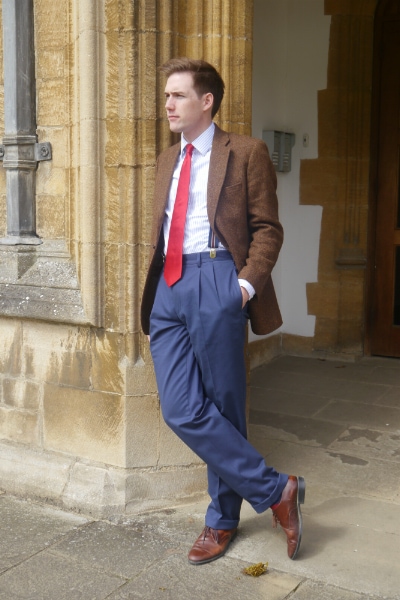 Cameron 101

Name: Cameron
Hometown: Los Angeles, CA
School: Merton College, University of Oxford, England
Year: PhD Candidate
Major: French
Let's Talk Fashion

Who or what inspires your style? "I guess it would be normal people, but from a different time than now. We're talking maybe 1920 to
1975, and I think 'What would a normal person in my situation have worn then?' It's not going to
be exactly accurate, as we're not doing historical reconstruction, but I like to take that as my starting
point and go from there."
Where do you buy your clothes? "Mostly the internet, so for jackets I go on eBay because they tend to be cheaper and nicer, in my
opinion. Nowadays you can buy nice jackets, but the cuts tend to be a little bit tighter and the lapels
are thinner, and I'm not really into that, as it's not the way things used to be. For shirts and trousers
I go to both online retailers and Shepherd & Woodward (a specialist Oxford tailor) on the High
Street, when they have big sales on and I can get trousers for half price."
If you had $1000 to invest in one piece, what would it be and why? "Does it have to be clothes? Probably I would go for a tailored suit that I would get a lot of wear out
of; I've got suits that look nice and fit well, but none of them are quite perfect or tailored to me. I
guess a thousand bucks wouldn't be quite enough for a bespoke tailored suit, but I'd like a suit that I
had a degree of influence over how it looks."
If you could raid anyone's closet, whose would it be and why? "Noam Chomsky. He was my way into dressing like an old man, because I'd always admired him on an
intellectual and political level, and thought, 'Maybe I should dress like him.' Then my grandfather
died, leaving me a lot of Noam Chomsky-esque clothes, so I was able to emulate his sense of style."
What fashion advice would you give to other students looking to improve their style? "Don't spend a lot of money. Try and buy [second-hand] clothes instead of fuelling the highly
exploitative clothing industry that generally uses a lot of sweatshop labour."
If you could travel anywhere in the world to buy clothes, where would you go?
"The past. Or Cambridge, Massachusetts, and Connecticut."
Elements of Cameron's Outfit

1. Bold Colors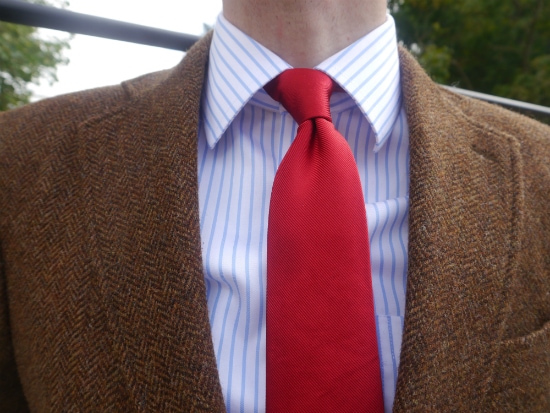 Cameron shows that you needn't be afraid of mixing neutral tones with bright colors with this
striking jacket-shirt-tie combination. Most people opt for plain shirts and patterned ties, but
reversing it works well when the print is unobtrusive, like this slim blue stripe pattern.
2. Hidden Details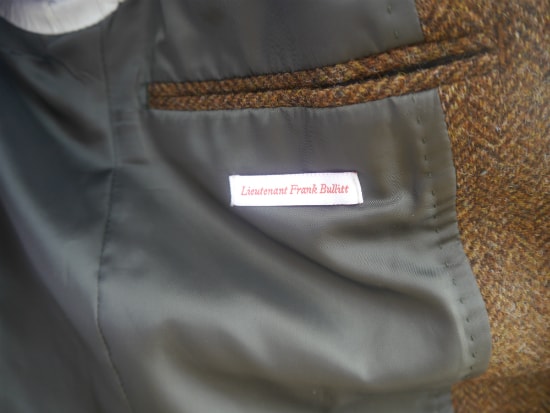 "I got this jacket off eBay," says Cameron, "and it was supposed to be a replica of the jacket Steve
McQueen wore in his [1968] film Bullitt. I've never seen the film; I just liked the jacket."
3. Timeless Timepiece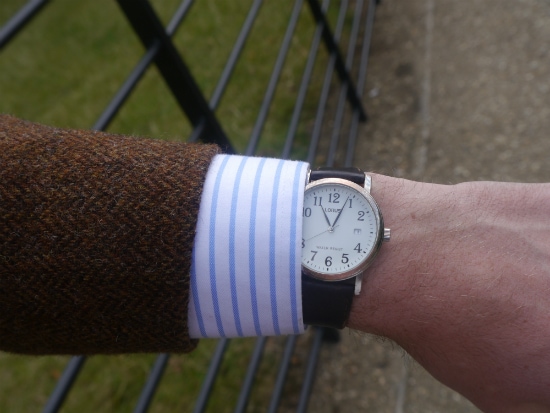 With investment pieces like a watch, it can be tempting to spring for something flashy, but Cameron
shows us it's best to go for something classic and elegant that won't fall out of fashion any time
soon. Neutral colors like black and brown are always a solid choice.
4. Suspenders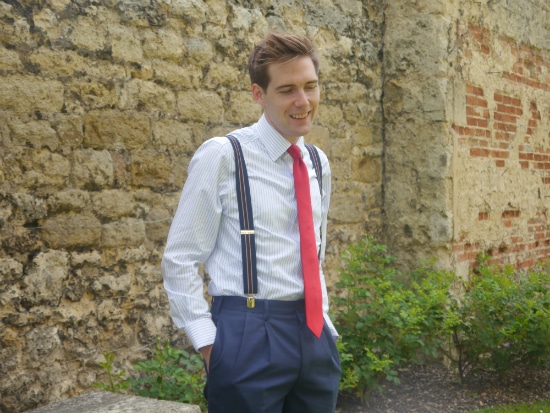 Suspenders (or braces, as they're called in Britain) fell out of fashion in the early 20th century, which
is a shame, as they're a fantastic way of adding color to an outfit. Not only do these blue and red
suspenders pull the whole look together, they also emphasize the thoroughly vintage vibe of
Cameron's outfit.
5. Head to Toe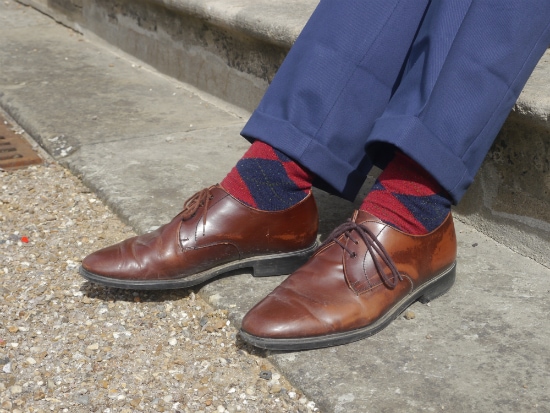 What makes Cameron's outfit so outstanding is that the main colors – brown, red and blue – run
through the whole look, even including his footwear. The patterned socks stay on the right side of
loud when seen between the plain trousers and simple brown lace-ups.
Are you inspired by Cameron's style?
What do you think of his retro look and color inspiration? Let us know in the comments below!