Besides being an up-and-coming local vegan vlogger, Cynthia is known around campus for her unique approach to style. She likes to wear dresses every Friday, which she calls "Viernes de Vestido" (translation: Dressy Friday), as a counter to Casual Fridays.
She explains her style simply as, "a little dressy, but still casual."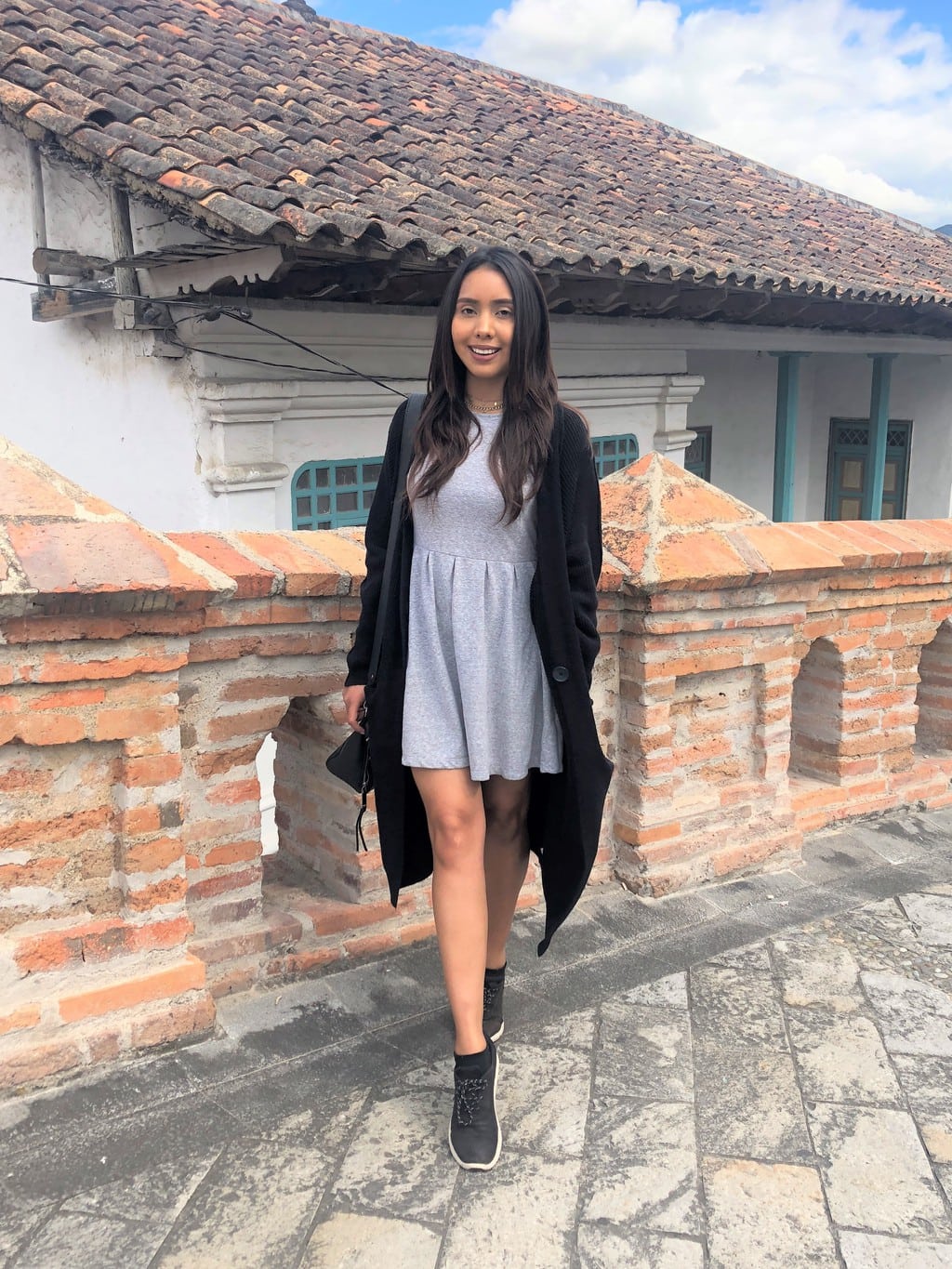 Cynthia 101

Name: Cynthia
School: Universidad de Cuenca
Major: Film Studies
Year: Junior
Hometown: Portoviejo, Manabí, Ecuador

Let's Talk Fashion
Who inspires your style? "I really like fitness, so I follow a bunch of fitness models on IG. One of them is Natacha Océane and her style really inspires me because she likes being comfortable but also loves dresses and jewelry like me. Also, I love how Vanessa Hudgens dresses; her boho-chic style has always been a favorite of mine."
Where do you like to shop? "I love to shop but only when I feel it is extremely necessary. I'm trying really hard to be eco-friendly, so I mostly buy pieces [that] I can wear a lot. If we are talking about brands: Free People, Urban Outfitters, Reformation, and Anthropologie are my main ones. But Nordstrom Rack and Goodwill are great options too."
How would you describe your sense of style? "Comfortable, girly, and neutral."
Why did you choose this particular outfit? "Because I love how comfortable dresses are! I put on this Free People cardigan on because Cuenca can get pretty chilly and windy so I need to be careful when I wear dresses this short, if you know what I mean."
What fashion advice would you give to other students looking to improve their style? "Try to look for basic pieces and then use accessories like bags, cute dainty necklaces, or cool shoes to spice up your look."
What are your favorite trends right now?"Loose shirts and pants. Also, wearing chunky sneakers with cute dresses and using baseball caps."
Do you have any favorite fashion designers? If so, who? "I really like the designs from BCBG, but just as inspo because, first, I'm not rich enough to buy from them, and second, I'm not sure if they have vegan-friendly items."
What do you do for fun – do you have any unique hobbies or interests?"I do YouTube videos about veganism and my daily life trying to balance college and a healthy lifestyle. I also love going to the gym."
If you could raid anyone's closet, who would it be and why? "I would definitely raid Vanessa Hudgens's closet. I wish it could come with an Austin Butler too!"

Elements of Cynthia's Outfit
1. Long Cardigan + Mini Dress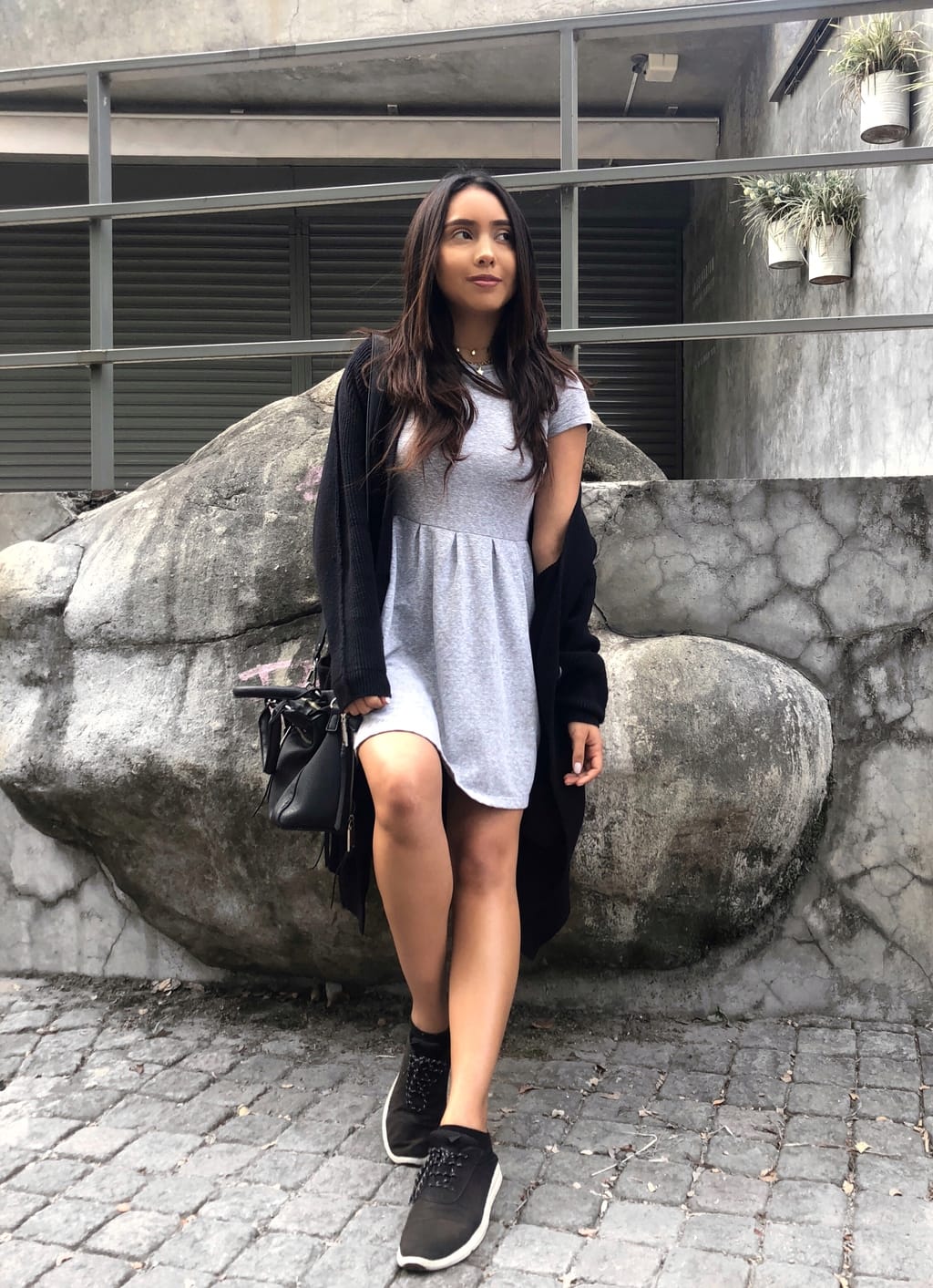 A casual dress is one of the backbones of Cynthia's wardrobe. This gray mini dress is a versatile pieces for either dressing up or dressing down. Here's a fun fact about this particular dress: Cynthia says, "my mom got it for me from the Gap kids section while I was still in high school!"
The long black Free People cardigan provides warmth for Cuenca's chilly evenings and nights.

2. Layered Necklaces
Gold necklaces and rings are Cynthia's favorite accessories, and the ones she's wearing this particular day are from Brandy Melville. Necklaces always add a little more detail to an outfit.

3. Pleather Handbag
Cynthia's vegan lifestyle makes her opt for vegan-friendly accessories, like this black pleather bag. "I got it two years ago and it still looks new!" she exclaims. A black handbag is a basic piece that fits in almost everyone's closet, especially for college students on the go.
What do you think of Cynthia's style?
We want to know what you think! Are you a fan of conscious and cruelty-free clothing? Do you love wearing long sweaters with short dresses? Comment below!