Caroline radiates confidence on campus with her edgy, cool style. She sports a leather jacket paired with one of her favorite band tees, and her whole look is a win. (Who doesn't love the Foo Fighters?)
The best part? She's not just wearing clothes, she's wearing memories! When asked about her high-top Vans she said, "they've gone to festivals, they've gone to concerts, [and] they've [even] gone across seas!" Needless to say, her outfit tells a story about her adventurous history.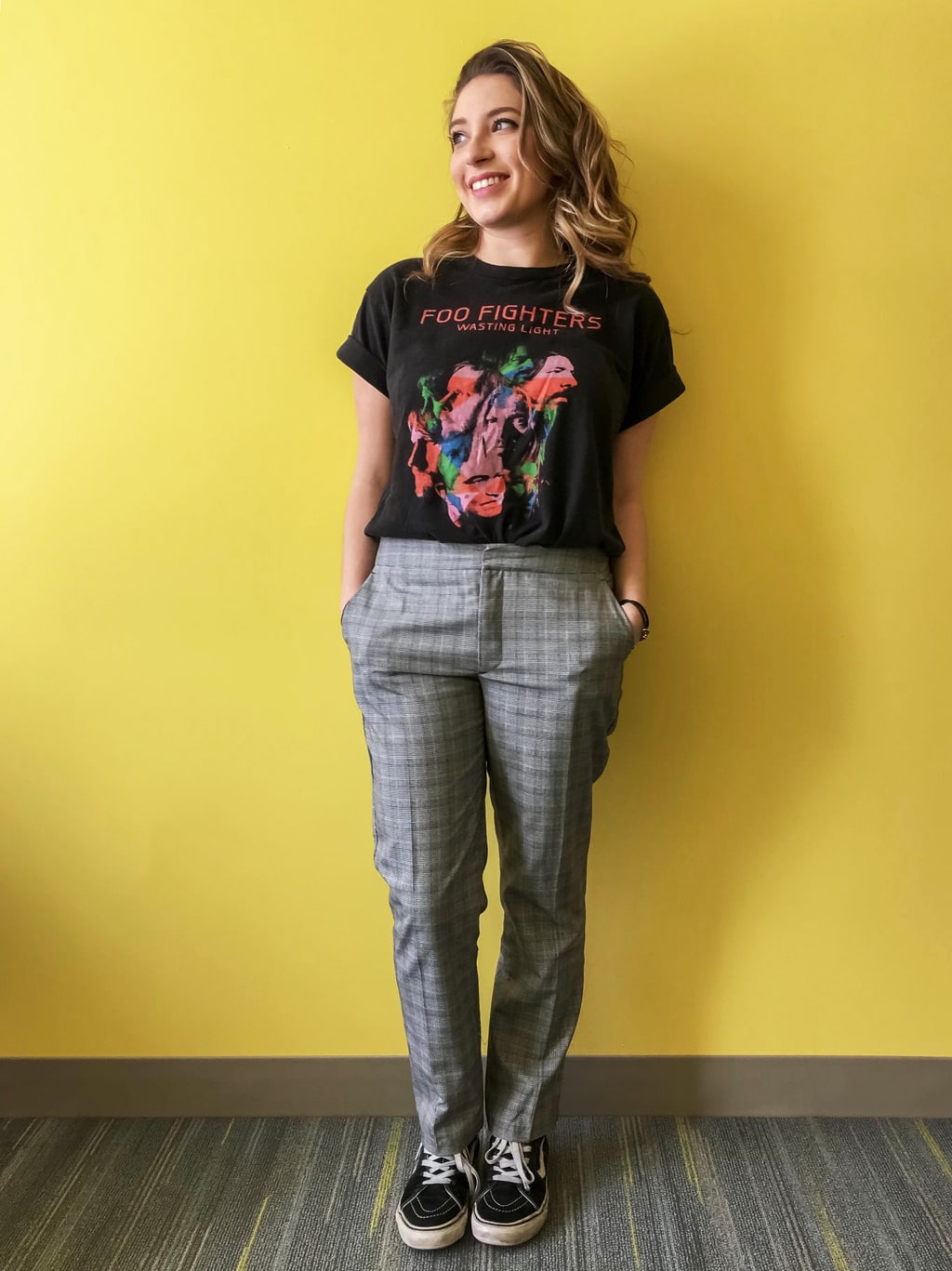 Related reading: How to Wear Vans & the Cutest Vans Outfit Ideas
Caroline 101
Name: Caroline
College: University of Massachusetts Amherst
Year: Junior
Major: Studio Arts, focus on painting, minor in Art History
Hometown: Sandwich, MA
Let's Talk Fashion
Who or what inspires your style? "I go on Pinterest all the time and things get suggested from what I have pinned before. Through that I will look up how to wear certain pants or how to wear a t-shirt with a different outfit. I also get a lot of inspiration from the bands that I listen to. Most of them are males, but I like their fashion so I will try to make it feminine if I can! Other than that, I really like Alexa Chung. She's a model and works [in] the fashion industry. I follow a lot of brands on Instagram and I get inspiration from them too."
Where do you like to shop? "Madewell is, like, my number one. I love Madewell! J-Crew, Zara, Topshop, Nordstrom, and Free People [are all stores that I love]. I like shopping in store more than I do online."
How would you describe your sense of style? "I mix femininity with edgy [styles]. I like to wear men's clothes but make them feminine. [My style is] a little tomboyish!"
Why did you choose this particular outfit? "I am really into checkered pants right now [and] trousers. [I'm loving pants] that [have] a pattern to them, that are a little high waisted, that are fitted on top, but not so much on the bottom. And I always wear band t-shirts. That's, like, the most comfortable thing for me! I'll mix them with jeans, or pants, or skirts, or anything like that."
What fashion advice would you give students looking to improve their style? "Find what works for you! Finding a good pair of jeans is the best thing because they will last you forever. Staple pieces! I always say: have a leather jacket in your closet, have a good button-down, [and] a good versatile pair of shoes. Buying work clothes now is key because you are going to need them when you go on interviews. Buy work clothes that you can still wear as normal [everyday] clothes."
What are your favorite trends right now? "Trouser pants – I love those! I'm really into sneakers. All different types of sneakers: [From] Vans [to] Adidas. Plaid. I always wear plaid. I feel like that's always a trend. Layered dresses – I feel like they're really cool! Like, wearing a tank dress then wearing a t-shirt underneath… and it makes it more comfortable."
Do you have any favorite fashion designers? If so, who? "I like Gucci. I've always liked Gucci. I own nothing from Gucci, but I like them! I really like Chloé. Kind of the classics, like Chanel, but I can't obviously afford any of that! I get inspiration from them for sure."
What do you do for fun – do you have any unique hobbies or interests? "I go to a lot of concerts. That's, like, my biggest thing I like to invest money into. Outside of doing the artwork that I need to do for school, I like to paint on my own. I make a lot of wall decor for my friends for their rooms."
If you could raid anyone's closet who would it be and why? "It really depends! Vanessa Hudgens… I love her clothes for festivals. That's so fun. I feel like she always has unique looks. Arielle Vandenberg…. she is an actress-comedian. She was on Vine for awhile [and] she has such a cool style. She wears a lot of jeans, leather, and t-shirts. She makes it look really good."
Being in a sorority do you feel like you guys bounce off each other's styles? "Yeah, kind of. Some girls are definitely more girly and some girls are definitely more casual, [or] edgy. So we all kind of pick from one another. It's fun. I live with – what, 42 girls? And we get 42 closets to go through! It's cool to see what people are really into."
Elements of Caroline's Outfit
1. Leather Jacket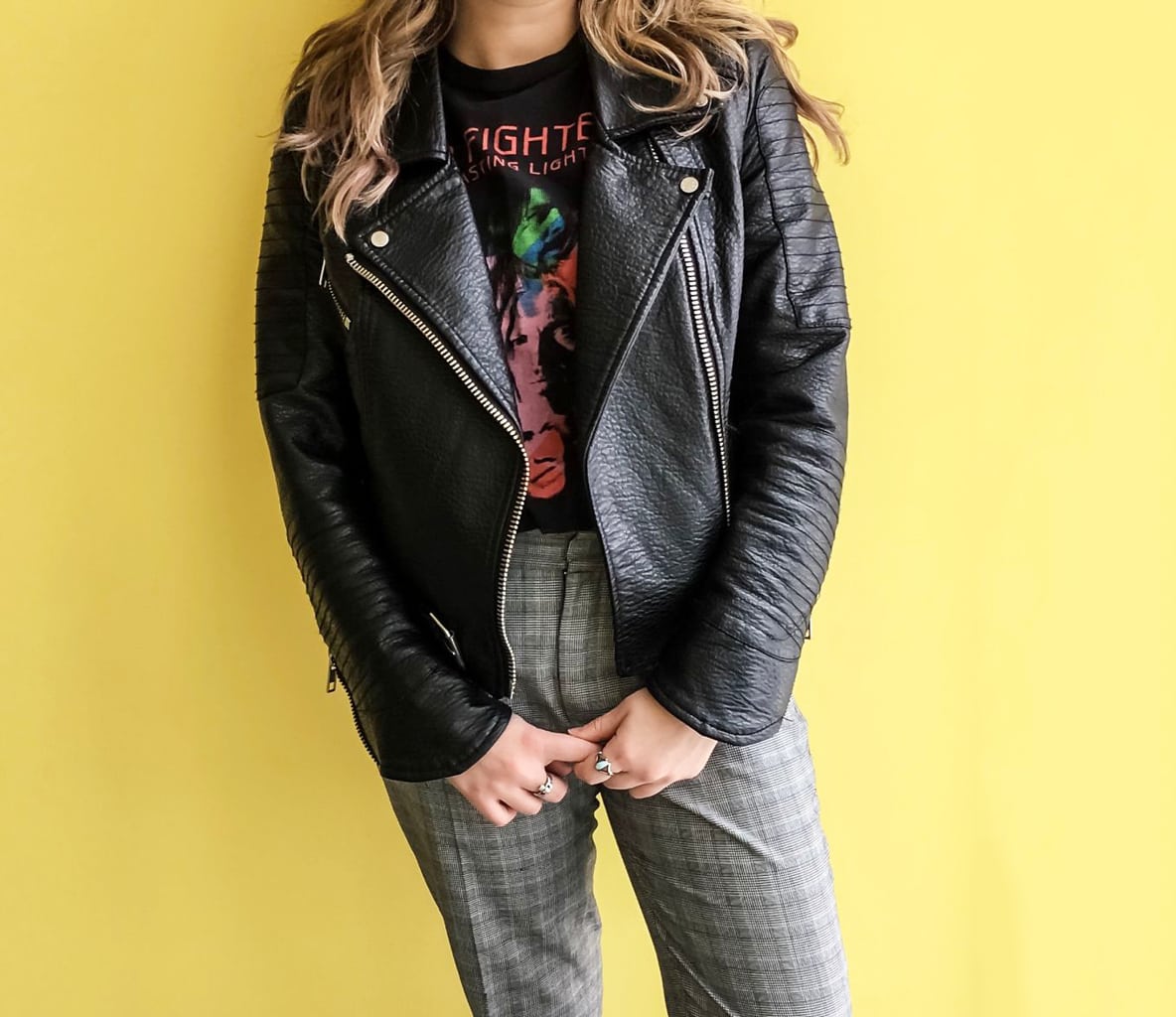 It's rare for me to see someone rocking a leather jacket on campus. When I saw Caroline in hers, it was a refreshing change! It completely transformed her outfit and gave her an original edge. She got hers at TJ Maxx.
2. Band Tee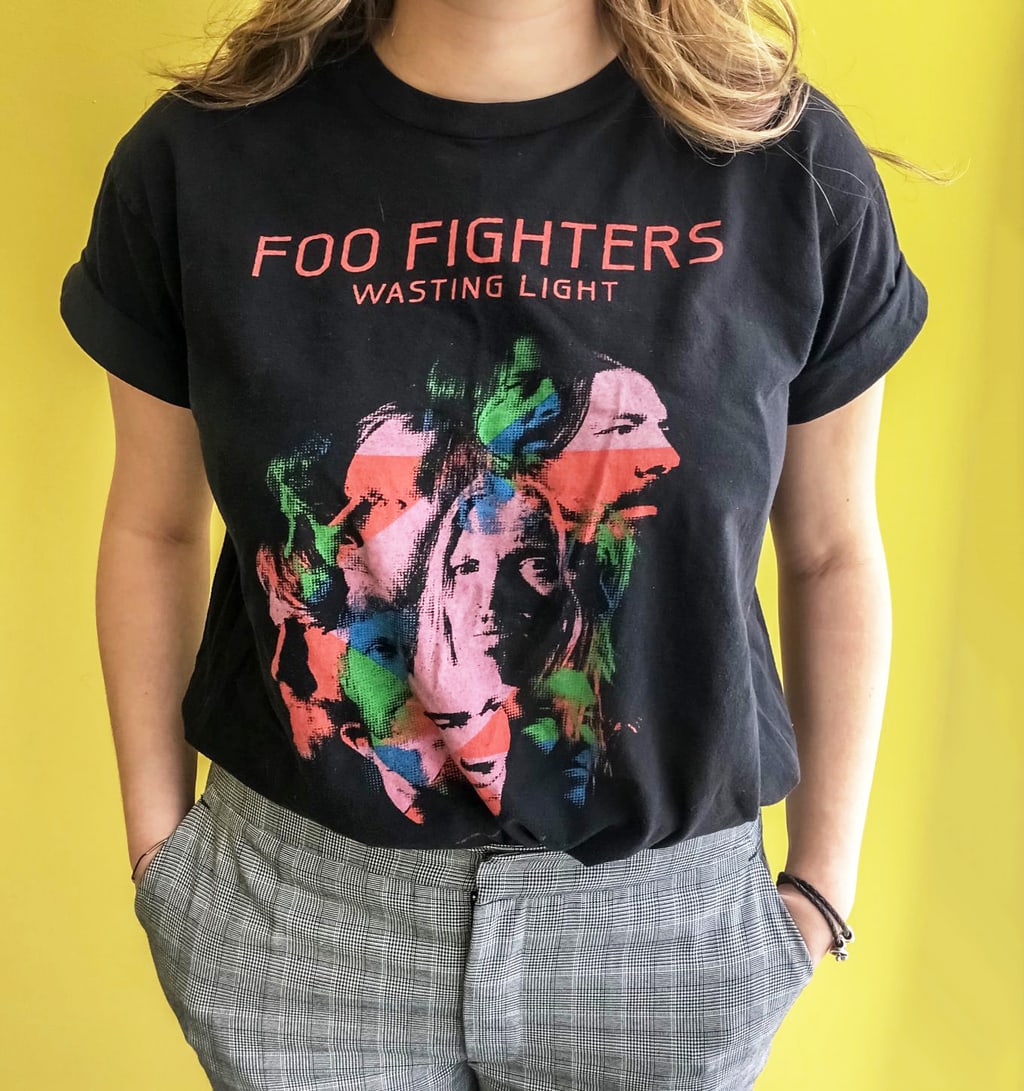 Caroline got this t-shirt at a Foo Fighters concert in 2011. Its neon pops of color bring her outfit to life! She gets to look stylish while supporting one of her all time favorite bands. Plus, this tee is cozy: "It's so soft. I love it," says Caroline.
3. Arm Candy & Cool Rings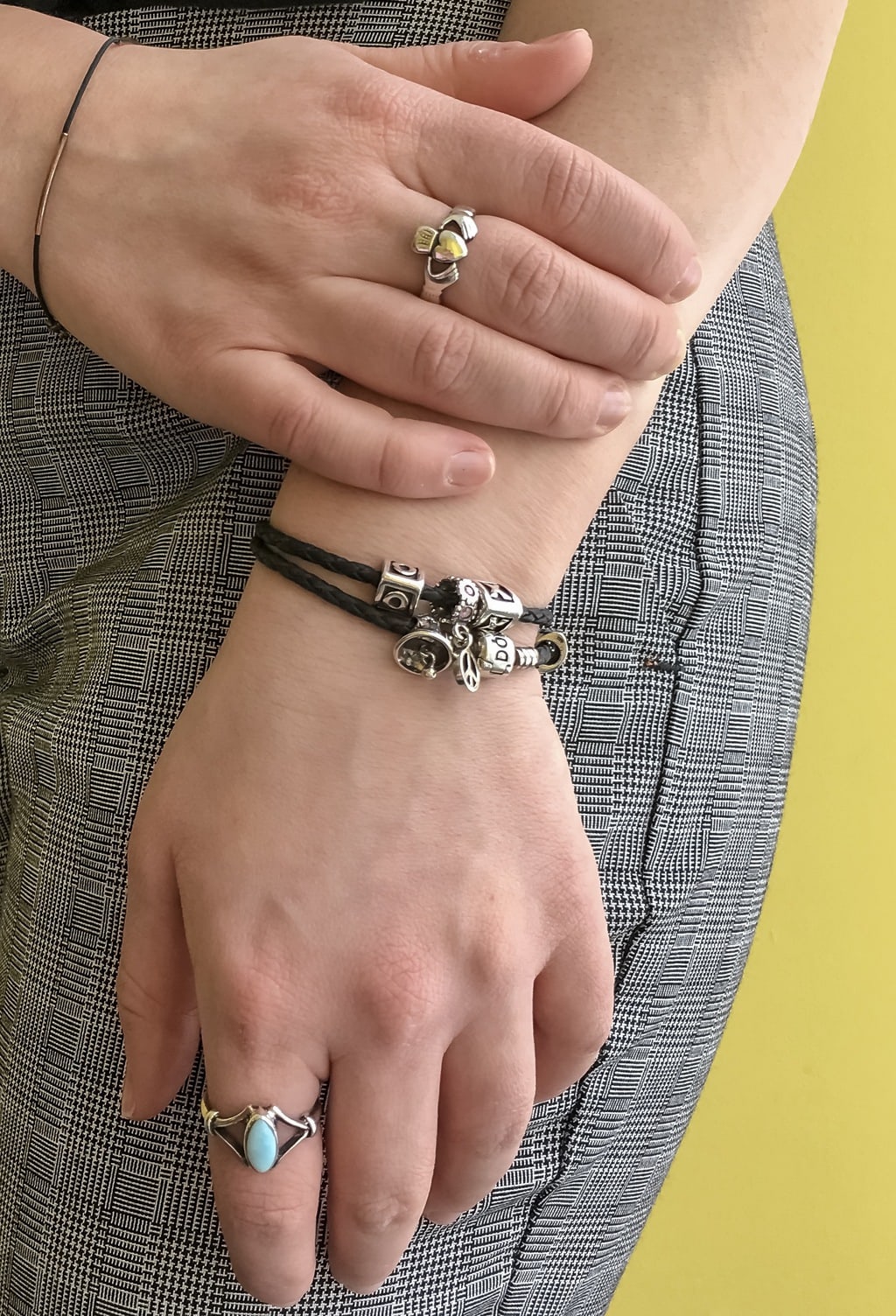 Caroline's jewelry has found a permanent home on her hand and wrist. She wears her Irish Claddagh ring and a charm bracelet every single day. Her simple arm candy enhances her overall look without overshadowing it.
Now we want to know what you think!
Are you loving her edgy and original style? What's the oldest piece in your closet? Let us know below!