This week's campus fashion star has the best mix-and-match style I've seen in months. Her look is quintessentially boho, yet it comes across as classic girl-next-door too.
Olivia's distressed jean shorts and flattering crop top combo creates the perfect base for a funky floral kimono. This eye-catching look is flirty and fun for summer.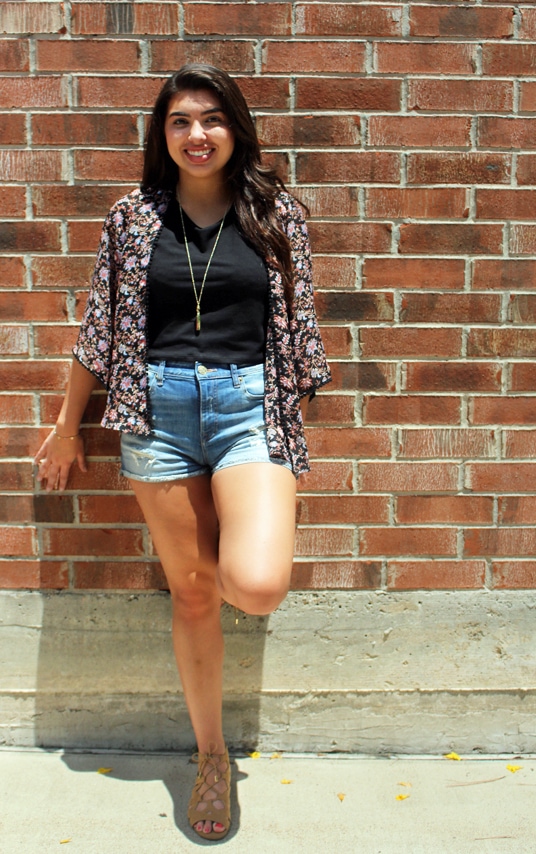 Olivia 101
Name: Olivia
Year: Freshman
Major: Business
School: Texas State University
Home: Houston, TX
Let's Talk Fashion
Who or what inspires your style? "I follow multiple girls around my age on YouTube and Instagram, such as Katy Bellotte, [who] inspire my outfit choices. I don't always copy exact looks, but [I] pick and choose the things I like from each YouTuber."
Where do you like to shop? "I shop at Express, Macy's, PacSun, American Eagle, and I find a lot of awesome items at thrift stores, Marshall's, and T.J. Maxx."
How would you describe your sense of style? "My style is simple, laid-back, and usually includes a pattern such as florals or stripes."
Why did you choose this particular outfit? "I chose this because it really reflects my style and is comfortable. My go-to for the summer is [a pair of] jean shorts. I like that I can [wear them] with a solid colored tank top. My kimono is light enough for a hot summer day and makes the outfit stand out more."
What fashion advice would you give other students looking to improve their style? "Wear what makes you feel like the best version of yourself and makes you feel confident. Look on Pinterest or the websites of your favorite stores to get inspiration and then find items similar to that to make it more unique to your style."
What are your favorite trends right now? "Trends I like right now are ripped shorts, off-the-shoulder shirts, vertical stripes, and dainty jewelry."
Do you have any favorite fashion designers? If so, who? "I don't have a specific fashion designer but I love the brand called American Rag inside Macy's. I feel like it describes my style perfectly."
What do you do for fun – do you have any unique hobbies or interests? "I like to hang out with my friends, shop, travel, and spend hours looking at clothing hauls on YouTube."
If you could raid anyone's closet who would it be and why? "I would raid Olivia Giannulli's (Olivia Jade on Instagram) closet because she always has the trendiest pieces that are also simple and comfortable looking."
Elements of Olivia's Outfit
1. Lace-Up Sandals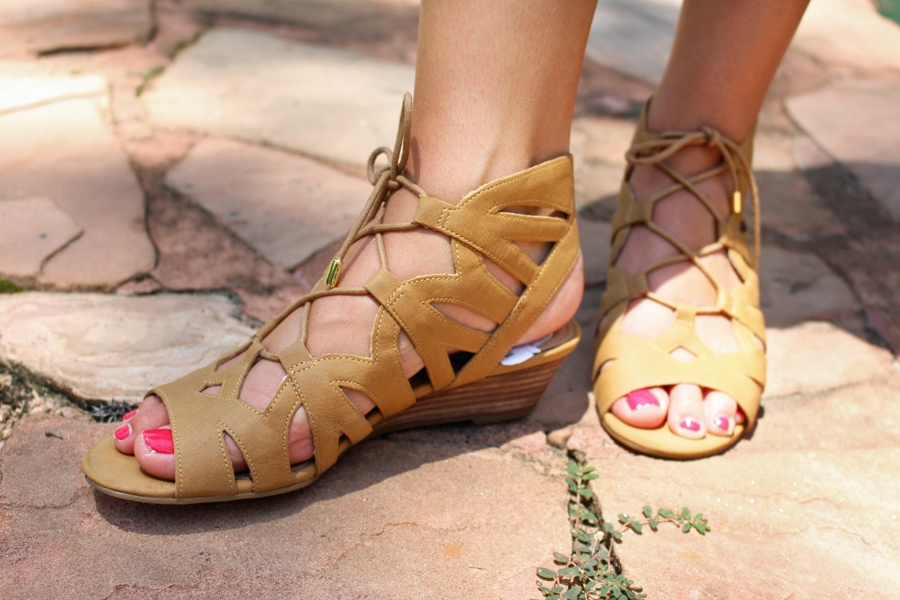 Generally speaking, neutral-toned shoes are easy to overlook. However, Olivia's pair of intricate lace-up sandals are a game changer. They literally tie her look together, pun intended.
2. Light-Wash Shorts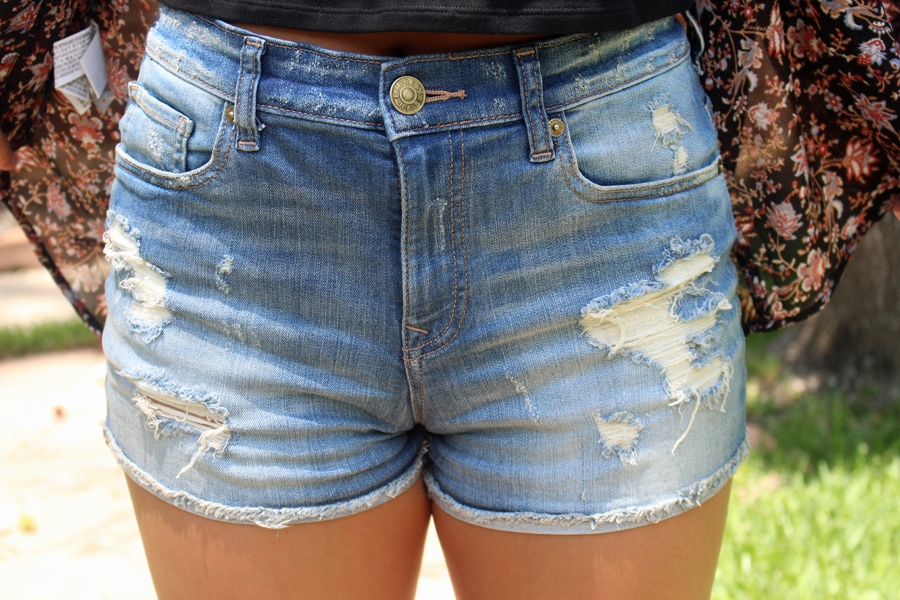 Light-wash denim shorts are a summer staple. Something about summer calls for a more casual wardrobe and that's exactly what these shorts provide. Plus, nothing is more versatile for warm weather!
3. Crop Top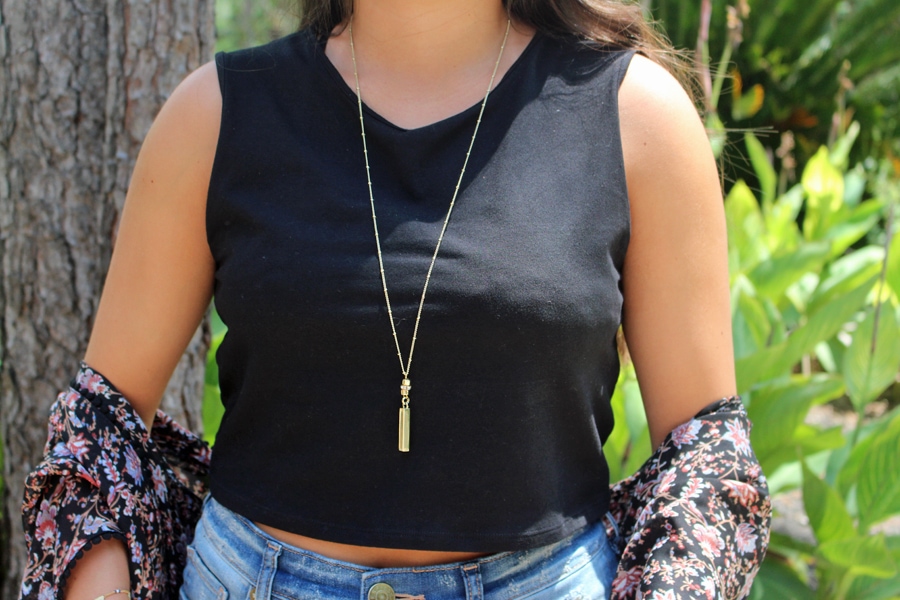 Just like shorts, crop tops have rapidly become a summer wardrobe favorite. Maybe it's because they complement the high-waisted styles everyone loves, or perhaps it is because they keep you cooler in the heat. Nevertheless, you can never go wrong with them.
4. Long Necklace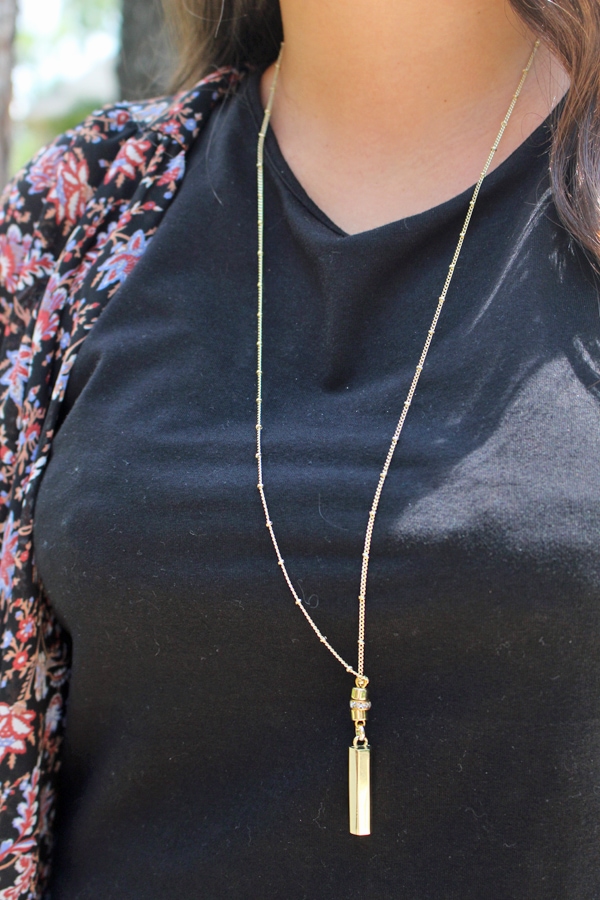 Olivia jazzes up her crop top with this statement necklace. The long chain and cool drop charm turns her outfit up a notch.
5. Breezy Kimono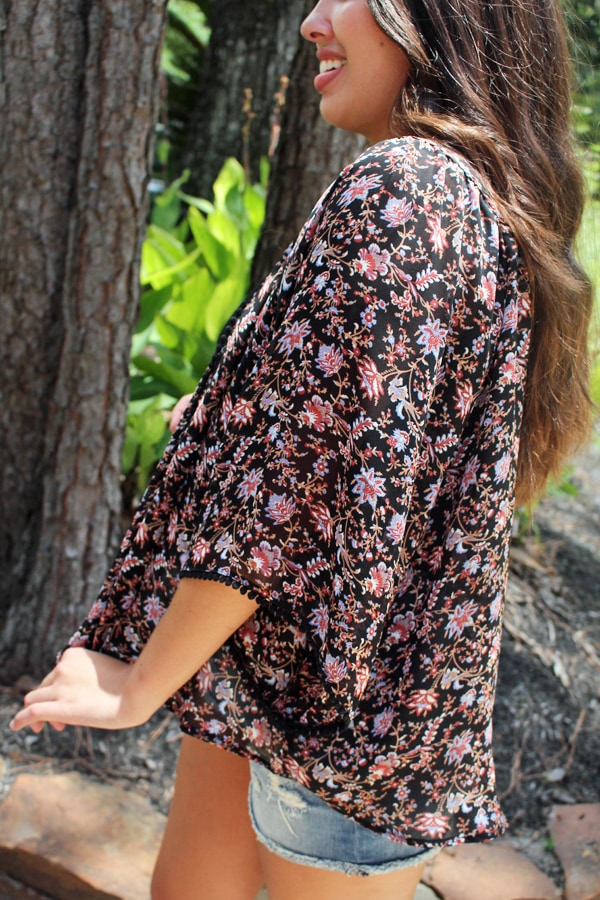 The final (and my favorite) element is Olivia's kimono. If you choose to wear any outerwear during the summer, it needs to be lightweight enough for the summer heat. This printed floral showstopper brings out Olivia's free-spirited personality. Bravo!
Now we want to know what you think.
Do you ever wear kimonos? Would you wear Olivia's outfit? Comment below and share your thoughts with us!