I spotted this fashionista at the trendiest coffee shop on campus. Mel's patchwork jeans are to die for and give her simple look a whole bunch of personality. Coffee and a cute outfit, what else could you possibly want?
Mel 101
Name: Mel
School: West Virginia University
Major: Strategic Communications
Hometown: Bel Air, MD
Let's Talk Fashion
Who or what inspires your style? "I people watch to get inspiration, or I'll go on Pinterest and find some. I love a few influencers I follow on Instagram like @sincerelyjules. Her style is so simple yet chic. There is also this account @whowhatwear that I love. A little bit of exploring has led me to finding what inspires me the most."
Where do you like to shop? "I love to shop at Anthropologie, Free People, and Altar'd State—when I have cash. If I'm balling on a budget, I'll head to local thrift shops and Goodwill. I love finding things that are one of a kind."
Why did you choose this particular outfit? "I wanted to be comfortable yet show a bit of my personality through the reconstructed jeans and fun bralette [peeking] through the shirt. It's perfect for a casual day working on school or going out and about. The shirt is from a cute boutique in Australia called Fifth Label. The woman working told me how cute the shirt was to be tied up and worn in order to show fun bras and colors underneath. The jeans are Kenneth Cole Reaction, but I got them from TJ Maxx for $8! The booties are from Goodwill in lower Manhattan, and the sweater was a clearance find from Target."
What fashion advice would you give to other students looking to improve their style? "I would say to be yourself in the most raw way possible. My clothing defines me and who I am as a person. When people see me, they know it's me. You should also be comfortable. Put a flare on what you wear and be unique. Also, your clothing doesn't have to be from top brands to be considered fashionable, so get creative."
What are your favorite trends right now? "Right now, I love scrunchies. Can't stop, won't stop wearing them. Also, denim on denim is my life. I'm in love with interesting pieces that have fringe, patchwork, or [are] destroyed. I love oversized sweaters as well. I got an oversized Michael Kors sweater that I wear as a dress. It's definitely my fashion secret weapon."
Do you have any favorite fashion designers? If so, who? "I love the shoe company Stuart Weitzman because they are so cute and I imagine myself rocking a pair of their heels while walking down Wall Street after I graduate."
What do you do for fun – do you have any unique hobbies or interests? "I work at the school radio station as the news director, so I love digging through old CDs, especially '70s rock and roll. Also, I am a huge fan of NPR, so you can catch me listening to the Morning Edition every week. I love discovering new music, stalking through Instagrams and playing with my puppy, Henry."
If you could raid anyone's closet, who would it be? "I would raid Kendall Jenner's closet. I feel like she's always looking chic but also unique, especially on the runway."
Elements of Mel's Outfit
1. Slouchy Cardigan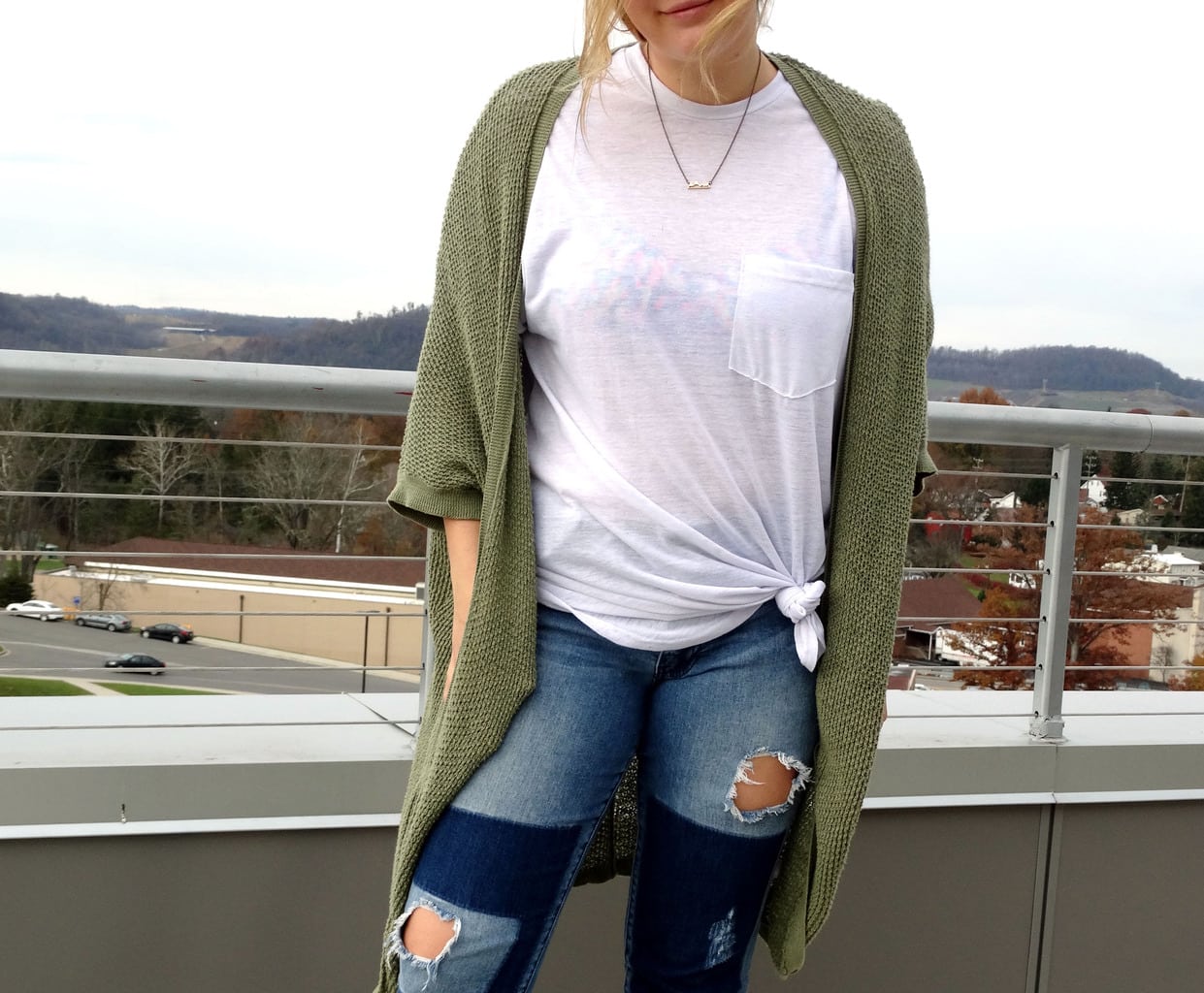 Mel kept it comfortable while out getting coffee by topping off her simple look with an oversized cardigan. The forest green color stood out amongst the other neutral pieces in her outfit.
2. Plain White Tee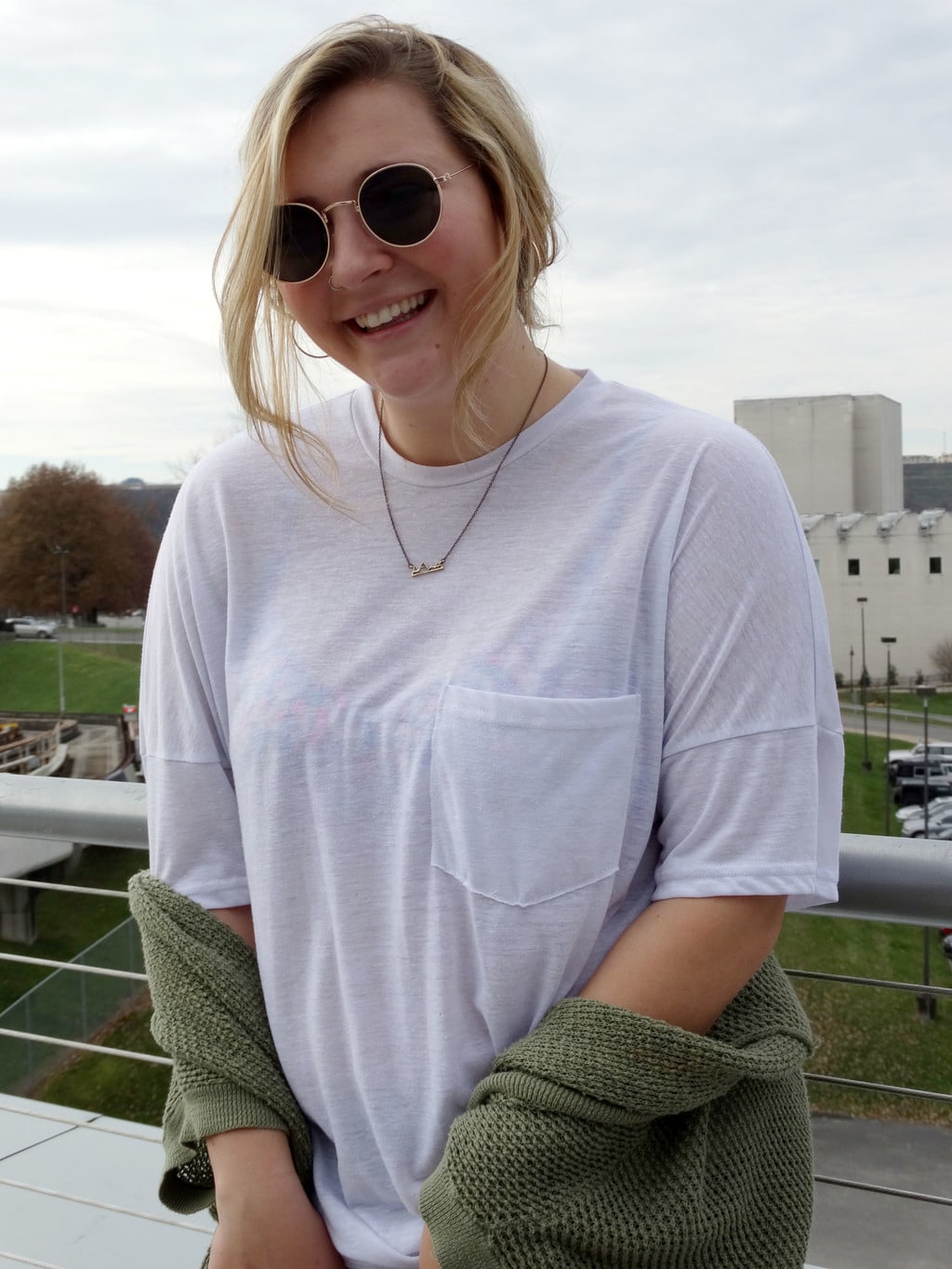 Mel wore a standard oversized white tee that she tied at her hip to create the perfect patchwork jeans outfit. She played up the look by wearing a funky colorful bralette that is just barely visible under the tee.
3. Mismatched Denim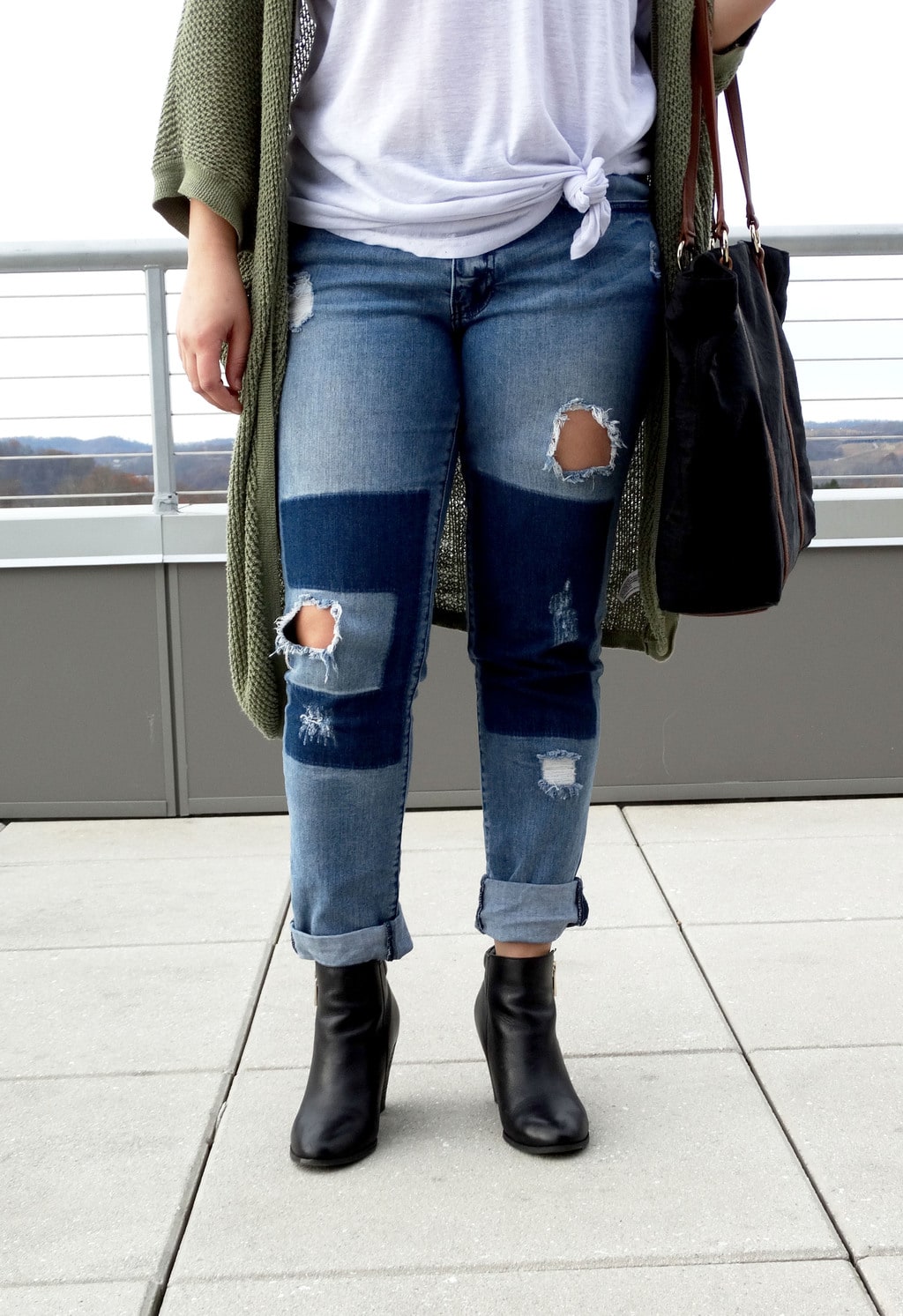 I've been seeing a lot of mismatched and patchwork denim pieces across campus lately, however Mel's patchwork jeans are my favorite example so far. These jeans are perfect because they're both distressed and full of personality.
Alright, now we want to know what you think!
Are you a fan of this patchwork jeans outfit? Would you wear Mel's slouchy cardigan? Let us know below!