It's time to break out the florals because spring is knocking on our door. Veronica is ready for the warm weather with this bright outfit, but still dressing for the chilly temps in her pastel jacket.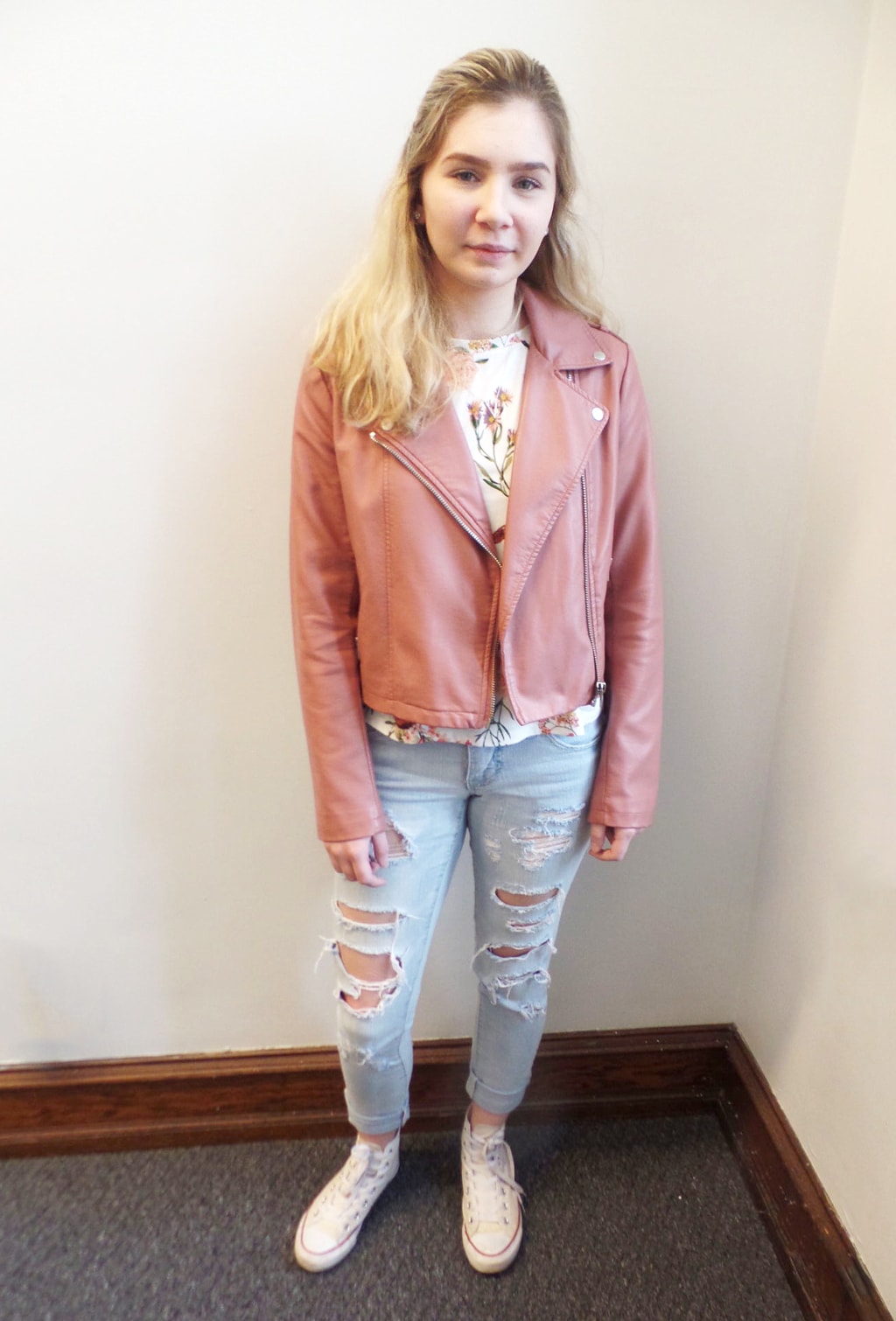 Veronica 101
Name: Veronica
Hometown: Pittsburgh, PA
Year: Freshman
Major: Fashion Merchandising
School: Mercyhurst University
Let's Talk Fashion
Who or what inspires your style? "I'm inspired by my peers. I'm a fashion major, so I love to look at what others around me are wearing. It gives me ideas for my own wardrobe."
Where do you like to shop? "I love Free People, Madewell, and Urban Outfitters."
How would you describe your sense of style? "I'd describe myself as a romantic personality type. I love florals, pinks, bows, and especially lace!"
Why did you choose this particular outfit? "I chose this because it describes me perfectly. The pink jacket and the floral shirt are exactly my style. I added the ripped jeans to add flair to this girly outfit."
What fashion advice would you give to other students looking to improve their style? "Look to those around you. Peers or social media; there's inspiration all around you. Don't be afraid to try something new."
What are your favorite trends right now? "With spring around the corner, I love florals and pastel colors."
Do you have any favorite fashion designers? If so who? "Lilly Pulitzer is my go-to. From accessories to clothing, her line has it all."
What do you do for fun? Any unique hobbies or interests? "Nothing too unusual. I love spending time with my friends and doing anything fashion related."
If you could raid anyone's closet who would it be & why? "I would raid Aspyn Ovard's closet. She's a YouTuber and has the cutest style. She can even rock horizontal stripes."
Elements of Veronica's Outfit
1. Classic Sneakers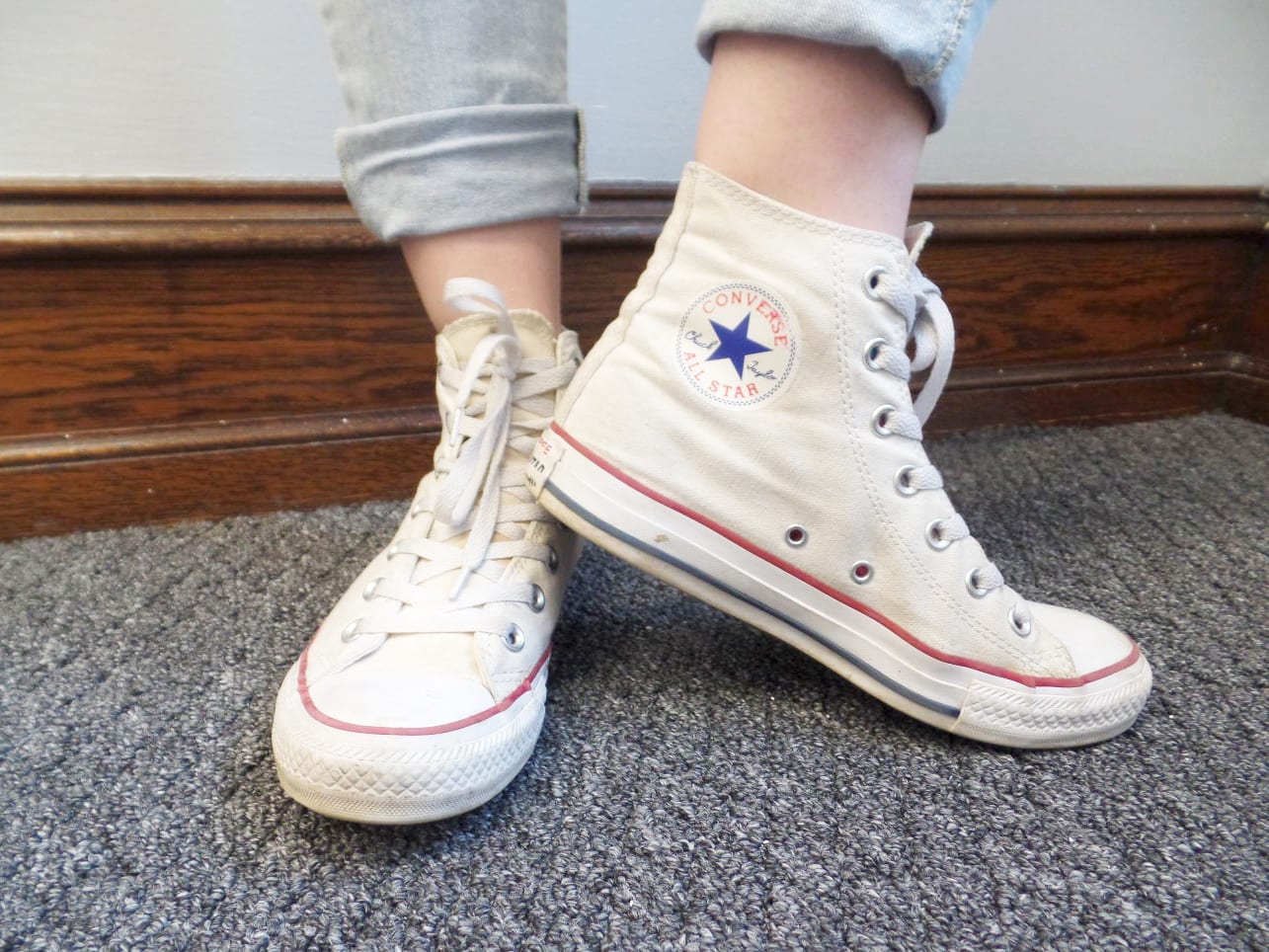 Veronica's shoes are a staple style. These high top Converse sneakers look great with any outfit and are practical for almost any occasion.
2. Distressed Jeans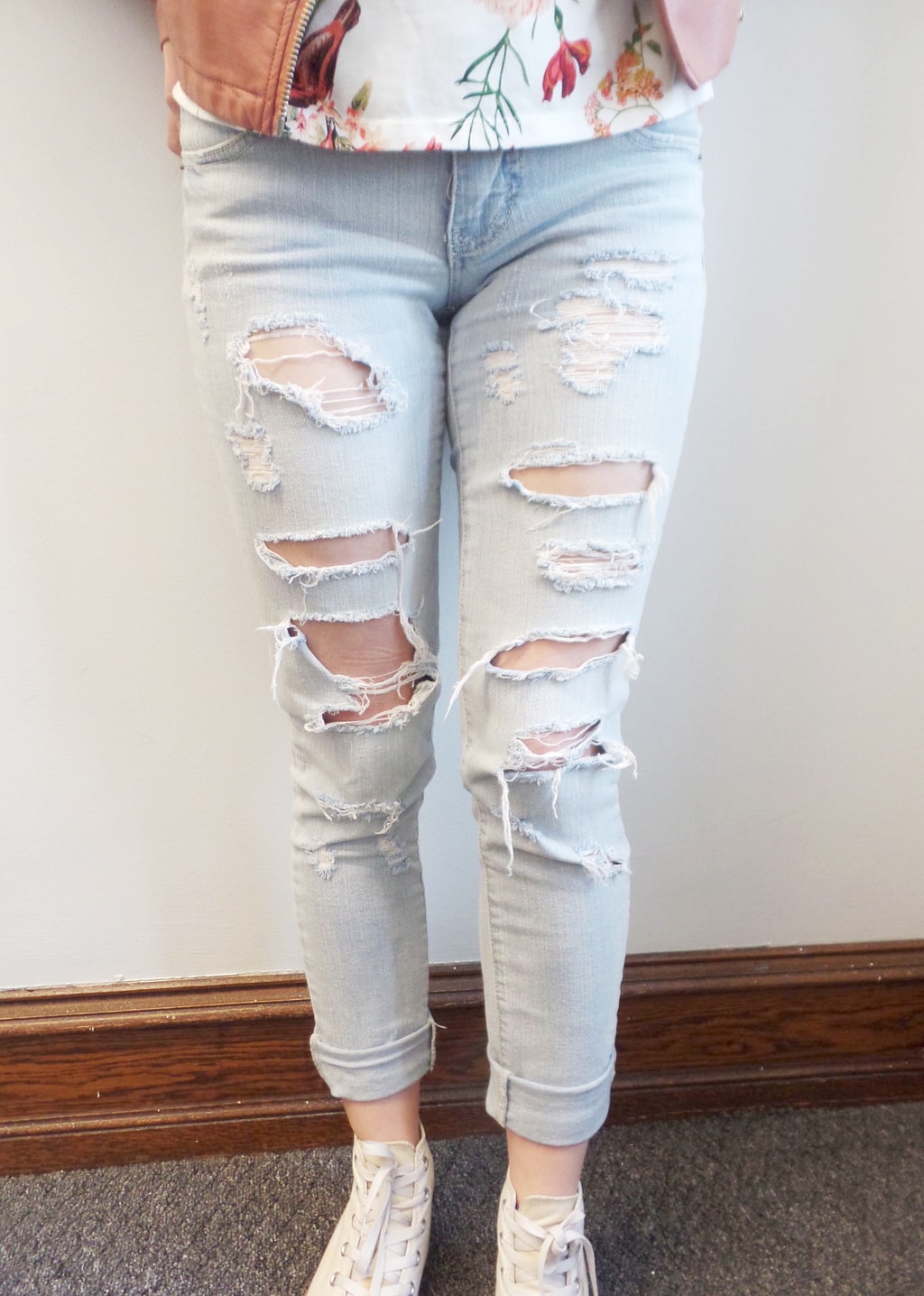 These ripped jeans are a great look for spring. Think of all the possibilities! One could pair them with a graphic tee, a crop top, or even a long, flowy cardigan.
3. Floral Shirt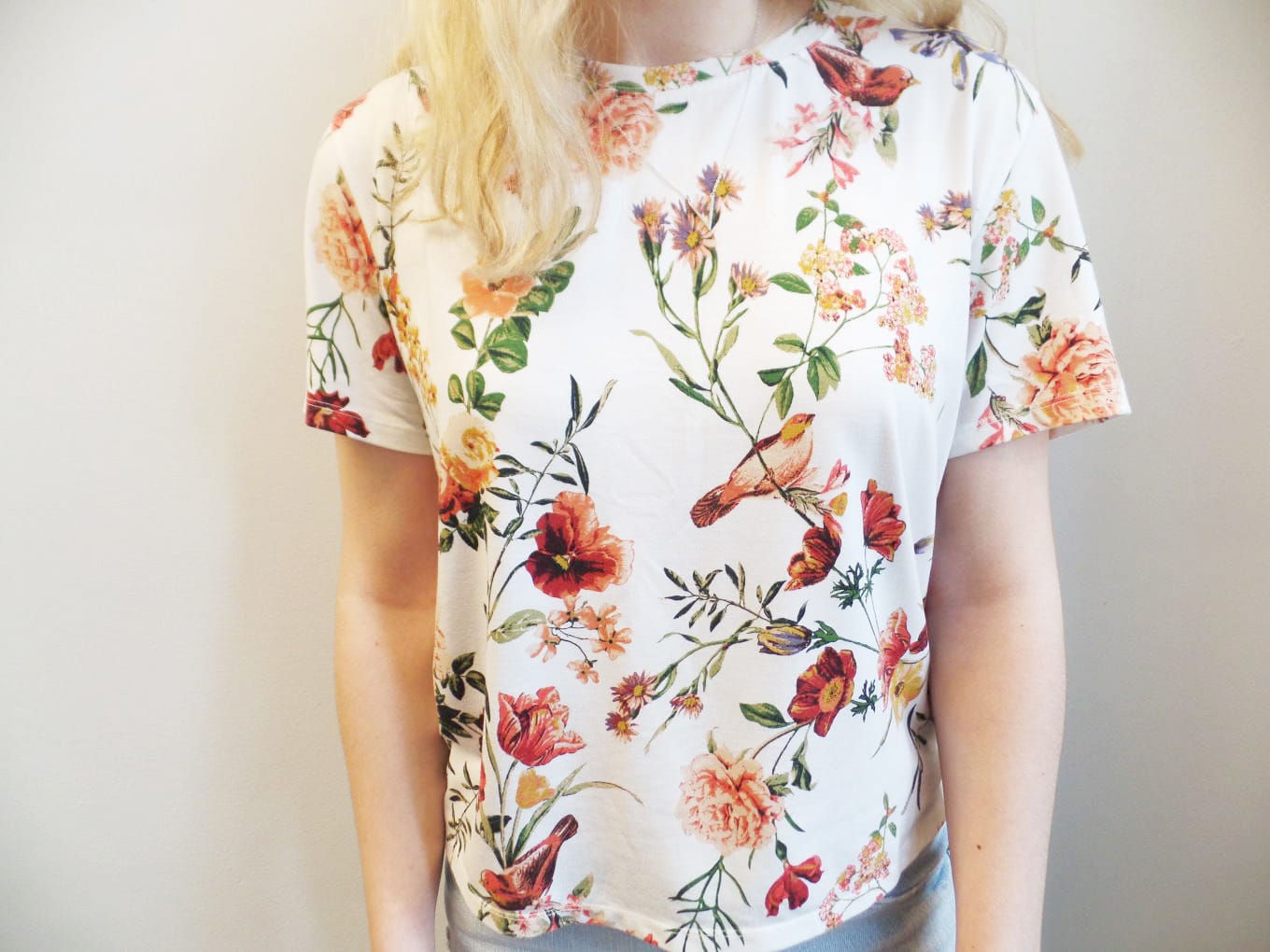 This floral Zara top is the perfect shirt for any girly-girl like Veronica. Notice the birds – how cute are they? Plus, it's ultra-soft.
4. Feminine Motorcycle Jacket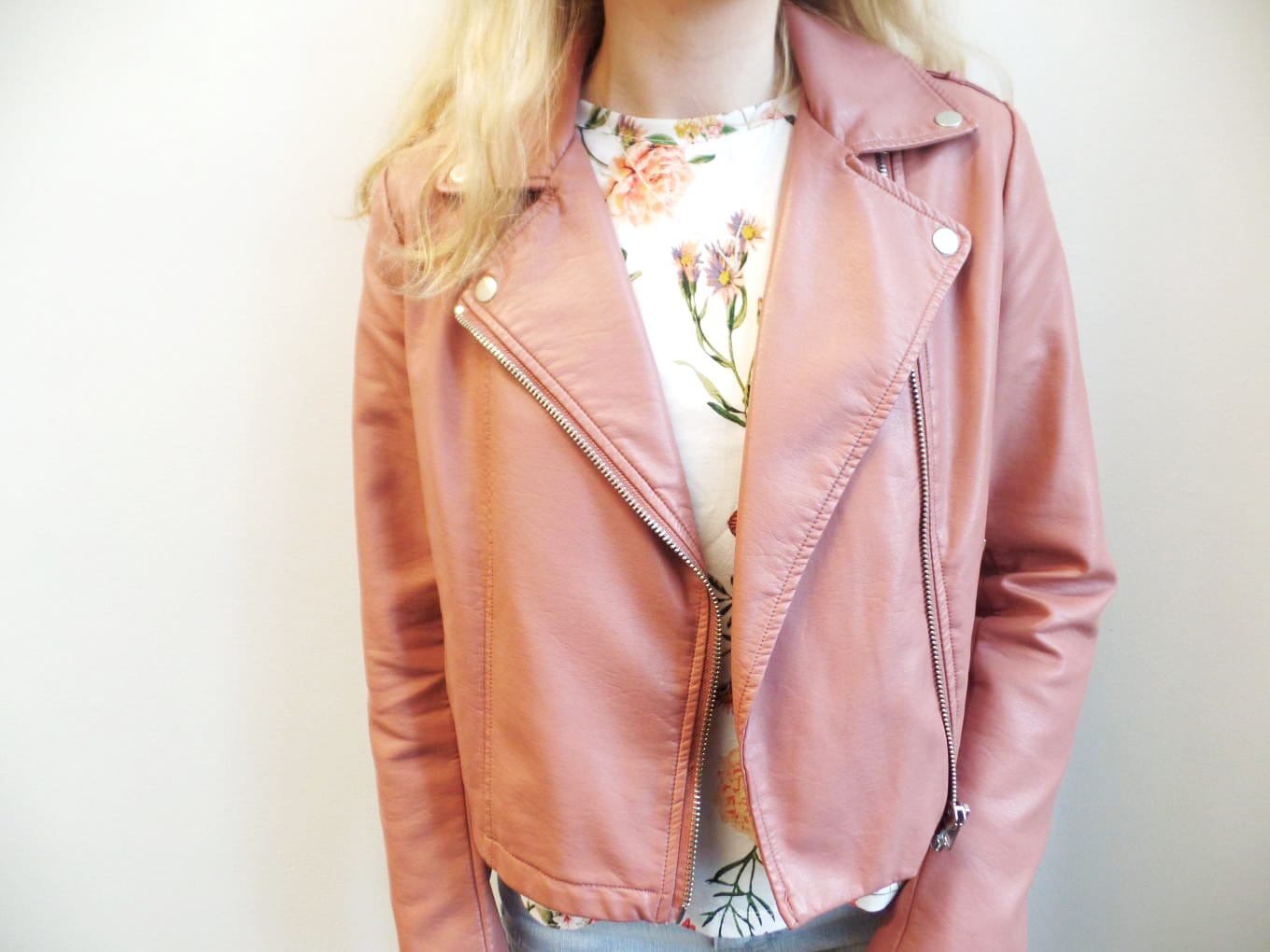 From winter to summer, a faux leather jacket is essential to any wardrobe. It adds that little touch to complete any outfit. The color of this jacket is so unique and makes this edgy style more feminine.
Now we want to know what you think!
Are you a fan of this dusty rose jacket? Would you wear her distressed denim? Let us know your thoughts!