Monod has the right pieces to transition from spring to summer. Between his distressed jeans, loafers, and subtle accessories, he nails the put-together aesthetic. Have a seat, because class is in session.​​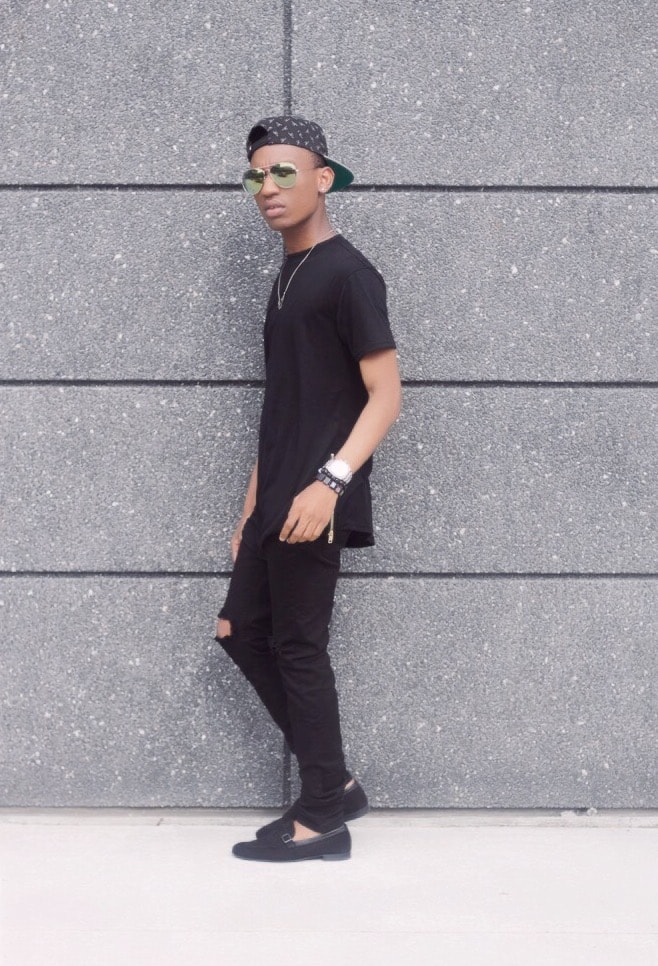 Monod 101
Name: Monod
School: University of South Florida
Year: Junior
Major: Health Sciences
Hometown: Aux Cayes, Haiti
Let's Talk Fashion
Who or what inspires your style? "Steve McQueen, Pharrell William, Kanye West… old Kanye West, not new Kanye… David Beckham, Andre 3000, Tim Gunn, David Bowie, and Rick Owens."
Where do you like to shop? "I shop everywhere. I like mixing high and low but for trendy pieces I like H&M, Zara, Forever 21, Urban Outfitters, PacSun, the Gap, and Banana Republic. For some great staple pieces I like Nordstrom, Neiman [Marcus], and the thrift store of course."
How would you describe your sense of style? "My style varies. It all depends on my mood. I can be very skater chic, very trendy, or very simple. [Sometimes] I like a great suit on the other hand. I also like a simple white t-shirt and blue jeans. My style is somewhat casual-preppy. I like everything to be very fitted and tailored but not too tight and I love a good jacket."
Why did you choose this particular outfit? "I love a good jacket or a good coat or a nice blazer… they wake up any simple outfit. Since I had on a simple outfit, I figured I needed something to wake it up and good jacket is always my go-to piece. And again, I had a mixture of high and low in the outfit. I love a good accessory. If you going to invest in one thing, get a nice watch!"
What fashion advice would you give to other students looking to improve their style? "Get a nice watch [and] don't buy expensive trendy pieces. Instead, [spend your money on staple] pieces like a good jean jacket, a nice leather jacket, a nice watch, and a statement necklace. Trends come and go but good staple pieces last you forever. Don't be afraid to invest in something you really want."
What are your favorite fashion trends right now? "I love [women's] fashion. I fall in love with [women's] fashion before [men's fashion]. So I like Karl Lagerfeld, Anna Sui, Marc Jacobs, DVF, Stella McCartney, and I also like young designers like Jason Wu and Alexander Wang… I can go on forever. I've been studying [women's] fashion since I was in 7th grade! I like Karl and what he has done for the house of Chanel and he always put on a great show. Marc also always puts on a great show. I also like Jason Wu and Alexander Wang for bringing [some] new ideas to the game."
Do you have any unique hobbies or interests? "For fun I like thrifting [and] taking amazing pictures with my iPhone. I like reading. I'm a loner. I enjoy being alone. [But I also] like meeting up with friends and [talking about] all the crazy stuff that's been happening in the crazy world we live in. I love politics so I'm always reading about it, watching it, [or] researching something on it."
If you could raid anyone's closet, who would it be and why? "If I could raid anyone's closet, I would raid André Leon Talley's closet. I'd like to see what he has accumulated over the years."
Elements of Monod's Outfit
1. Blue Sweater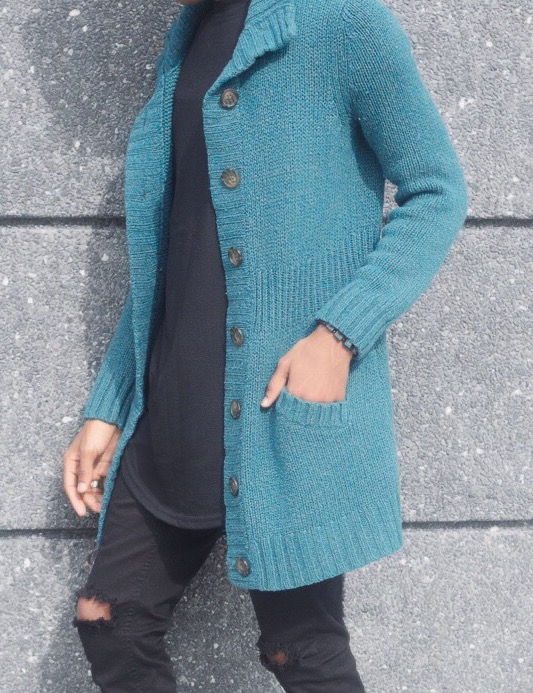 What I like about Monod's sweater is that not only does it add a splash of color to his look, but it's a simple style that packs a big punch. The shade of blue is perfect for transitioning from spring to summer.
2. Backwards Hat, Aviators, & Necklace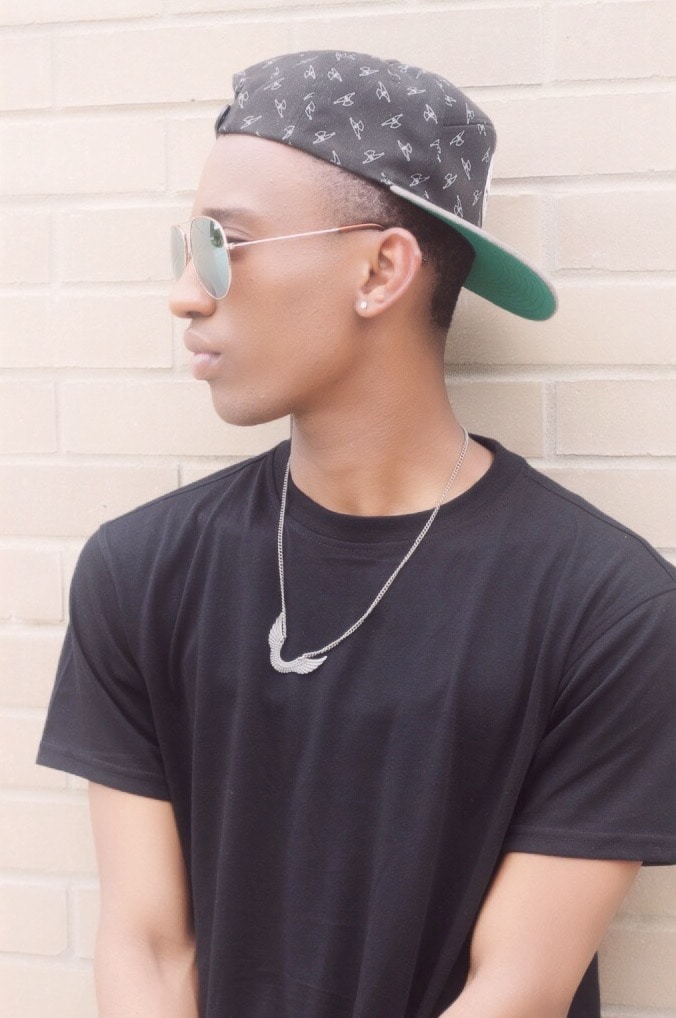 When it comes to accessories, Monod knows just how to add personality to his look. He got his wings necklace at a thrift store, and it adds so much to his ensemble. Monod topped off his outfit with a hat and aviators for summer vibes.
3. Distressed Jeans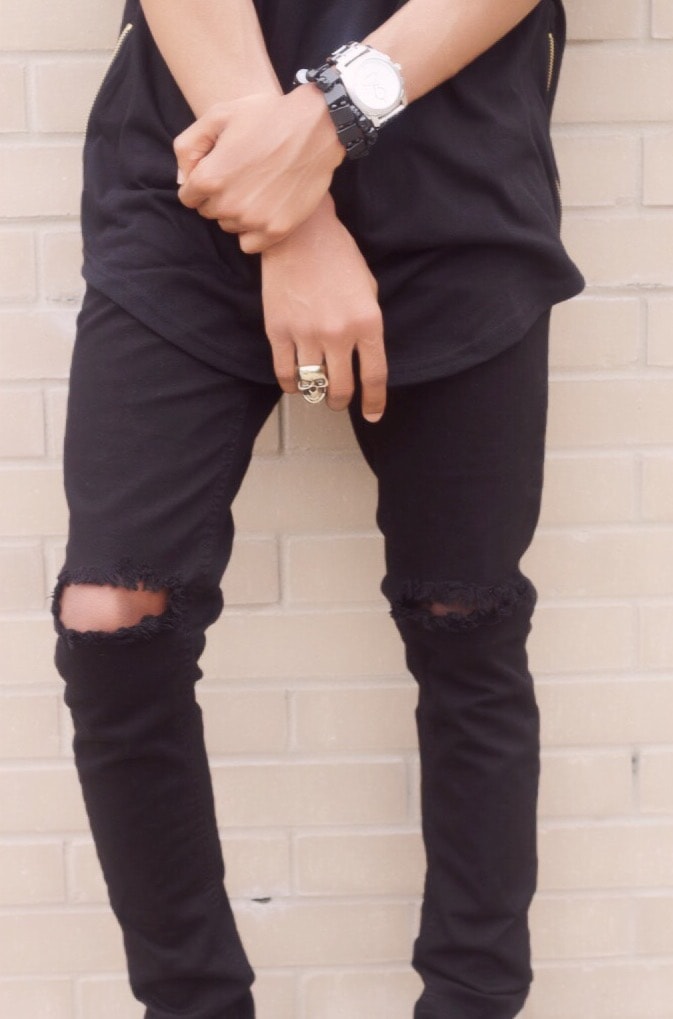 Monod's distressed H&M jeans are simple — and sometimes simple is just what a look needs. Distressed black jeans are a staple for every college student's closet.
Do you love Monod's style?
Are you inspired by his mostly monochromatic look? Would you wear it? Comment below and let us know! Comment below and share with us!