It may be a ghost town on the WVU campus during the summertime, but that doesn't mean all of the fashionistas have gone home! Mary, a fellow fashion merchandising major, is always crafting flawless looks. Trust me, if you aren't head over heels (or loafers!) when you see her style, she will seal the deal with her budget-friendly shopping tips.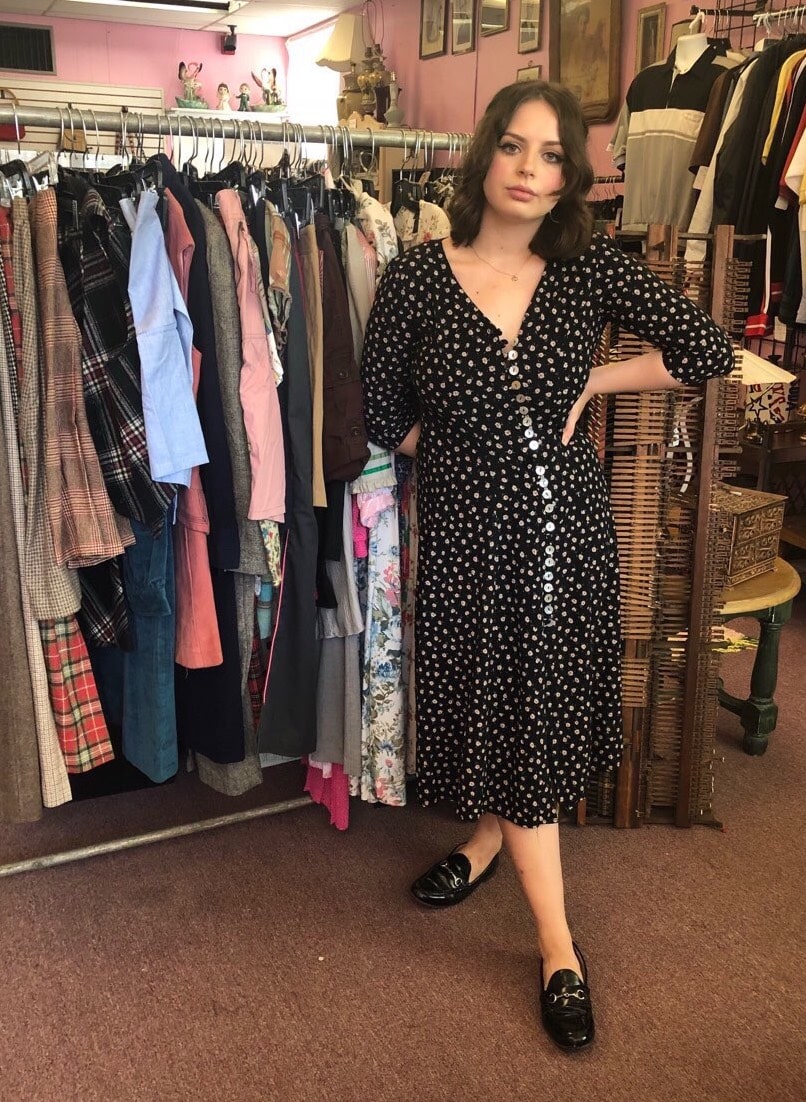 Mary 101
Name: Mary
School: West Virginia University
Major: Fashion Merchandising
Year: Junior
Hometown: New Orleans, LA
Let's Talk Fashion
Who or what inspires your style? "My style is mainly inspired by actresses either in or out of a specific role – for example, Grace Kelly at all times, or Kiera Knightly solely in Begin Again. There are also the obvious choices, like Audrey Hepburn, Jane Birkin, Alexa Chung, and Jeanne Damas. I can also picture myself wearing literally anything on Reformation's website; it's an inspiration in itself."
Where do you like to shop? "I shop sustainably, which essentially means I avoid fast-fashion retailers like the bubonic plague. The majority of my closet is either from a thrift store or Depop. If I do end up coming across a piece I would die without from somewhere like Zara or Mango, I scour Depop or eBay for either the exact piece or something similar, just because it feels better to me than handing my dollar right over to a corporation that does extensive harm to our planet. Just remember, it can't be that cute if it's destroying the environment in its wake."
How would you describe your sense of style? "I like to think of my style as elegant and classic but with hints of masculinity and casualness thrown in. It's all about balance. For example, if I'm wearing a pair of oversized high-waisted men's trousers – which I do often – I'd pair [them] with a feminine top. Maybe something flouncy or a formfitting lingerie-esque cami to balance the volume. I've also been guilty of over-wearing super girly summer dressers with clunky men's loafers and a canvas tote. My style is all about contrasting the effortless, classic Parisian woman with the Annie Hall type of woman (again, a role in a film). I never like to feel too dressed up or too dressed down."
Why did you choose this particular outfit? "This dress is a go-to for me when I want to feel cute and put-together but still comfortable. AKA days I have to be at work when it's 95 degrees. I found it at a locally owned thrift store in my hometown for $2! It reminds me of one of my favorite brands, Rouje. My loafers were also a thrift find. Definitely a staple in my wardrobe. I wear them way too often. I love contrasting a typically masculine shoe silhouette with the femininity of the dress."
What advice would you give to other students looking to improve their style? "I think anyone looking to improve their style is someone who needs to inject individuality into their wardrobe. I say ditch trends and instead search Pinterest and make a board that feels undeniably you and replicate the silhouettes on yourself. I've been mastering this art since the 7th grade."
Do you have any favorite trends? "I don't necessarily like to follow trends but I do think the trend of dressing 'french' has caught up with me which I have mixed feelings about. I've been dressing this way since my junior year of high school when I bought Alexa Chung's book, I promise – please don't mistake me for a trend follower! Although, I am very guilty of picking up one of those knit/mesh tote bags because I saw it on a favorite blogger… in my defense, it's super useful for Saturday mornings at the farmer's market!"
What do you do for fun – do you have any unique hobbies or interests? "My hobbies revolve almost solely around fashion, honestly. I collect magazines and fashion books, and I keep up with as many designers as I can. That being said, my favorite right now is 100% Jacquemus. He's a French designer who makes pieces ideal for a summer in southern France…. super feminine looks and the iconic mini bag. He is a huge influence in my wardrobe. I also have a love for interior design, so a good chunk of my time is spent thrifting to satisfy both of those interests."
If you could raid anyone's closet, who would it be and why? "If I could raid anyone's closet, it would be Jeanne Damas. I would never feel the need to shop again."
Elements of Mary's Outfit
1. Vintage Button-Down Dress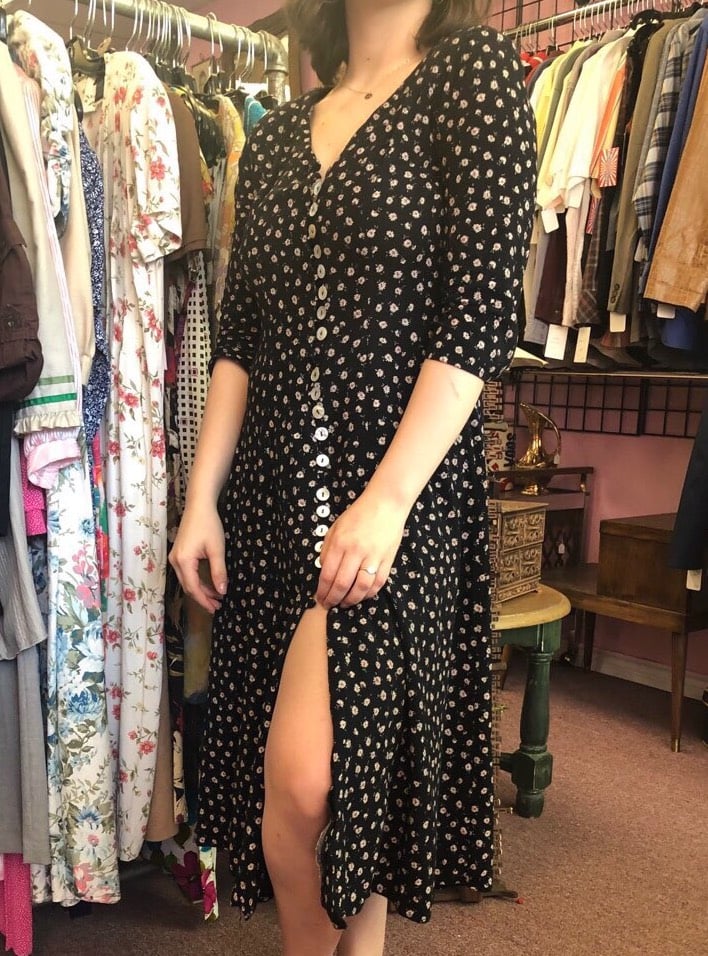 This vintage dress is perfect for a nice summer day, cool enough for the heat, and transitional enough for a number of occasions. The button-down design and polka dot pattern scream vintage and playful. Notice the buttons seem to meander down the garment instead of following the traditional straight line, which is very unique! Mary, unsurprisingly, found this piece at a thrift shop — she's definitely a master of vintage!
2. Black Loafers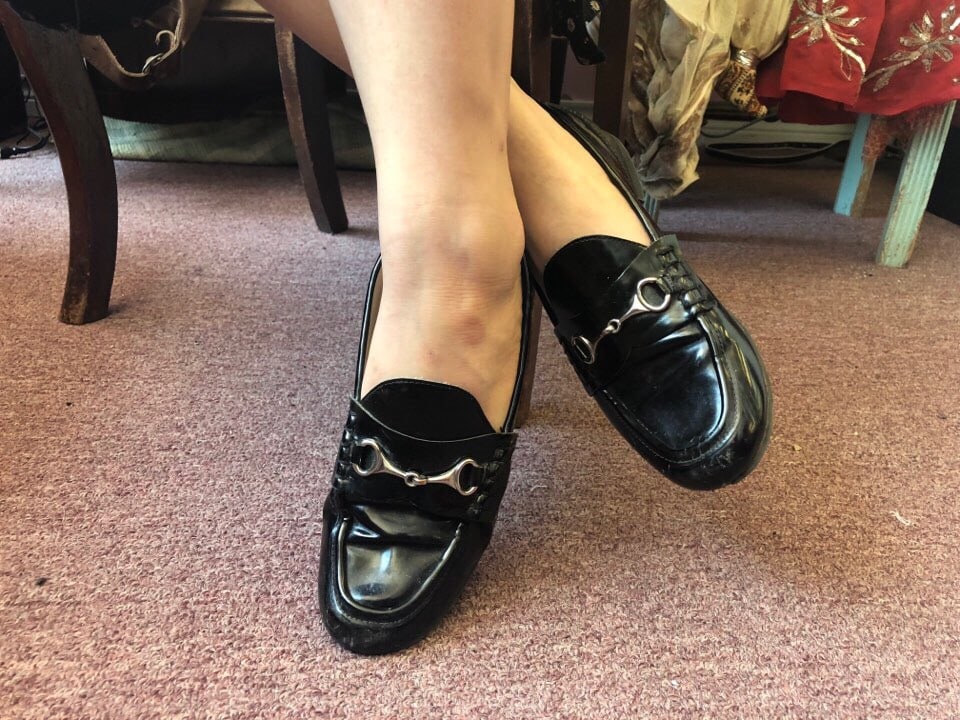 These loafers are yet another vintage find! The sleek clasp provides a feminine vibe to contrast with the chunky worn leather. These are a perfect staple to have to dress any outfit up or down. For Mary, these shoes are great for comfort, as she walks to work every day.
Now we want to know what you think!
Are you a thrifter? Would you wear Mary's beautiful button-down dress? Please leave a comment below and let us know your thoughts!