I met Iris one day walking across on campus. After I stopped to talk to her, I found out that she's actually a well-known blogger in Vienna! No wonder her campus style was so on point.
The day I spotted her, Iris was casual yet cool from head-to-toe. Her motorcycle jacket, muted tones, and burgundy Doc Martens made for the perfect easy weekday look. On a busy morning, take a page from her book and add a baseball cap to cover up any flyaways and a swipe of lipstick before you head to class.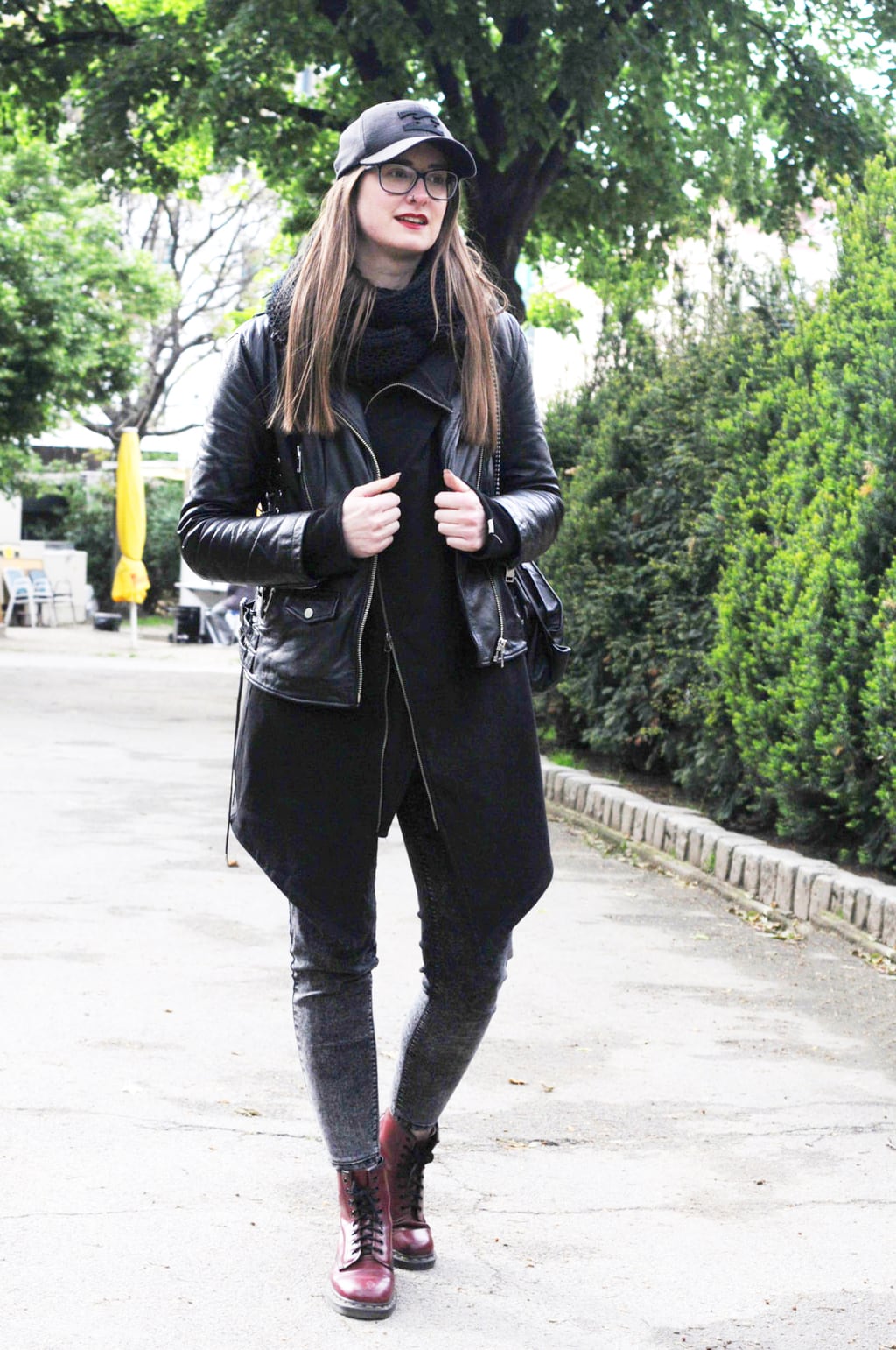 Iris 101
Name: Iris AKA Izzy
School: University of Vienna
Year: Senior
Major: Communication Studies
Let's Talk Fashion
Who or what inspires your style? "I'm a very visual person, so I get mainly inspired by things I come across on daily basis. Instagram is also a great source of inspiration to me."
Where do you like to shop? "I adore Diesel. It's by far [my favorite] place to spend [money]."
How would you describe your sense of style? "I would describe my style as grunge or punk-ish. I like to mix that with softer colors to achieve a more sophisticated look."
Why did you choose this particular outfit? "Because I did wear the same outfit yesterday as well! My leather jacket is my statement piece, so I wear it very often and the rest is perfect for the cloudy weather today."
What fashion advice would you give to other students looking to improve their style? "You have to wear clothes that represent you. Of course it's good to take inspiration from other sources, but don't just blatantly copy other peoples' style. Make it about you!"
What are your favorite fashion trends right now? "I totally love the metallic trend that is currently on the rise, but my all time favorite[s] are band shirts."
Do you have any favorite fashion designers? If so who? "That's easy. Diesel's design was always my favorite. I used to think that the brand was out of my league, so I never went shopping there until I moved to Vienna. Since then I can't take my hands off of their clothes."
Do you have any unique hobbies or interests? "I love to travel around the world. [Some of the] places I've been to are Tokyo, New York, Chicago, and Canada but my biggest dream is to go to Scotland. Maybe one day! I'm also writing a blog but that's evolved into my work rather than being a hobby."
Tell me about your blog. "I started The Xed around 2012. It took a long time to figure out where I wanted to take it. Now I settled for what I love and that is fashion and music."
If you could raid anyone's closet, who would it be and why? "The singer 'Skin' form the band Skunk Anansie. Her style is drop dead gorgeous. She can rock edgy black clothing like no one else and [was one of the first to bring back] the metallic trend."
Elements of Iris's Outfit
1. Leather Bag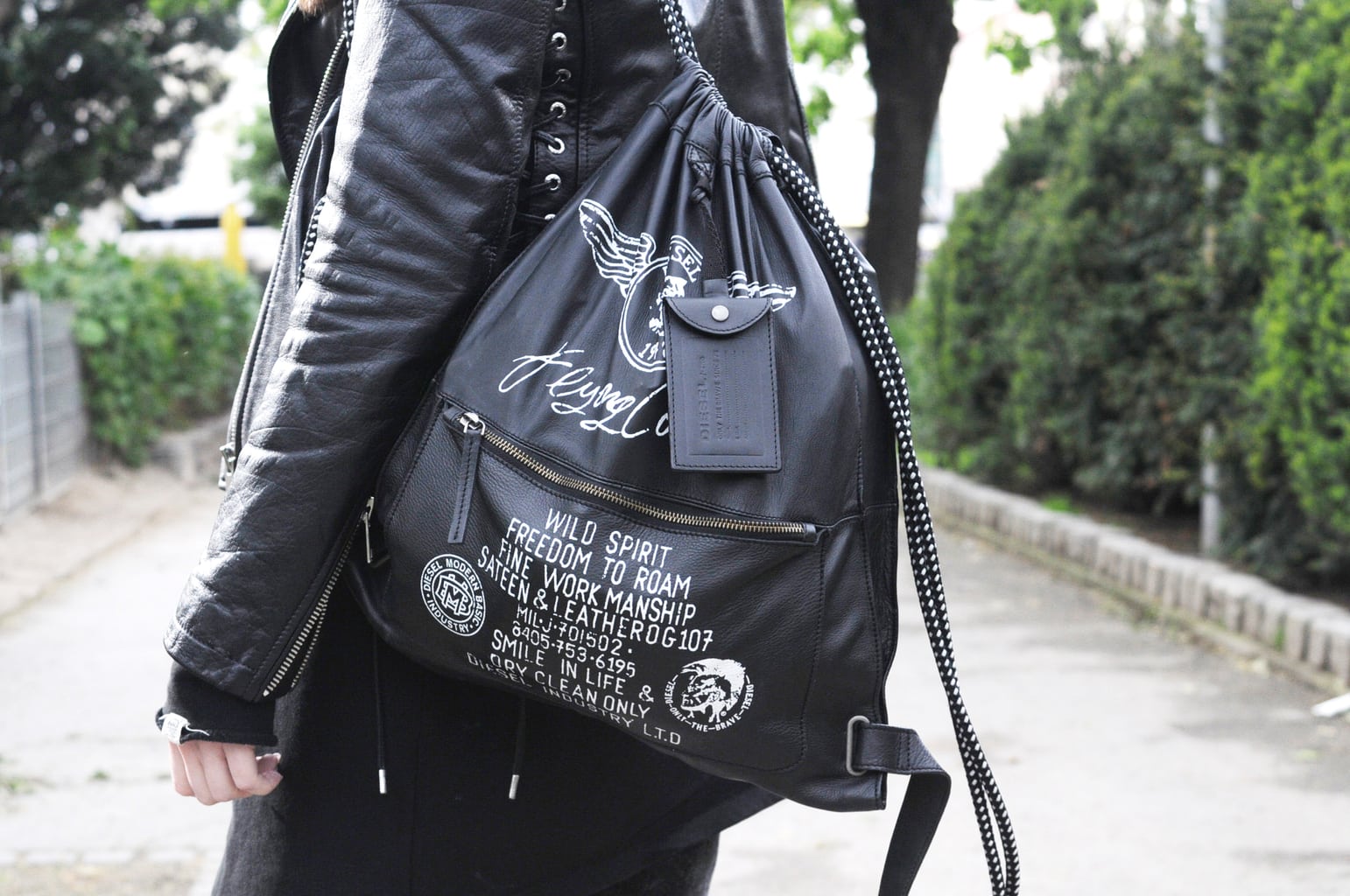 Iris's leather drawstring backpack is edgy yet practical. It has enough space for Iris's daily essentials, while adding visual impact to her look. The white font and small details separate it from the other backpacks you'd see on campus.
2. Maroon Doc Martens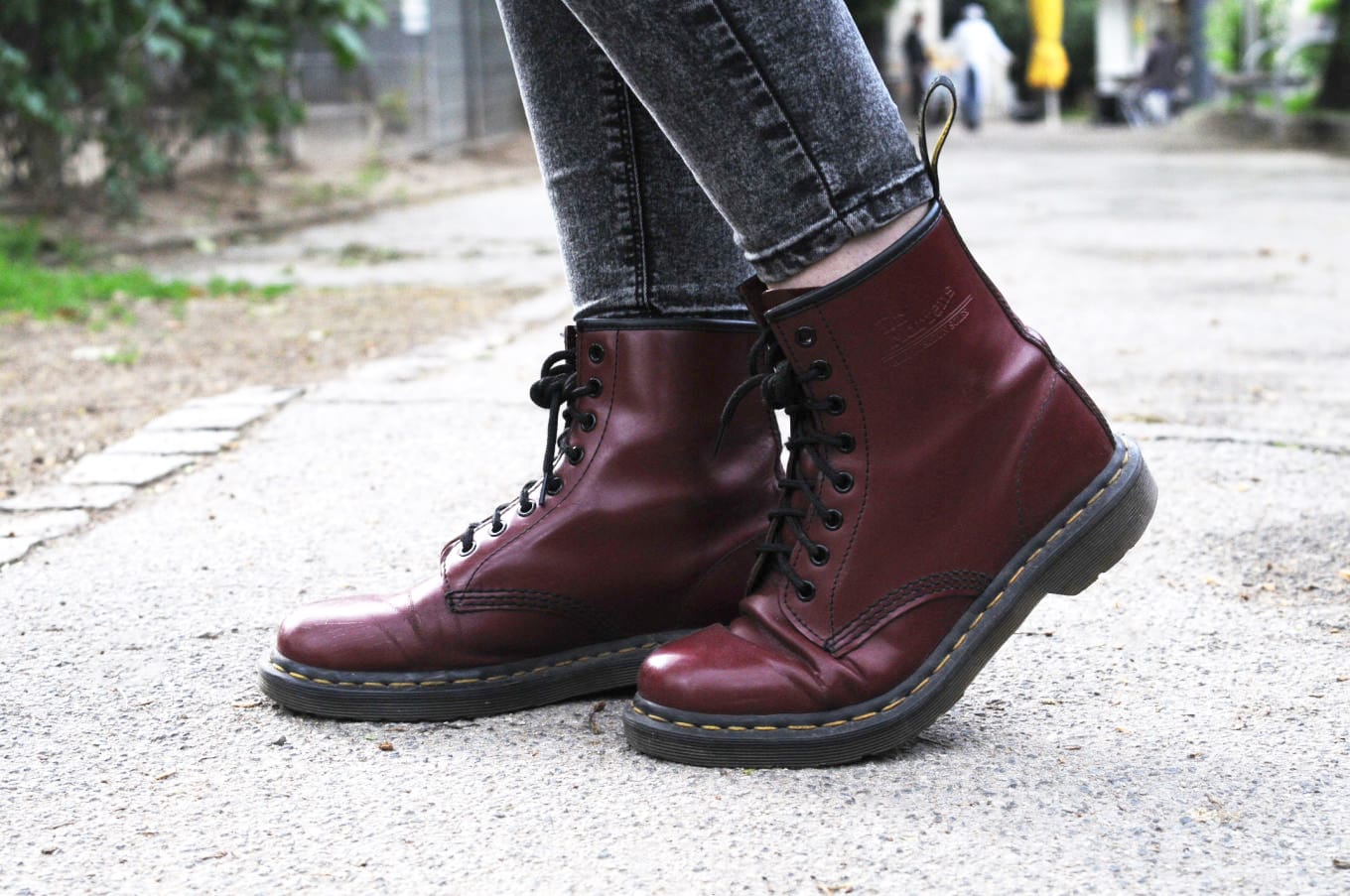 There is no shoe that makes a bigger statement than a pair of good old Doc Martens. These burgundy Docs are a fantastic staple element that likely look great with everything in Iris's closet.
3. Name Your Choker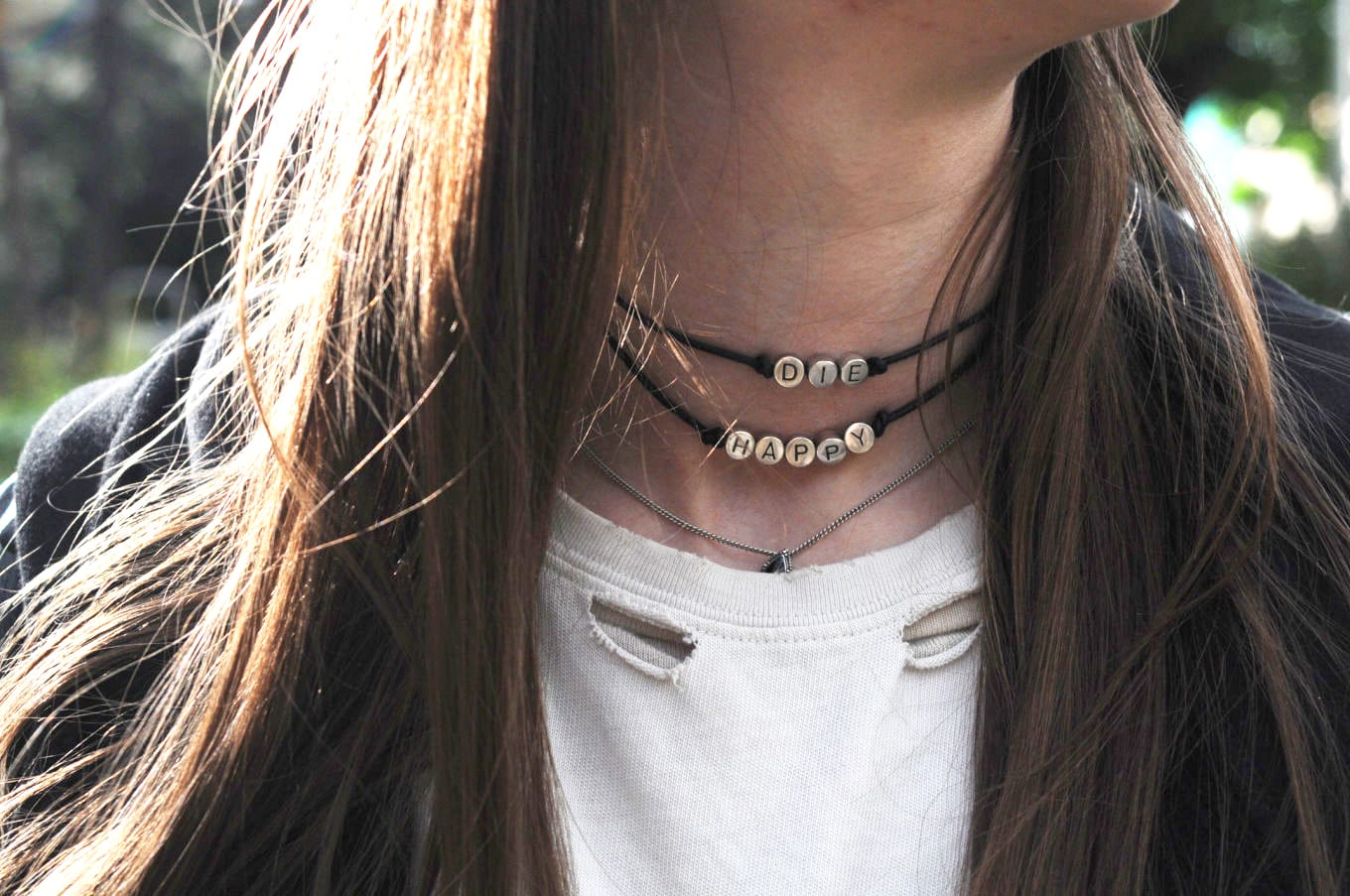 Iris made her own necklace and it's most certainly a crucial element to her look. Her homemade "Die Happy" choker necklace expresses her personality and life philosophy. When layered or worn alone, it's easy to see how this on-trend accessory could steal the show.
4 Band Shirts Rock!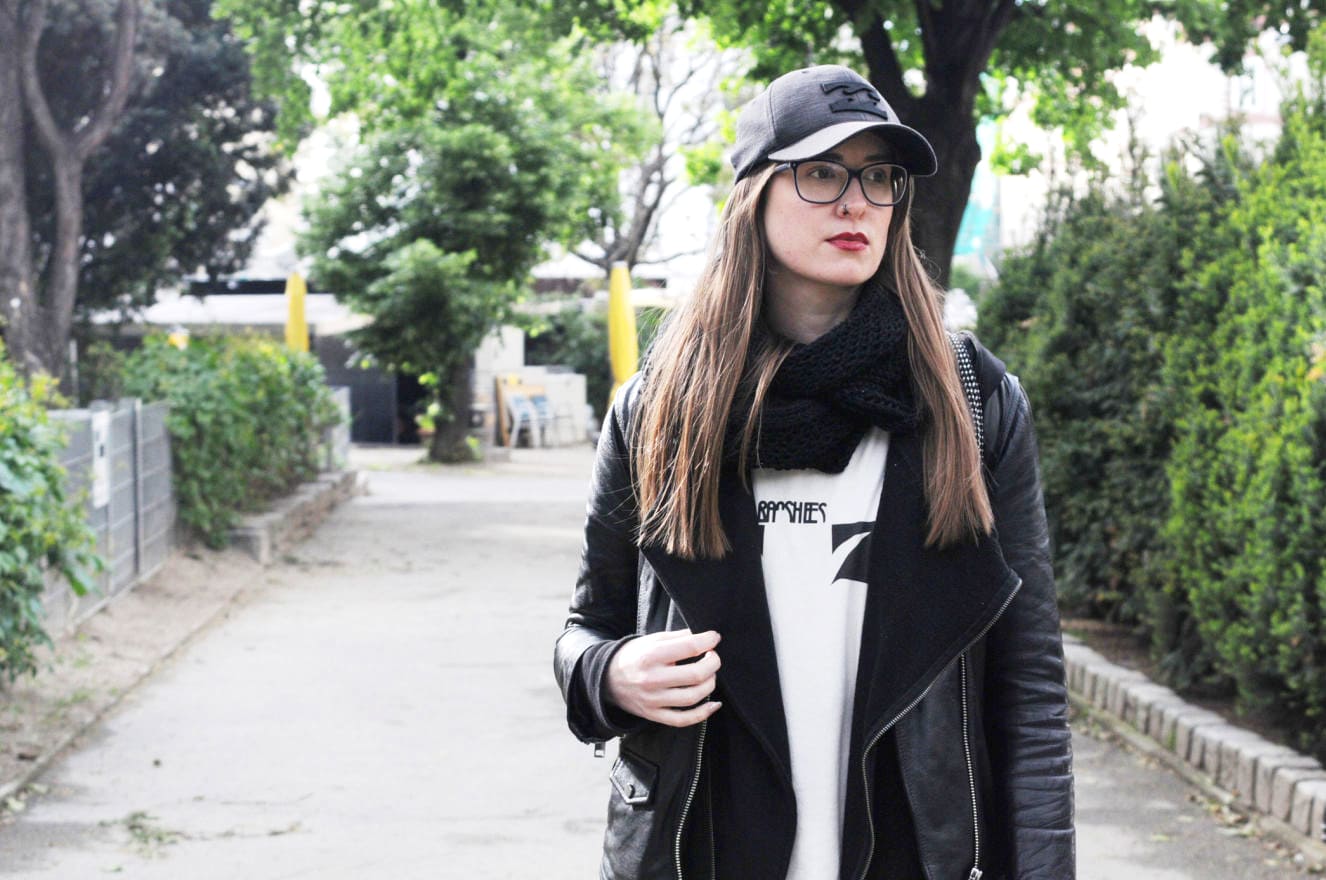 Iris's laid-back look is complete with a band tee and her well-fitted leather jacket. From the zippers to the pockets, her jacket's style is flawless grunge.
Do you love Iris's style?
Do you wear edgy clothing? Would you ever rock maroon Doc Martens? Let us know in the comments!