Here in England the days are getting frostier, our clothes thicker, and the leaves more crisp. I couldn't be more excited to see Oxford in the winter; think cozy scarves, boots, and hats galore. What I was not expecting however, was this exquisite winter coat draped over such an optimistically sunny outfit, worn by the lovely Hannah. Is it too much to hope that spring has come early?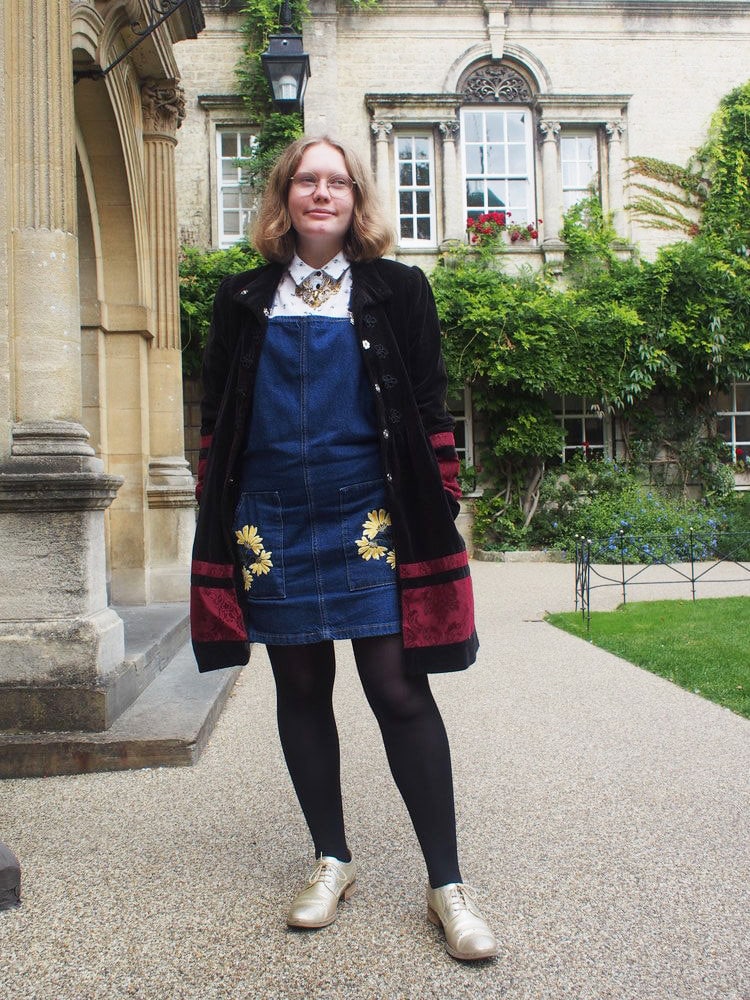 Hannah 101
Name: Hannah
Hometown: Cardiff, Wales
School: Hertford College, University of Oxford
Year: Second Year
Major: History
Let's Talk Fashion
Who or what inspires your style? "I experimented with my current style first when I was forced to wear 'work style' clothing for Sixth-Form. I found myself really enjoying having to dress smartly and I pushed the boundaries of work style and smart casual the whole time I was there. I added in more color and patterns than they perhaps expected, but [I] got away with it. I also tend to try [to] add things to my wardrobe that fit looks that I have admired from seeing people around my area, in magazines, or on TV."
Where do you like to shop? "I don't often go shopping so when I do, I tend to pop in to every fashion shop that I pass in the centre of Cardiff. My usual haunts include Topshop, Primark, Peacocks, and the Joe Browns website to look for their amazing coats."
How would you describe your sense of style? "Slightly old fashioned, but always made to look quite modern and youthful too. I really like dressing smartly, even on my lazier days."
What fashion advice would you give to other students looking to improve their style? "Ignore labels. Only choose clothing that you really like. Usually you know more about what will suit you than fashion designers [do] – but that doesn't mean you shouldn't admire and aim to emulate or buy their looks if you like them too!"
What are your favorite trends right now? "I'm in love with autumnal and spring fashion, such as cozy striped jumpers and pretty embroidered pinafores and skirts."
Do you have any favorite fashion designers? If so, who? "Not really. To be honest, most of my time looking at designer clothing is spent in envy of the ties and shirts available from men's tailors."
What do you do for fun – do you have any unique hobbies or interests? "I'm currently trying to write a short film. There's a big student film community in Oxford and I really want to make the most of the opportunities it offers. I'm going to work as a runner for a student short film shoot soon and I can't wait to finally get some on set experience."
If you could raid anyone's closet, who would it be and why? "Probably either Sandi Toksvig or Richard Ayoade. I love both of their unique styles… especially their patterned shirts! I doubt I'd be able to suit much more of their style other than the shirts though."
Why did you choose this outfit today? "It's a bit of a late – or early?! – spring look, which I chose because the weather is just on the cusp of changing and I always get a spring-like feeling from the interspersed bouts of sun and rain. The coat is my absolute favorite from my coat collection, as it was one of the first things I ever bought with my current style in mind, and really is a symbol of me making that change from wearing basically anything that fitted to trying to show some of my personality through what I wore. The bee patterned shirt does just that as I love bees and I like having an easy way [of] expressing my passion for their protection, [which is] something I do whenever anyone comments on the shirt. I bought the necklace as it reminds me of Hertford College's crest. Finally, the shoes show my love for brogues – which I promise does also extend to the more traditional, non-metallic look!"
Elements of Hannah's Outfit
1. Metallic Oxfords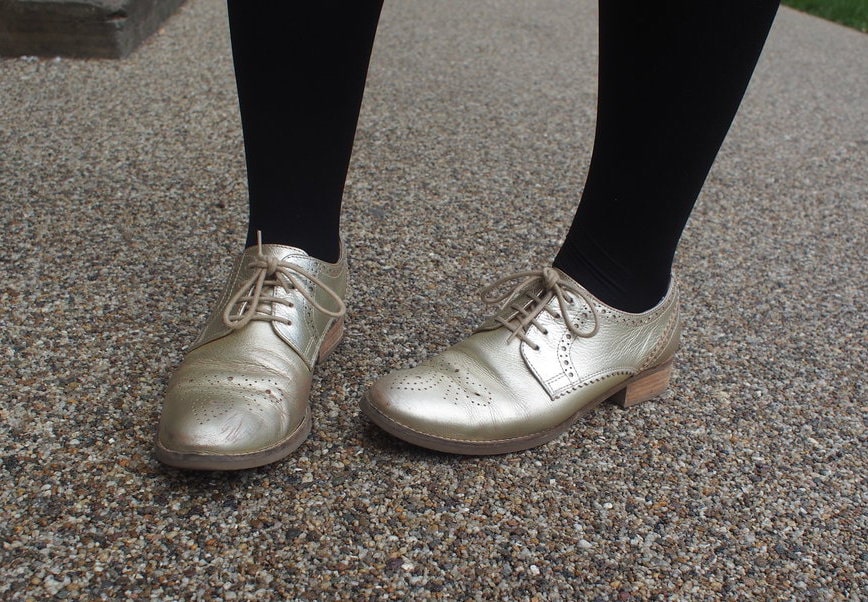 If I could steal one piece of Hannah's outfit, it would be these metallic brogues. She pairs them with black tights so they pop. These statement shoes could be worn with anything in her closet.
2. Glasses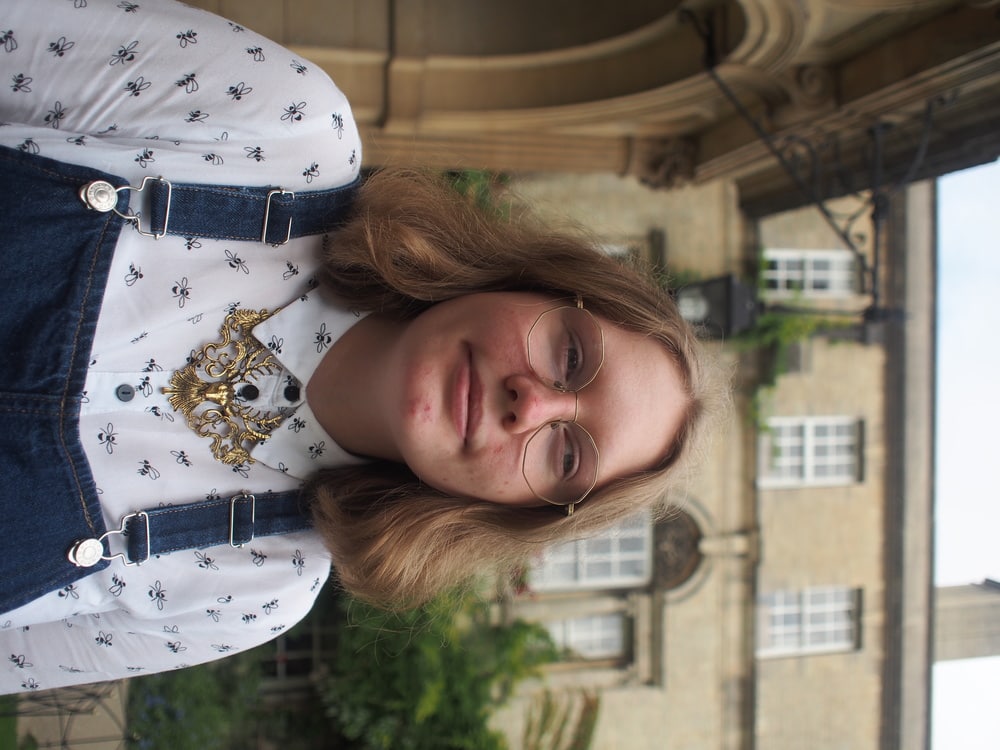 These golden frames match Hannah's jewelry and frame her face well. If you pay close attention, you'll notice the round frames are actually decagons!
3. Jumper + Shirt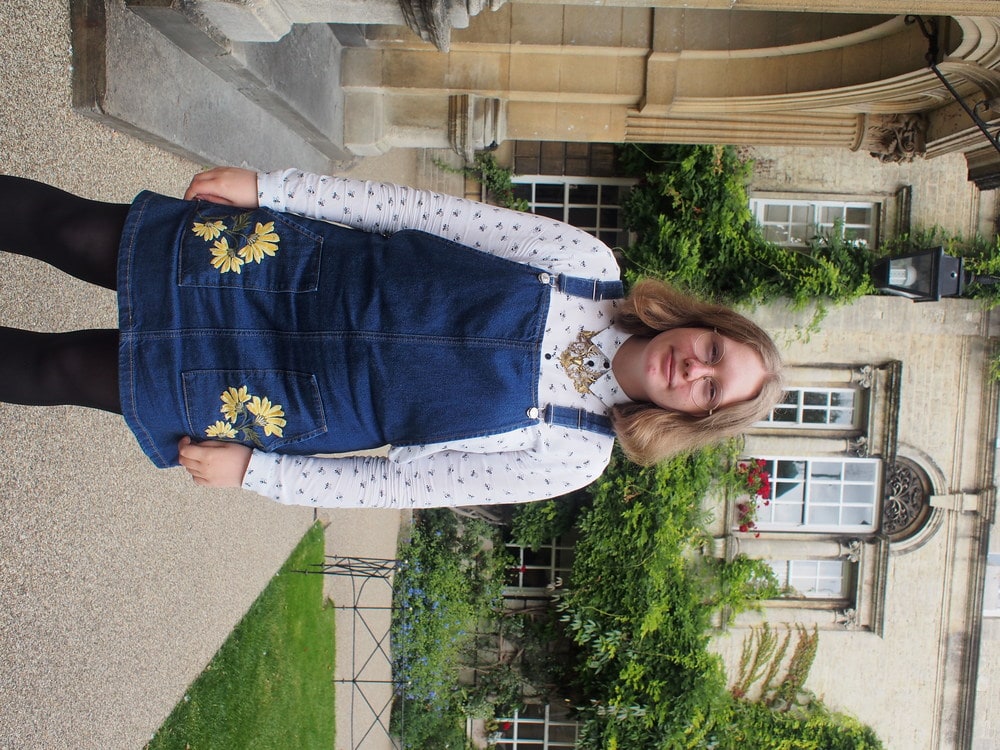 Hannah's spring theme boils down mainly to the bee patterned button-up and flower embroidery on the pockets of this denim Topshop jumper. Two unique items that fit together like sunshine on a spring day.
Now we want to know your thoughts!
Do you love Hannah's springtime inspired style? Would you wear her look? Let us know below in the comments.