Georgia, a student studying abroad here at West Virginia University, was spotted wearing a chic, London-flavored look.
We met while she was carefully crafting her sewing samples in the design room. It's clear she has a love for fashion and pays attention to detail. Her entire aesthetic reminded me of an off-duty model! This monochromatic ensemble is one look you'll not want to miss.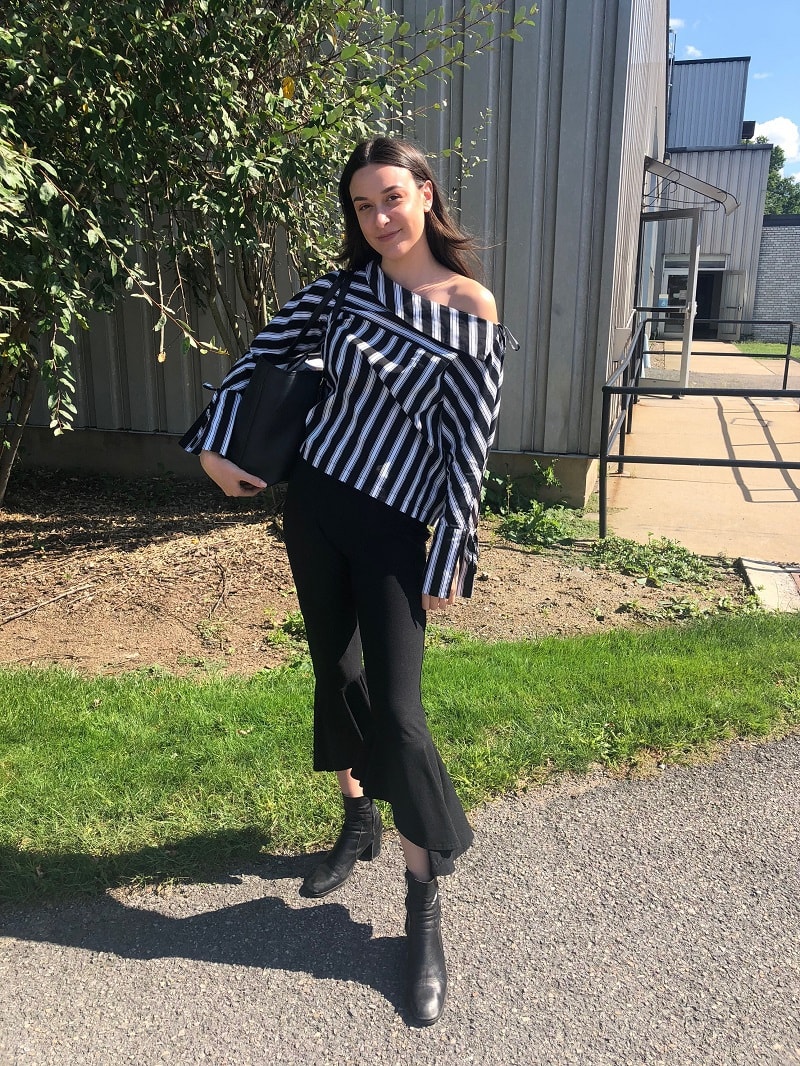 Georgia 101
Name: Georgia
School: West Virginia University
Major: Fashion, Dress, and Merchandising
Year: Junior
Hometown: Wales, United Kingdom
Let's Talk Fashion
Who or what inspires your style? "I tend to follow a lot of trends that I see on Instagram and other social media. I am a big fan of Victoria Beckham. I would say those are the two [things] that influence my style the most."
Where do you like to shop? "I like to do a lot of shopping online and in stores. Some of my favorites include Zara, Pretty [Little] Things, Forever 21, and Topshop."
How would you describe your style? "I would definitely say I have a monochromatic wardrobe. You could label my style as business causal. I really love a black and white combination. My outfits tend to resemble the outfit I am wearing today… the fun cuts and structures."
Why did you choose this particular outfit? "I chose this outfit because black and white are two of my favorite colors. I also chose this outfit because it didn't need to be ironed… [it's] quick and easy to get ready for an early morning class! I went for a business casual look with a monochromatic color scheme. I love the boots from Zara, which I really feel completed it as a whole."
What advice would you give to other students looking to improve their style? "If anyone is looking to expand or organize their wardrobe, I suggest sticking to about three colors maximum, including denim. It'll be easier to come up with outfits. Another tip would be to pick out your clothes the night before and iron them too."
Do you have any favorite trends? "One of my favorite trends is wide-leg pants or cut trousers. Honestly, I am drawn to anything that has to do with trousers."
Do you have any favorite fashion designers? "I love Balmain and Alexander Wang."
What do you do for fun? Do you have any unique hobbies or interests? "I like to do the usual: travel and hang out with friends. Studying abroad this year is really cool and I have made a lot of connections at the university. I enjoy sewing… that is something that is not as common!"
If you could raid anyone's closet, who would it be? "I would probably raid any of the Kardashians, maybe Kim Kardashian's or Kendall Jenner['s]."
Elements of Georgia's Outfit
1. Asymmetrical Blouse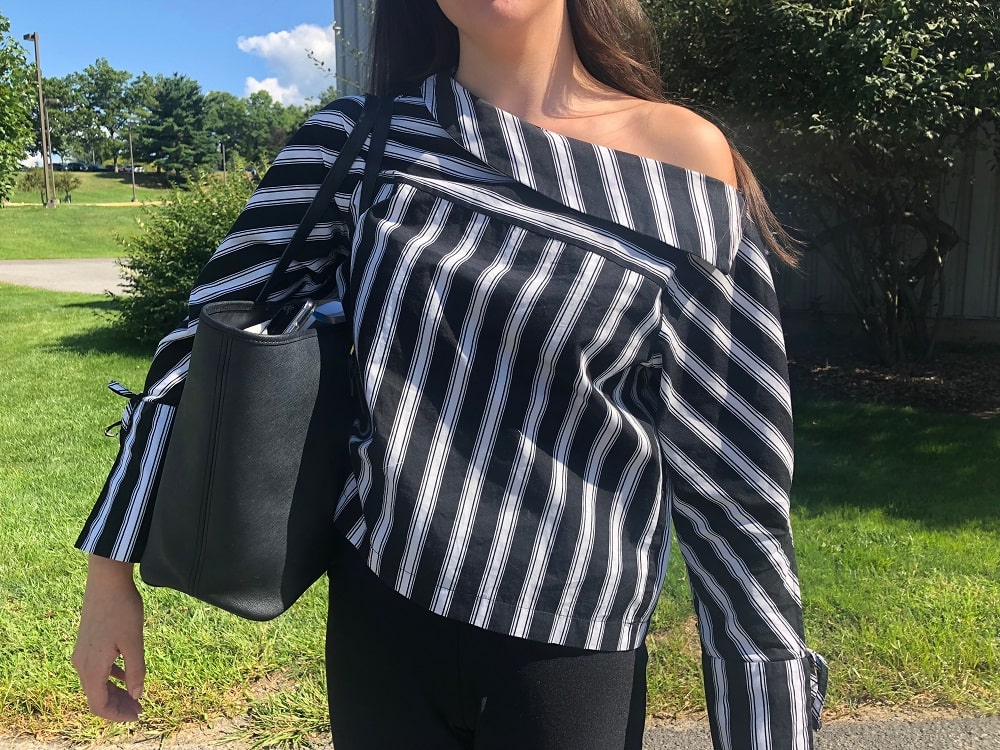 Georgia's bold blouse from Topshop stands out. There's a lot going on: it's off-the-shoulder, the stripes vary in direction, it's asymmetrical, and the sleeves have wide cuffs. That said, all these details work together and, since she kept the rest of the outfit neutral, this shirt steals the show.
2. Cropped Trousers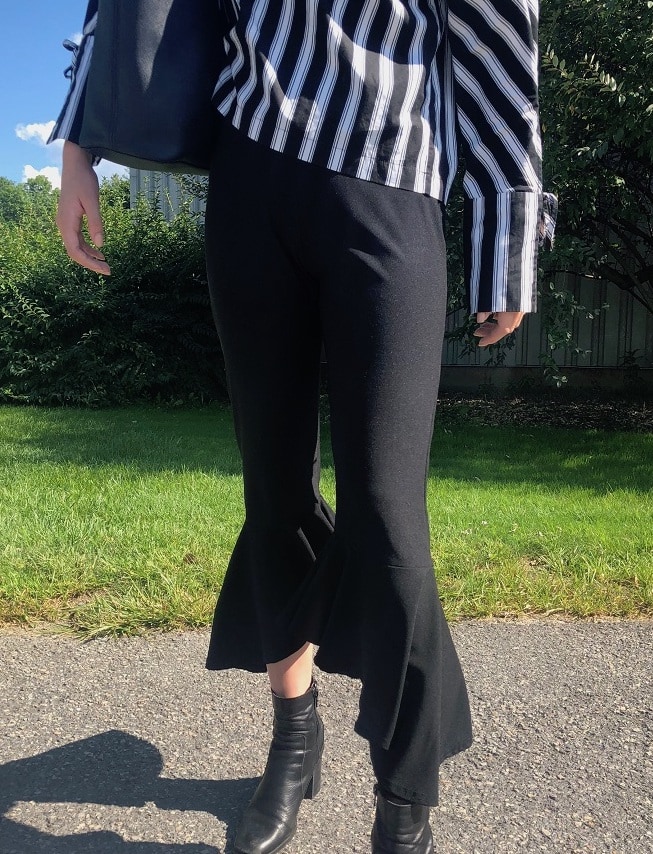 A business casual look doesn't have to be boring, and Georgia's self-proclaimed love of trousers really shines here. These black pants fit her flawlessly and have an attention-grabbing added flare at the bottom.
3. Black Boots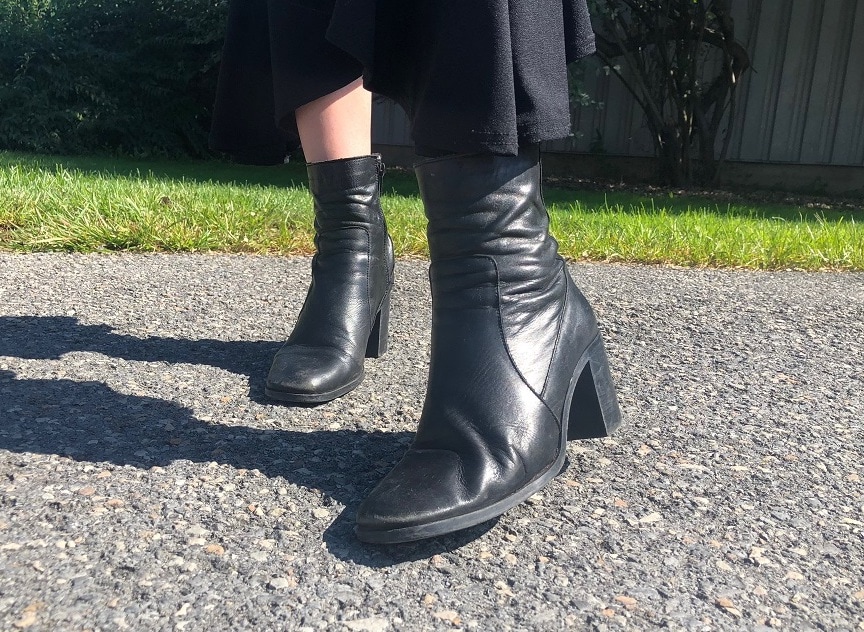 These chunky heeled black ankle booties will be wonderful as temperatures begin to drop this fall. They are ideal for busy days on campus and versatile enough to go with practically anything in Georgia's closet.
Now we want to know what you think!
Are you inspired by Georgia's UK style? Would you wear her unique top? Let us know in the comments!