As Jessie strides into the Human Ecology building, all eyes turn to catch a glimpse of her expertly styled athleisure-chic ensemble. She looks like a New York City fashion blogger and she's halfway there with the creation of her new "Better in Black" style blog. Even the iced Starbucks mocha she held when I approached her added to the aesthetic she was rocking.
Remember Jessie's face, as she's about to go from midwestern fashion student to big city style blogger. Even though she is thriving in her own closet, Jessie's parting words were that she hoped to motivate others to explore new fashion ideas in their own wardrobes. Consider me inspired!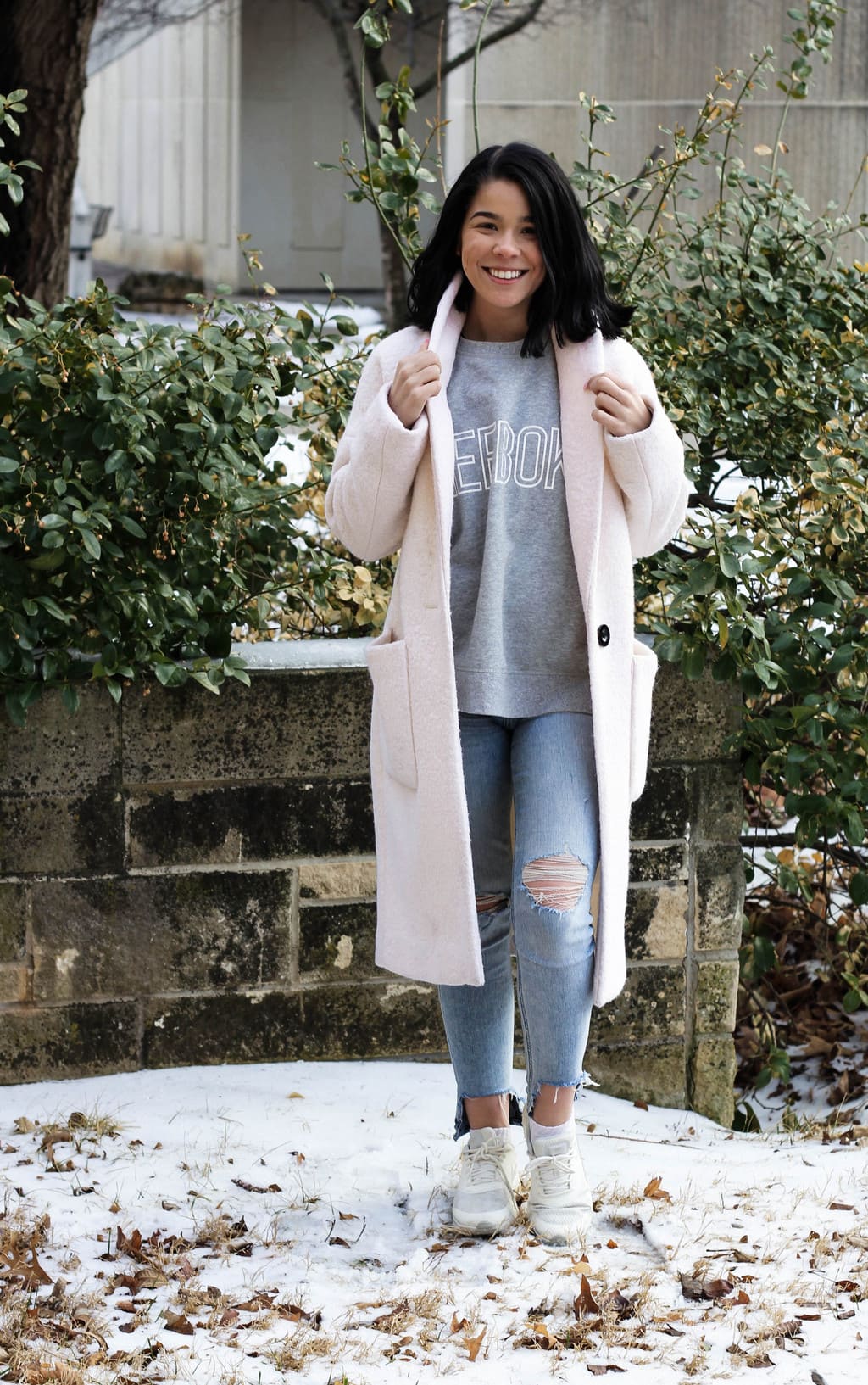 Jessie 101
Name: Jessie
College: Kansas State University
Year: Senior
Major: Dual major in Operations and Supply Chain Management and Apparel Marketing
Hometown: Louisburg, KS
Let's Talk Fashion
How would you describe your sense of style? "My style on an everyday basis consists of basics and athleisure. Because I'm always busy, I don't have a lot of time to get ready, but having basics and neutral pieces makes it easy for me to pair clothes and still look put together."
What fashion advice would you give to other students looking to improve their style? "I would say to invest in pieces that match your brand because they will enhance your everyday outfit and will last you for years."
What are your favorite trends right now? "Right now they would be the chunky sneakers, big sleeves, and the dwarf cat-eye sunglasses."
Do you have any favorite fashion designers? If so, who? "My favorite fashion designer would have to be Chanel because the brand is so iconic. I also love the color black and [Coco Chanel] invented 'the little black dress.'"
Where do you like to shop? "I like to shop at quality, but reasonably priced stores. I get a lot of basics from Express and fun pieces from other online fashion-forward stores. My current online favorite is Farfetch, although I do more browsing than buying from them because they have higher priced designer products."
What do you do for fun – do you have any unique hobbies or interests? "For fun I like to travel, shop, relax, or blog!"
If you could raid anyone's closet, who would it be and why? "It would probably have to be Gigi or Bella Hadid's because they always have so many unique, trendy, high-fashion pieces."
Elements of Jessie's Outfit
1. Reebok Classic Crewneck + Pink Coat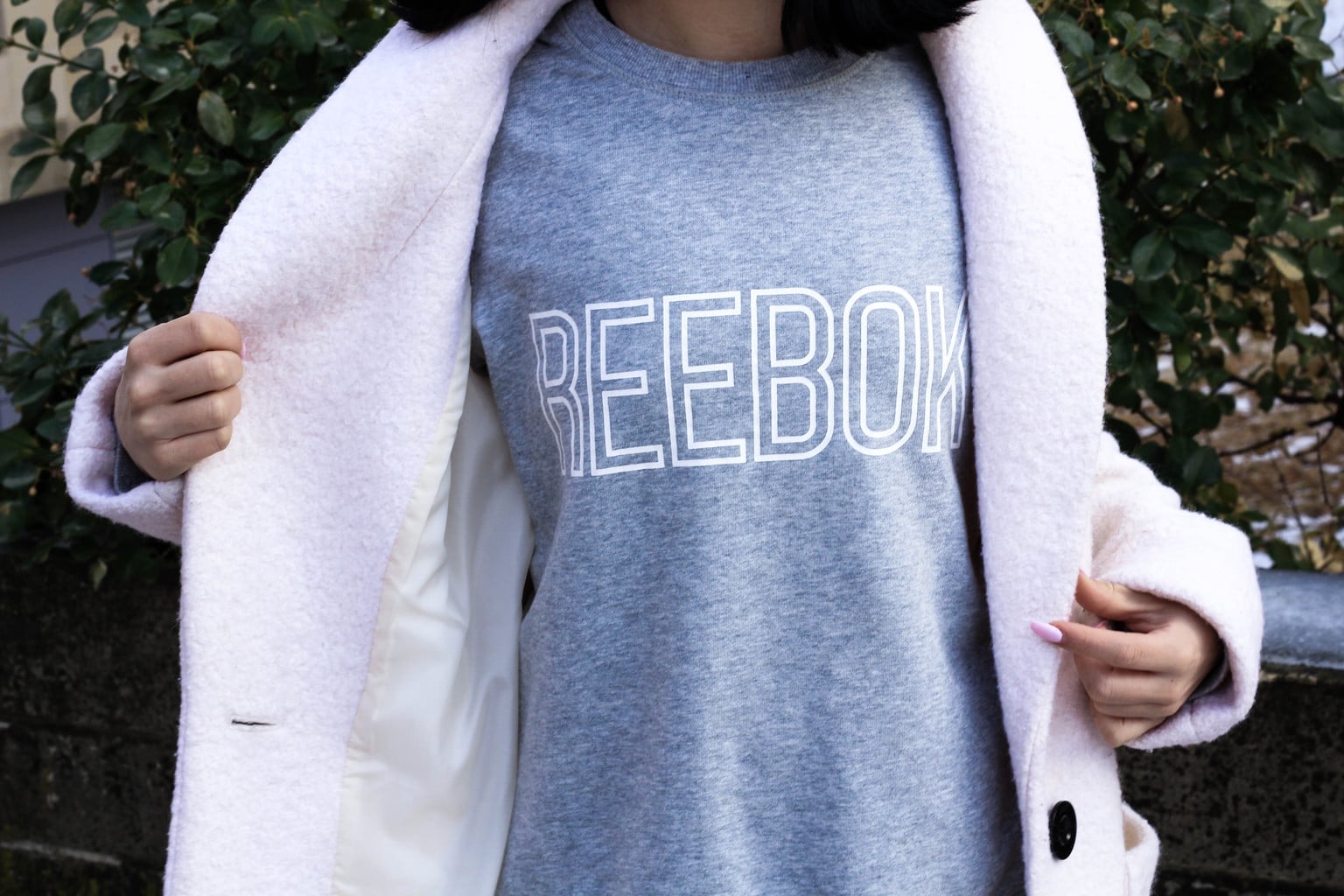 With the latest movement of athletic wear as everyday wear, this Reebok sweatshirt is right on trend. The simple gray and white colors mean there are endless styling possibilities. Jessie's coat adds a touch of pink that pulls the whole outfit together for a crisp and clean look.
2. Metal Ring Belt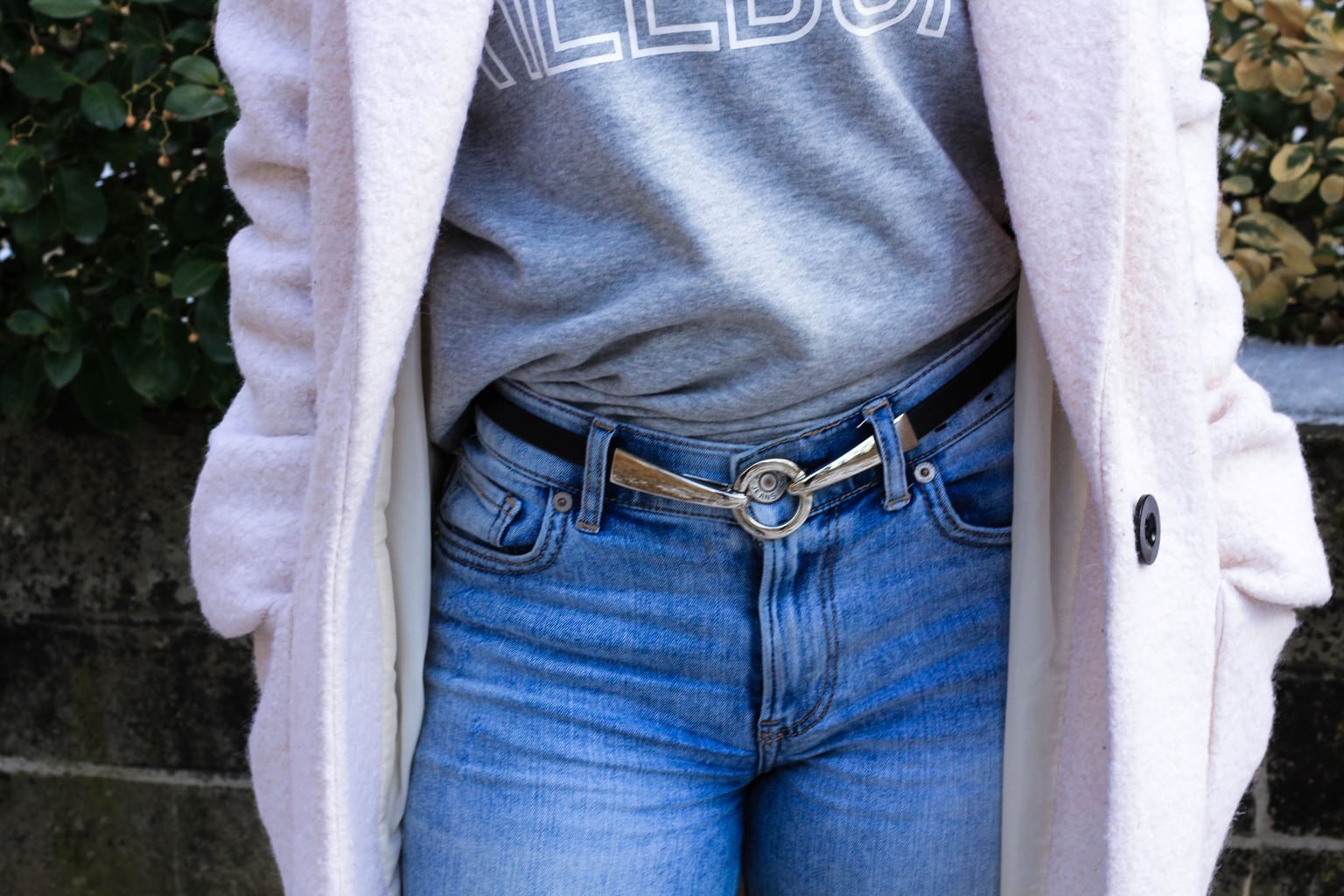 Hidden underneath her oversized pieces is another unique touch, namely a simple skinny metal ring belt. A classic piece like this can be worn with almost anything and shows Jessie's commitment to head-to-toe style.
Are you a fan of Jessie's look?
Are you a fan of athleisure? Would you wear her long, pink coat? Comment below and share your thoughts!