Business casual fashion is not day-to-day wear for most college students, but it certainly is for Leslie. She loves to dress up sleek, yet also look casual.
Today, she matches her black sport coat with a pair of colorful pants. It gives her that smart look without coming across like she is trying too hard. Leslie gives us the kind of inspiration us college students need to put a little bit more effort into our daily style.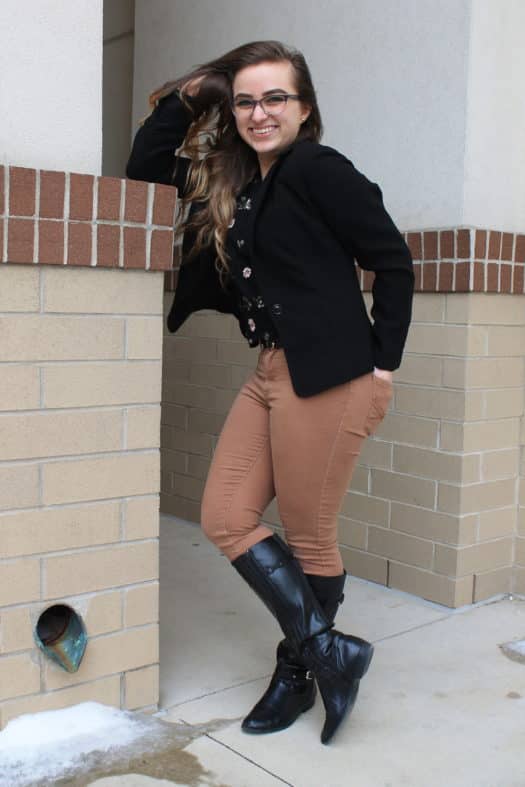 Leslie 101
Name: Leslie
School: Grand Valley State University
Major: Exercise Science
Year: Senior
Hometown: Wyoming, MI
Let's Talk Fashion
Who or what inspires your style? "Pinterest for sure. I get on there quite often and find really cool ideas that I want to try out. Also, TV and commercials and the media. Seeing what others [are wearing] is always inspiring."
Where do you like to shop? "I really like to online shop – I find that I see more styles and pieces of clothing that I am looking for online versus in store. I am obsessed with Nordstrom Rack and their website always has the best pieces."
How would you describe your sense of style? "Causal but business-like. I really want to show people that I care about how I look but at the same time I also want to still feel comfortable and be me."
Why did you choose this particular outfit? "I chose this outfit because I love to wear basic pieces like this sports coat and the black boots, but [I wanted to] add some fun colors and designs like the pants and shirt."
What fashion advice would you give to other students looking to improve their style? "Be comfy and wear what you want. Whatever makes you happy, do it!"
What are your favorite trends right now? "I really like to layer. So for example, I will wear turtlenecks and comfy sweaters and add a scarf to them."
Do you have any favorite fashion designers and if so who? "Versace! Recently I have noticed just how much I like Versace. They have really cool designs but they will pair the crazy designs with a basic piece as well to not go too over-the-top. I feel like that is how I dress… or at least that is how I aspire to dress!"
What do you do for fun – do you have any unique hobbies or interests? "I like to draw and hang out with family and friends. Also, when it's the season for it, I am such a festival-goer. I love Electric Forest."
If you could raid anyone's closet who would it be and why? "Kylie Jenner. I feel like her closet has so many options. She has a lot of different designers in there. She also has crazy colorful stuff and business-like outfits. I would love to go through her stuff."
Elements of Leslie's Outfit
1. Black Blazer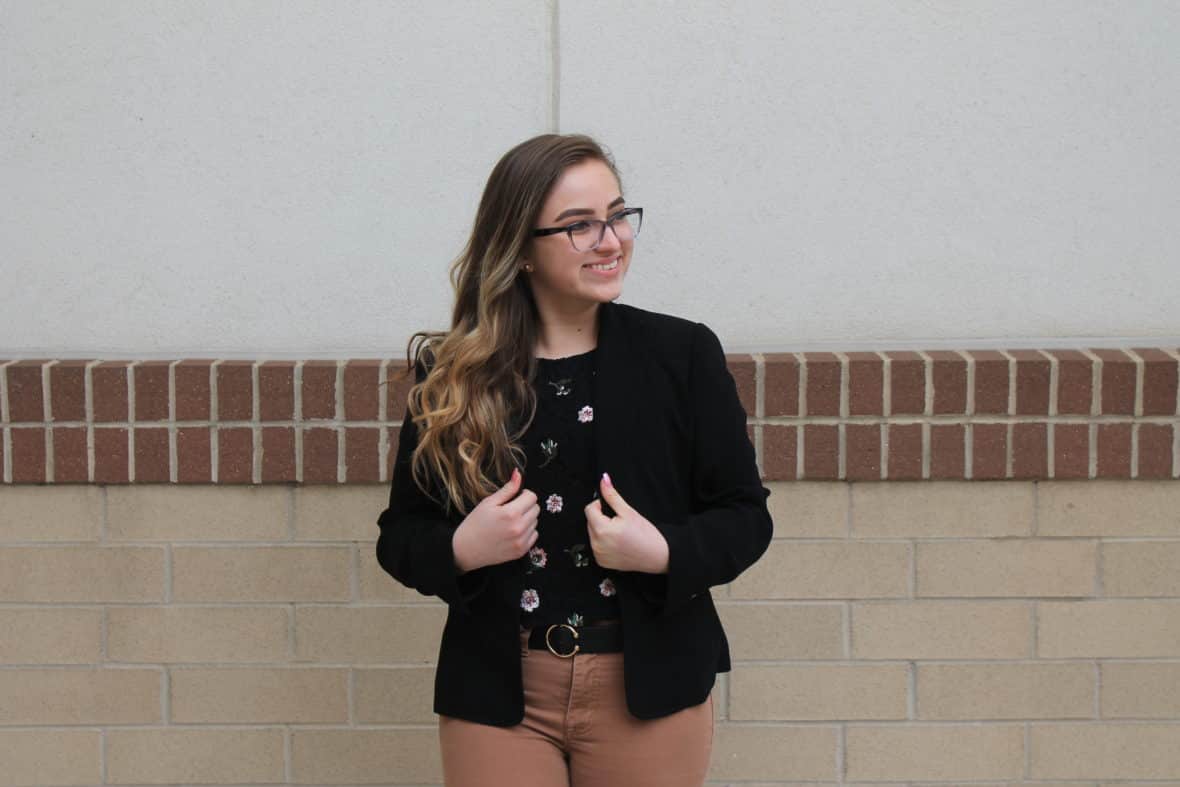 Sporting a nice, fitted sport coat is what Leslie is all about. She's always trying to look business, but not too business. Even if the rest of her outfit is innately casual, wearing a jacket instantly gives her look a step up… and keeps her warm on chilly mornings!
2. Floral Top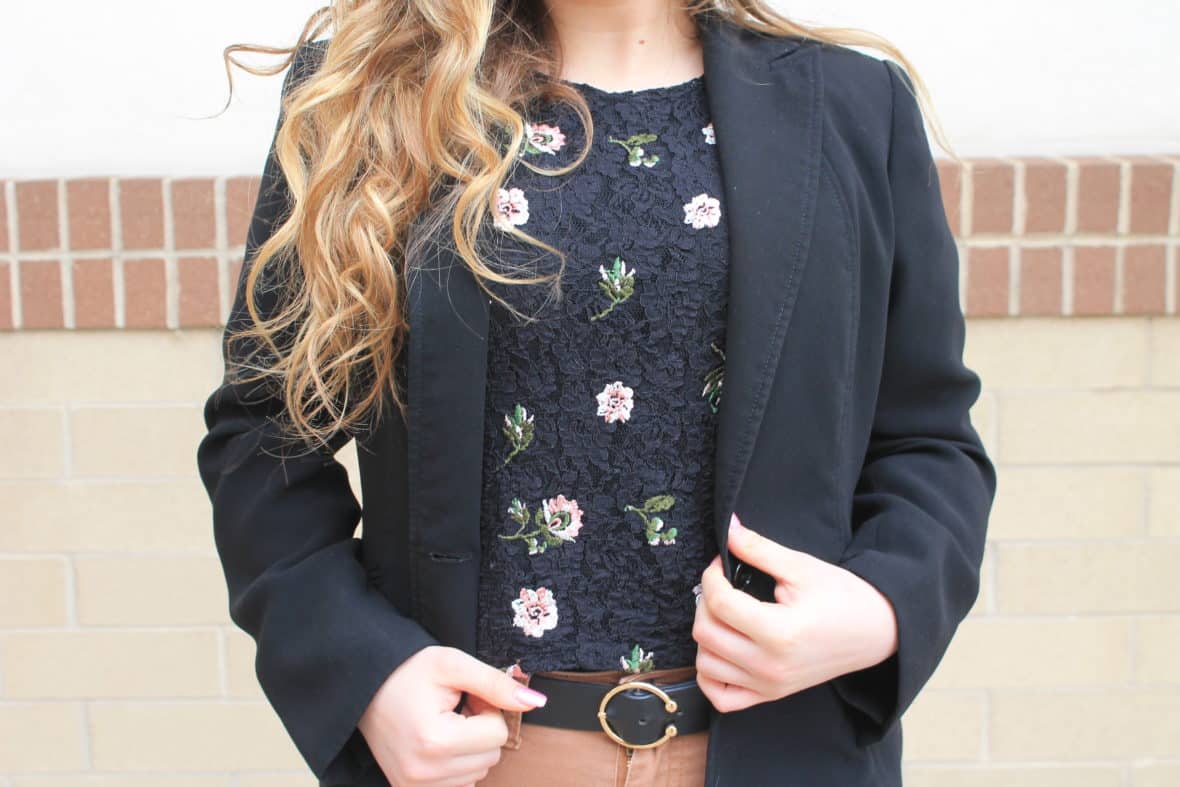 This lace top is a truly unique piece, from the texture to the delicate floral embroidery. Leslie wears it by tucking it into her pants with a simple, black belt.
3. Black Riding Boots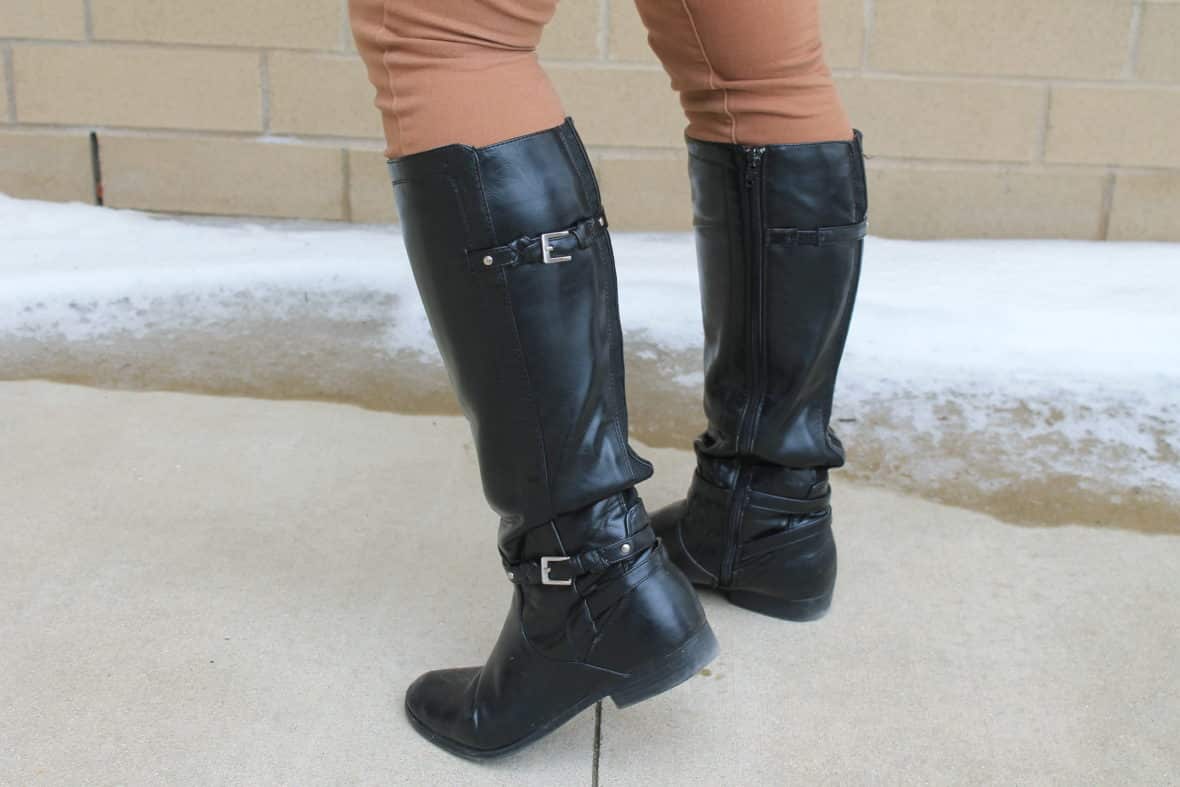 A go-to pair of black riding boots is a necessity for any college girl. They are versatile and work for all types of events. Leslie's pair have simple buckles on them to add a little extra glint of shine to her style.
What do you think of Leslie's look?
Would you wear her outfit? Do you love her blazer? Comment below and share your thoughts with us!