November is here but the weather still hasn't been able to make up its mind. When I saw Hannah and her outfit, I loved not only how perfect it was for the odd transitional weather, but also how adeptly she mixed different textures in her look to create an outfit with nods to both the '90s and the '60s.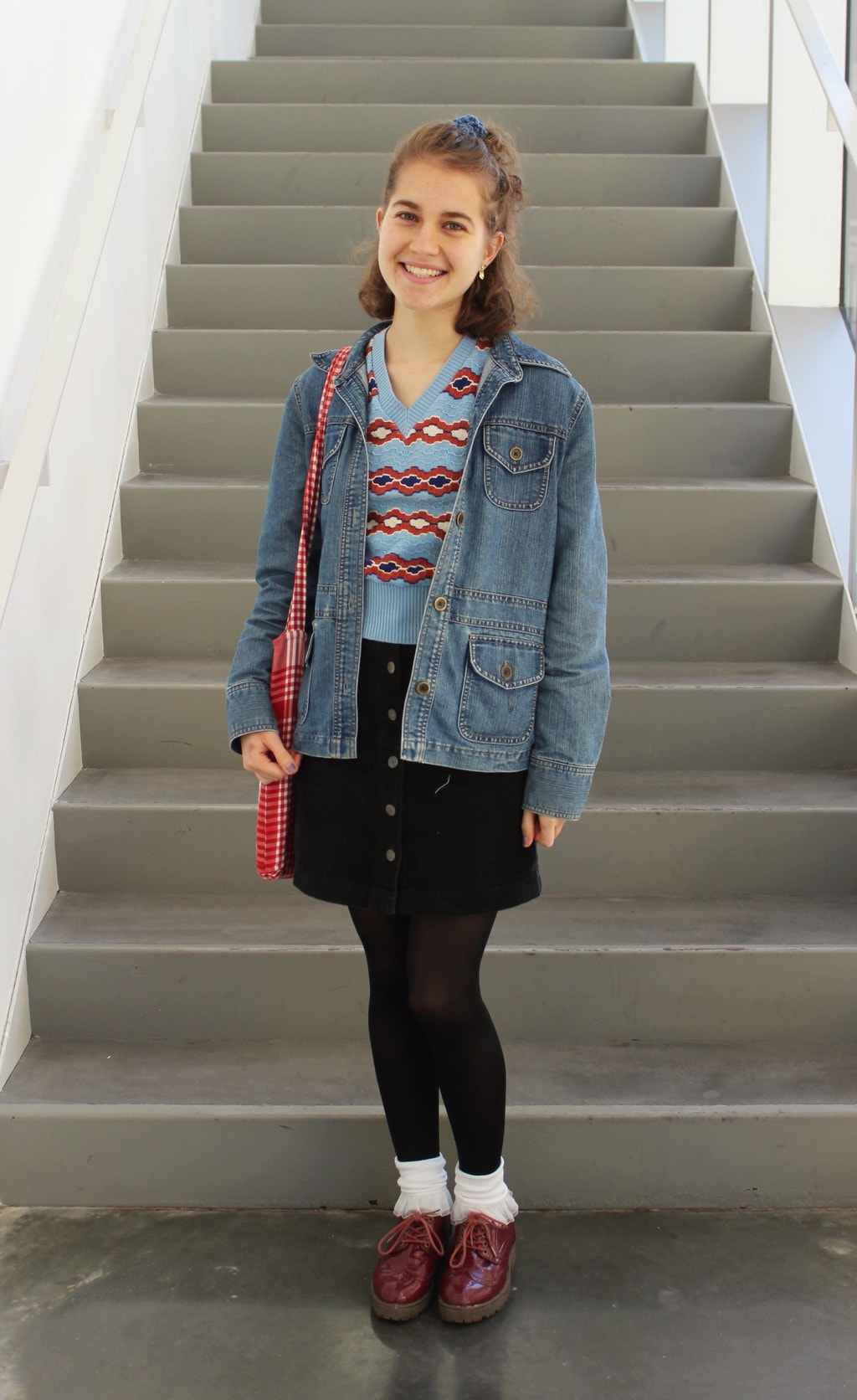 Hannah 101
Name: Hannah
Major: Math
Hometown: Cleveland, OH
Year: Sophomore
College: Barnard College at Columbia University
Let's Talk Fashion
Where did you get the pieces you are wearing? "I got my shoes and skirt from a secondhand store back home. The sweater has a cool story. A warehouse of vintage '60s [and] '70s unworn knitwear was found in Cleveland this summer and sold at a pop-up shop for a couple months… once they removed all the mothballs etc.! I found a few cool pieces there."
Who or what inspires your style? "Lately, I've been trying to channel Lizzie McGuire or the protagonist of any '90s chick flick. Or even the cool sidekick friend."
Where do you like to shop? "I love thrift shopping [and] secondhand shopping, and I get a lot of basic pieces from places like Forever 21 or Old Navy."
How would you describe your sense of style? "Retro, casual, sparkly, with an occasional splash of librarian."
Why did you choose this particular outfit? "Skirts and tights are one of my default moves for cooler fall weather like we've been having lately, and I was just really excited about this sweater."
What fashion advice would you give to other students looking to improve their style? "Wear things you truly like and feel confident in."
What are your favorite trends right now? "I love all things jean, turtlenecks, and stripes."
Do you have any favorite fashion designers? "I don't really follow fashion designers."
What do you do for fun – do you have any unique hobbies or interests? "I love writing sketch comedy, trying new recipes, and lately have been watching a lot of Seinfeld… does that count as an interest?"
If you could raid anyone's closet, who would it be, and why? "Cher from Clueless without a doubt. Mostly for the clothes, but also for the high-end wardrobe technology."
Elements of Hannah's Outfit
1. Scrunchie Half-Up-Half-Down Look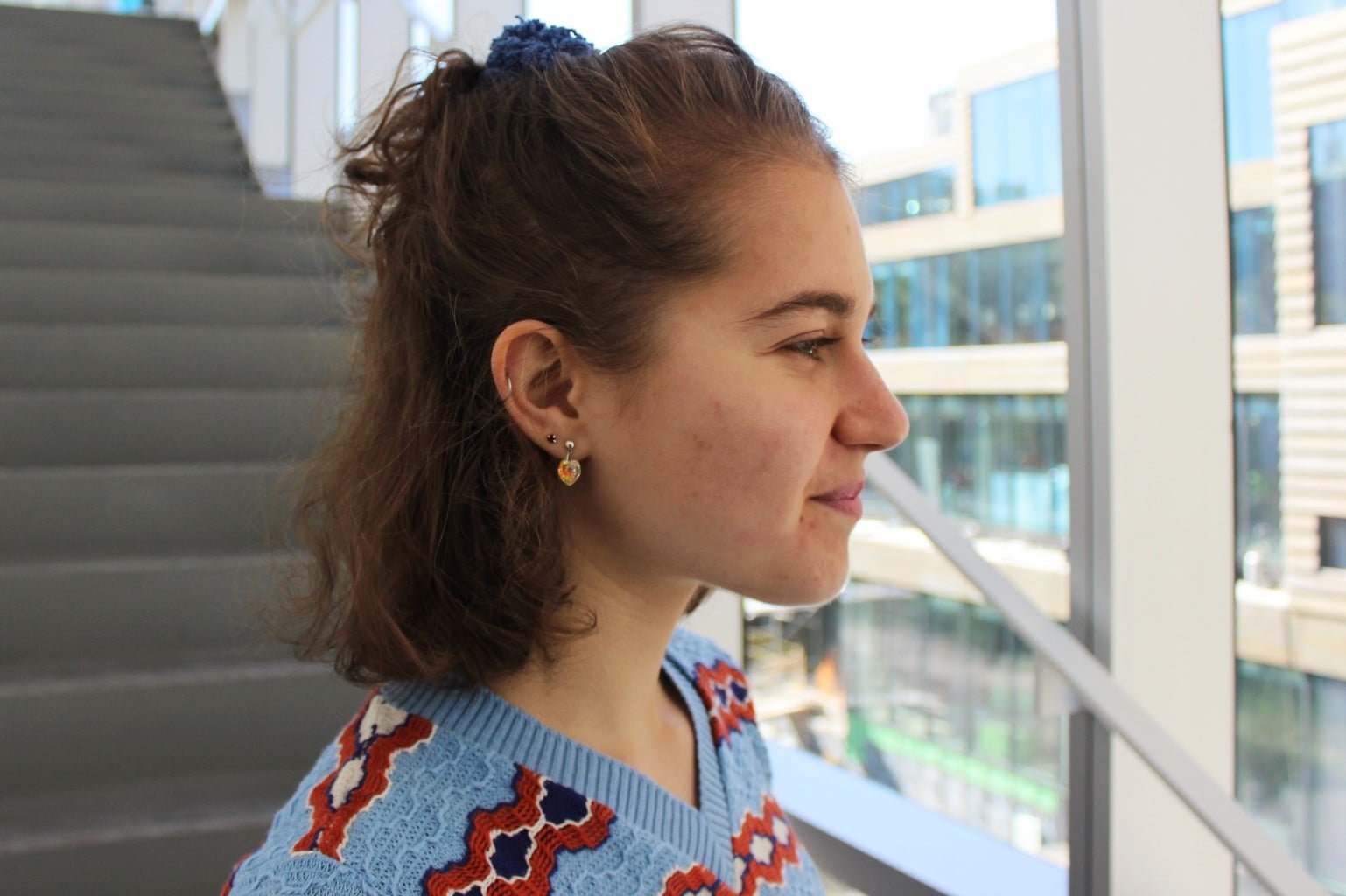 Hannah's scrunchie is so cute and it totally fits with her 1990s girl vibe. The half-up-half-down look is a wonderful way to try out this once-reviled, now beloved hair accessory.
2. Retro Sweater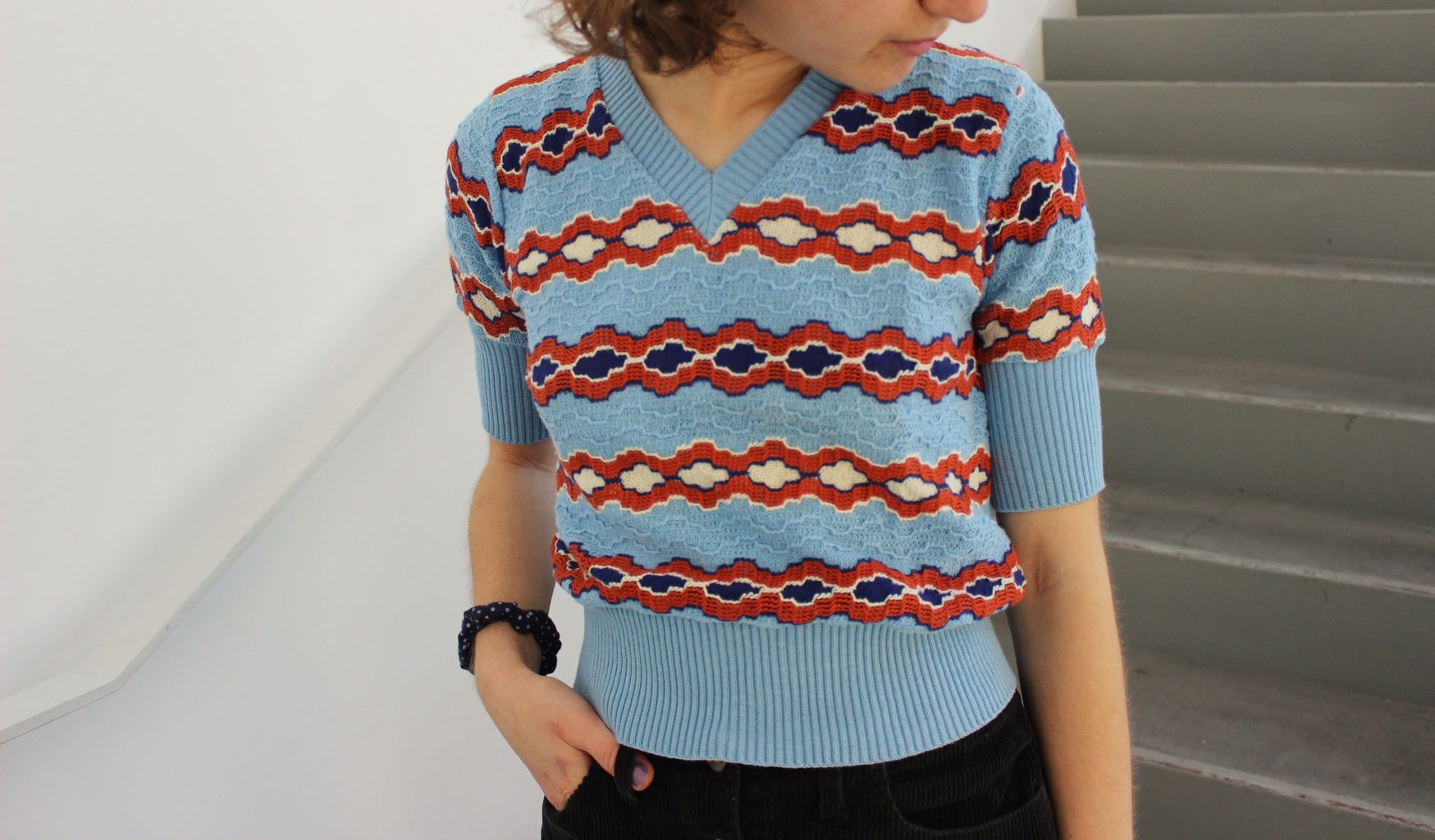 I still can't get over how Hannah just stumbled across this steal of a vintage sweater! It looks like it could be worn on the set of Happy Days, Laverne & Shirley, or any other classic TV show from that era.
3. Grunge Shoes with Lace Socks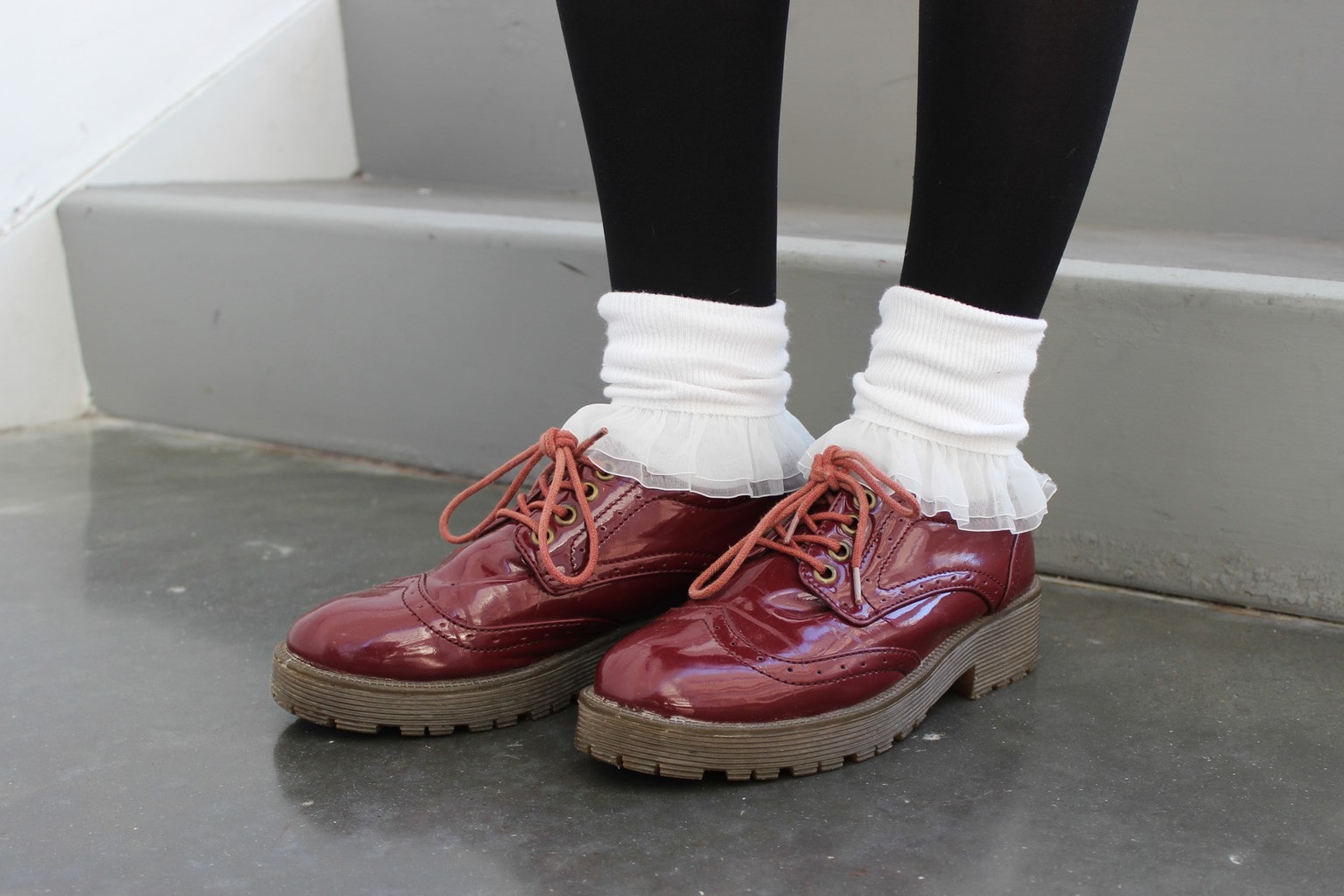 Hannah's shoe-sock combo first drew me to her outfit because I love the juxtaposition of her frilly socks next to the edgy style of her burgundy oxfords. We all had these socks as kids; I think Hannah proves we should bring them back!
4. Gingham Tote Bag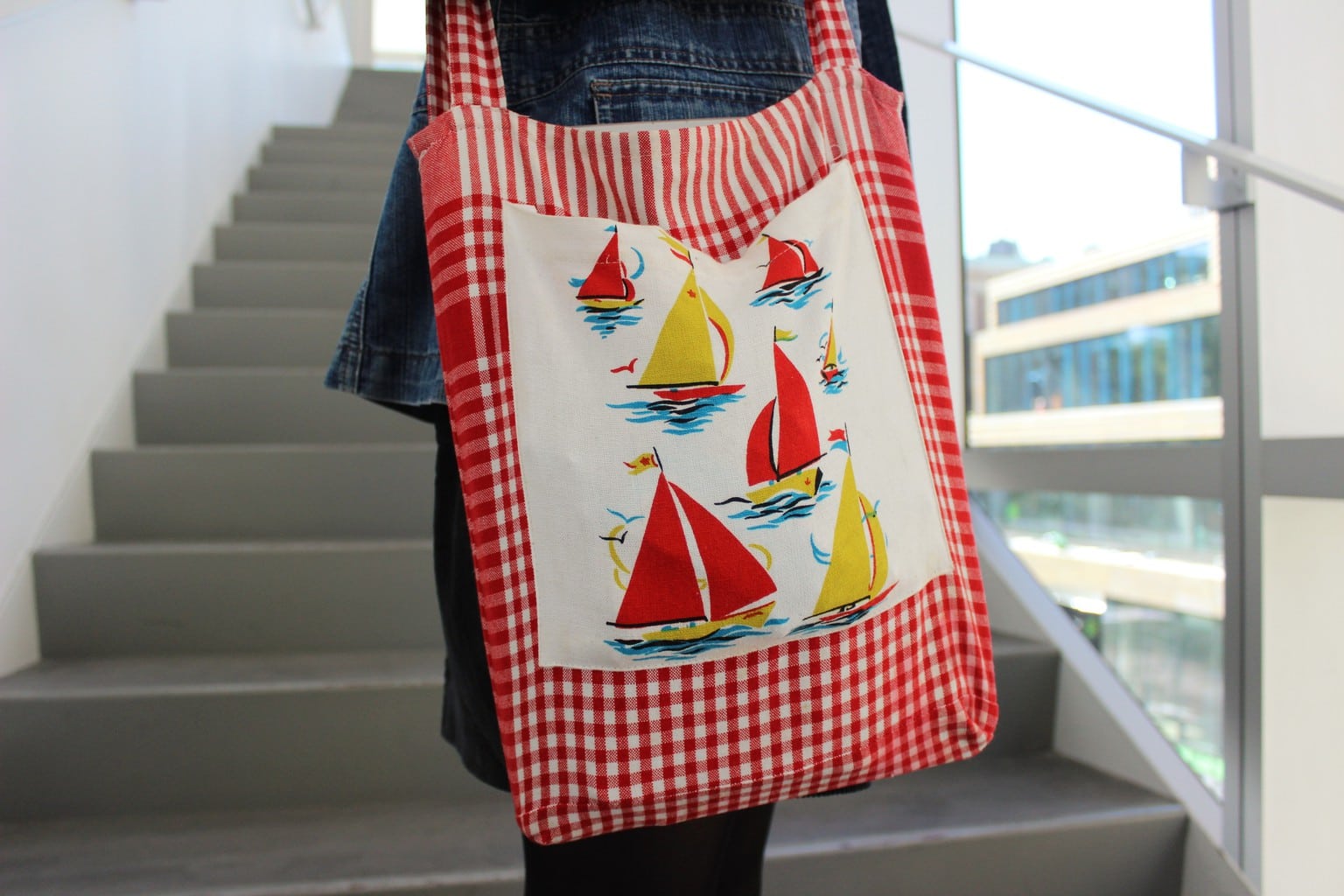 This bag is precious. Not only is it cute as a button, it's also large enough to fit Hannah's laptop making it a practical book bag.
What do you think of Hannah's '90s outfit?
Would you wear her vintage sweater? Did you used to sport frilly white socks and scrunchies? Comment below!