I'm currently typing up this article while sitting in a cafe in London, England! It's my spring break, and I've been lucky enough to save up to visit my best friend while she's studying abroad.
So, I've decided to give you all a British-themed post for this week. I'll share some of my favorite products from British brands. But don't worry if you don't have a trip across the pond planned – these products are available both in the US and UK! Read on to learn what they are.
Boots No7 Lift & Luminate Foundation

Boots No7 Lift & Luminate Foundation – $15.99
Boots is the largest drugstore chain in London, and it boasts some pretty awesome brands. However, I'm going to focus on the chain's own house brand, which you can get in the US at Walgreens and Ulta, as well as some Target locations. There are many products in the line, but this foundation is one of the best. 
I love this foundation because it boasts skincare benefits (something Boots is known for): It promises firmer skin, and it has a smooth, nice-applying formula that doesn't dry out your skin or make it look too dewy. It's a really nice texture! It's also formulated for sensitive skin which is my favorite part because I have skin that tends to get angry easily. Give this a try if you're looking to get a new foundation!
Soap and Glory Thick & Fast Super Volume Mascara
Soap and Glory Thick & Fast Super Volume Mascara – $12
Soap and Glory is one of those brands that you might not know was based in England, but surprise: It is! We featured the brand in its own post a while back, and while Soap and Glory is not hugely popular in the US yet, it's gaining traction for its body butters and lip plumpers, as well as this mascara.
This one, with its cheeky name Thick & Fast, is really volumizing and doesn't flake at all. Volumizing mascaras tend to flake everywhere so it's awesome that this one doesn't! Also, the price is not bad at all for being a higher-end brand so it's a nice bit of wallet relief if you tend to go for the $20 mascaras. Give this a shot!
Butter London Nail Tinted Moisturizer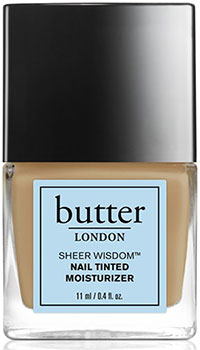 Butter London Nail Tinted Moisturizer – $18
So, you're probably thinking, "WTF is this and why would anyone ever need it?" Well, as you might know, Butter London is famous for its pretty, high-end nail colors that make your nails look amazing. This product will make your nails look incredible in a more natural way. These are "tinted moisturizers" for your nails – they're meant to moisturize rough, brittle nails, while strengthening them and helping them resist damage.
It also adds a nice neutral color to your nails which is a good added bonus! It's not an opaque color; it's a sheer one that just gives your nails an even look. It's hard to describe but you'll see what I mean when you try it. I really love these!
Charlotte Tilbury Lip Cheat Lip Liner

Charlotte Tilbury Lip Cheat Lip Liner – $22
Alright, so disclaimer: this is probably the most expensive lip liner you would ever even consider buying. I'm in no way saying this is a "you need it right now" product because it is really expensive… but this is the best lip liner ever, created by Charlotte Tilbury, a famous makeup artist in the UK.
Charlotte's line is made up of beauty products that she would use in her work as a makeup artist, so you know they're awesome and really well-made. This lip liner, in the shade Pillowtalk, is perfect for wearing underneath any lip color, especially neutrals, and can also be used for that "overdrawn" look which is really in thanks to Kylie Jenner. If you wear a lot of lipstick, this is perfect for you!
What do you think?
Have you tried any British beauty brands? Do you want to try any of these? Let me know in the comments!