Summer is a great time to play with your hair because whether you wear your hair up, down, long, short, it's a chance to showcase all of your fun styles and go a little wild.
To get your ideas going, I've collected my top three summer hair trends. Below, I'm going to share them with you and show you some great tutorials to walk you through how to get these gorgeous summer looks.
1. Braids
Braids in all styles have been popular lately. From the classic double french braids to the extra long extravagant braids, they are a great style for keeping your hair out of your face while still looking put together.
Dutch Braid
One of my personal favorite styles to do is a slight twist on the classic, double dutch braids. This style shows off your braid more than a typical french braid does.
As you will be able to see in the video below the braid sits on top of the head causing more of the braid to be exposed.
If you're interested in trying out this look the video below from Maryam Maquillage is a great tutorial on how to get the double dutch braid look.
Pull-Through Rapunzel Braid
If instead you're looking to get the Rapunzel braid of your dreams this tutorial by Alex Gaboury for Luxy Hair show's you how to create a beautiful long braid.
The video shows you how to do a pull-through braid which is great for long styles and for beginners because you are able to take breaks during the process.
Since the pull-through braid is tied off at the end of each section if your arms get tired you can easily take a break and pick it up again once you can feel your hands again. Alex also shows you how to incorporate clip-in extensions in this tutorial but the technique can be done without them as well.
Short Hair Braid
Not all of us dream of being Rapunzel, and if you are one of them and have opted for short hair, fear not, I have braid ideas for you as well.
I have linked a tutorial that shows you 10 different braided hairstyles that are perfect for short hair and many of them will work just as well on longer hair. (This tutorial was also featured on our list of best braided hairstyles for summer; check that out for even more braid ideas.)
Milabu has beautiful short layered hair (which is some of the most difficult to braid) so if she can do it, so can you, check out the tutorial below for all sorts of braided summer hairstyles.
2. Hair Accessories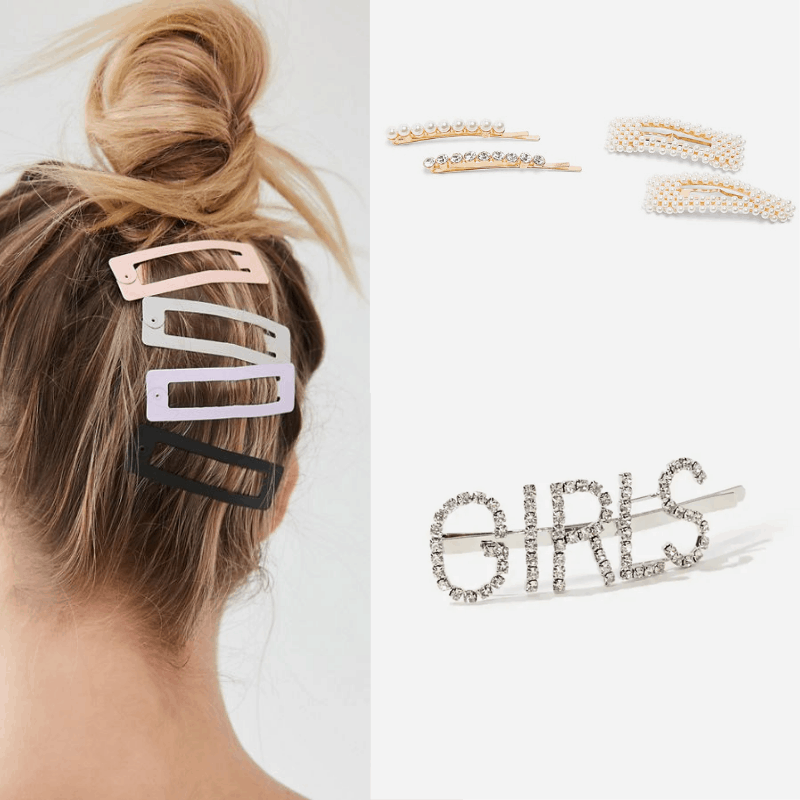 I absolutely adore this trend and I have already started to stock up on the very unique hair clips that have been coming out recently. Pearl hair clips are probably the biggest trend right now, but rhinestone words and mismatched clips are close runner ups.
This "GIRLS" Embellished Bobby Pin from Forever 21 is a great way to test out this trend. It's cheap, cute and clearly an absolute necessity.
Urban Outfitters has a whole variety of fancy clips to choose from, but I love this set of Square Snap Clips for everyday and casual use.
And for the classic route, the Pearl Hair Clips are from Zara and are perfect for dressing up an outfit in an instant.
3. The Wet Look
When talking about the wet look, we have to consider two different types, the more typical slicked back wet look and the newly popular Kim K wet hair look which has more beachy vibes than the slicked back look.
The Kim K Wet Look Hairstyle
The Kim K look revolves around beachy waves or curls and is worn looser than the slick look. It became popular when Kim wore the look to the 2019 MET gala along with her Mugler dress and looked like she had just come straight from the ocean.
I have linked a tutorial from NAGAM below that will show you how to get this exact look. This tutorial is great because she gives you close ups of the texture of the products she is using, so, even if you can't find the exact same products you will have a good idea of what you should be using.
The Straight, Slicked Back Hairstyle
The slicked back look usually works better with straight hair. Rather than the beachy effect that you get with the Kim K look, this look is a boss, sexy look that has been rocked by so many celebrities on past red carpets.
If you don't like the feeling of your hair being weighed down, this is a good option for you because the product is concentrated on the top of the head rather than being distributed throughout all of your hair. The slicked back look is also great because it keeps your hair out of your face.
For the more traditional slicked back wet look, I have linked a tutorial from Dulce Candy. And she uses some really accessible products so you shouldn't have any trouble finding the same or similar ones.
This summer is all about creating something new and really treating your hair and hairstyle as a part of your outfit. Try out a new style or technique or mix and match trends. Most of all, have some fun!
What is your favorite hair trend this year? What do you expect to see a lot of during the summer?
Let me know in the comments!