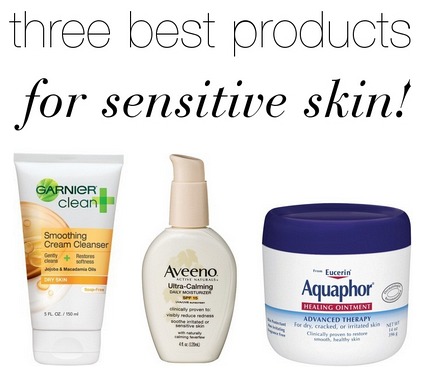 As I've mentioned in past posts, I have extremely sensitive skin, which is not always summer-friendly… or any season-friendly, really. Many of you have mentioned in the comments section that you have sensitive skin as well, so this one's for you!
During the summer, the sun can irritate your skin even more, and many sunscreens just don't get along with sensitive skin. (See our summer beauty essentials for more on this.) However, there are products out there that work to calm your skin.
Below are three of my must-have summer skincare products that are sensitive skin-friendly. The best part? They're ALL from the drugstore! Read on to learn more about each one:
Garnier Clean Smoothing Cream Cleanser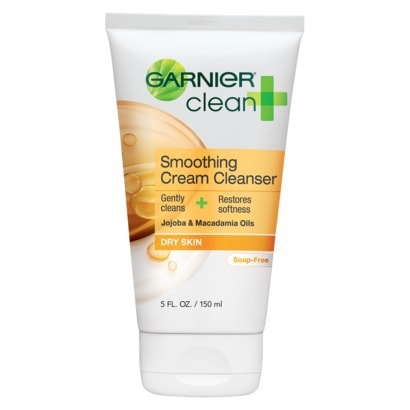 $5.99 at Target
We all know that Garnier has some amazing hair care products, but I was a little skeptical to try their skincare line. You can't be good at everything, right? Well, this cleanser proved me wrong.
I love cream cleansers for all types of skin, because they're not soapy and don't strip the skin. This one claims to be "soap free," and when you put it on your skin, it really feels that way. It doesn't lather up like some cleansers, which for me, feels much more effective.
I've been using this product for a week and I'm super happy with it! My face doesn't feel tight, and it removes all of my makeup. Overall, I'm pleased with this cleanser, and I'll definitely be giving more items from Garnier's skincare line a try.
Aveeno Ultra-Calming Daily Moisturizer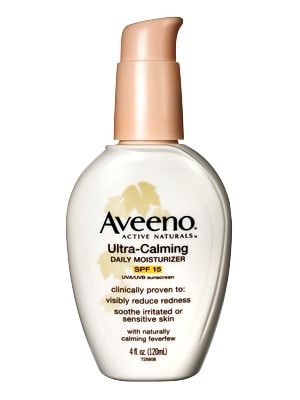 $12.40 at Target
Okay, I have to admit, this is a little bit pricey for a drugstore product. However, if you have any skin issues (like redness, allergic reactions, or any other medical conditions) this is product works wonders.
This moisturizer is fragrance-free, oil-free, and contains feverfew, which can help calm your skin. It even contains SPF 15, so it's perfect for everyday use.
I apply this moisturizer after cleansing, and can feel my face cooling down. My skin even looks better after I use it! Honestly, I like this more than other expensive creams I've tried in the past. The price tag is worth it on this one, I promise.
Aquaphor Healing Ointment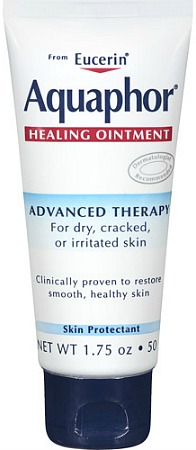 $8.49 for 3.5 oz at Drugstore.com
I know what you're thinking: "Ew, that's the stuff I put on my lips! Where else are you putting that?" Trust me, this product works for way more than chapped lips.
When I get sunburn on my face, neck, or shoulders, I put a thin layer of Aquaphor on at night and let it do its thing. The next morning, I cleanse my face, and when I'm done, it feels like the pain of the burn was cut in half!
This stuff is cheap, lasts a long time, and it actually works. I keep small tubes of it in my purse and at work, because I just love it! However, make sure that you cleanse your skin well the next morning. If there's too much residue, your makeup won't apply as nicely.
What do you think?
What are your favorite skincare products for sensitive skin? Have you tried any disappointing ones? Would you like to see more posts like this? Remember to tell us your thoughts by leaving a comment!