French braids of all styles are a HOT beauty trend right now. Learn where this trend came from as well as how to get the look for yourself in the following article!
Hollywood's French Braid Trend: How it Started:
It all began as a simple trick for keeping her bangs and shorter layers out of her face. Lauren Conrad worked a simple braid into her long blonde hair, usually tucked behind her ear or pinned back with some bobby pins.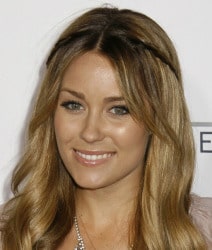 Then, her braid evolved into a mini french braid that swooped down the side of her face. Pulling in different sections of hair gave the style a little bit more interest, and showed off her golden highlights.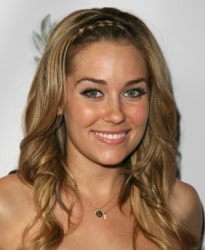 Suddenly, braid mania hit Hollywood. Everyone was wearing this front french braid, even to sophisticated evenings like red carpet events! As the love of braiding spread, stylists got more creative. Some, like Leighton Meester's hairstylist on the set of Gossip Girl, gave the braid a bit of a twist into the back, so it snaked across the back of her head.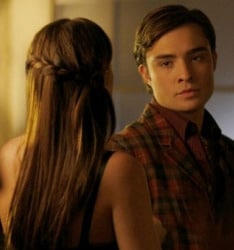 Now, the hairstyle has totally hit the mainstream! One location where I've seen the side french braid all over the place? The GYM! In two volleyball tournaments in the past two weekends, I saw the newest trick, the french braided ponytail, on members of 8 different teams!
It's totally athletic-chic–you've got to try it yourself!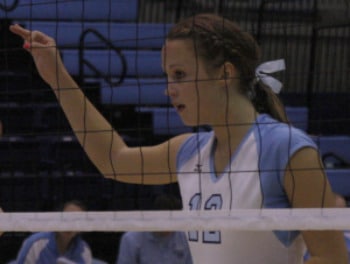 Photo Credit: Haley Vecchiarelli
To get this look:
Grab a small section of hair right in the top center of your part, like you're starting a normal french braid. If you don't know how to french braid, here's a great guide to get you started.
As you french braid (which means pulling in additional sections of hair to add to the three main "parts" that you're braiding as you go to create a weaved look), pull in medium-sized new sections of hair near your face/hairline, and on the other side pull smaller, loose pieces from the back of your head (this is what will make it snake down the side of your face instead of going straight backwards).
Make sure that you keep the side of the braid close to your face pulled very tight! If you don't, it won't stay secure and keep its distinctive shape as you go. If this part is problematic, you can adjust by only working in face-framing hair into the braid (and not adding any hair from the top/back side of your hair instead). This will give the braid a defined, almost 3-D feeling because of its strongly defined edge.
Once you run out of face-framing hair pieces to pull into your braid, you can either turn it into a regular french braid, a regular braid, or pull it back into a ponytail/messy bun. It's a super versatile hairstyle.
This braiding strategy can give you all kinds of awesome looks. If you pull all your hair back into a ponytail, it will keep bangs out of your face for any sort of athletic activities. However, if you want a more girly, romantic look, try a messy bun like this one: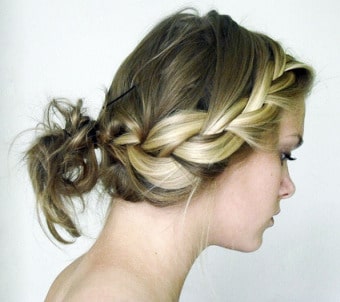 Isn't that fabulous? Totally soft and gorgeous. (And I love how the braid accentuates her highlights!)
Will you try this trend?
How do you wear your hair? Do you ever french-braid it?What's your favorite way to wear it? Tell us in the comments!